A Morocco private tour over 10 to 12 days: imperial cities, the Sahara & Atlantic coast.
Land of the Setting Sun (10 -12 days)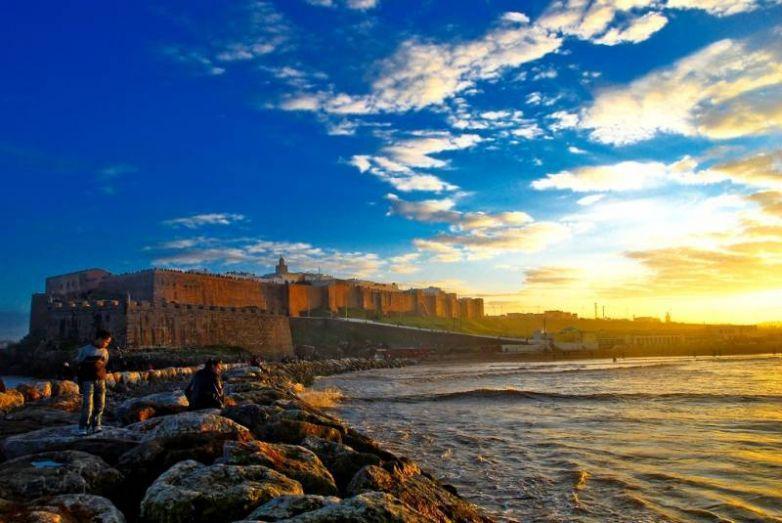 A classical Morocco itinerary with quite a few off the beaten track sites and experiences.
The extravagant ruined palace at Telouet — postcard like UNESCO world site Ait Benhaddou –  Dades Gorge and Rose Valley – the 300 meters high Todra Gorges — ruined Kasbahs and lush palm groves – camel trek into the dunes of Erg Chebbi – sleep in the Sahara – prehistoric rock carvings at Tazzarine — century old traditions and crafts – bread baking in a village stove – Berber granaries and nomad grottoes – all part of this 4×4 Morocco tour. 
After a day in the maze of its souks and palaces, what better choice then to shed off the dust in Essaouira, on the Atlantic coast ? The tour can start/ end in Marrakech/ Casablanca/ Rabat and be done in reverse.
A day or two can be added/ subtracted to fit your travel schedule, if needed. If you have a night to spare, we recommend adding the visit of Chefchaouen to the itinerary.
SHORT ITINERARY AND RATES
DETAILED ITINERARY
SHORT ITINERARY AND RATES
Please find below the resumed itinerary ( driving times exclude stops ):
Day 1: Casablanca – Rabat ( 1 hour and a half drive).
Day 2: Rabat – Meknes / Volubilis – Fez ( 2- 3 hour drive).
Day 3: Fez – visit of the city with a local guide ( no driving).
Day 4: Fez – leisure time, visit of the city or the surrounding countryside.
Day 5: Fes – Ifrane – Midelt – Erfoud – Merzouga – Erg Chebbi ( 7 hour drive).
Day 6: Erg Chebbi – Rissani – Todra Gorges – Tinerir – Dades/ Skoura (4- 5 hour drive).
Day 7: Dades/ Skoura – Ouarzazate – Ait Benhaddou – Telouet – Marrakech ( 4- 5 hour drive).
Day 8 : Marrakech – visit of the city with local guide ( no driving).
Day 9 : Marrakech – Essaouira ( 2 and a half hour drive).
Day 10: Essaouira – Casablanca ( 4 hour drive). Drop off at the airport.
You may choose to follow the original 10 day Morocco private tour itinerary as described on the website or have us create a tailor made itinerary around your preferences. Please note that all our tours of Morocco are private and daily stops are accommodated along the way every couple of hours for you to visit a site, take a stunning photo or stretch your legs.
Feel free to let us know if you would like to include a site/ activity of your own in the itinerary. If you don't know where to start some ideas are:
learn about life in the palm grove, the khetarra irrigations, the pottery craft, the olive oil press. Visit a village market;
hot air balloon flight over Marrakech and its surroundings;
wine tasting and lunch at a wine domain in Essaouira;
cooking your own tagine with a local family with visit of the markets and district bakeries;
traditional Moroccan hammam ( steam bath) with eucalyptus soap body scrub;
lunch inside a Berber home or Richard Branson's Atlas Mountains retreat;
discover prehistoric rock engravings, have tea with the nomads. Pry out fossils;
bake bread on almond corks in the village oven;
buggy riding or sand boarding in the dunes;
guided trek/ hike in Dades Gorge/ High Atlas.
Bellow you will find our tentative rates ( no two itineraries are similar ) based on two persons traveling together, with the relevant accommodation option. For discounted rates, we invite you to book off season. 1 % of our revenues are donated towards social causes in Morocco.
Dreamers: 2250 US $/ 2080 €/ 1845 £ per person ( double room & comfort desert tent);
Privilege: 3045 US $/ 2810 €/ 2495 £ per person ( suite & luxury tent with en suite shower and toilet);
Divine: price available on request.
Our portfolio accommodations do not fit into a rigorous star rating system, so we have named them Dreamers, Privilege and Divine, to best resume their nature. To ensure availability, we recommend booking at least 3-4 months in advance.

Pricing can vary at different times of the year. If you book your tour to take place in December, January ( outside NYE holidays), February, June, July and August, you will enjoy our low season rates. An exact rate will be offered once we have agreed on the precise itinerary, accommodation range preferred and any extras you would like to include. Discounts apply when 3 or more persons share the vehicle(s). You can also choose to mix different accommodation ranges within the same circuit.
Our rates include:
private use of English fluent driver- guide and modern air- conditioned Toyota 4×4;

boutique/ luxury hotel accommodation for 8 nights;

Sahara camel trek and private basic/ luxury tent for 1 night;

6 three- course- meal dinners and 9 breakfasts for 2 persons;

airport or hotel pick- up and drop- off;

private guided visit of Fez with local official guide;

private guided visit of Marrakech;

refreshing drinks inside the vehicle all along the itinerary;

local English speaking guides;

admission fees to all local sites and attractions;

24 hour travel assistance ( available with Privilege and Divine options);

gasoline and highway tolls;

transport insurance, VAT and visitors tax.
WHY SHOULD YOU BOOK  THIS 10 DAY MOROCCO TOUR WITH US:
# We are based in Morocco since 2006 and no, we don't work from home :). We scout for the most unique sites & local experiences all year round. We present these on our blog, Facebook and Instagram  pages. And only a travel agent based in Morocco can keep you up to date with latest travel restrictions within Morocco or how to get the fastest PCR test;
# We anonymously test, hand- pick and continuously update the best boutique and luxury hotels, Riads , eco lodges and Kasbahs across Morocco;
# We strive to bring you most authentic experiences. Some of them are unique: private flight to the Sahara; visit of a medina with a local university teacher; mechoui with a nomad family;
# 1 percent of our receipts go towards local projects, like help educate girls from rural Morocco or restoring the agadirs of southern Morocco;
# we accept payments by credit card, PayPal, bank transfer and, in the near future, alternative coins;
# we are on hand 24 hours a day, 7 days a week, before and during your tour, by email, phone or Skype/ Zoom.
Ready to create your unique Morocco tour? Get in touch here with our on- the- ground team in Morocco.
DETAILED ITINERARY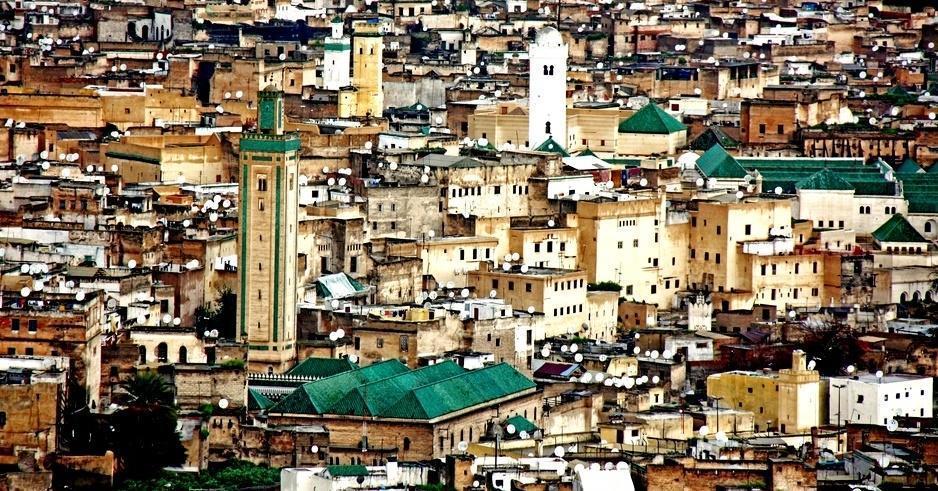 Morocco Private Tours
Marrakech to Fes via the Sahara desert over 4 days A private tour from Marrakech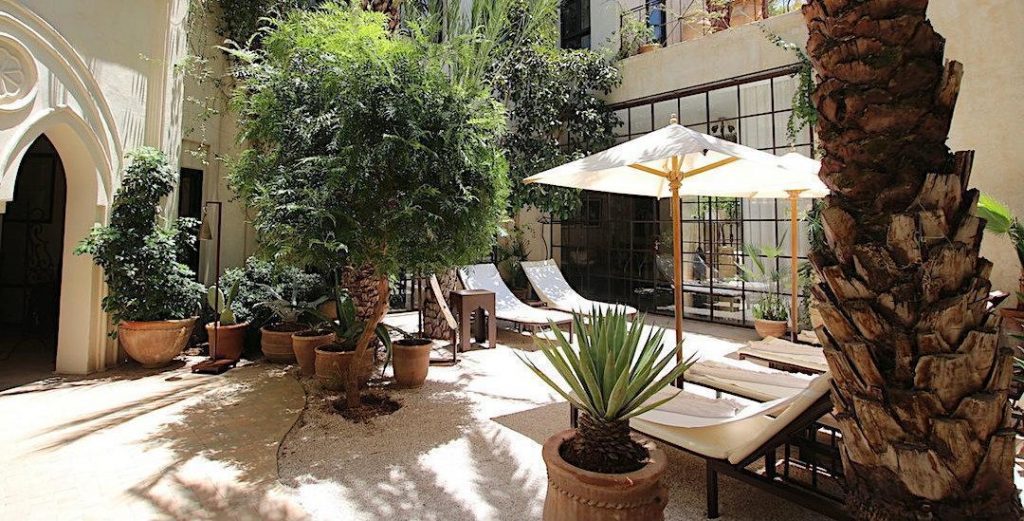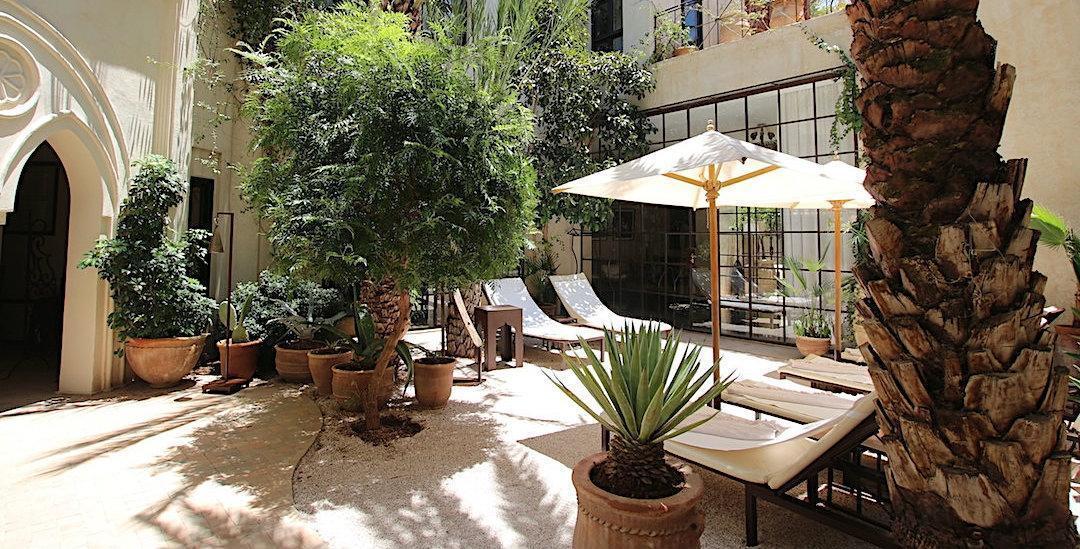 boutique hotel of the month
When I find myself sometimes wandering about the medina of Marrakech in the morning,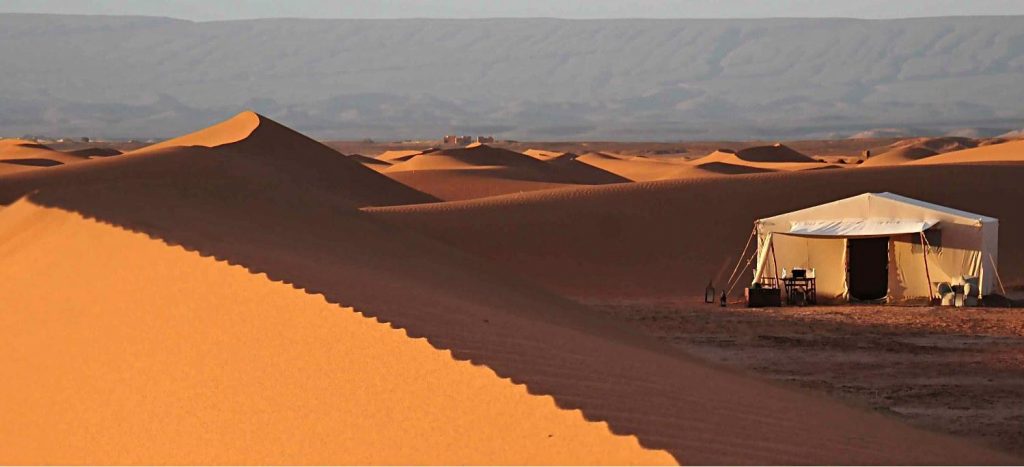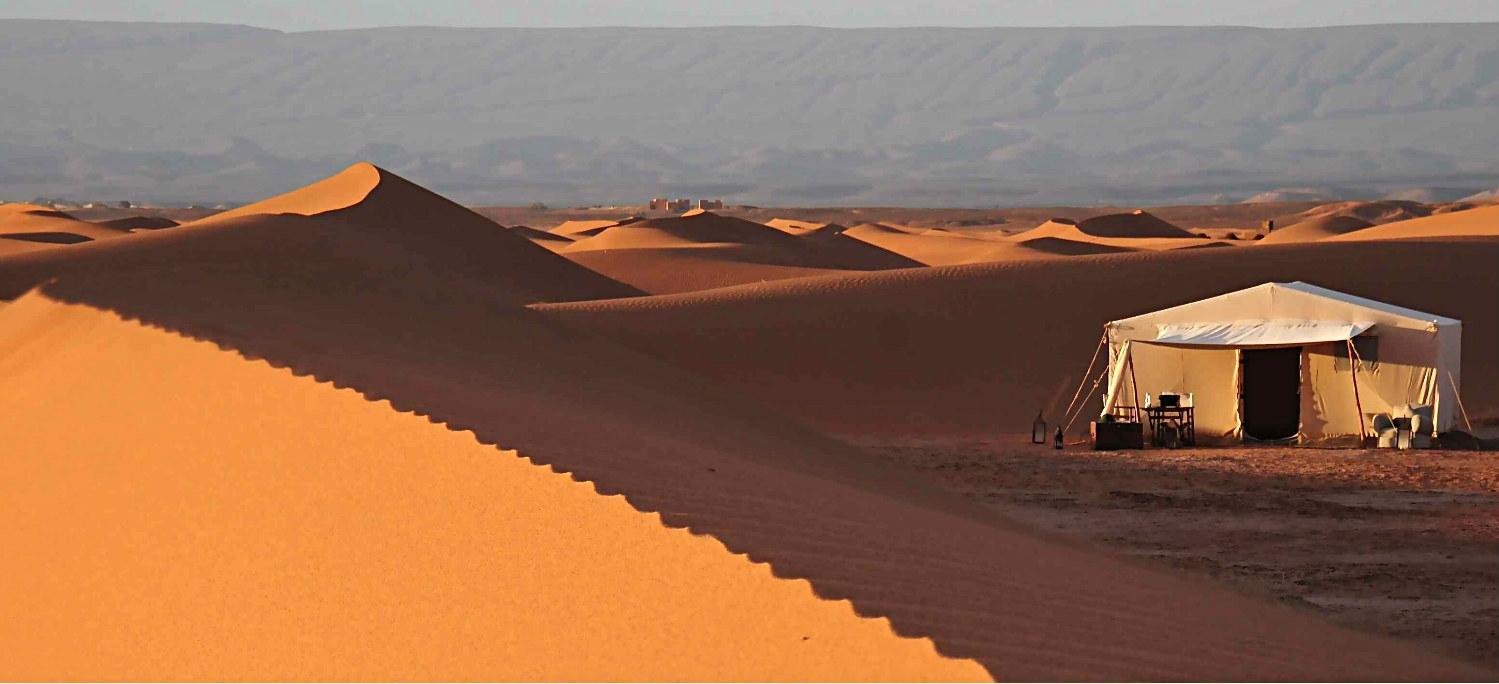 Morocco travel blog
A desert luxury camp experience in the Moroccan Sahara. { There are currently no travel