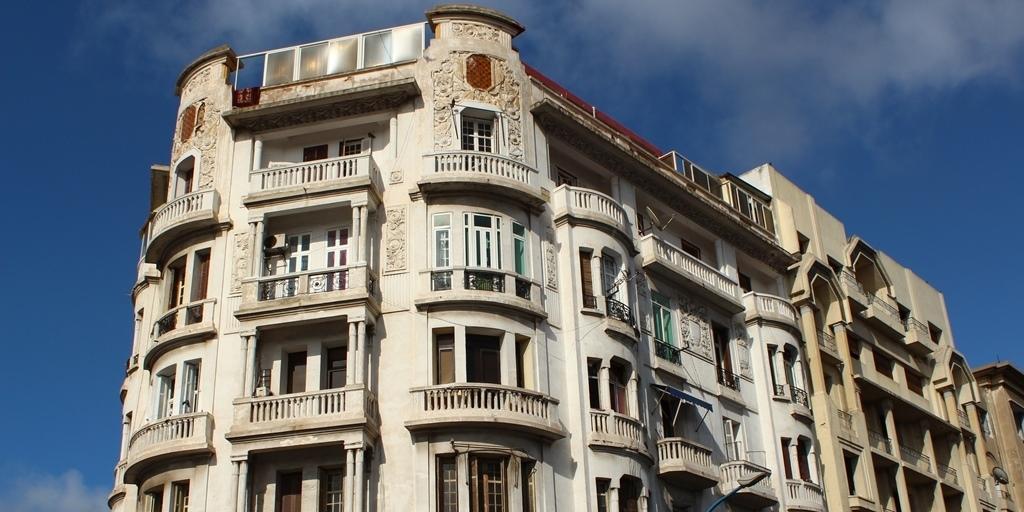 Visit Casablanca on a private Morocco tour: there's more than meets the eye…
In spite of its myth, Casablanca nowadays appears to be but a large congested city with not much in the way of interesting sites. But is that all there is to it ? Some disagree. And for good reason. Diana Wylie, proud resident of Casablanca and professor of African history at Boston university had taken a tour with Sun Trails when her sister came to visit her from the US. I met her after the tour concluded and stayed in touch. Then, when I visited Casablanca that following June, she was extremely kind to show me some of the hidden architectural gems of the city, uncovering for me perhaps some things I would have never gotten to know otherwise.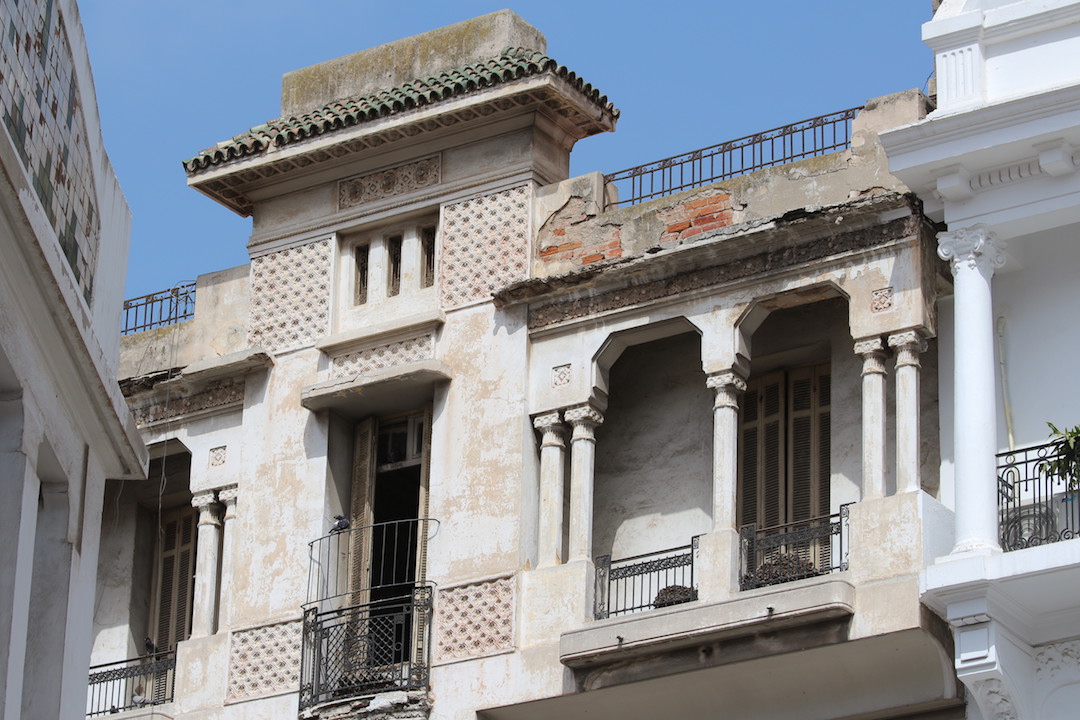 During the 'tour' it occurred to me that she was so much in love with the city that when I thought about writing an article for our blog on Casablanca, there was no doubt in my mind as to whomthe most indicated person for the task would be. She gladly accepted and, I would say, more than rose to the challenge. But perhaps it is best to let her do the talking. Here is her passionate account of Dar Baida:
Casablanca was both blessed and cursed when a spectacularly successful Hollywood film bearing the same name came out in 1942. Now everyone knows the city's name, but few visitors to Morocco bother to know the city itself, especially if they are in search of "timeless" imperial capitals, resuming themselves to visiting the second largest mosque in the world. And yet, for almost a century it has been Morocco's most important city: it is where modern Morocco was born. The real Casablanca – as opposed to the Hollywood studio where the movie was actually filmed and merits being seen, even on a global stage, as one of the birthplaces of modern architecture. It belongs to the same avant-garde family as the Brasilia of Oscar Niemeyer, the Marseille of Le Corbusier, or the Chicago of Louis Sullivan.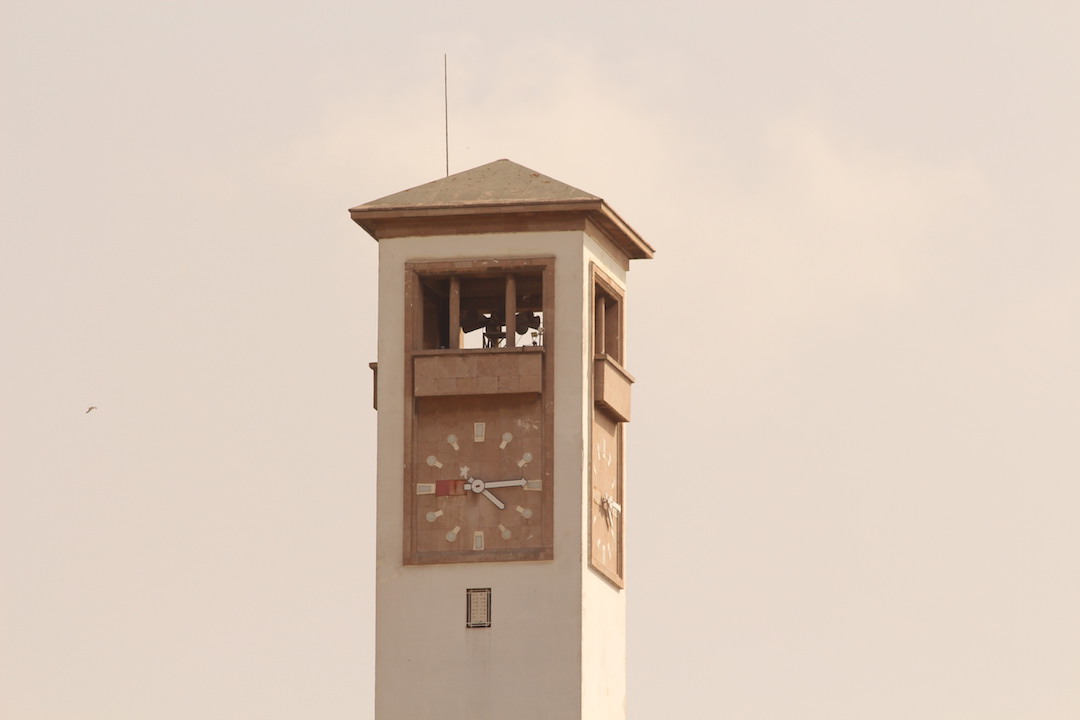 The real Casablanca is where people still come to find Morocco's "American dream." For over a century Casablanca has offered hope to people wanting a new, more prosperous life. In the late 1800s Spanish artisans and fishermen came, followed by French traders, land speculators, and industrialists. Fleeing drought in the hinterland or "bled," Muslims and Jews pitched up to trade and to work in sugar and cement factories. All shared the dream of acquiring new kinds of freedom.
Casablanca's buildings reflect this longing – to be free from want, to be free to buy. Open to the intense sunlight and mild sea air, the buildings express optimism. They flaunt the stylistic innovations of their eras: Beaux Arts, Neo-Mauresque, Art Deco, Cubist, Brutalist, Post-Modern. When you walk along the city's streets and boulevards, you are strolling through an open-air museum of twentieth century architecture.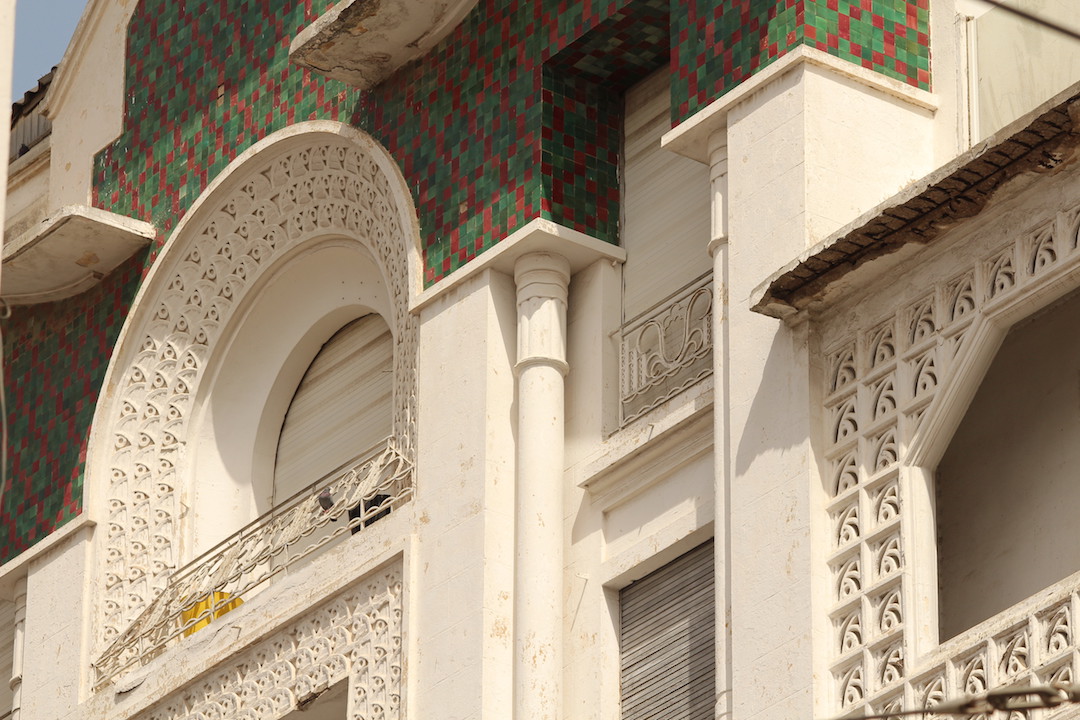 The "ancienne médina" or oldest part of the city is remarkable, not for its antiquity (its oldest structures date only from the late 1700s), but because it foretells the modern future of the entire city. It faces the sea. Its buildings don't turn in on themselves by presenting solid walls to the street. Large windows and balconies expose their interiors to the eyes of strangers. European traders and consuls who began flocking to the nineteenth century port were putting on display a new style of architecture. It appealed to wealthy Muslim and Jewish inhabitants of the quarter who set about building their own versions, albeit with "Moorish" touches like massive doorways and patios.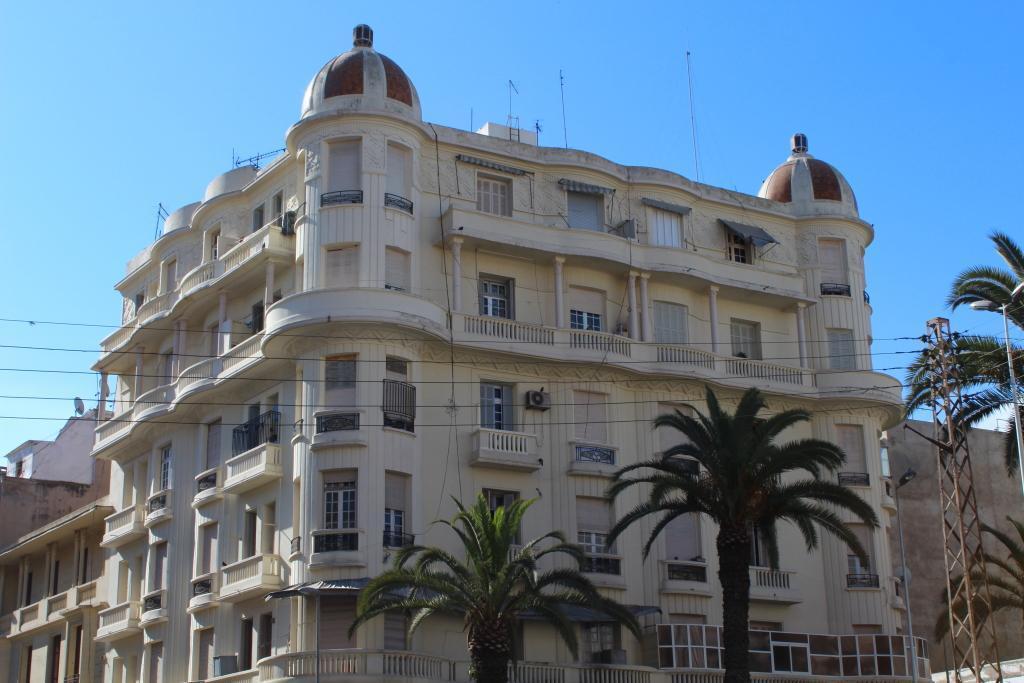 On the edge of the "ancienne médina" sits Rick's Café. Yes, that Rick's Café. It even has a piano player named "Sam" (actually Issam) who does "play it again."  Walking away from the medina up Blvd. Hassan II, you arrive at a hub of action called "Place Mohamed V." Pigeons are wheeling around a fountain where people scatter crumbs and vendors sell children's toys. Officials pass in and out of the government buildings that bracket the Place. Construction of a monumental theatre is just beginning. It's not only a good place to sit and watch people – such as children intent on steering electric toy cars. It also displays the shifting styles of public architecture erected by the French when they were building the protectorate they acquired in 1912.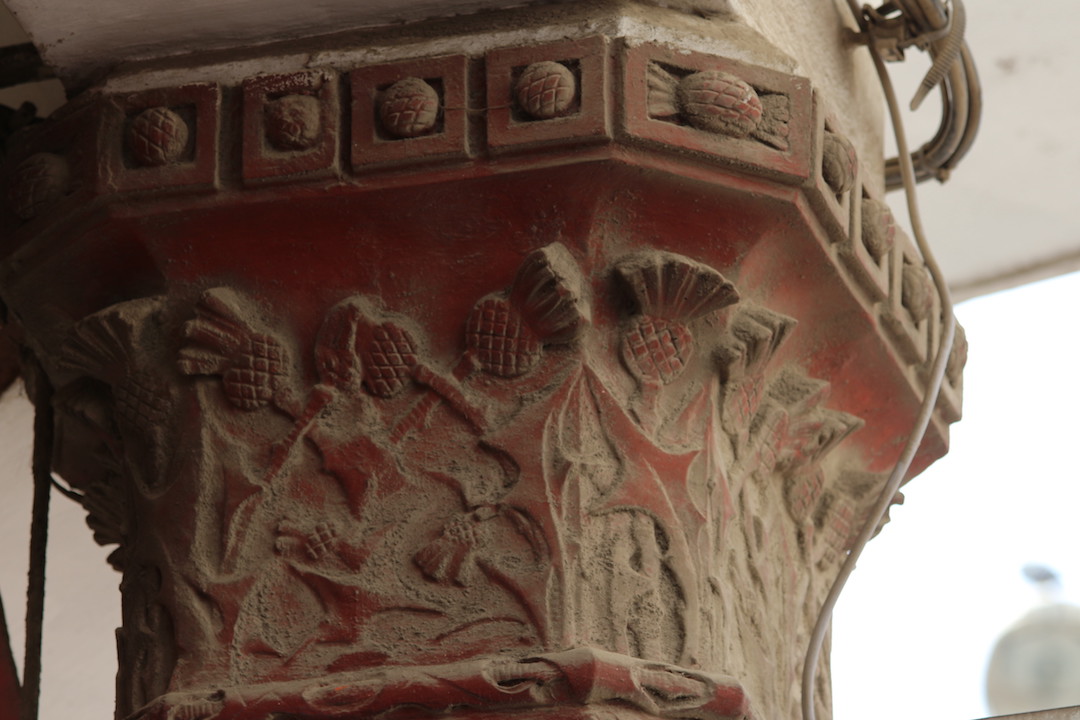 Start with the Neo-Mauresque post office built in 1918; note its indigo tiles around the mail slots and the bi-plane cameo to the left of the entrance. Then look across the Place at the 1920 courthouse also inspired by the colored tiles and arcades of Moroccan architecture; these arcades, though, are untypically open to the street. Swing your eyes right to City Hall (1928) with its clock tower modeled on a minaret. Finally, look at the national bank (1937), bearing on its façade a sculpted rug, punctuated by five bold windows. In less than thirty years French architects had taken their admiration for Moroccan style in fresh directions that still please the eye. The Place, full of life, is also full of the history of a Franco-Moroccan encounter marked by mutual stylistic inspiration.
We may be seeing here the most benign side of imperialism: the liberty to shape a beautiful public space. The French military had formerly camped on this ground, so it belonged to the government; it was therefore available for development according to a unified vision. One man, Maréchal Hubert Lyautey, the first governor or "resident" of the French protectorate, is commonly credited with shaping that aesthetic vision, though he was aided by the work of countless others. He sits, now and forever, on his horse behind a fence on the grounds of the nearby French consulate. Try to find the spot where, before independence, he and his steed had overlooked his domain.
A seductive harmony also characterizes the boulevard running from the edge of the medina to the main train station, Casa Voyageurs. Art Deco apartment buildings and stores are seamlessly linked to cubist ones. Rich Moroccans like Thami Glaoui and Omar Tazi seized the opportunity to join these architectural ventures and hired French architects like Marius Boyer (1885-1947) to design swank apartment buildings atop glass-roofed shopping malls. Boyer, one of the most prolific architects of his time, was also one of the most inventive. Within less than a decade, he would design such dissimilar buildings as a highly decorated neo-Mauresque newspaper office (1924) and a starkly avant-garde apartment block (1930), its three towers possessing the brand-new modern conveniences of garbage chutes, underground parking, and terraces galore.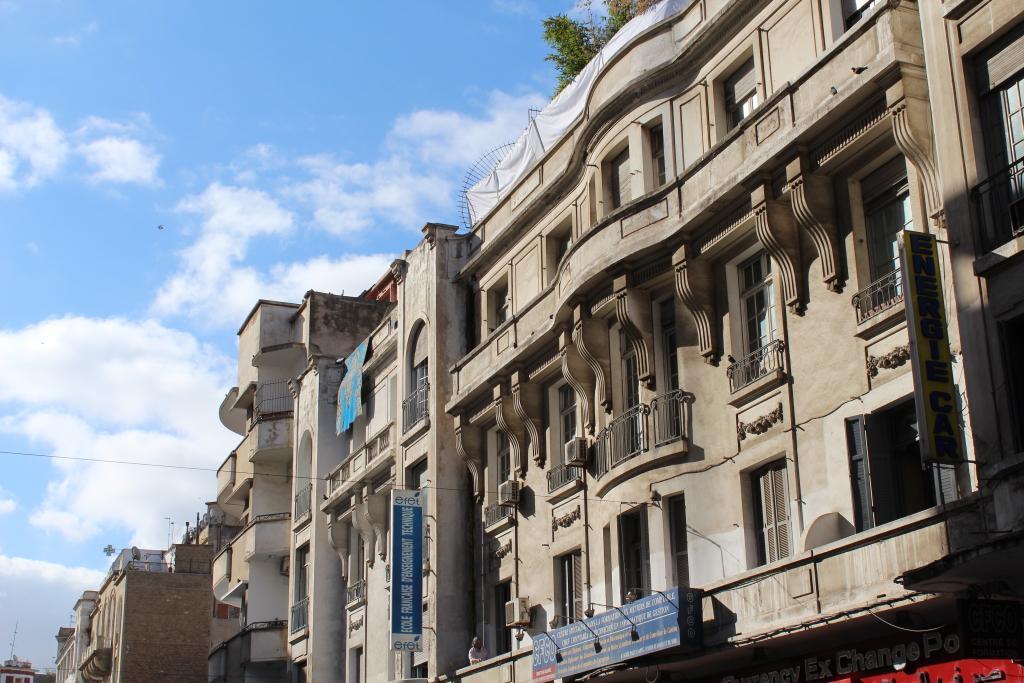 Taking a break from admiring this comfortingly coherent avenue, you can visit the Marché Central to eat oysters, or buy fish for grilling in a restaurant within the market.
Harmonious modernism. Architectural creativity. Mutual inspiration. Does this mean Casablanca is without blemish? Not at all. It is a blazingly white, concrete city built by factory workers. Today it numbers five million or more people and, of course, has its share of big city social problems. You need only watch two fine Moroccan films – Ali Zaoua (2000) and Casanegra (2008) – to begin to grasp them. Many parts of Casablanca look as if they need greater care. The once glamorous Hotel Lincoln, for example, overlooks the elegant new tramway line along Blvd. Mohammed V, but it's surrounded by protective mesh because only its outer walls remain standing.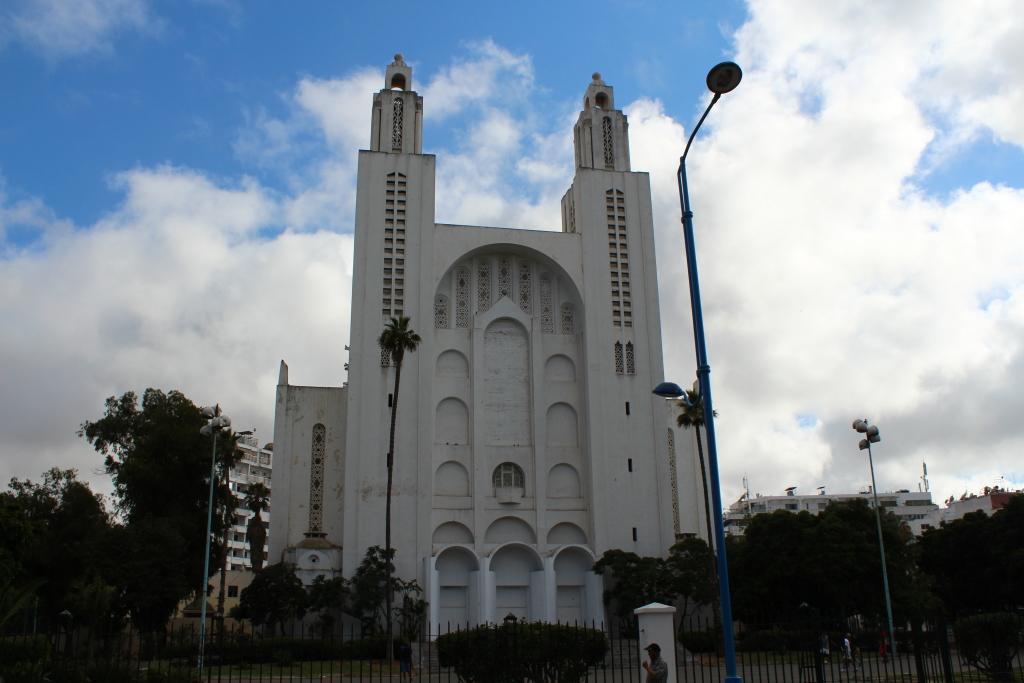 Fortunately there is an association dedicated to giving Casablanca the care, and the higher profile, it needs. Working in tandem with the city's government, Casamémoire, founded in 1995, is currently preparing an application to UNESCO asking for Casablanca to be declared a world heritage site. Casamémoire aims to raise public awareness of the city's beauties. The first weekend in April each year it creates a "Heritage Days" festival to honor the city. It offers free guided tours of neighborhoods – the city center, industrial sites, worker housing, and 'traditional' housing ("Habous"). In 2014 Casamémoire hosted for the first time a night-walk down a boulevard filled with street performers, thus celebrating the revival of a street once considered forbidding after dark.
An adventurous traveler needn't stop loving the film. In Casablanca you can, like Sam, "play" the twentieth century again. It could be the beginning of a beautiful, twenty-first century friendship.
Diana Wylie, professor of history at Boston University, spent the academic year 2013-14 living in Casablanca as a Fulbright Senior Research Scholar.  She is the author of four books on southern and northern African history, including most recently 'Enchantment, Pictures from the Tangier American Legation Museum'.  (All proceeds from its sale benefit the museum.) All photos taken by Sun Trails staff.