Trekking Morocco: when, how, where, for how long and more.
With 16 years of in- country living, the best part about trekking Morocco must be the wilderness, the untamed nature of its topography. Virtually devoid of well signalled routes, camping areas, mountain gites or via ferratas, the traveler is besotted by the virginal aspect of a terrain instilling the feeling of treading where few, if any, have treaded before. For let's face it: Don't we all relish the feeling of exploring, of having pioneered a certain route ? Then, there is another cachet, perhaps intertwined with the previous, which is a certain way of life that has so far endured over centuries: whether in the Sahara desert or on the steep slopes of the Atlas, where your path will cross that of shepherds and mountain dwellers.
They will most likely invite you for a tea, glad to cross trails with other souls amidst these otherwise remote realms, in spite of any language barriers. Hamlets stuck in time where water mills still grind the grains into flour, horses graze freely by the brook or the mules still trot over the wheat stalks lying strewn across the stone- build threshing plot. And hospitality, above all, natural, spontaneous, instinctive.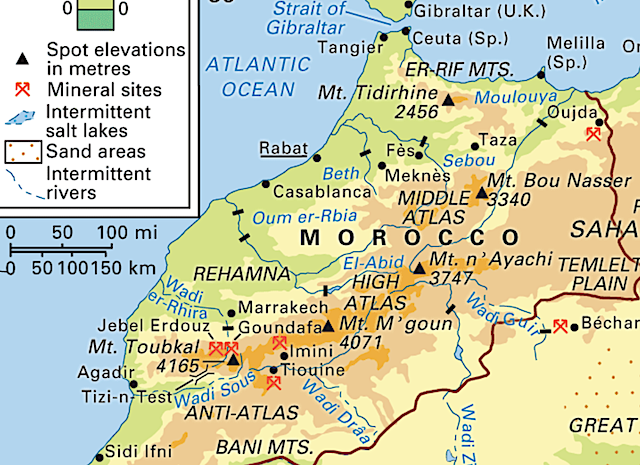 When to trek Morocco ?
In spite of what some deem 'the best time of year to visit Morocco', there is no such thing. Even more so when it comes to hiking in Morocco. Visiting Morocco and Morocco trekking can be done all year round. As a rule of thumb, from November to March you are likely to encounter snow over an average altitude of 2000 meters high. And, except for few aficionados, trekking in snow is not fun, to not mention the additional issues: special gear, thermal sleeping bags, reinforced tents, etc.
( Disclaimer: all below photos were taken by us ( Sun Trails team) during our various treks over the past 6 years )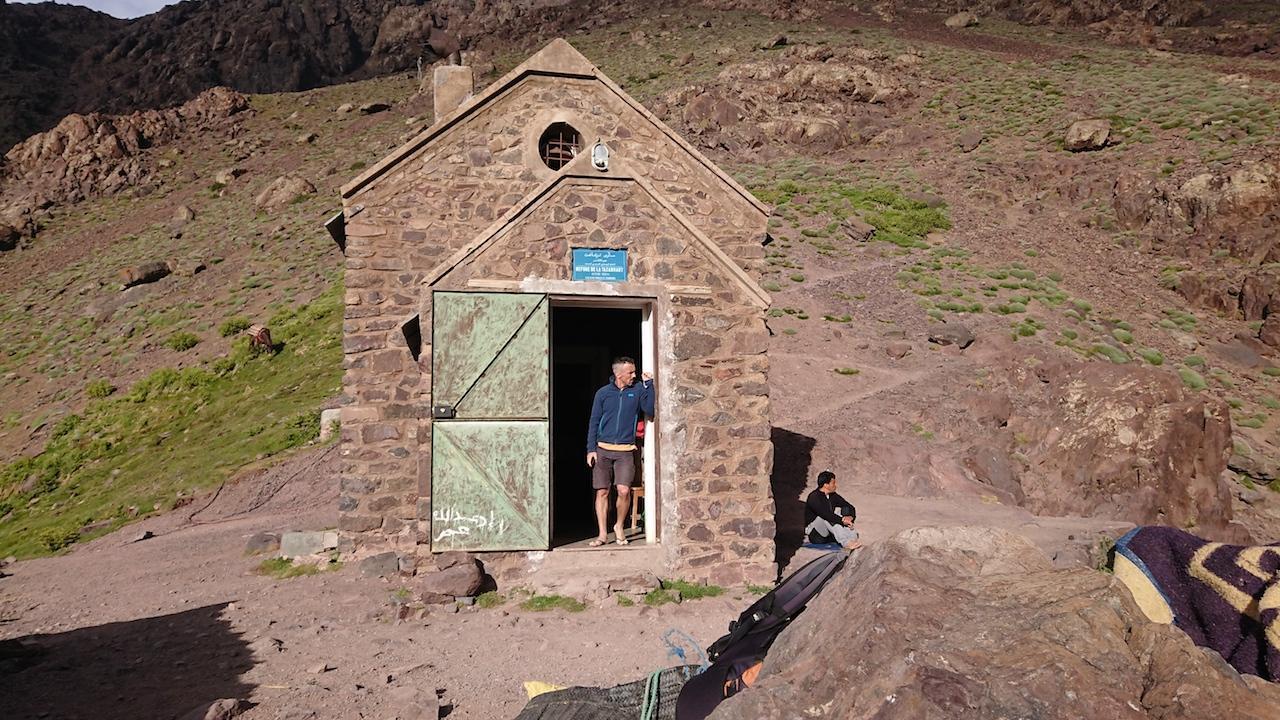 Tazarart refuge, May 2017
The seasons: in winter ( November to March), the Anti Atlas is ideal for trekking and in particular the region east of Guelmin, with an average elevation between 1000 and 1800 meters in altitude. How would you like to stumble upon milennia- old engravings depicting archers or ostrichs ? In other countries, the spot would be safeguarded. Not in Morocco. The landscape is austere, to say the least, yet the trekker is rewarded with lush uncanny palm groves and oases, materializing  when one has almost given up hope, sun- blinded after hours of desert Morocco trekking.
Temperatures can be chilly at night, expect 7 to 12 degrees Celsius and comfortable day time ( 20- 25 Celsius). In winter, the High Atlas are covered in snow above 2000 meters high. The Sagho range ( between the High Atlas and the Anti Atlas) with its shards of dark stone pointing out skywards, is also a great choice in the season, but temperatures might be somewhat cooler. In case you wish to blend Sahara dunes and mountain trekking, Jebel Bani, a 400 km long ridge bordering the Sahara, averages 600 meters in altitude.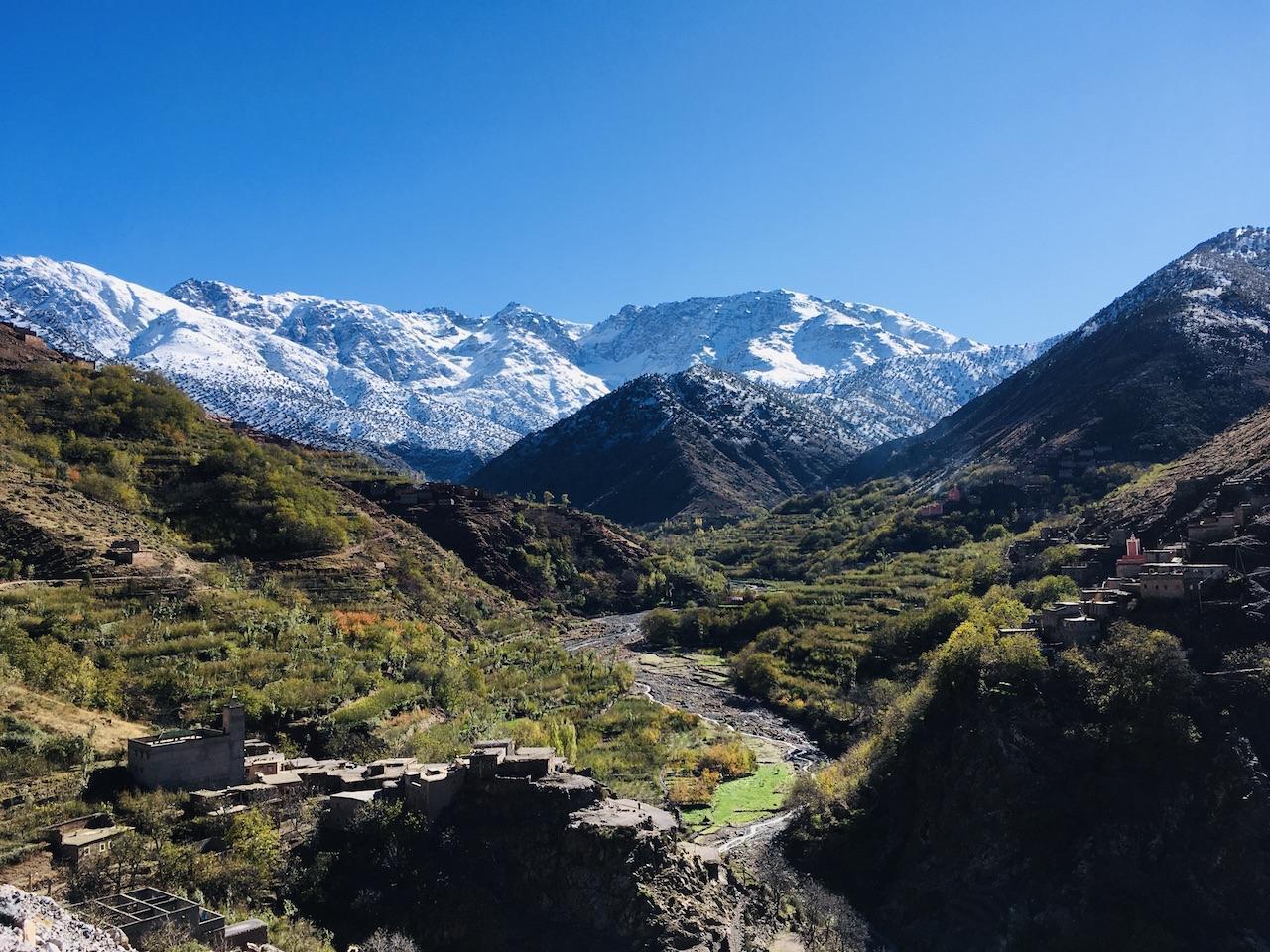 High Atlas mountains view, December 2020
From March to November, focus on the High Atlas, the Middle Atlas and the Riff mountains. Temperatures will not rise over 27- 30 Celsius as long as you will keep over 1800 meters altitude. The Toubkal peak is best approached during this time of year, but it is also the period that sees most tourists. If you wish to climb up to 4000 meters high without the crowds, there are other options available ( minimum over 2 days) in the area, also with a base around Imlil. Yet wilder landscapes are to be found around Mgoun peak, with a base in Skoura's palm grove. From there, ascend to 3000 meters high and stumble across lost- in- time villages, where life hasn't changed that much as centuries passed by.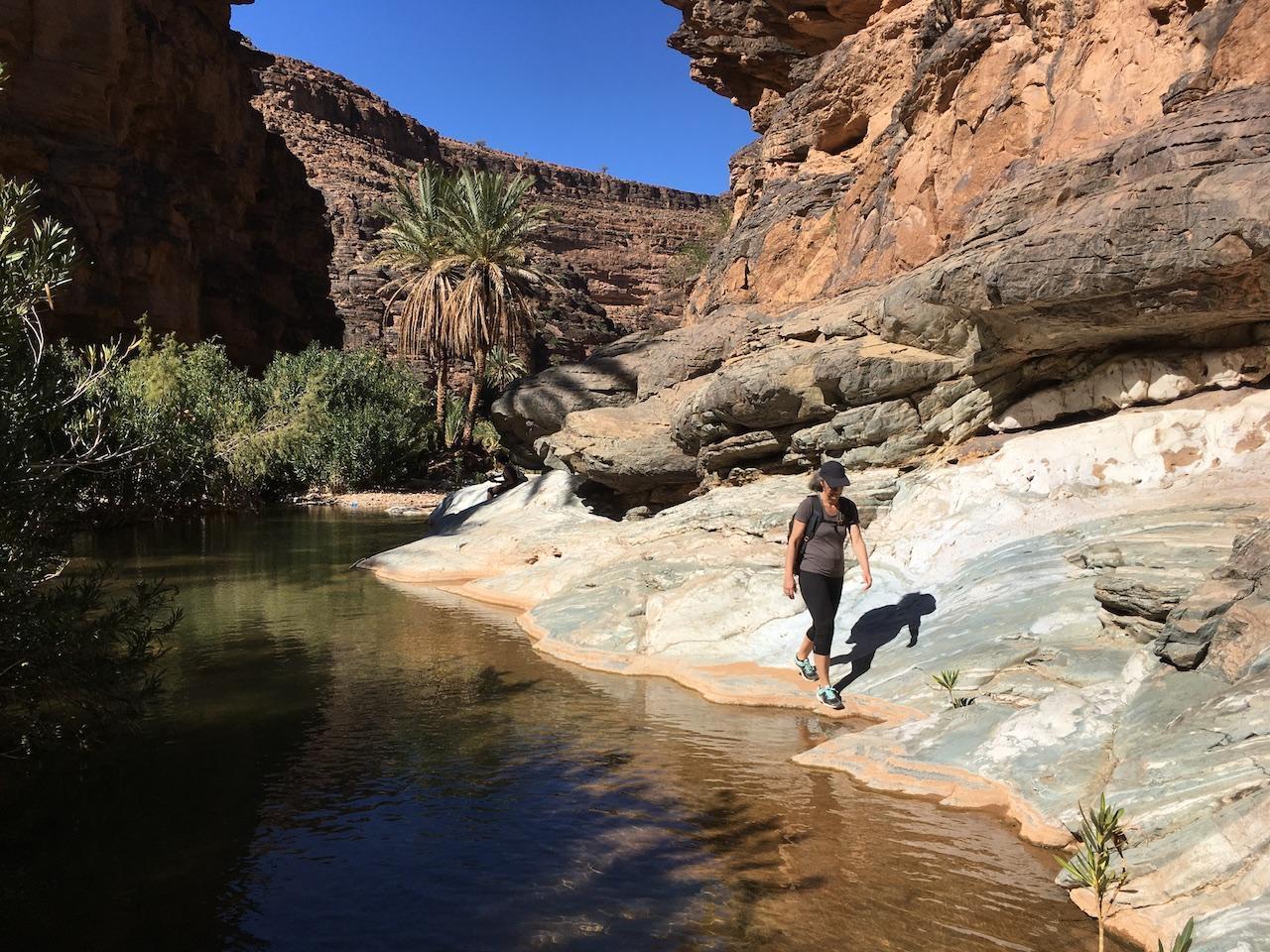 Anti Atlas natural pools, January 2021
How many days you need for a Morocco trekking tour ?
First of all, we should define what we exactly mean by trekking. Trekking, per our definition, is at least a half a day endeavor, over hilly terrain ( not necessarily hardcore) requiring a minimum level of fitness and/ or endurance. Walking around a village on one of the many stops along your private Morocco tour, doesn't qualify as trekking as per the intentions of this article. In Morocco, we'd recommend anywhere between 2 and 6 days of continuous trekking.
2 days is a minimum to immerse oneself in the local culture. It would prove rather strenuous to go for more than 6 days without regular hot showers, proper mattress and all the rest of comforts of a modern lifestyle. Also, remember to make responsible choices. In May 2018, on our trek up to Tazarart plateau, over the course of one day we hiked from 3000 to 4000 and descended from 4000 to 1500 meters. That's reads like an instruction manual for what you shouldn't do. In general, you should keep to maximum 1000 meters of altitude difference a day. Also keep in mind that the closer you get to 4000 meters, the likelier the altitude sickness will kick in. If you've never experienced that altitude, don't just assume things will go well by default.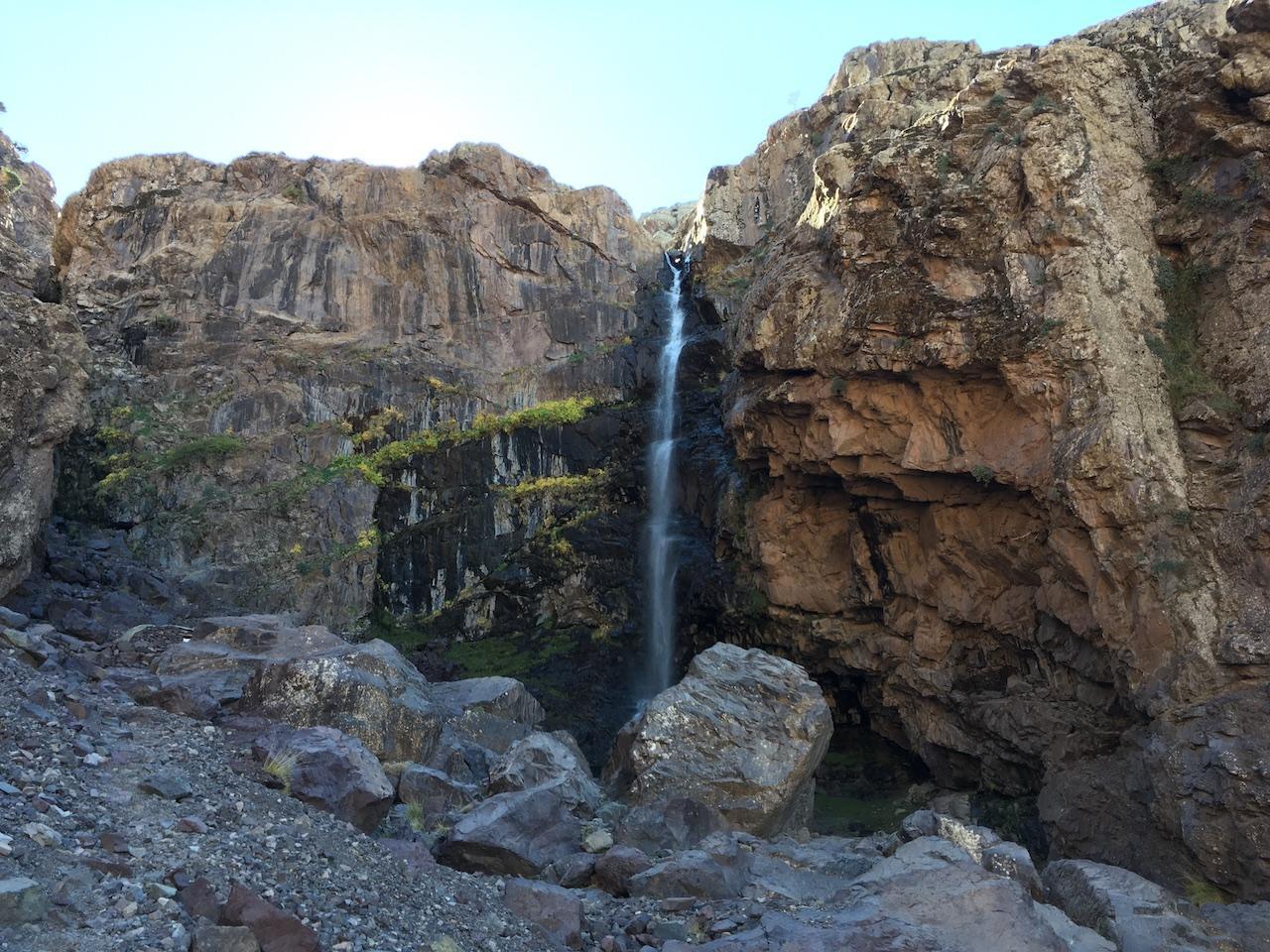 Roulidane waterfalls, December 2021
Where to trek in Morocco ?
Depending on what you'd like to encounter in terms of landscapes and local experiences, you are spoiled for choices. If you wish to avoid the crowds, keep away from Imlil and Toubkal. Todra gorges and Dades gorges are also very popular with groups of tourists making their way from the Sahara to Marrakech or the opposite. Riff Mountains can get very crowded during summer holidays as Moroccans favor Chefchaouen and Tangier for their holidays.  For more ideas, have a look at some of the Morocco treks and day hikes we've completed over the last few years. Most of the starting locations that can be accessed by car: Imlil ( from Marrakech), Tafraoute ( from Agadir), Skoura ( from Ouarzazate), Tamanart Valley ( from Tafraoute), Chefchaouen ( from Tangier) and that's where you should aim to arrange for meeting your local guide.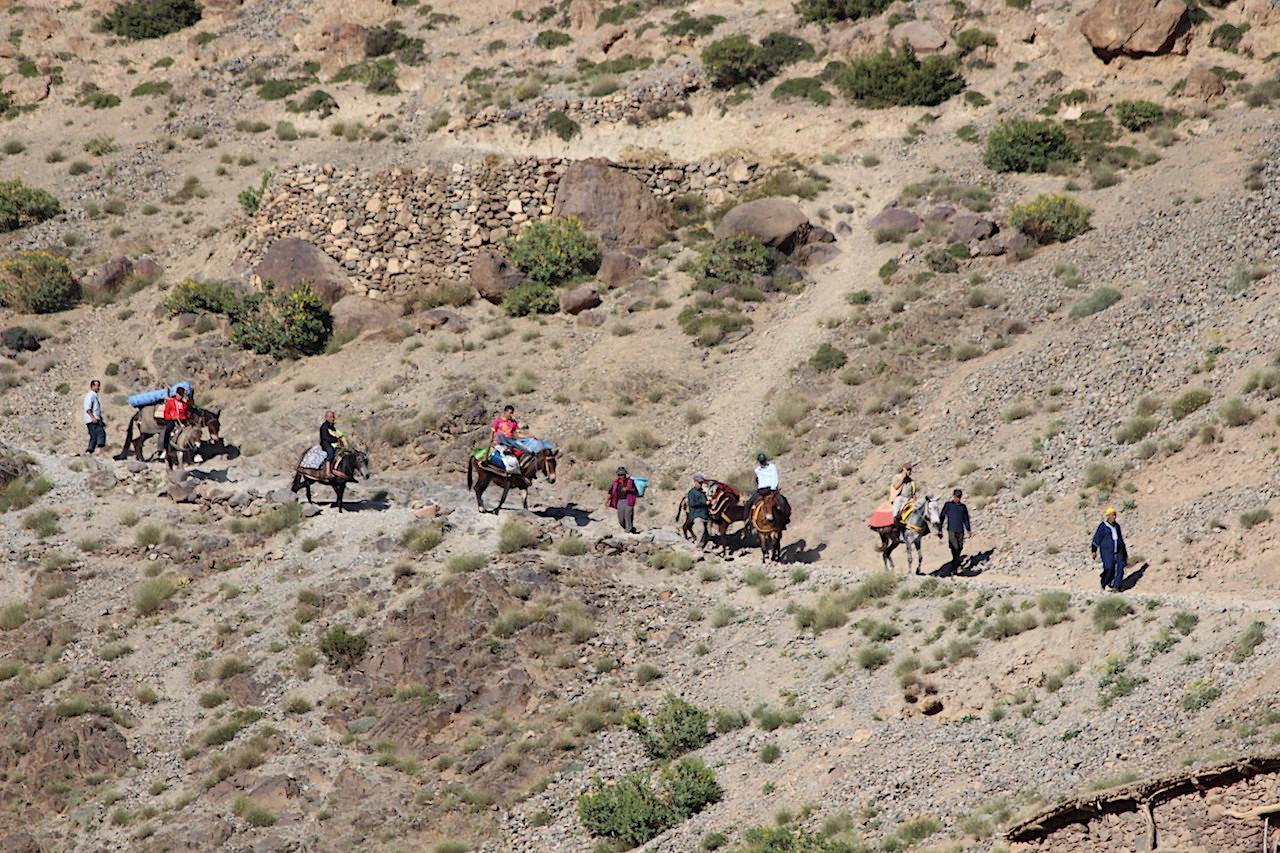 High Atlas mountains wedding procession, May 2018
How to travel to Morocco ?
If you travel from Australia, Asia or the US, flights direct into Casablanca are available.  Marrakech and to a lesser extent, Agadir, are very well connected to the main airports in Europe ( especially Italy, Spain and France) but also the UK, Netherlands, Germany, Sweden, etc. with low cost and mainstream carriers. Marrakech and Agadir are also the two best positioned sites in terms of logistics, as both of them offer multiple trekking opportunities within a little more than one hour drive away. You can also cross over the Gibraltar strait by ferry ( a 2 hour endeavor, including paperwork and boarding), into Tangier, but that is hardly practical as the only mountain range close by is the Riff Mountains, where Chefchaouen, the blue village, is the main attraction. Tangier lies 6 hour drive away from Marrakech and 7- 8 hours by train.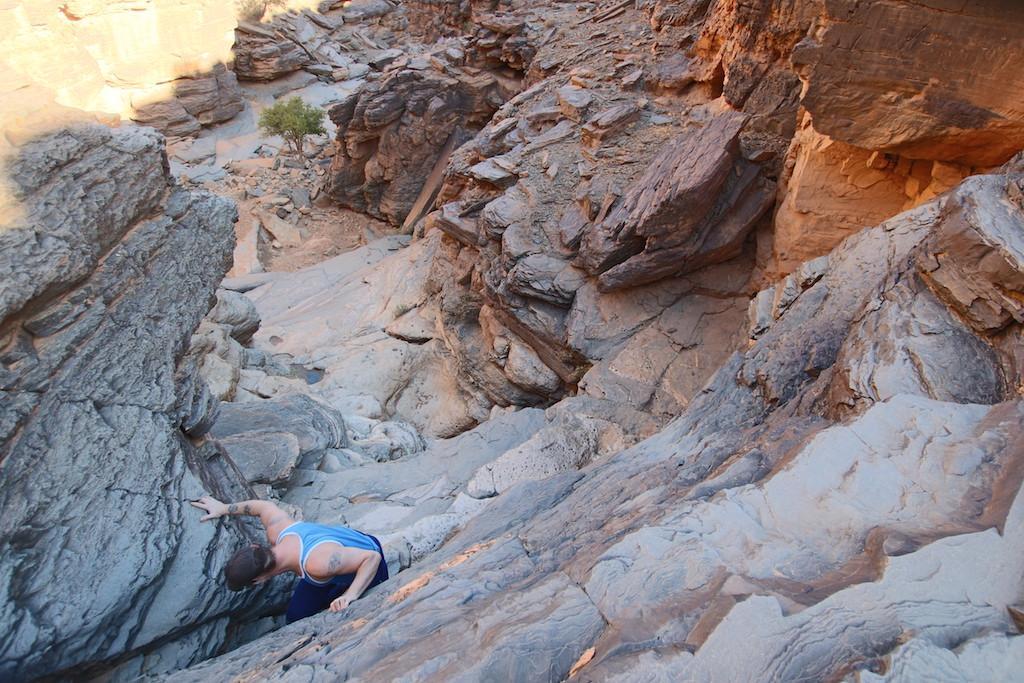 Clambering rocks in the Anti Atlas gorges, February 2018
How expensive Morocco trekking is ?
The expenses can be minimal if you are planning on self autonomy. We wouldn't recommend that option though, first of all from a safety point of view ( more on that in the Is it Safe paragraph). If you employ the services of a local Morocco trekking guide, foresee a fare of about 300- 400 dirhams ( 30- 40 US dollars) per day. If you are looking to also have a muleteer and a mule to carry some of your luggage and cook one or two hot meals a day, the fares will considerably increase. Don't forget to factor in the transport from the main city ( Marrakech, Casablanca or Agadir ) to the starting point of your trek. Some of these locations can be accessed by public transport ( collective taxis ) whereas for others you will need either a driver with a 4×4 or a rent- a- car.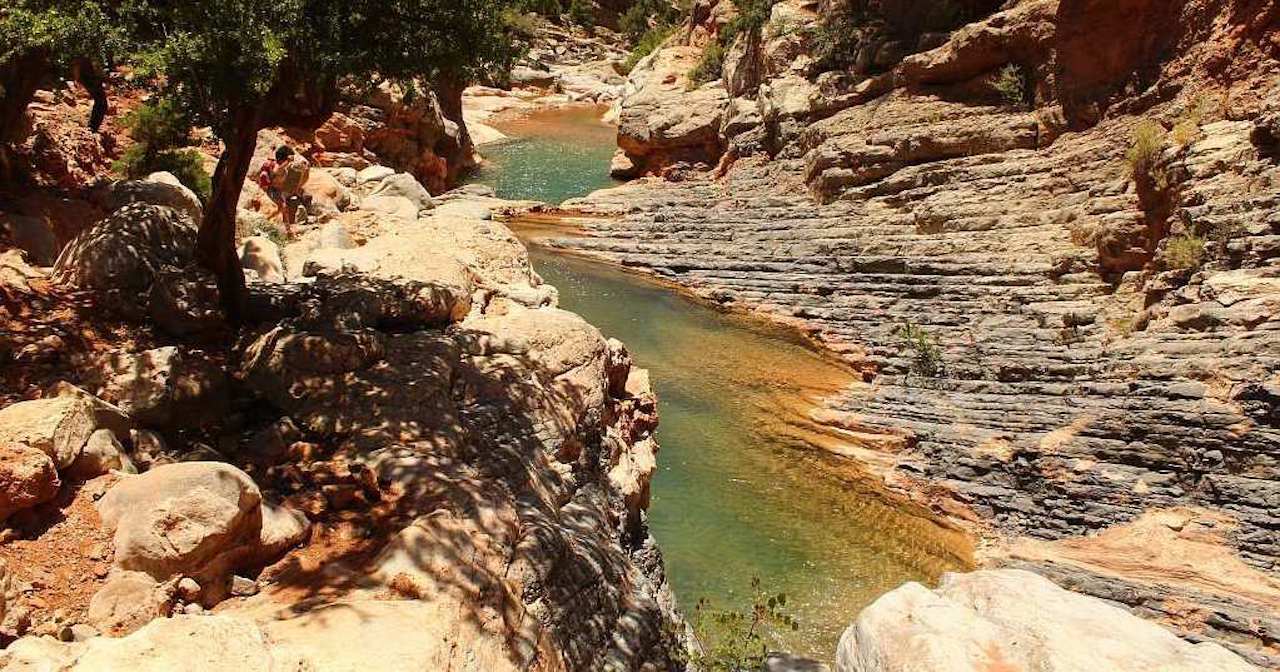 Paradise Valley, close to Agadir, May 2016
What to pack for a trek in Morocco ?
Even in winter months, the sun can be ruthless. We suggest a wide brim hat. Ankle- level hiking boots are essential, considering the rocky terrain. Crampons will make a difference, notably since much of the time you'll be walking on slippery surfaces. For regular Morocco day hikes, normal sneakers would do. Wearing low- ankle shoes may expose you to jags, low spiky thickets and other rolling rocks. They don't have to be waterproof- the likelihood of rain is quite scarce.
From March to mid November a light sleeping bag will do, if you keep below 1500 meters high. The rest of the year, we suggest a reinforced sleeping bag, capable to endure temperatures as low as -5 Celsius. Mountain water sources are not as dense as in other mountain ranges around the world, so we'd suggest carrying at least 2 liters of water with you at all times. Locally, you are not offered a great choice of canteens or collapsible water bottles, so think of bringing your own.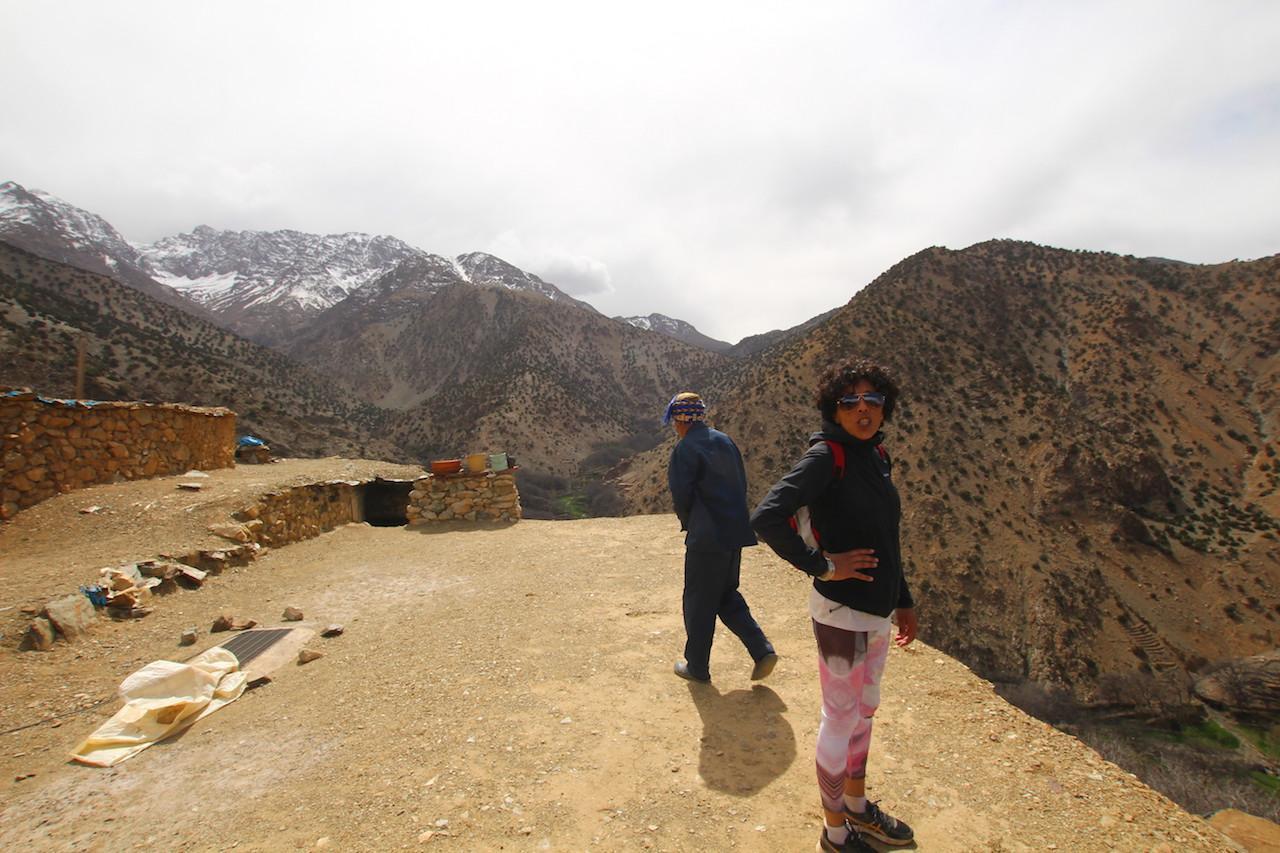 Roof terrace Tizi Moussem, High Atlas, March 2019
Moroco Maps and itineraries
There are some written guides but not as many as you'd expect. In general, we always recommend employing the services of a local Morocco trekking guide, even when the trek is easy and the change in altitude is minimal. Most of the them will speak French and some speak English.
Autonomy and mules: it is practical hiring mules through your local guide, if you wish to not have to carry all of your provisions, tent, sleeping bag, etc. Having a mule and a muleteer which doubles as a cook ensures at least a warm meal every day. Please remember there are very few refuges in Morocco compared to Europe or other parts of the world. You can arrange overnight in a local's home or ask your guide to arrange it for you. Naturally, from time to time, even if you only have a local guide with you, you'll still be able to arrange for a hot meal here and there.
Camping and making fires: there are literally no camping sites up in the mountains. It's more or less a question of camping on a plain surface and devoid of rocks. Even the rockiest or steepest of landscapes can be someone's property, but your guide will smooth out any lost- in- translation situations. For any trek more than an overnight, you'll need a gas cartridge and stove ( can be bought locally). It is forbidden to light fires inside national parks. If you are outside a national park, consider the fact that wood is scarce in Morocco and the local shepherds and nomads need it for their daily use.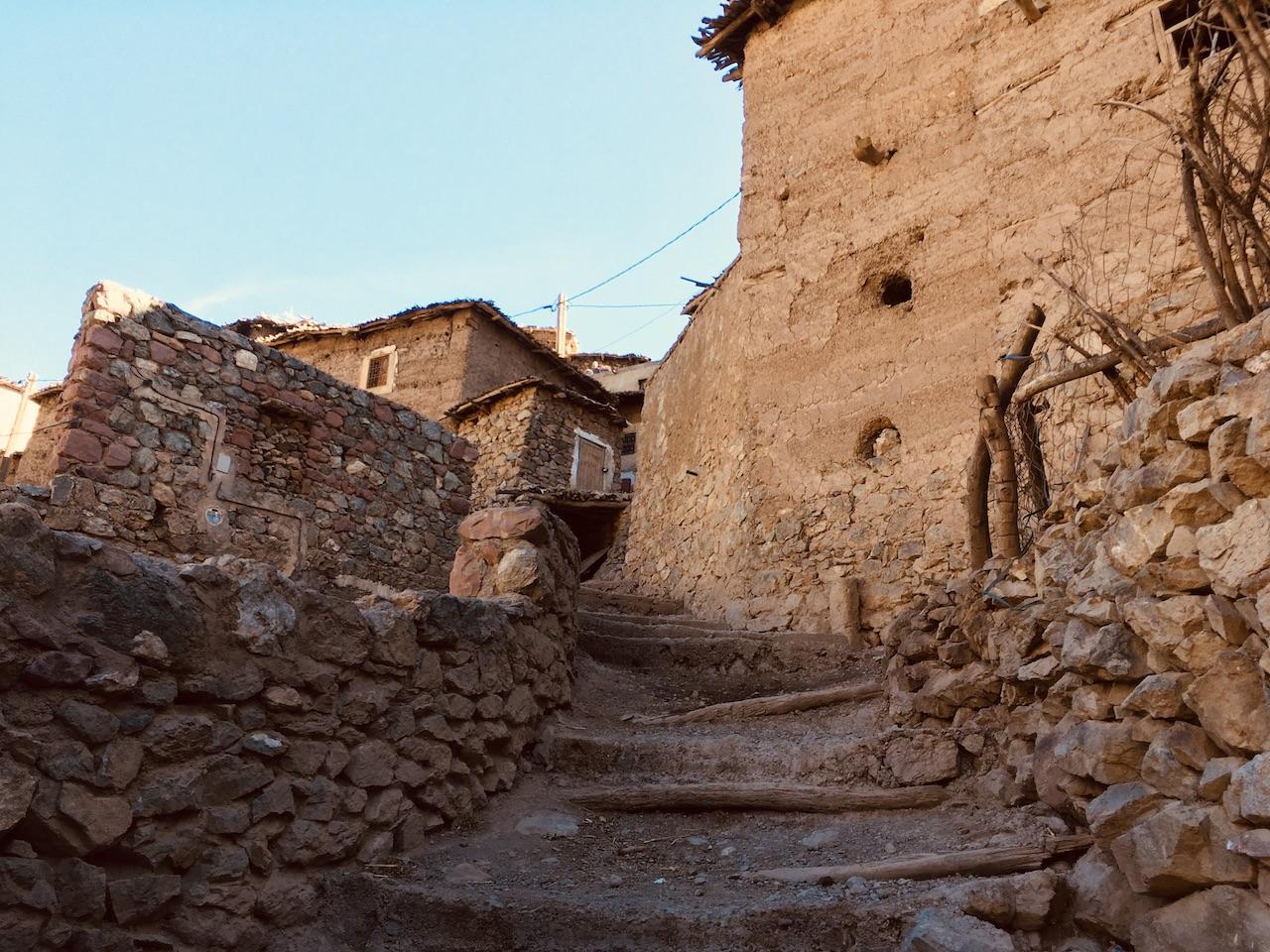 Berber village, 1800 meters altitude, October 2020
Can I include the desert in a Morocco trekking tour ?
A distinction must be made between Sahara desert ( sand dunes/ camel treks/ million stars ) and rocky deserts which inform the particular landscapes of the Anti Atlas mountain range and their fringes. Since only a reduced part of the Sahara desert actually lies within Morocco, it would make little sense if at all to trek over several days in the dunes, unless you wish to revisit similar landscapes over several days. The change in altitude will also miss from the mix.
Can you trek the dunes and the mountains in the same day ? Well, yes and no. Smaller ergs (dunes) are found south of the Anti Atlas mountains, yet the diversity of landscapes will wane and ideally you'd want to keep your senses awake. Especially more so when Morocco is also known for 'getting from snow to desert dunes' in the same day. If you are looking to visit the Sahara desert and trek in the High Atlas mountains, we recommend giving yourself at least 7 days for a Morocco trekking holiday.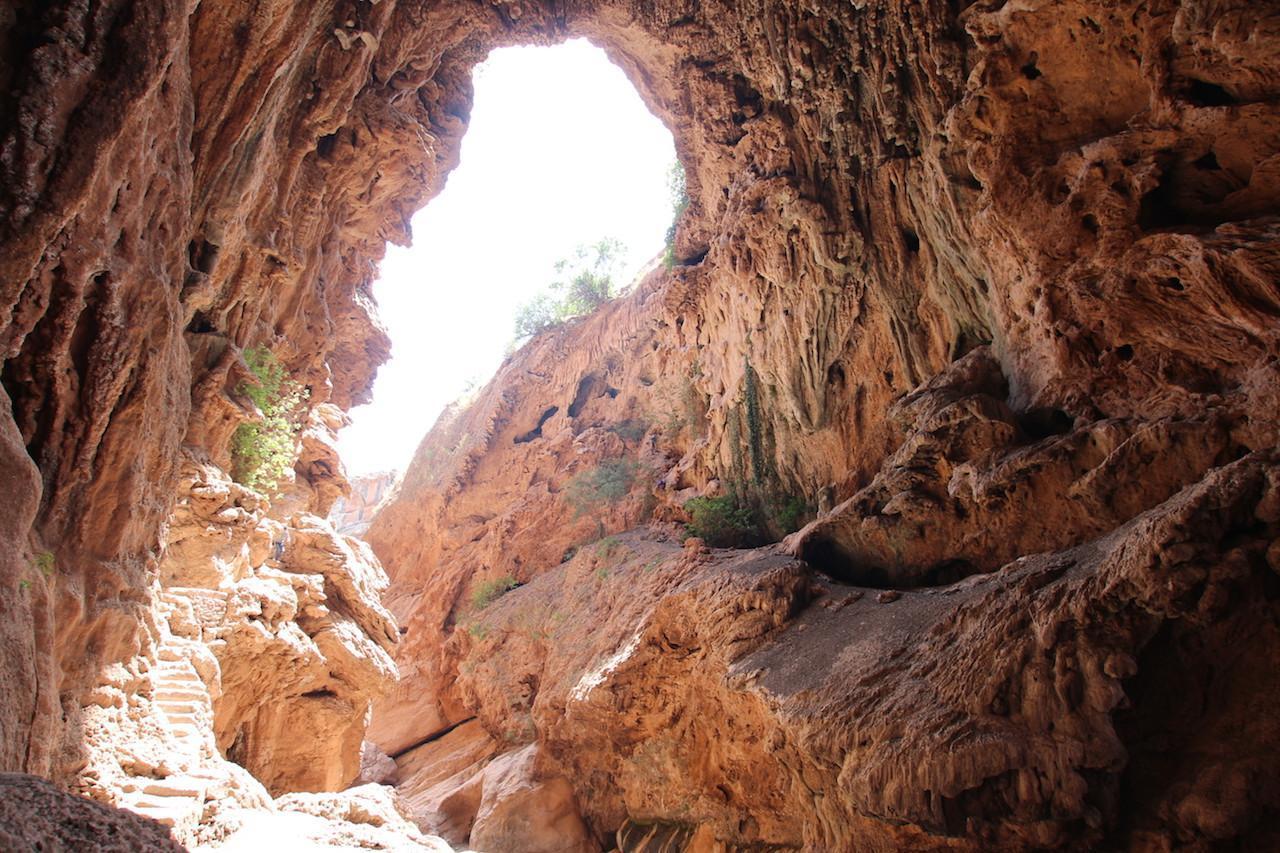 Imi n Ifri gorges, Middle Atlas mountains, August 2019
Acquire gear and necessities locally.
Although a few years ago Decathlon has opened shop in the large cities in Morocco, you are still short of finding variety of instant foods, trekking socks or dehydrated meals. You will find basic gear including gas heaters, coffee thermos, power bars, rain ponchos, etc. Also, if you are into hardcore trekking and you'll need ice axes or other niche items, better check with your local organizer first.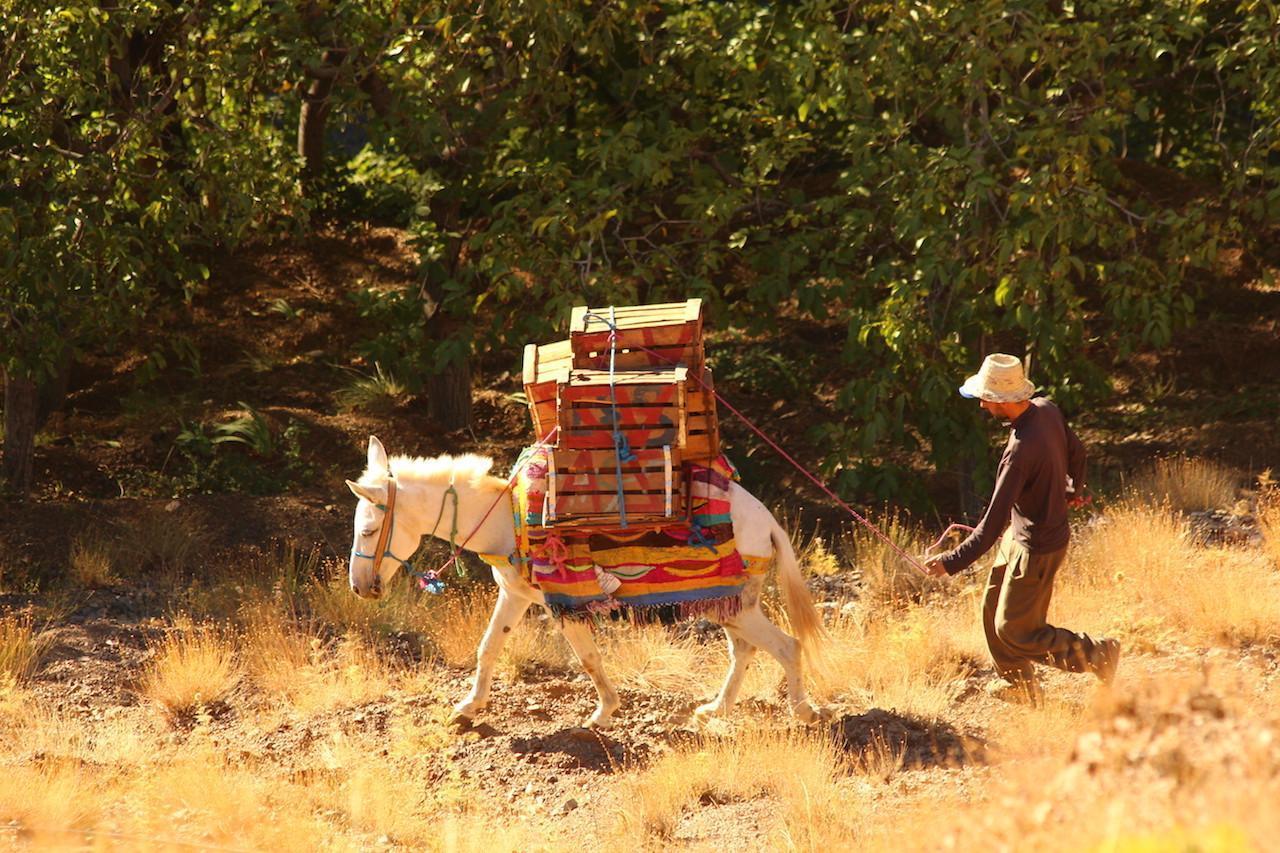 Mule and its colorful charge, High Atlas mountains, October 2018
Is it safe to trek in Morocco ?
With the exception of the murder of two foreign tourists next to Imlil in 2018, Morocco is a very safe country to travel to and most of our guests felt safer in Morocco than in Barcelona or Istambul. As mentioned formerly, we strongly encourage you to hire a Moroccan trekking guide: there are virtually no marked trekking routes, the need of an intermediary between the locals and yourself and someone to liaise with the local services in case you have an accident. Emergency services: in case of a trekking accident, only large cities boast western- level clinics: Marrakech, Agadir, Ourzazate. Please make sure to ensure your travel insurance covers any accident- related injuries.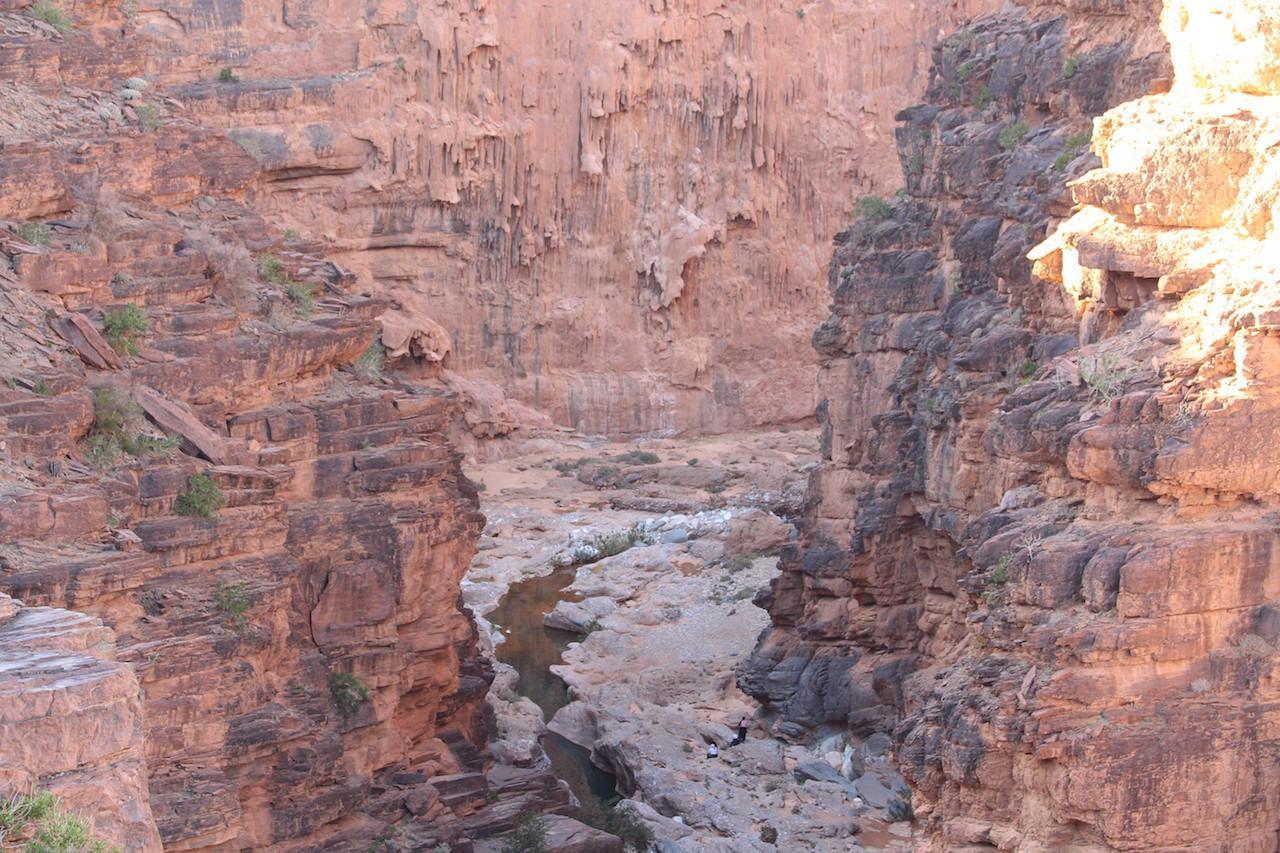 Anti Atlas mountains canyon and natural pools, January 2021
How to book a Morocco trekking ?
The question you'd have to ask yourself is whether you'd like to only focus on the trekking while in Morocco or include it along with some time in the Sahara and/ or the imperial cities. If the first option, you can either enquire with local guides before arriving into the country ( make sure they are licensed) or else make your way to starting locations ( Tafraoute, Imlil, Skoura, etc.) and enquire locally.
If the second option, you might want to have your trekking arrangements made through a local private tour operator, that would ideally take care of your trekking arrangements ( local guide, mules, meals, gear, etc.) as well as the rest of your private tour including private transport, meals, local guides, entrance fees to monuments, etc. For instance, Leigh and John, all the way from Canada, entrusted us to arrange for them a two week private tour to include 2 days of just trekking: https://hikebiketravel.com/a-2-day-hike-in-the-anti-atlas-mountains-morocco/.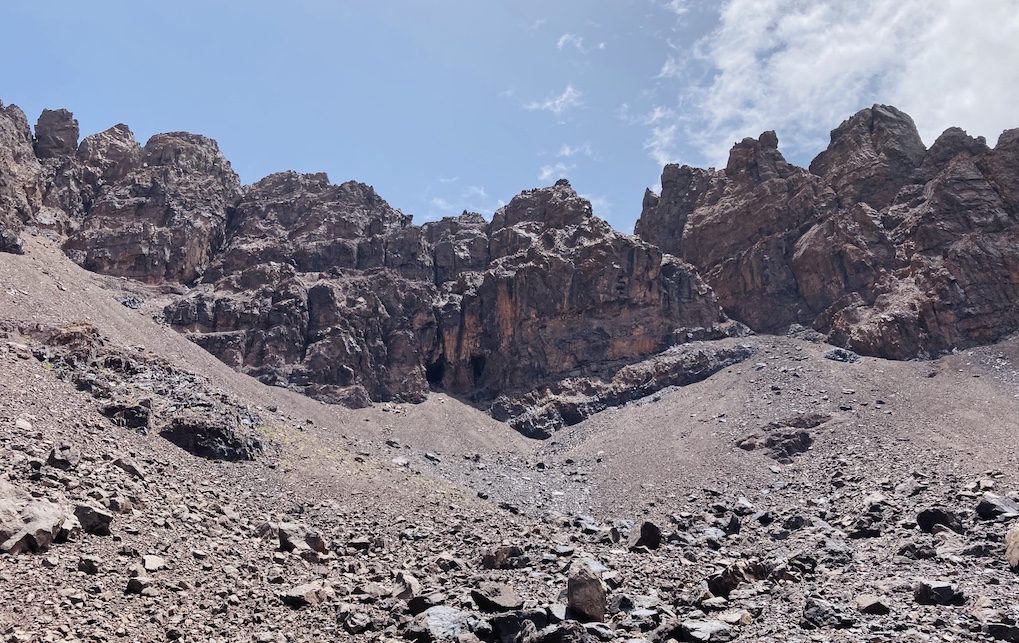 Just under 4000 meters high, July 2022
 © Sun Trails 2023. All rights reserved. No part of this article may be reproduced, distributed, or transmitted in any form, including photocopying, recording, or other electronic or mechanical methods, without the prior written permission of the publisher.