Lunar landscapes, pink washed kasbahs and… painted rocks.
If Titans of Greek mythology, those giant supernatural beings fighting gods, ever had played in their childhood at molding boulders and cleaving rocks, Tafraoute, a little town 3 hours drive south of Agadir, must have been their playground. One hardly ever tires of happening upon most peculiar shapes. As I survey the horizon from the top of the highest crag of the area, vis -a- vis Napoleons Hat
– never met the chap yet it's awkward how a French general's name has stuck here out of all places – it dawns on me that we are in the presence of a geological accident. It is only Tafraoute and its surroundings where rocks seem to be piled upon each other forming granite crags jutting out of the ground, as some kind of absurd dream of a pharaoh renouncing too early the endeavor of erecting a colossal pyramid and leaving all detritus behind.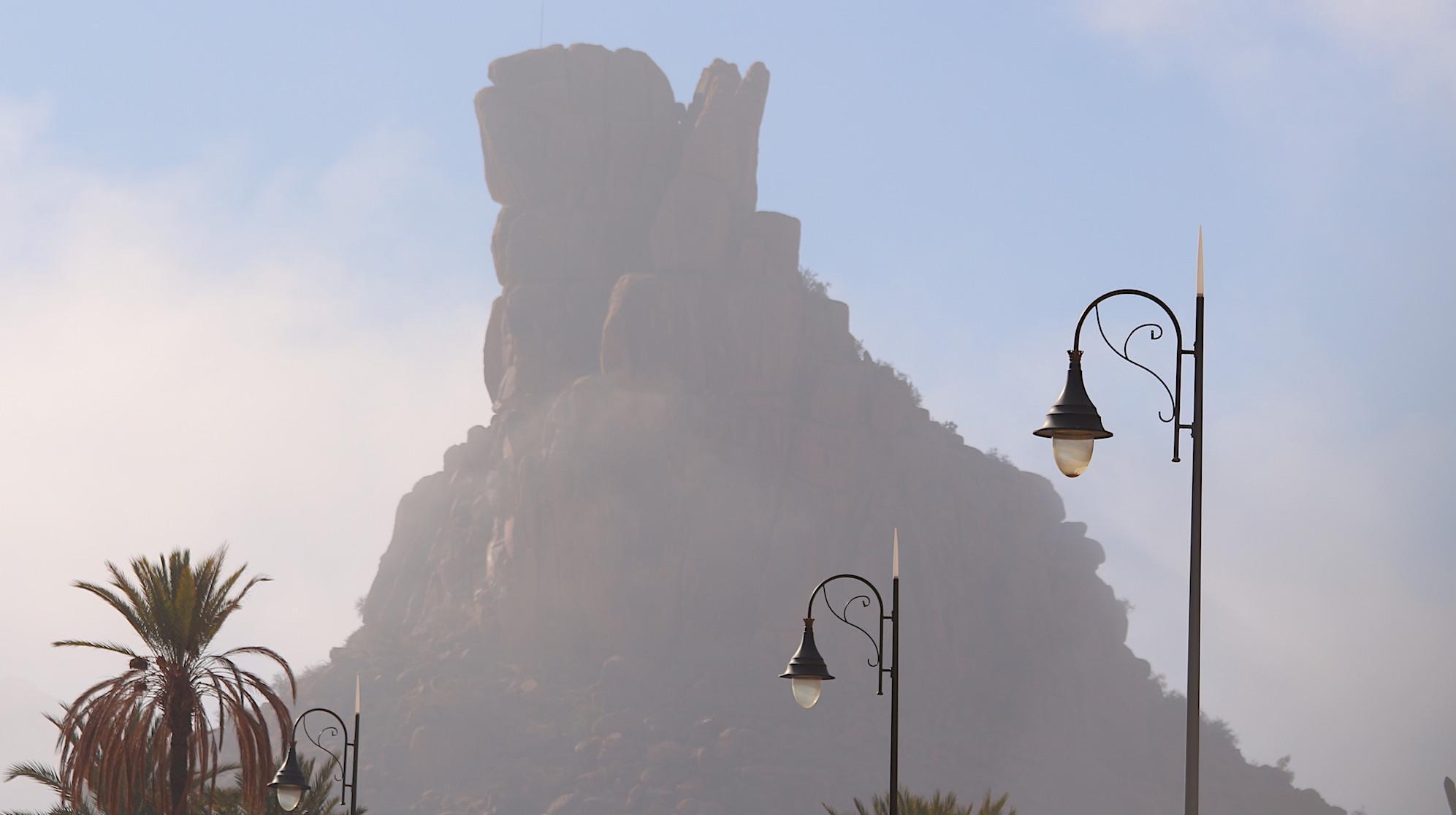 Besides me, the barren ridges of the Anti Atlas glint in the distance, half brazen, half charred, depending where you look from. Except for the astute acacia tree, sprouting sometimes plain horizontally out from between the stones, no stain of green or pasture greets the eye, if you except the few scattered shrubs here and there past hoping for the next rains to come soon. There is a time of day, not too long before dawn, where the sun slants the rocks as they gradually transform into metal mirrors, slick with the last rays of light.
The lumps of stone, eggs, potatoes, ice cubes, slabs, shards, at least that is what they seem to me, are piled up on top of each other. Come on, who dropped that on top of that ?! I hear myself speaking out loud. Not so far away, a gigantic stone egg seems to be tipping on top of a stool. For a second, I could just dart over and nudge it, see if it wobbles. But who'd want to alter anything in this Martian landscape ? Not that I'd know how that looks like. What is undeniably not Martian is the winter sun. Morning brought along a layer of frost on the window of the 4×4 that has by now long thawed away, as the thermometer shows 21 Celsius. Not bad for 1 January.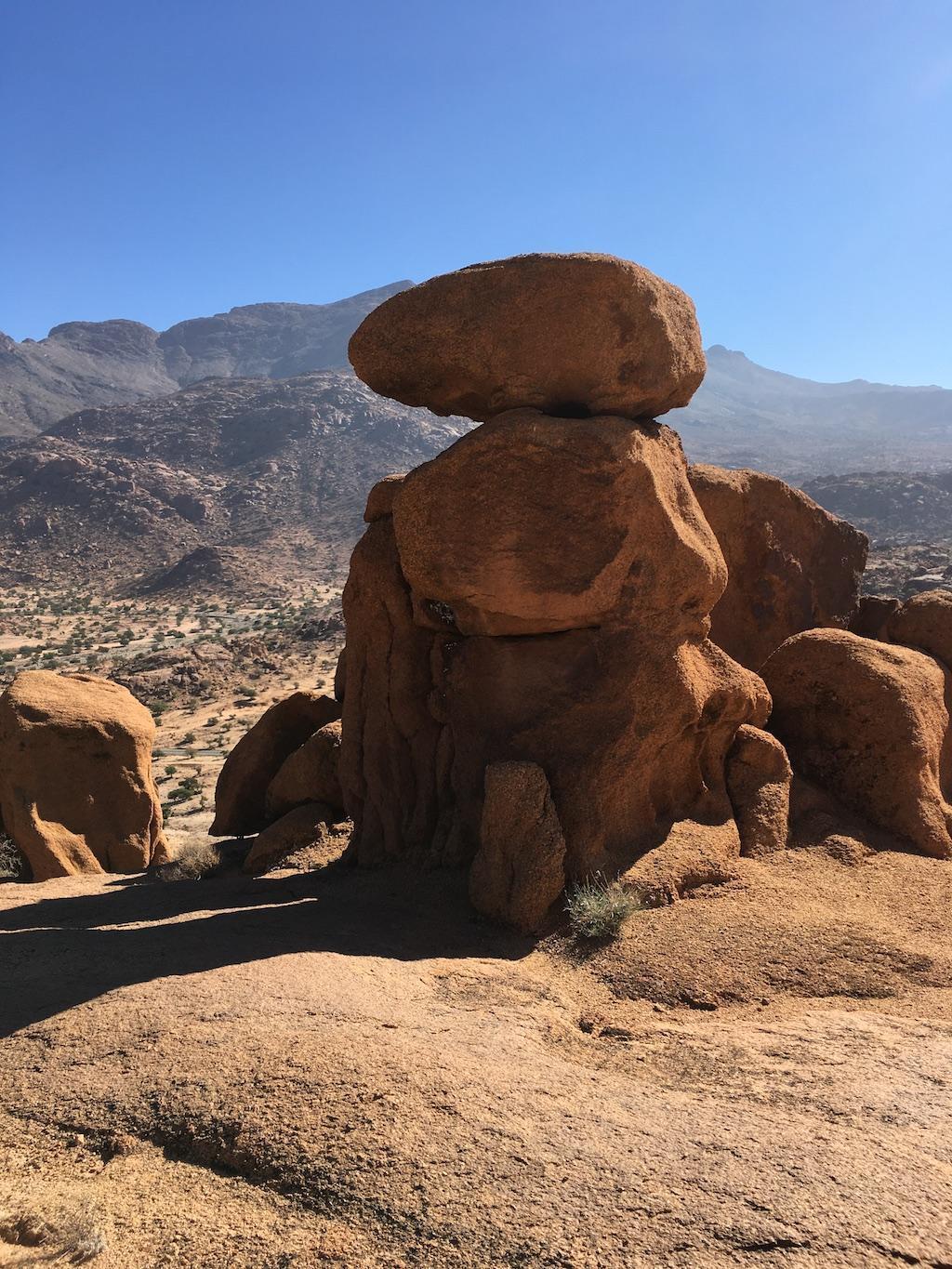 Tafraoute retains the aura of tradition and authenticity in a Morocco somewhat 'adapted' to tourists and their expectations. A Mecca for the hippies in the 70's,  the construction of its main hotel, Hotel des Amandiers, was inaugurated by no less than King Mohamed 5 in 1959, which says a lot about the ambitions of a tiny village to become a booming tourist destination. Needless to say, that boom never happened, not in the 1970's when Agadir was Morocco's star in the golden age of sea and sun tourism as hordes of sunken Europeans were disembarking on the Moroccan coast in search of vitamin D and exoticism, and neither in more recent times when culture shock and local everything are banners highly flown. Yet, why not keep things as they are ?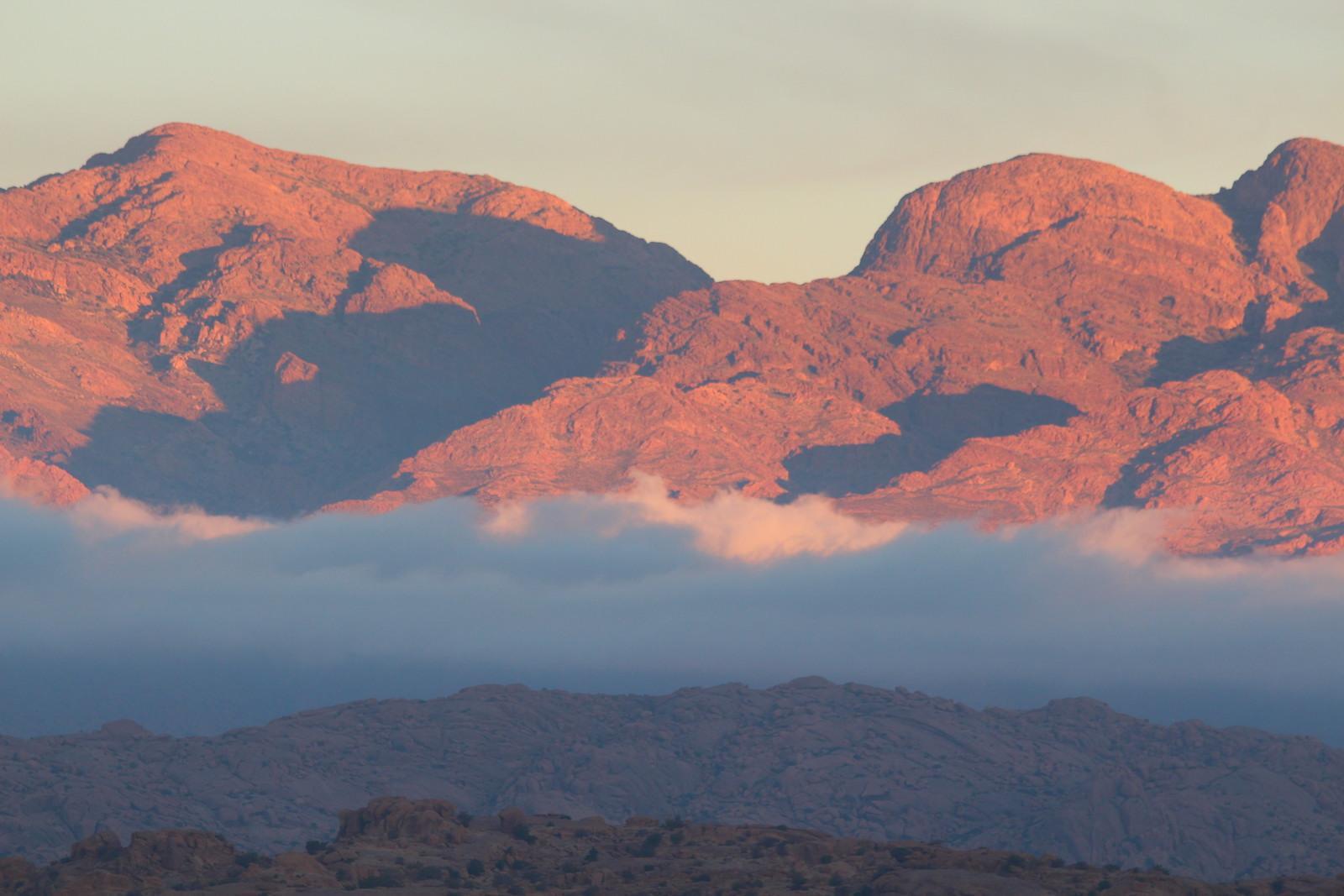 To this day, Tafraoute's streets are devoid of any red light, which is probably why it would take about 2 minutes and a half to cross it. In all, I've counted around 2 (two) restaurants where one can be served a decent tagine ( if you except all the hotels – closed due to the curfew at the time of this article). At 9 PM, it has been night for at least 2 hours and in the empty camping site where I choose to spend the first night of my voyage, the owner and few friends roll away the iron balls of petanque, amidst sluices of mint tea and occasional snickers.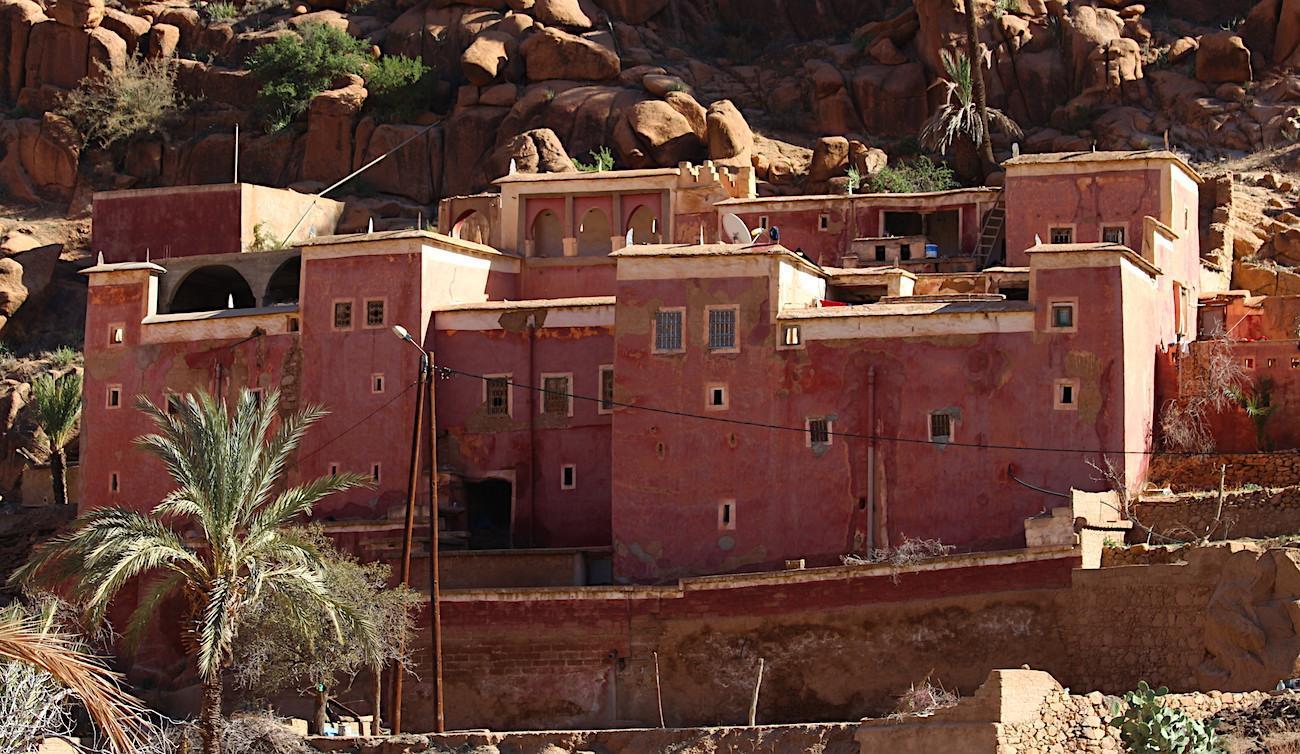 Next afternoon I find myself in a carpet shop, where Hassan takes me through a grove of books about hiking, rock climbing, canyoning and trekking. After all, the area yields plenty to satisfy the most demanding. The lofty Anti Atlas ridge, culminating with Jebel Kest summit at almost 2400 meters high towers over the town and would stretch a few glutes, Tafraoute itself lying at 900 meters altitude. On the way, beware of the Lion's Head. No, not the animal, the Moroccan lion being extinct now for at least a century, but a rock formation on the southern slope resembling the said feline. Speaking of rock climbing, an English couple and their friends have set up hundreds of climbing routes around Tafraoute, published a book and created a website.
Seeming a bit disheartened, if I were to take a guess, most likely by the drop in tourism caused by the pandemic, Hassan doesn't even bother to try and sell me a carpet from the thorough selection. A Jewish wool cape hangs on the wall next to the entrance and I stop to admire it briefly. The last rays of sun caress the boulders as I make my way to the Painted Rocks, just a few miles outside the village and pitch camp for the night. 
The morning is chilly. Clouds have gathered on the horizon and even the stone lumps have been engulfed by the fog. Later in the morning, the fog dissipates and an azure blue sky prevails. The surrounding villages are a joy to behold with their vintage pink- washed kasbahs. I briefly stop for a chat with Jean and Bernadette, the owners of El Malara, where myself and many of our guests have resided in the past.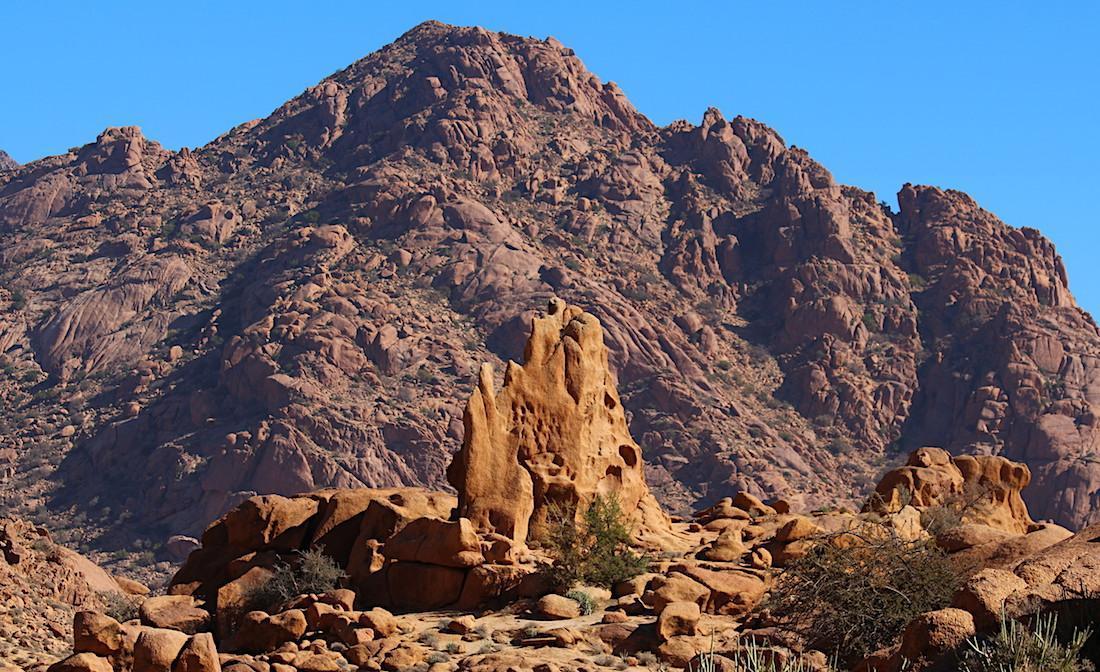 When is time to leave, only one thing is on my mind: when will I get back ? A silent vow is made, to return before summer and not solo. Hidden wonders like this one are best enjoyed in good company…  Fifteen years of living in the country have perhaps blunted my ability for being easily enthused. Here, in Tafraoute, the martian landscape makes almost all of the caché. There is no doubt about it. Yet, overcoming it, a feeling of a place that hasn't changed much, that in a way is still redolent of… Morocco. Unimpacted yet by the mass tourism. And likely to continue so. For many of us, that's priceless.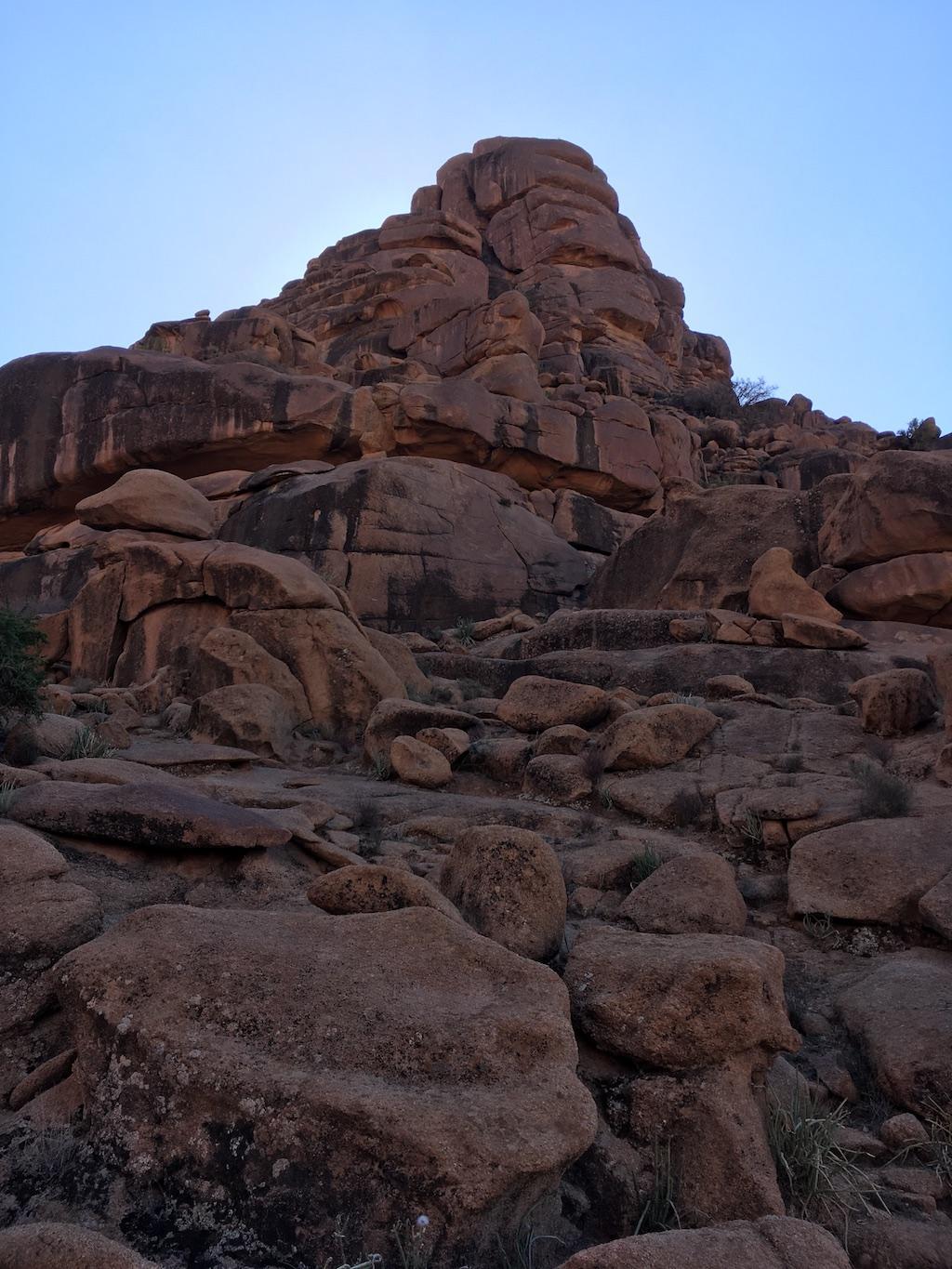 © Sun Trails 2021. All rights reserved. No part of this article may be reproduced, distributed, or transmitted in any form, including photocopying, recording, or other electronic or mechanical methods, without the prior written permission of the publisher.