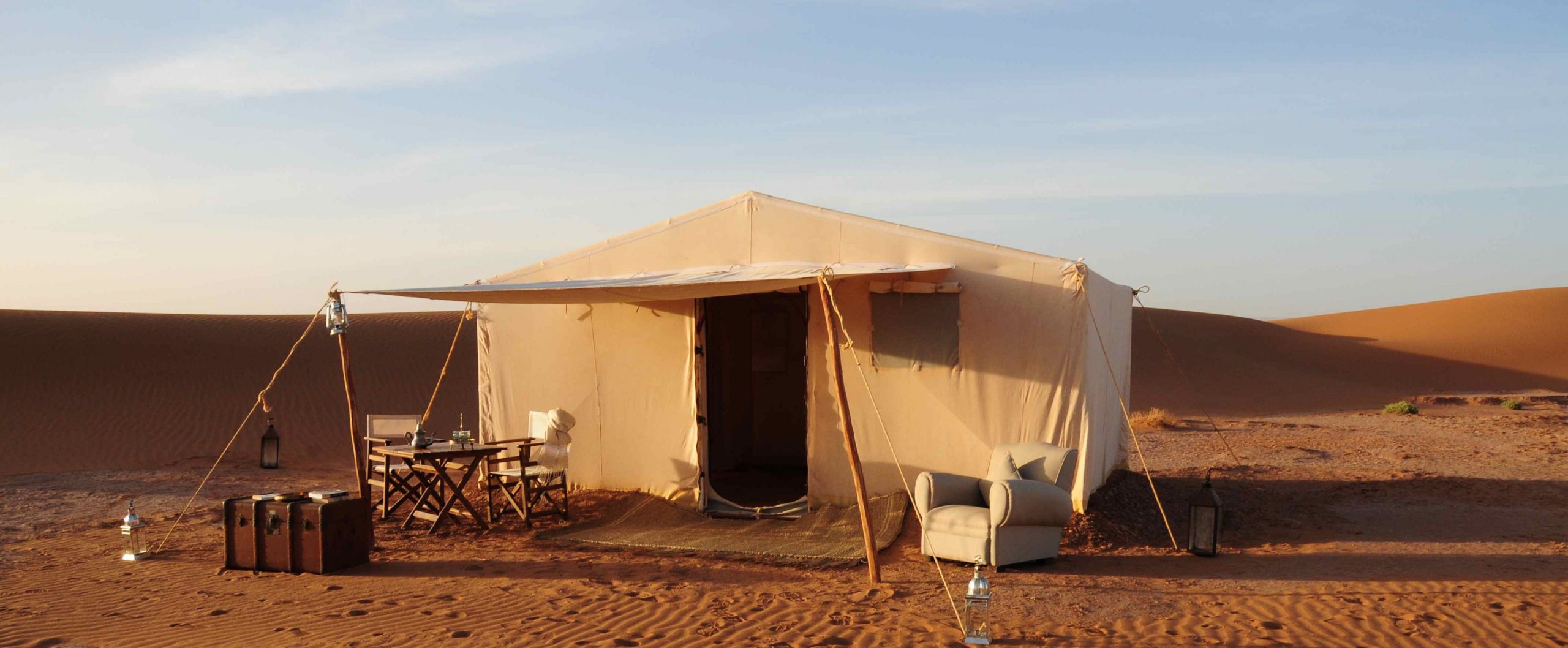 A private tour from Marrakech to the Sahara and Roses valley over 4 or 5 days.
The extravagant ruined palace at Telouet — postcard like UNESCO world site Ait Benhaddou –  Dades Gorge and Rose Valley – the 300 meters high Todra Gorges — ruined Kasbahs and lush palm groves – camel trek into the dunes of Erg Chebbi – sleep in the Sahara – prehistoric rock carvings at Tazzarine — century old traditions and crafts – bread baking in a village stove – Berber granaries and nomad grottoes – all part of this 4×4 Morocco tour. 
Click here to see detailed map
DAY 1: Marrakech – Telouet – Ait Benhaddou – Skoura/ Dades Gorge ( 5/6 hour drive)
As our private tour of Morocco leaves Marrakech, the distant haze begins to resolve itself into a jagged mountain range – the High Atlas mountains, jutting abruptly from the plain. Our route follows the same one caravans used centuries ago, to bring into Marrakech slaves, gold and precious wood from the other side of the ocean of sand, the Sahara.
Beautiful scenery and small villages built in tiers succeed among oak trees, walnut groves and snow patches before arriving at the Tizi n Tichka pass, at 2260 meters high. Once over the pass a totally different picture is unveiled: the lunar landscape of the Anti Atlas. Scent of thyme from the bushes around fills the air. Just after the pass, the tour leaves the tarmac and goes off- road to then reach Telouet and former pasha's palace dominating the village, a fortified citadel that is both a microcosm of an empire and its demise. Pacha Glaoui had managed to overshadow the sultan by controlling most of nowadays Morocco and decided to erect a palace in the middle of nowhere, where his family had originated from. He had employed the most skilled artisans to build and decorate his main residence and, in its golden age, armies, stables and Christian slaves were confined within its walls while a flourishing Jewish community was managing the nearby salt mines. Of the three palaces, only one survives and throughout its large rooms, one can admire the excellence of the Moroccan craftsmanship from more than a century ago.
Leaving Telouet behind, flat top bluffs and rocky buttes that wouldn't be out of place in a western movie loom above the route. The gardens by the river bed melt into a gigantic green serpent imprisoned between the barren light brown walls of the canyon, only to escape out into the horizon. Here and there, decaying Kasbahs stand witnesses of an age soon resolute.
Later, skirt past Tamedaght and stop to visit UNESCO site of Ait Benhaddou, the postcard- like adobe citadel. A fat, red sun, only underlines the beige tones of the mud- and- straw mixture and through the covered passages and stone walls, the past filters itself into the present. In spite of the local 'guides', the best is to just lose yourselves in its alleyways. There is always a new way to reach its peak, from where the snowcapped Atlas Mountains framed by the denim blue sky will steal your breath away. If the climb up hadn't already… Past Ouarzazate, our bespoke tour of Morcco reaches yet another lush area, nested between the deserted crest and the desolate plateaus: Skoura palmgrove. We can arrange for accommodation here or press onwards to Dades gorges.
Then, our trip reaches Kelaa des Mgouna, famous for the nearby Valley of Roses and 'Rose Festival', where at the end of a 3 day celebration usually held in May, a local girl is crowned 'Rose Queen'. The most looked after product is eau- de- rose and two factories in the area distil and export the product. The process uses approximately three thousand kilograms of rose petals to extract a liter of rose oil.
Further on, Boulmane de Dades follows, the starting point to explore the spectacular Dades Gorge, a lush carpet set against the massive rocks and quite popular among those interested to trek.
DAY 2: Skoura/ Dades – Tinerir – Todra Gorge – Rissani – Merzouga – Erg Chebbi ( 5/ 4 hour drive)
Back on the road, our first stop is Tinerhir (Tinghir), with its extensive palm grove, the ksours built into the rocky hills above it and its mysterious decaying Jewish quarter. Tinerir has been for generations a stop for nomadic Berber tribes travelling from the mountains north of it towards the desert during the winter months. A rather inconspicuos hidden gem is the 19th century adobe mosque nested within the old crumbling ksour, a heaven for photography enthusiasts.
Todra Gorges , lie only 15 km from Tinerhir, presenting an arresting spectacle with its crystal clear river emerging from it, its huge walls changing color to magical effect as the day unfolds. Its 300 meters ( 1000 feet ) high walls are home to more than 150 bolted routes and at any time of day you can catch a glimpse of someone rock climbing his way up the gigantic walls.
Before reaching Merzouga where the tarmac ends, our 4×4 Morocco tour passes Erfoud and Rissani. In Erfoud we can stop for a visit at Musee des Oasis. Rissani used to serve as last stop on the great caravan routes south and gold and slave auctions were taking place here as late as 1800's. Before it, the caravan trade and the most important city in Morocco was Sijilmassa, the ruins of which lie opposite Rissani. From its gates, Ibn Battuta and Leo Africanus left Morocco to embark on their illustrious journeys across the Sahara into African countries, at a time when Sijilmassa was the trading hub between Europe and Africa and Arab pure bred horses from Morocco a much coveted commodity at the court of Timbuktu:
[Here ( in Timbuktu) are many shops of artificers and merchants, and especially of such as weave linnen and cotton cloth. And hither do the Barbarie merchants bring cloth of Europe… Here are verie few horses bred, and the merchants and courtiers keepe certainn little nags which they use to travel upon: but their best horses are brought out of Barbarie. And the king so soon as he heareth that any merchants are come to town with horses, he commandeth a certain number to be brought before him, and chusing the best horse for himselfe he payeth a most liberal price for him.] ( Leo Africanus – History and description of Africa)
Soon after we reach Merzouga and in the distance you glimpse the first leviathans of sand forming the Sahara: the dunes of Erg Chebbi. We'll stop for a break at a local kasbah where you can leave some luggage and/ or have a shower before being hopped onto a camel and taking the route to the camp nested in the middle of the dunes. Then, while the staff of the camp is unloading your luggage and preparing your dinner, you climb onto the highest dune you can find. Take a moment and watch the sun hide behind dunes heavily shaded, shadow turning them from golden to burnt orange. There is nowhere else you would rather be. After dinner, the camp staff turn out to be quite gifted musicians. At night, dazed by the millions of stars glittering above, the silence is so thick you feel you could cut a strip and wear it as a scarf, as you fall asleep.
DAY 3: Erg Chebbi – Erfoud – Alnif – Nkob – Skoura ( 5 hour drive)
Should you have missed the sunrise… well, try not to. Stories of Scheherezade, Ali Baba and his 40 thieves, have created a mythical Arabian landscape that reality often struggles to match. Except for moments like this one…
The road to Tazzarine sees almost no traffic, providing a scenic link between Tafilalet and Draa Valley. Aside from the landscape, fossils and prehistoric rock carvings are this region's main attraction. The scenery grows wilder as you approach Tazzarine, set in a grassy oasis surrounded by bare mountains. Past Nkob, with its prominent old Kasbah and dense palm grove, we will enter the Djebel Saghro, a starkly beautiful jungle of volcanic peaks, quite unlike the mountains we have already encountered so far. One can only wonder whether the stark conditions of life around these parts have helped shaping the character of its inhabitants. This is where in the winter of 1933, a 2000 Ait Atta Berber army resisted a 8000- man and 44 planes strong French army as the French were looking to complete their colonization of Morocco.
General Guillaume, one of the French army heads wrote: "Our opponent reveals the best warrior of North Africa. He is brave to temerity. He accepts deliberately to sacrifice his possessions, his family, and even his own life, to defend his freedom… This instinctive horror proven against all coercion and domination justifies the  desperate resistance opposed to any foreign penetration. Everyone defends his territory until the end, with a fury that can surprise, but which commands admiration."
Once on the other side, we will stop for dinner and accommodation in the palm grove of Skoura.
DAY 4: Skoura – Ouarzazate – Fint Oasis – Marrakech ( 5 hour drive).
After breakfast, do not miss a walk in the palm grove, an amazing world of its own: date palms at the edge, terraces of olive, pomegranate, almond and fruit trees further in, with grain and vegetable crops planted in between. Here, the river is diverted and separated by man- made streams to irrigate each and every garden as everyone gets his '8 hour slot' of water. You can witness the ingenious distribution of water through kettaras and seguias and the local craftsmen shape their colorful potteries. Succulent trees ripple in a breeze that wafts down the valley as the village is softly hushed, the only sound the bleating of far- off goats.
Back on the road, our 4 day Morocco tour leaves the palmgrove behind as the road climbs, twists and turns its way up into the mountains, before breaking through the scarp at the pass of Tizi n'Tinififft. Stopping at the pass and looking back, you catch a glimpse of the Draa valley and the oases, a green river of palms snaking up into the haze bordered by the Kasbahs, adobe guardians rising as if from the earth where the green gives way to the desert.
The nearby Fint Oasis provides a precious opportunity to witness life within an oasis set among a stone desert, albeit hundreds of miles away from the Sahara. Smaller in size than a palm grove, an oasis is an essential component of the desert, where water comes out of the ground and used to be shared equally among the caravans. A small community still inhabits the lush gardens surrounding the oasis, preserving the century-old traditions.
Then our tour crosses Ouarzazate, made famous by its film studios where scenes of  'Game of Thrones' were recently shot. We will then start our way back crossing the High Atlas. Few people know it but this route was first laid out by the French Foreign Legion back when Ouarzazate was no more than a French army outpost. Our trip serpents its way through the abrupt valleys and mountain peaks and our desert tour arrives in Marrakech later in the evening.
Please find below the resumed itinerary (driving times don't include stops):
Day 1: Marrakech – Telouet – Ait Benhaddou – Skoura ( 5 hour drive).
Day 2: Skoura – Tinerir – Todra – Rissani – Merzouga – Erg Chebbi ( 5 hour drive ).
Day 3: Erg Chebbi – Alnif – Nkob – Skoura ( 5 hour drive).
Day 4: Skoura – Ouarzazate – Marrakech ( 5 hour drive).
You may choose to follow the original tour itinerary as described on the website or have us create a tailor made itinerary around your preferences. Please note that all our tours of Morocco are private and daily stops are accommodated along the way every couple of hours for you to visit a site, take a stunning photo or stretch your legs.
Feel free to let us know if you would like to include a site/ activity of your own in the itinerary. If you don't know where to start some ideas are:
– lunch inside a Berber home;
– visit the nomad grottos and Berber granary;
– learn about life in the palm grove, the khetarra irrigations, the pottery craft, the olive oil press, etc.
– try and blend in at a village market;
– visit the Black People village, have tea with the nomads, awe at Bronze- age rock engravings and pry out fossils;
– bake bread with the local ladies in the village's oven;
– trek in Dades Gorge or High Atlas mountains;
Bellow you will find our tentative rates ( no two itineraries are similar ) based on two persons traveling together, with the relevant accommodation option. For discounted rates, we invite you to book off season. 1 % of our revenues are donated towards social causes in Morocco.
Dreamers: 830 US $/ 765 €/ 680 £ per person ( double room & comfort desert tent);
Privilege: 1075 US $/ 995 €/ 885 £ per person ( junior suite & comfort tent with en suite shower and toilet);
Divine: price available on request.
Our portfolio accommodations do not fit into a rigorous star rating system, so we have named them Dreamers, Privilege and Divine, to best resume their nature. To ensure availability, we recommend booking at least 3-4 months in advance.
Pricing can vary at different times of the year. If you book your tour to take place in December, January ( outside NYE holidays), February, June, July and August, you will enjoy our low season rates. An exact rate will be offered once we have agreed on the precise itinerary, accommodation range preferred and any extras you would like to include. Discounts apply when 3 or more persons share the vehicle(s). You can also choose to mix different accommodation ranges within the same circuit.
Our rates include:
– private use of the English fluent driver- guide & modern air- conditioned Toyota 4×4;
– boutique/ luxury hotel accommodation for 2 nights;
– Sahara camel trek and private basic/ luxury tent for 1 night;
– 3 three- course- meal dinners and 3 breakfasts for 2 persons;
– airport or hotel pick- up and drop- off;
– private guided visit of a palm grove or trek in the High Atlas with local guide;
– refreshing drinks inside the vehicle all along the itinerary;
– local English speaking guides;
– admission fees to all local sites and attractions;
– 24 hours travel assistance ( with Privilege and Divine level);
– gasoline and transport insurance;
– VAT and visitors tax.
WHY SHOULD YOU BOOK WITH US
# We are based in Morocco since 2006 and no, we don't work from home :). We scout for the most unique sites & local experiences all year round. We present these on our blog, Facebook and Instagram  pages. And only a travel agent based in Morocco can keep you up to date with latest travel restrictions within Morocco or how to get the fastest PCR test;
# We anonymously test, hand- pick and continuously update the best boutique and luxury hotels, Riads , eco lodges and Kasbahs across Morocco;
# We strive to bring you most authentic experiences. Some of them are unique: private flight to the Sahara; visit of a medina with a local university teacher; mechoui with a nomad family;
# 1 percent of our receipts go towards local projects, like help educate girls from rural Morocco or restoring the agadirs of southern Morocco;
# we accept payments by credit card, PayPal, bank transfer and, in the near future, alternative coins;
# we are on hand 24 hours a day, 7 days a week, before and during your tour, by email, phone or Skype/ Zoom.
Ready to create your unique Morocco tour? Get in touch here with our on- the- ground team in Morocco.