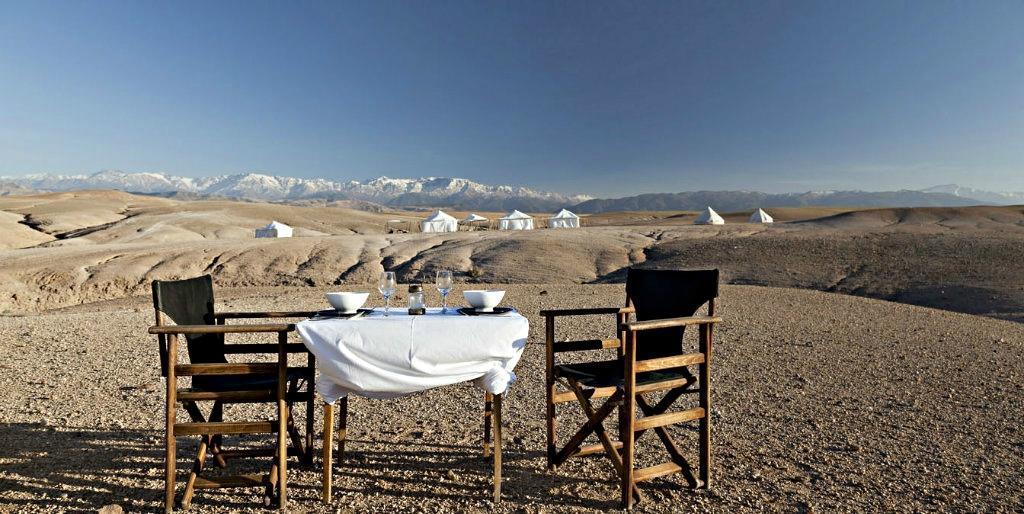 Luxury camps and things to do in the stony desert of Agafay.
Only 40 minutes drive of Marrakech lies the desert of Agafay. It isn't sand dunes like the Sahara. Yet layer after layer of rock dunes instill a similar feeling of remoteness. Of nothingness. Only troubled by the occasional douar, local hamlets with their mud houses which seem to slowly return to the adobe they've been molded from. There is no living soul in sight, if not for the solitary camel grazing by. It is one of the few places in Morocco where near- total desolation manifests with such exquisite beauty. Some in- the- know travelers move through this desert as part of a 4×4 day trip from Marrakech into the High Atlas mountains. But they don't suspect one can also spend the night in Agafay desert, without having to rough it up. Also, for those newly wed, it is hard to find any place more romantic to include on a honeymoon in Morocco.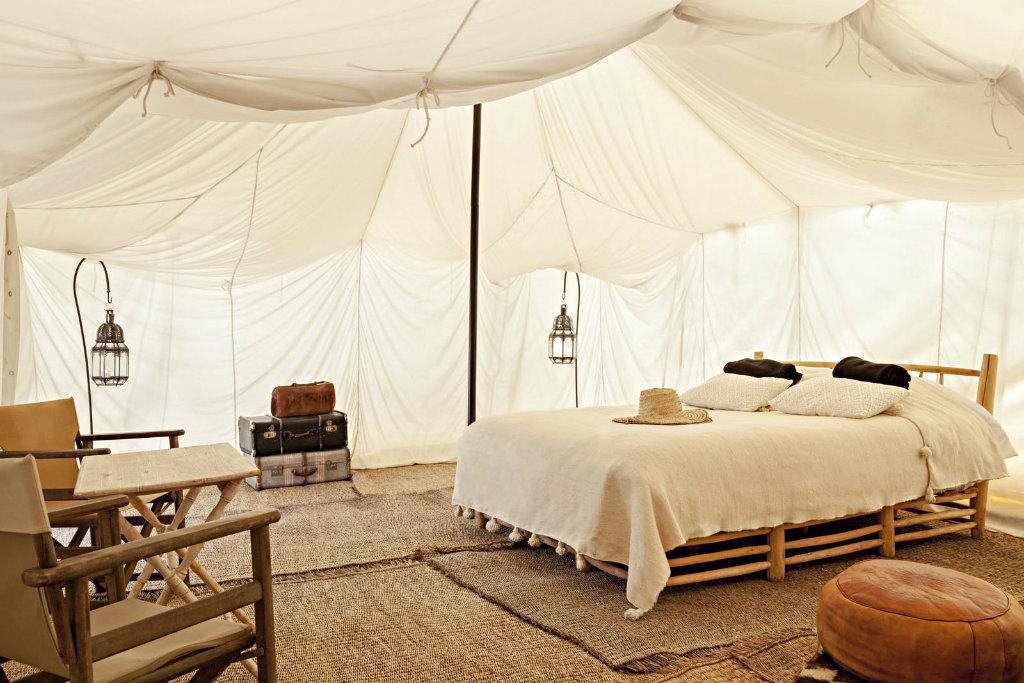 One of these places offers both exquisite adobe-and-tadelakt bungalows and spacious air-tight tents. The French owner, with a passion for Africa and the desert, was driving aimlessely around Agafay some many years ago, when he stumbled upon an oasis and a ruined house. It immediately occured to him that this would be the perfect spot for an eco- lodge that would reflect his love of desert and remoteness. The oasis would provide the water, the desert – the views. Nowadays, this remote eco- lodge offers adobe bungalows, comfortable tents, a restaurant area, shady gardens, a refreshing pool and a miniature golf course, among other things. But it's the views and complete remoteness that make it worth spending the night or two here.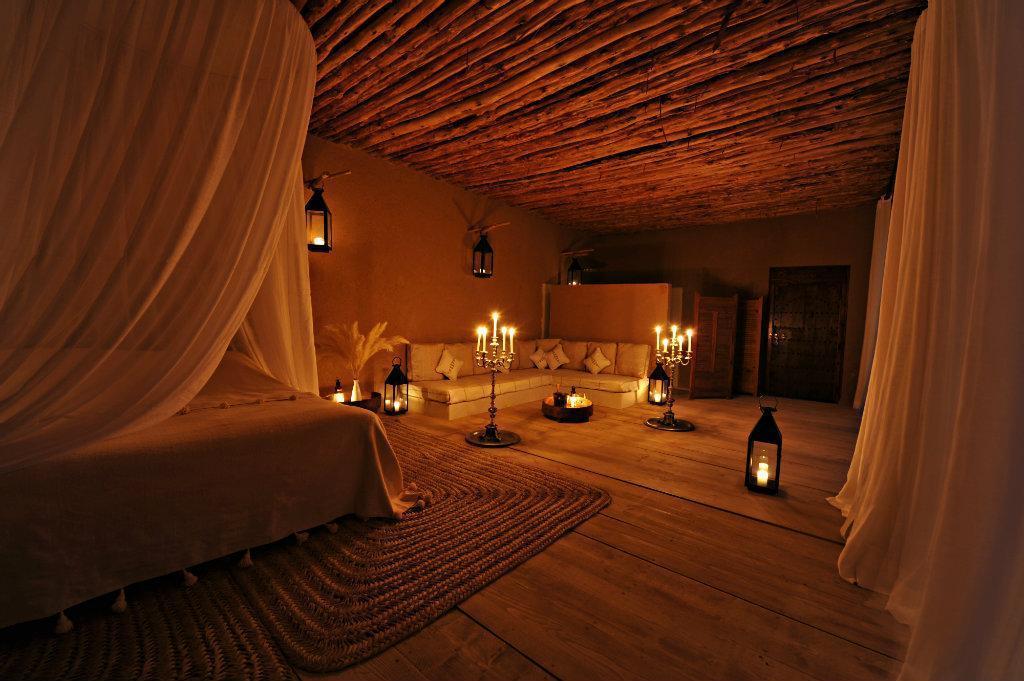 You may think that the beautiful lanterns lit at night are there just for the effect. You're wrong. The whole place works without one watt of electricity. Which makes for the starriest sky at night, the one you'd normally sight in the Sahara. And if you think that this means roughing it up, think again. Soft cotton sheets, luxurious bath products, running hot water, wood burning stoves and even a wifi hot point offer all the necessities you may need. Protecting the environment, but not suffering for it.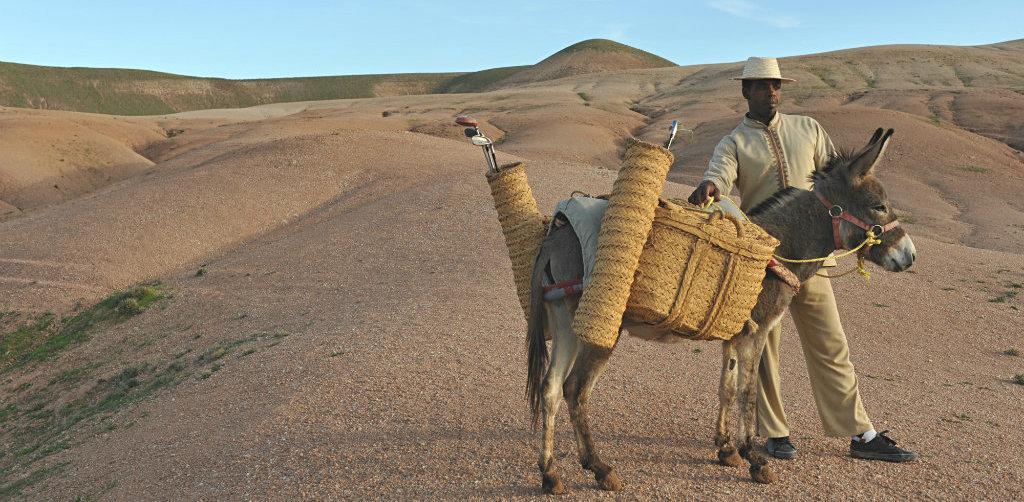 A few miles away, tucked behind mounds of moon rocks, you will find a 12- tent camp. Spacious white canvas tents accommodate comfortable beds. In one suite tent, an antique globe sits atop a stack of vintage leather suitcases; in the reception pavilion a zebra skin graces the floor next to a folding campaign table piled high with well-thumbed expedition and photography books. Iron candle-lamps are suspended on posts; hammered-silver urns trickle fresh water into basins in the bathroom tents. The interiors seem to come out straight of 'Out of Africa' and you may be forgiven for thinking that you are somewhere in Kenya and not less than an hour drive of bustling Marrakech.
If having a romantic dinner and night in the middle of nowhere, take in the immensity of landscapes and disconnecting from a busy lifestyle is not enough for you, worry not. From guided treks along the oasis to yoga sessions with nothing in sight at 360°, there is plenty to occupy your time here. Horse riding , quad biking, camel riding, reiki massages, mountain biking are but some of the ways to explore the Agafay desert and can all be arranged locally.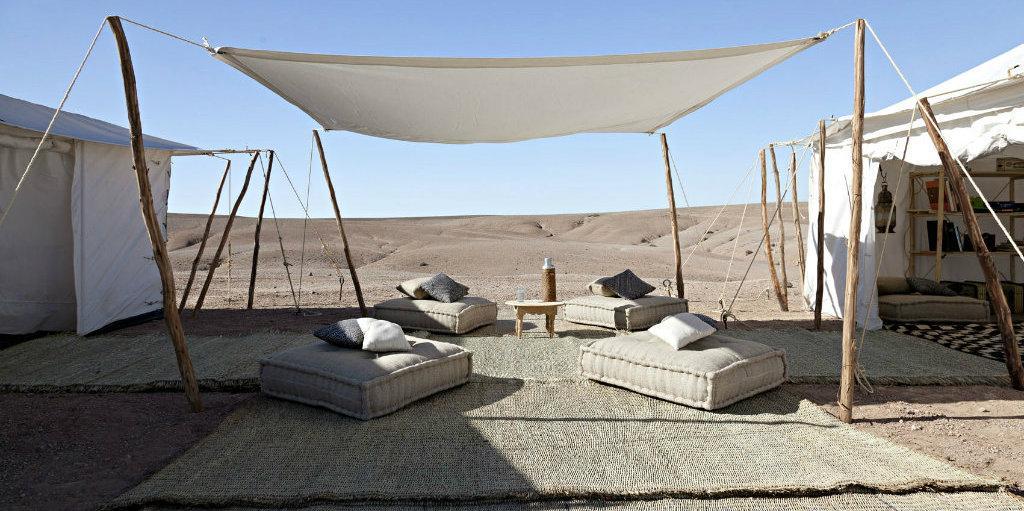 Better still, why not make staying one night in Agafay desert part of a 2- day private 4×4 tour and discover the diverse area just south of Marrakech ? The desert, the High Atlas, the Kik Plateau, the local waterfalls, Lalla Takerkoust lake – so many contrasts just in two day. Perhaps start with the Ourika Valley, hike up into the High Atlas, have lunch with a Berber family. Freshen up by the local waterfalls, see how the argan is turned into oil into a local cooperative. Discover the 12th century mosque of Tinmel, have a tea by the Lalla Takerkoust lake, lunch at Richard Branson's High Atlas retreat or trek in the Atlas mountains. And, after all the lushness of the High Atlas, have a little bit of desert. Arrive in the Agafay desert by the afternoon and, after settling in, have the most romantic dinner by candle light under the starriest sky, out in the open. Spend a night inside an adobe bungalow or white canvas tent and explore the surroundings next day by foot, camel, horse of mountain bike.

Private tents at Scarabeo Camp available from 201 €/ 161 £/ 274 $ per night per tent with half board;
Private bungalow at La Pause available from 300 €/ 250 £/ 335 $ per night per bungalow with half board;
2 day private 4×4 tour to include a night in the desert available from 300 €/ 250 £/ 335 $ per person.
To book or enquire about any of the above, please send us an enquiry at [email protected] or fill in the form on our contact page.