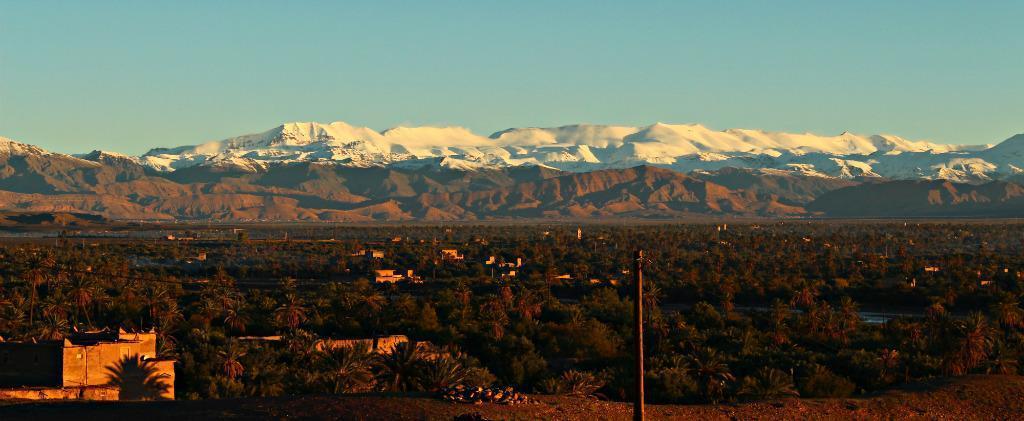 Update 2023: after a 2 year break, when JDS was managed by someone else, Caroline is back running the house. And we're all more glad for it. 
When visiting the south of Morocco, many think of Ouarzazate. And yet, this 20th century city with its famous film studios, plethora of large hotels and a few manicured kasbahs is far from representing Morocco or the region itself. To immerse oneself into the local culture, one has to travel a little outside Ouarzazate: just a half hour drive west of it lies the palm grove of Skoura. Set between the High Atlas in the north and Djebel Saghro in the south, it first meets the eye as a large green ribbon making its way between the beige ridges, white sometimes in winter. And driving past it, one cannot help but wish to explore it.
Cross the bridge and within the shade of the palm trees, you'll find: figs and pomegranates, vine and pumpkins, tomatoes and olives, rosemary and thyme all grow next to each other, as the water streams make their way to each garden, ingeniously separated by hand- made dams, that get open and closed every few hours. One can wander for hours here, protected by the shade of the palms, past century- old kasbahs where the local guide will tell you the differences between Berber and Jewish architecture. With the ever- present sunshine, how can one resist and not want to settle here forever ?
French- born Caroline, decided to spend the whole- year round. Eleven years ago, she opened Jardins De Skoura, a truly enchanting guest house set within the palm grove and quickly became a reference in the area. Not surprisingly: her welcoming is warm and she immediately makes you feel at ease. She sits down with each guest and talks about her favorite spots in the area. The cuisine is exquisite and highly praised by those on a private tour of Morocco, who by the time they reach Skoura, are… tagined out. Not that there is anything wrong with Moroccan food. But who wouldn't crave a homemade gazpacho ? Or a mousse au chocolat ? The house reflects the local architecture: its walls are made of pisé ( adobe) and the ceilings supported by birch and palm trees. And then, there are the gardens… But let's leave her do the talking.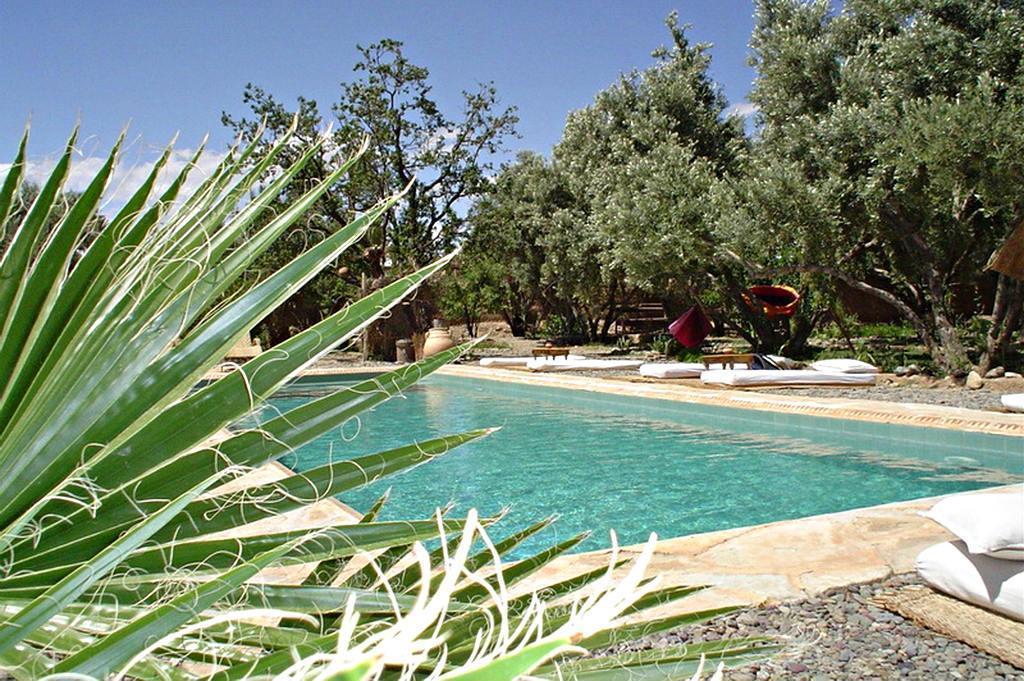 Sun Trails: Tell us about some of your professional experience before the opening of Jardins de Skoura.
Caroline Lecomte: I started my professional life as a florist, a job I really enjoyed and which allowed me to surround myself with a team of 10 employees as I wanted to develop my next project – event organization. Then came the thirties, and a change of direction took me to other horizons- organizing event trips.
ST: Why Morocco? How did you get the idea?
CL: In 1998, I crossed the Mediterranean to come and live in Marrakech where I continued to do what liked most: organizing incentives, congresses, seminars. Program preparation led me to travel all the south of Morocco; thus gaining valuable knowledge of the territory. And there, I fell in love with the real south. The palm grove of Skoura enchanted me, near Ouarzazate. It seemed to be the ideal location from where you could travel in all directions. Explore the area without having to pack your suitcases every day. Before making the decision to settle in the palm grove, I had undertook, for a website project, the inventory of all the guest houses existing at the time in the palm grove of Skoura. I visited 357 altogether and this is the experience that made me throw myself in. Leaving the city, I really wanted to have a place within the palm grove. I didn't see the point of being either in the village or on the side of the road. So it was a challenge because at the time there wasn't yet any guesthouse open within the palm grove.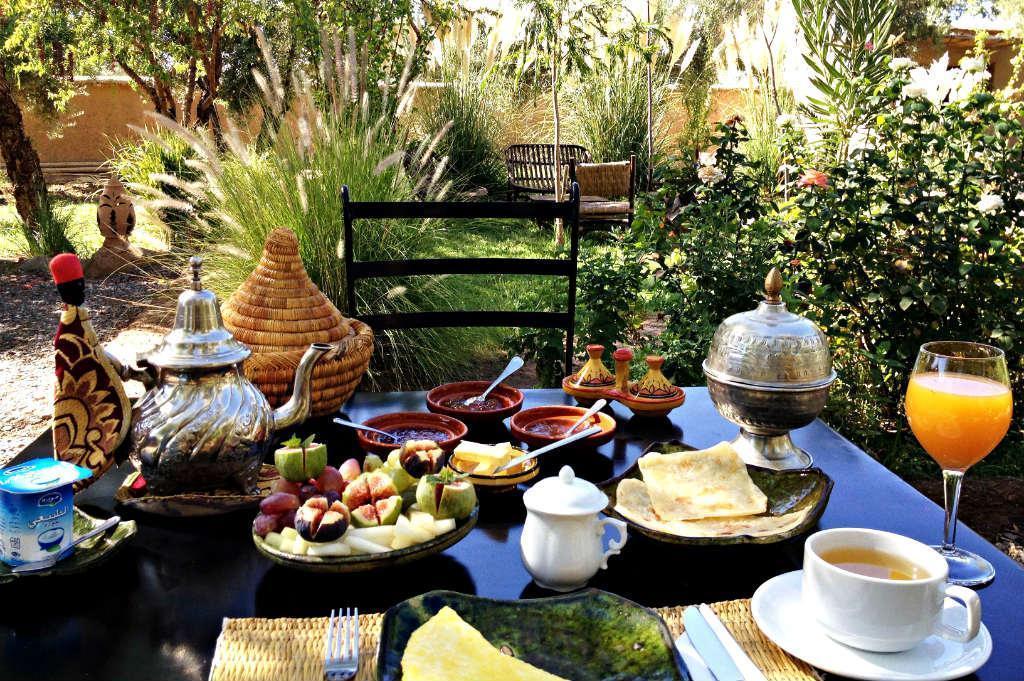 ST: Who took care of the construction and decoration of the house?
CL: Myself and 25 workers. I started by building my own apartment on one side of the garden so as to perfect my knowledge of local building techniques. I camped in the garden for 8 months because when I bought the house from the former owners, it was in ruins, with no electricity, toilets or running water. Then the workers have restored the old part which would then become the guest house. The decoration is made mostly with many items unearthed when I was living still in Marrakech medina between 1998-2003
ST: How many rooms and suites do you have ?
CL: Five rooms and three suites.
ST: Tell us about your garden, swimming pool and orchard.
CL: The one-acre garden is a little gem that we wanted to restore to the same condition as the one before, without compromising what was left. The banks of seguia (irrigation canals) were terraced and redesigned by theme: Secret Garden where the traveler can find privacy, Comfortable Garden to lie on the grass, Herbs Garden with plants for tea and herbal infusions, Vegetable Garden which heralds us during the various seasons some of the vegetables and fruits we use in the kitchen and finally, The Orchard, for one to stroll among the almond trees, pomegranates, figs, grapes and olives.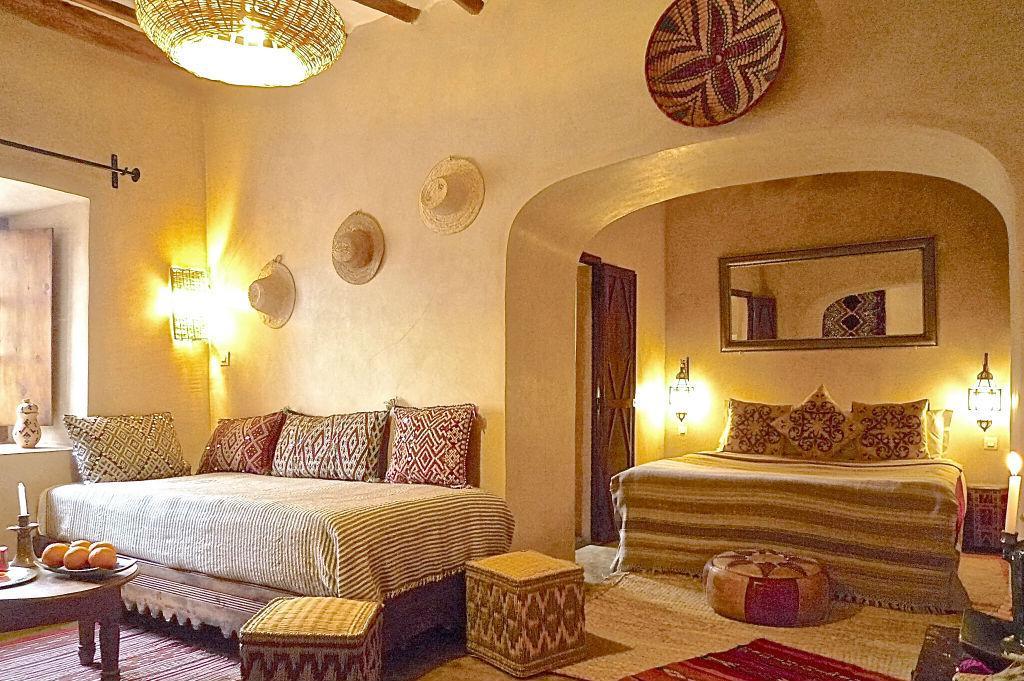 ST: What do you offer more compared to other guest houses in the area?
CL: A large garden and panoramic terraces where guests can find privacy. The training of my staff (from an incentive business angle)- I had access to many great hotels all over the world as my parents were in the hospitality business as well, so I had some experience of what the customer expects during their stay. Compliance with European hygiene, cozy welcoming and a fine cuisine. And me coming from a background of tourism and catering, which makes some difference. I did not become hotelier overnight.
ST: Guests seem to really appreciate your kitchen. Do you have a talented chef ?
CL: I have a very good chef who has worked previously at La Mamounia and knows very well how to play with spices without removing the taste of each ingredient.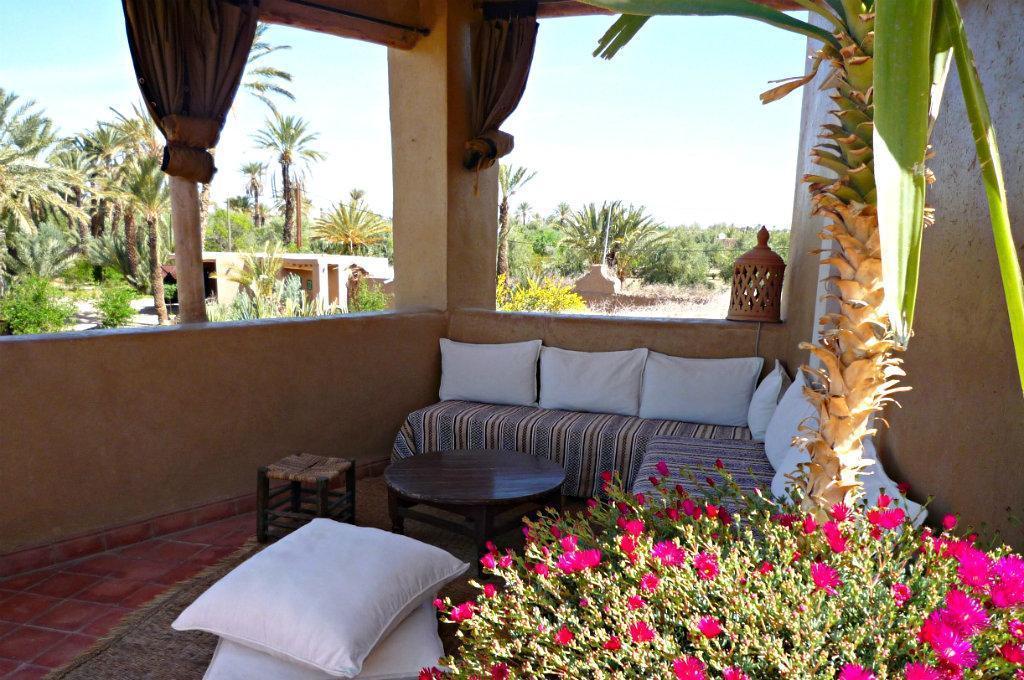 ST: From where do they come the ingredients?
CL: Vegetables from the garden and small local producers, homemade olive-oil, fig jam and apricot jam.
ST: Tell us about some special dishes at the Jardins de Skoura or those who are dear to you.
CL: Winter or summer, in the menu, there is always a velvety simple vegetable soup or gazpacho but also some with a twist: for instance beet gazpacho with citrus coriander and soy. The starters are Moroccan and Mediterranean recipes instilled with fresh flavors. Beef tagine with quince / lamb tagine with fennel are some of our signature main courses. Desserts are always French and homemade with fresh and natural ingredients: lemon meringue pie, apple clafoutis, apple pie, egg snow, chocolate mousse, etc. We try our best that our menus reflect a discovery of fine Moroccan cuisine.
ST: Which countries do your guests come from ?
CL: Mainly we have British guests with US coming second. And them some from Australia, France and some other European countries.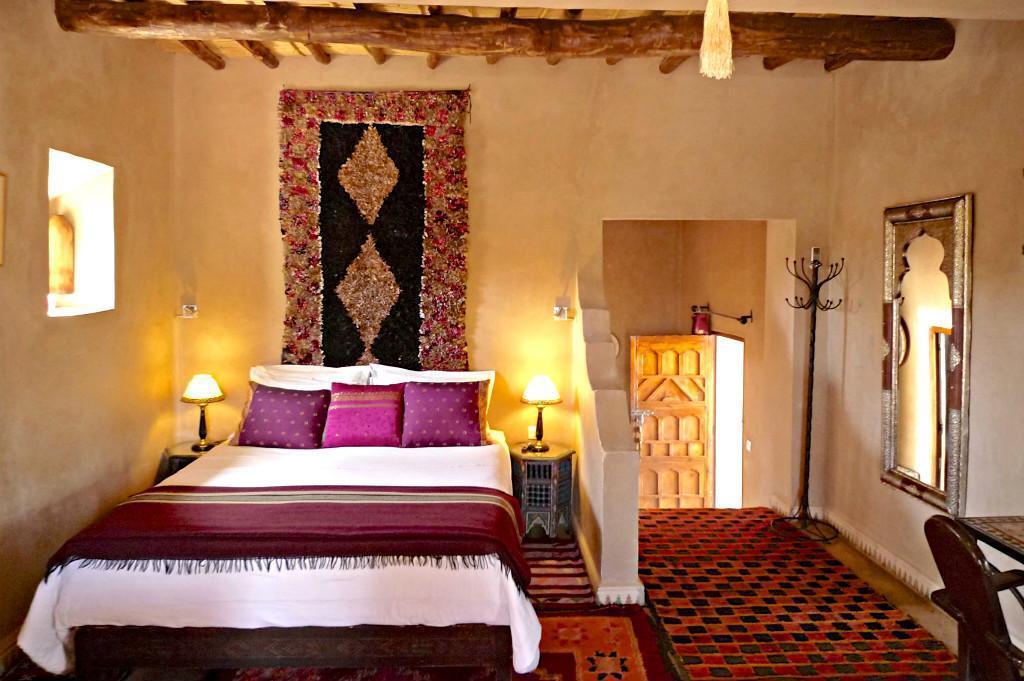 ST: Have you noticed any changes compared to previous years?
CL: During my first 5 years I used to get a lot of French people but in the last 5 years there has been a shift towards English speaking guests.
ST: What do guests value most here ?
CL: The garden, the service both around the house and at the table, professional, attentive yet not intruding. The decoration of the house which is in keeping with the country, mainly Berber and rustic.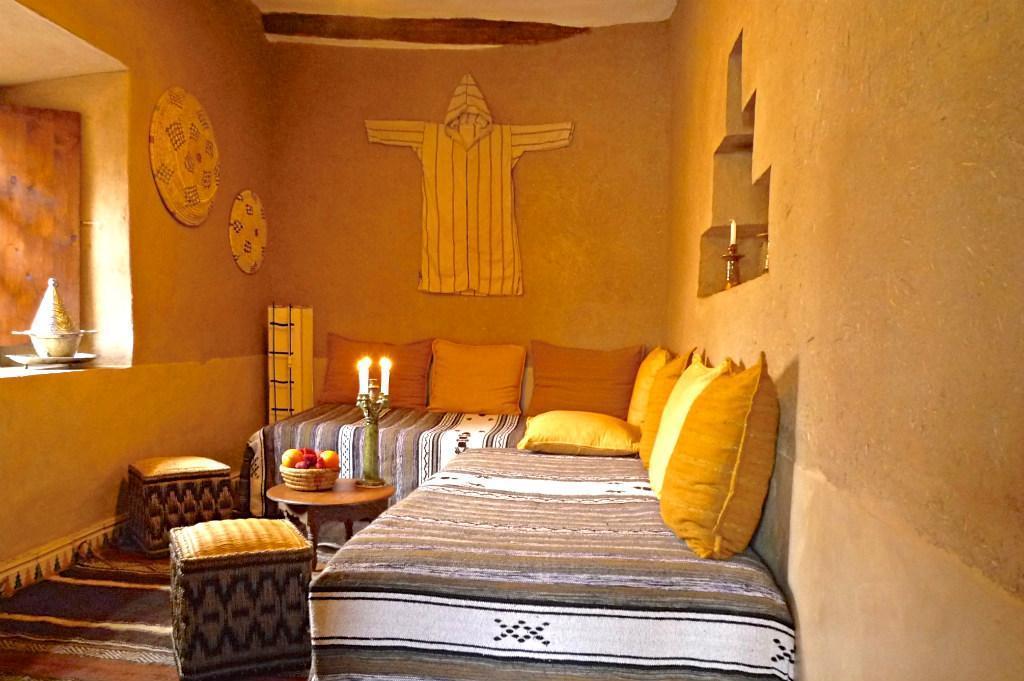 ST: Your guests are here to make a brief stop as part of a private tour in Morocco or do you have also people who come and stay for several days ?
CL: Both. Some come to re- learn how to enjoy silence, take the time to discover the palm grove and locals' every day life. Some come to do absolutely nothing ( the true luxury if you ask me), disconnect from the city and work. Not having to pack one's luggage every day, take the time.
ST: What is there to do / see in the area for people who wish to spend several days ?
CL: There are both classical/ tourist spots and then there are my secret places …. Souk of Skoura on a Monday, trekking in the palm grove with or without donkeys / Sidi Fla and Ouled Merzoug/ Valley of almond trees and roses / Dades Gorge and Todra Gorge / Fint Oasis / Ait Ben Haddou / Draa Valley and waterfalls of Tizgui / Souk of Toundout on Thursday and its trail of Kasbahs and so on…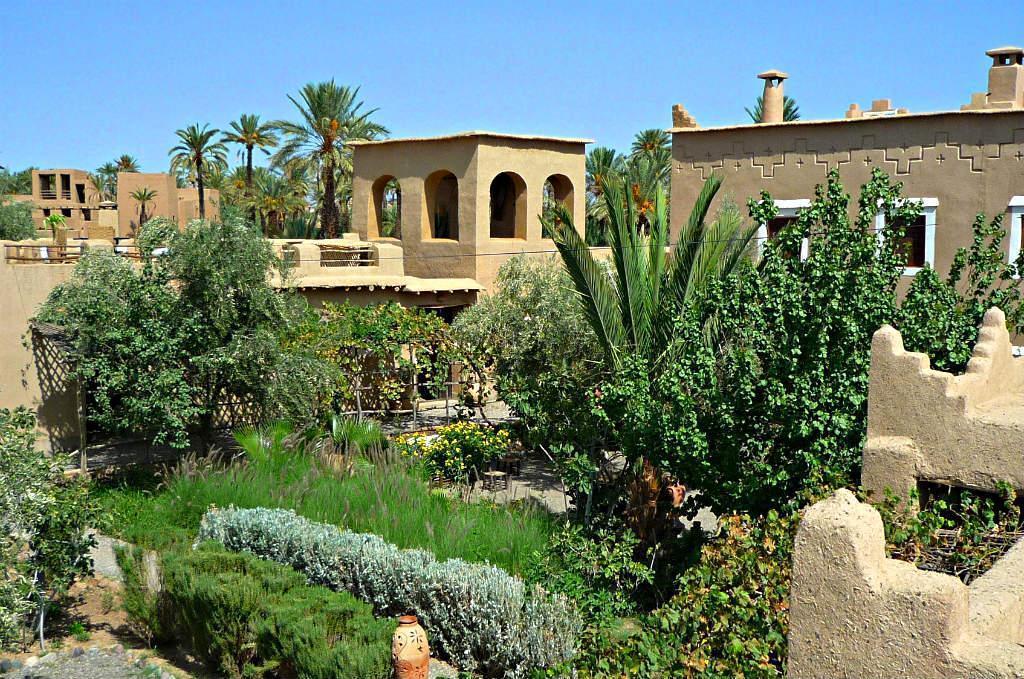 ST: The community of Skoura is deeply rooted in tradition, it seems to me. How do they perceive the arrival of tourists?
CL: No worries, they understand that our guests are respectful of the culture here. And that it brings work to the locals: employees, traders, guides and craftsmen.
ST: What is the best part of the year to visit you?
CL: March – Apr – May, early June – September – October. End of the year for those that want to see the blue sky.
ST: What is it made you stay here all these years? Is it not difficult to live in the countryside, far from big cities?
CL: I love what I do. It's my choice. It comes with sacrifices but it is a choice that I respect.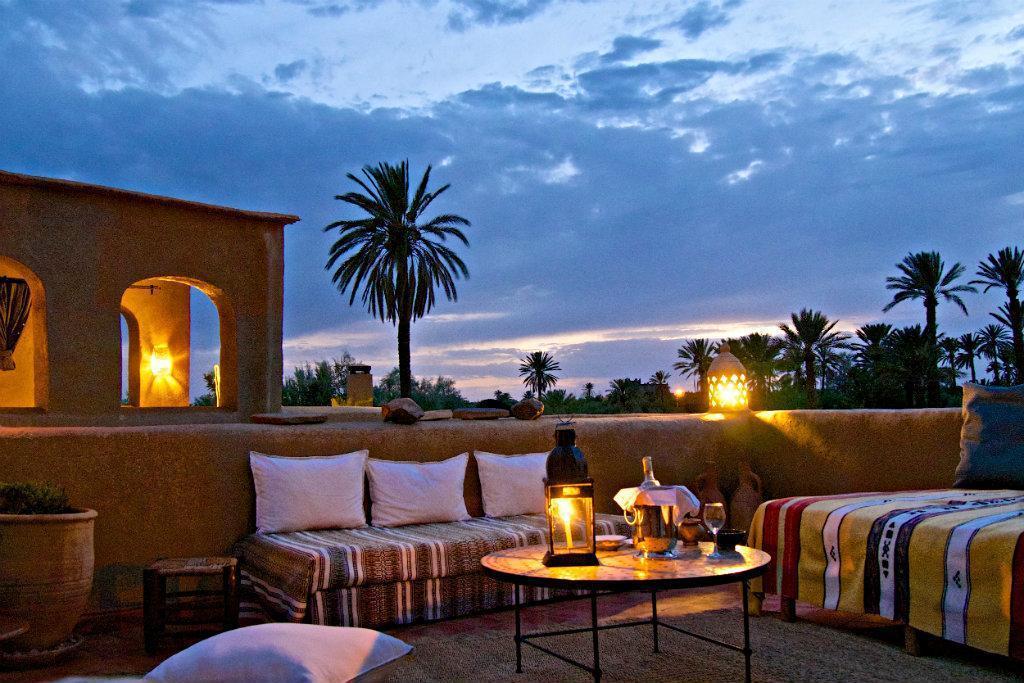 Jardins de Skoura is currently offered on our private tours of Morocco as part of our Privilege range of accommodation. 
© Sun Trails. All rights reserved. No part of this interview may be reproduced, distributed, or transmitted in any form, including photocopying, recording, or other electronic or mechanical methods, without the prior written permission of the publisher.