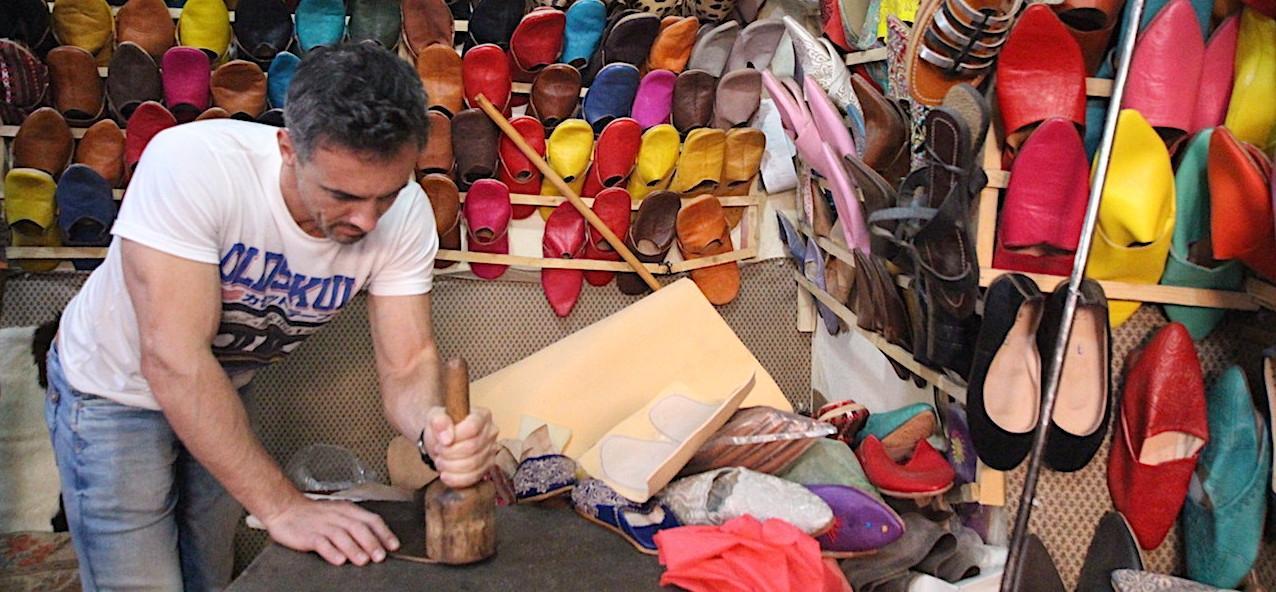 Making your own babouches in the medina of Marrakech ?
With a local crafts master ? Yes, you can. Whenever we get the chance we like to immerse ourselves in the local culture here. Vernacular experiences. And Marrakech, the place we call home since 2006 offers quite a few craft classes and demonstrations, despite the explosion of tourism of the last decade. After having cooked a tagine and bargained for spices and vegetables in the medina, crafted pottery in tadelakt and chipped the patterns of Moroccan zellij, we heard that someone could actually teach you how to make a babouche. You know, the sharp- pointed leather slippers, the ubiquitous Arab world accessory. Almost everybody ends up buying a pair of them after touring Morocco. But making a pair ? We wanted to see if we've got what it takes…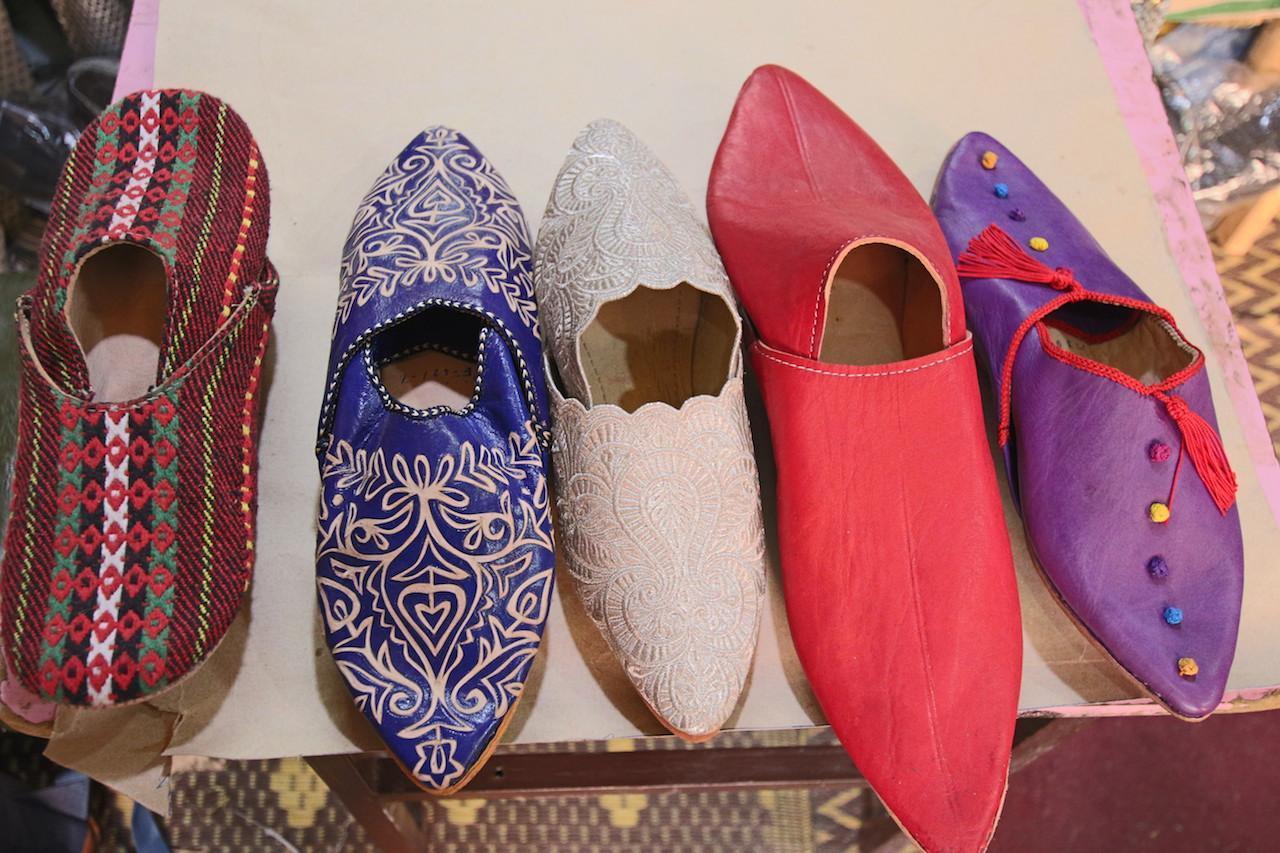 We arrived at the shop one busy afternoon in November. The medina of Marrakech swarmed with motorbikes, pedestrians, donkeys, carts and cats. Rachid, the master maalem ( craftsman) was sitting comfortably beyond his desk in the back of a tiny shop whose walls were entirely furnished with hand- made shoes of all shapes, forms and styles. Sheets of raw leather of different colours and textures were piling up in a corner. After exchanging greetings, we had a quick introduction to the different techniques and a description of how the crafts class was about to unfold. First, the basics: 1) choose a size inferior to the one you have. For instance, if a 9, choose 8.5 ( if 43 choose 42). 2) you'll craft the babouche from scratch, except for the stitching (if you want to factor that part in, add another hour and a half to the actual class).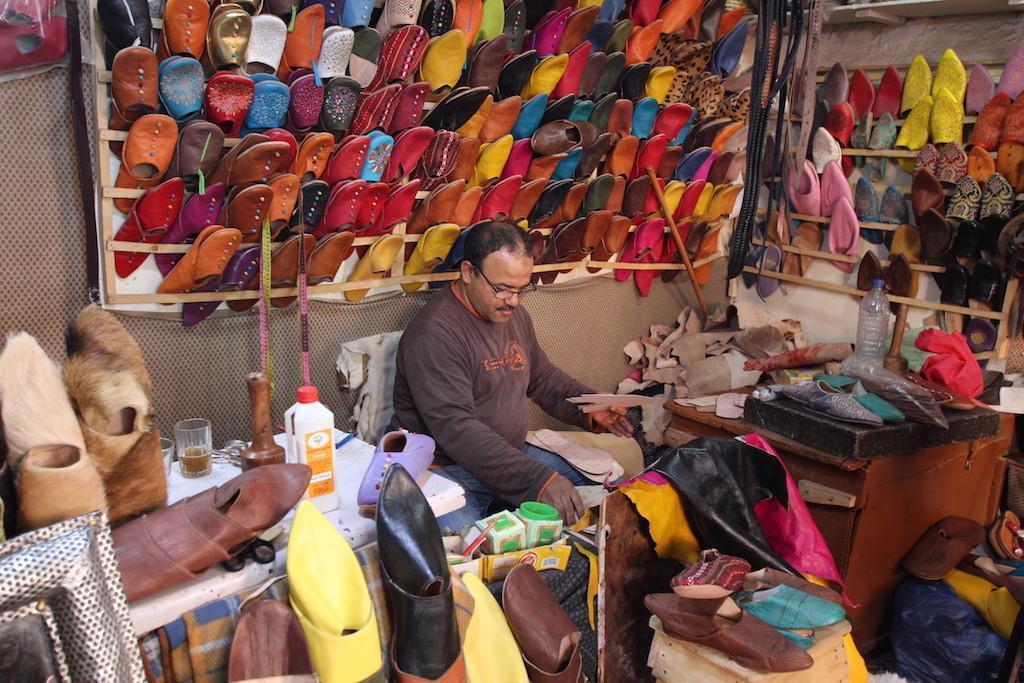 From beyond the counter, Youssef hauled a few sheets of raw leather in very exotic colors. We were supposed to choose each a color of our future leather slippers. Hard choice… Saffron yellow, turquoise, lilac move, red brown, purple, shiny black were just a few of the options on display. I finally decided for coffee brown while Leila, my enthusiast colleague, went for a sort of reddish brown.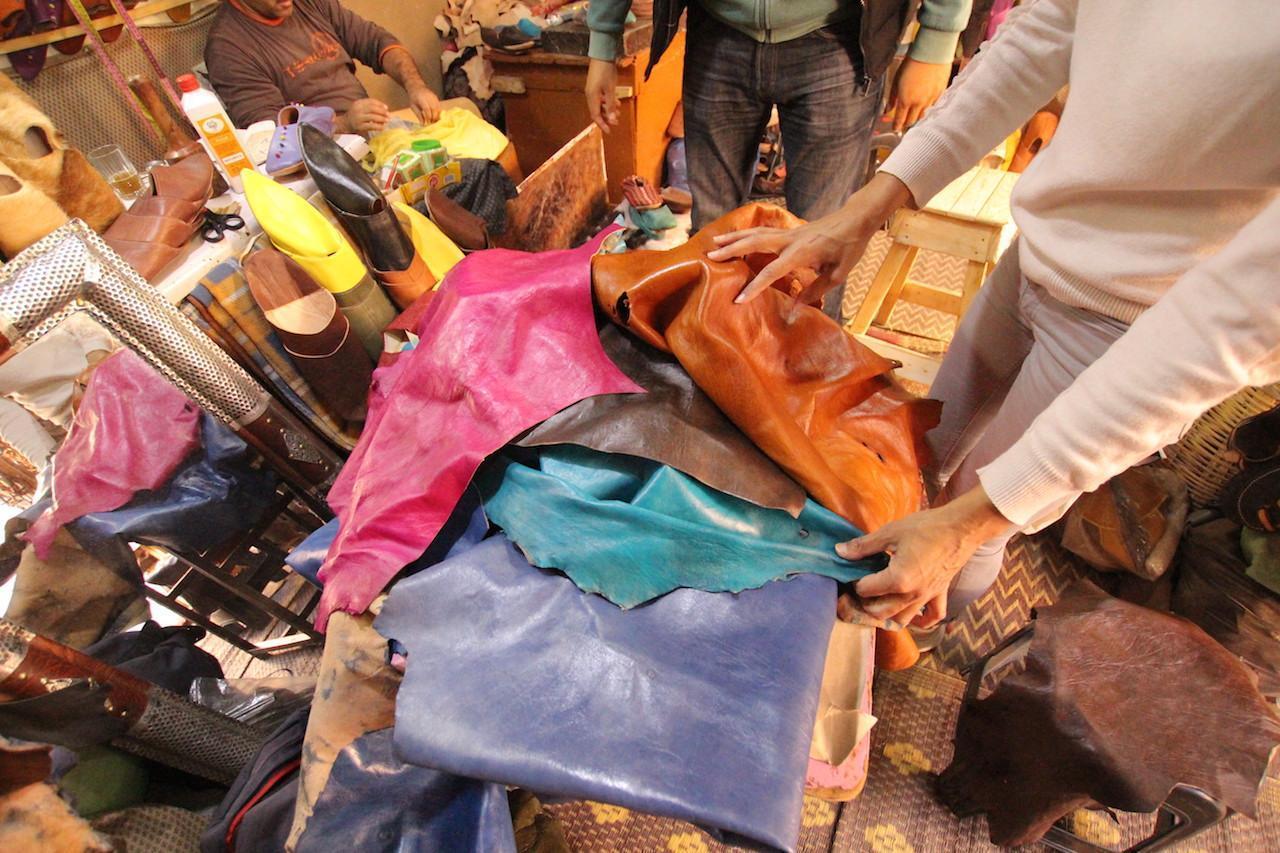 Before making our choice, the master craftsman pointed out that traditionally men in Morocco wear yellow or black whereas Moroccan women have a choice of any color and quite a few are embroidered. Tourism drove up considerably the demand as well as the fabric type and so nowadays one can spot in the souks of the red city anything from blue- jean or zebra print babouches. Don't trick yourself in believing that a Moroccan would ever wear such deviations from the norm… It was time to get our hands to work ! We took possession of the pattern and proceeded to draw the shape of it on the leather sheet we had each selected.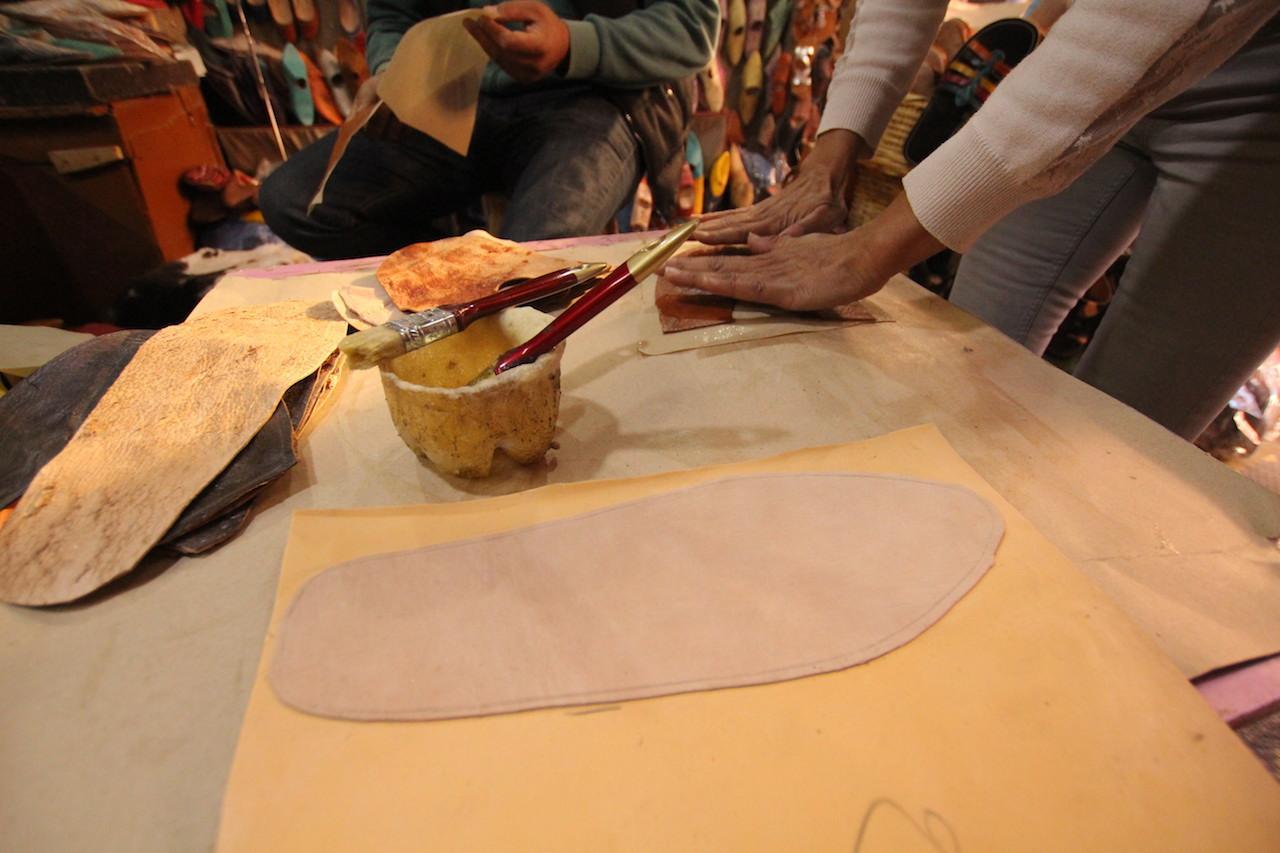 Then it was time for the second stage: the gluing. After applying generous layers of special glue, we pasted the parts together under the undivided attention of our master maalem. Soles slashed out, foam layer was rubbed in so that excessive walking wouldn't be harsh on our feet.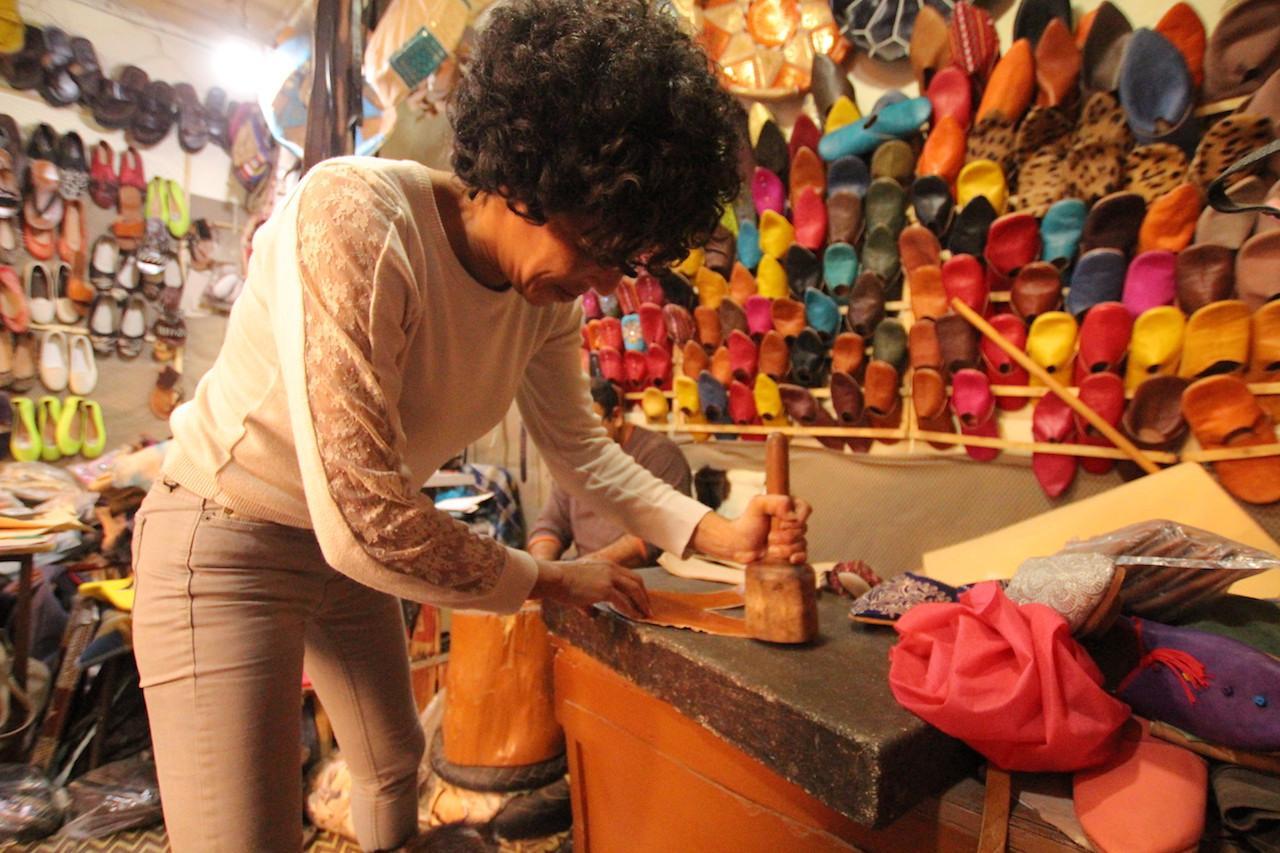 Then, it was time to activate our muscles. The mallet in our hands, the different leather garments were bashed together. The shapes were handed to Youssef, who started stitching the garment to the soles, while we indulged in the ubiquitous pleasure of having a Moroccan tea and cookies. After all, it was getting near to 5 PM.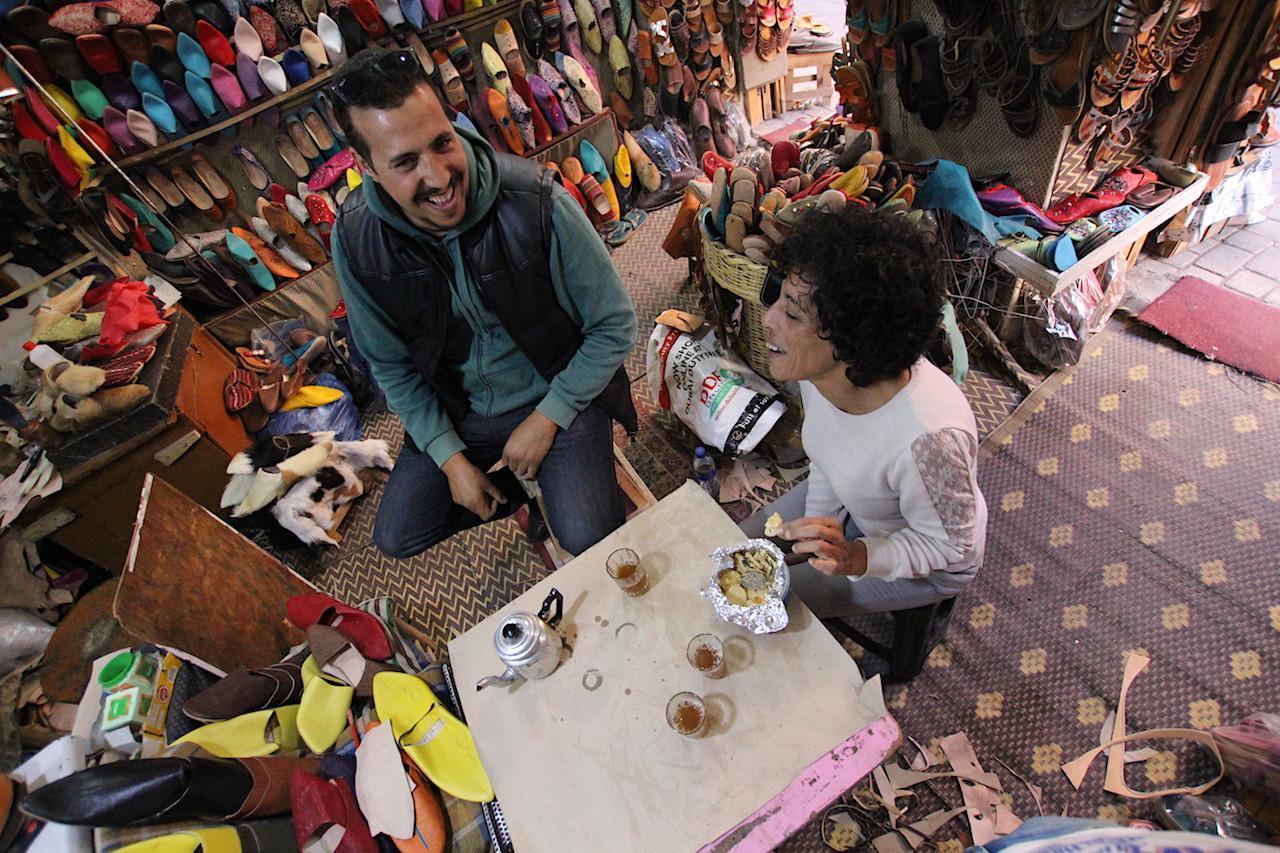 When finished with our tea, we were surprised to find that our soon-to-become-babouches resembled shoes reminiscing of what peasants used to wear in Europe centuries ago. Or perhaps, the Eskimos. Never mind, they sure didn't look like a leather slipper that you'd wear around the house. Where's the trick, I thought. Well, there was one.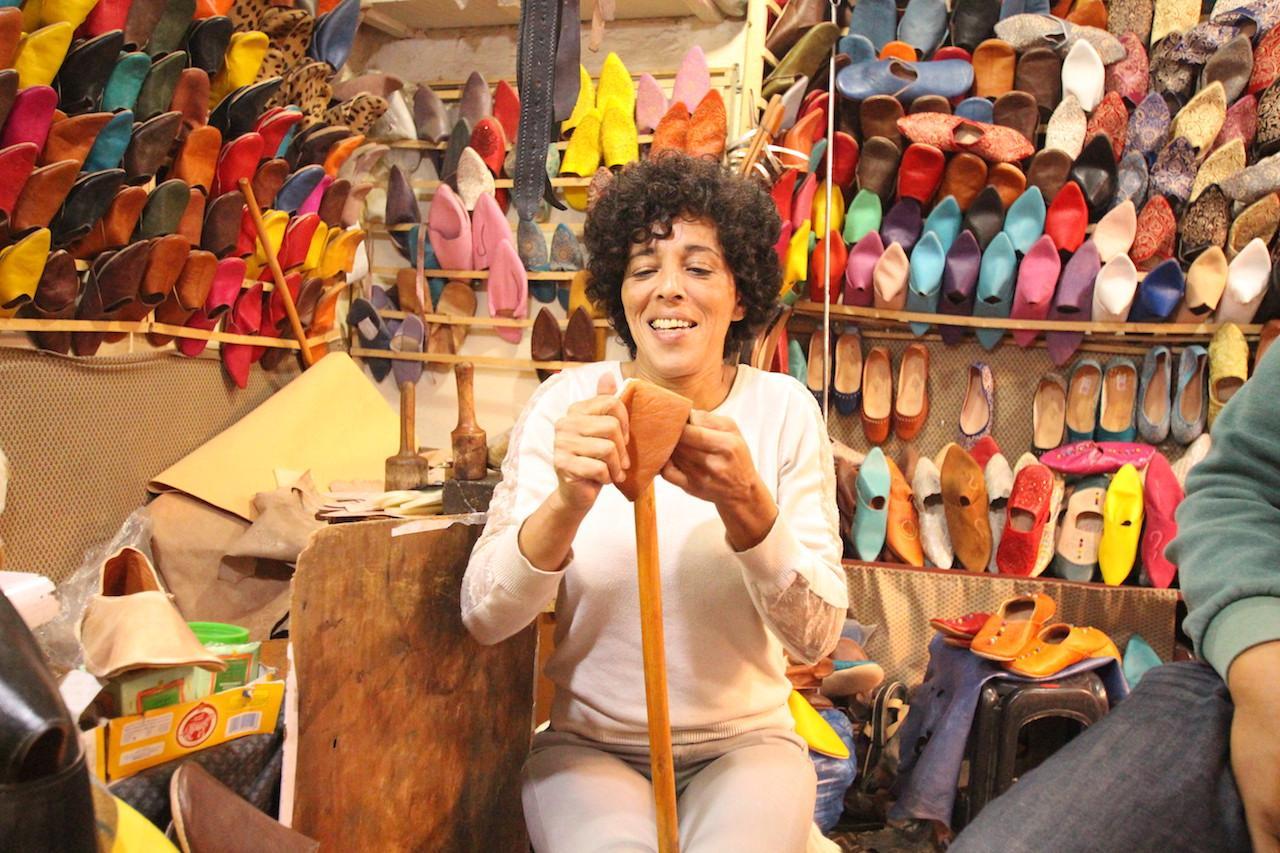 That was indeed the babouche, except it had to be turned inside out. And so we did. Turn it inside out. In the process, I was largely helped by a wooden stick. The trick is: you turn the shoe inside out using your hands as much as you can. Which is about 3 inches. Then you shove the stick inside the pocket thus created and you pull. And pull. At first, you are afraid that the stitches will give up from so much pulling. But they won't. Eventually, you end up with an almost perfect babouche. And I think we did. I mean, have a look at the pictures and judge.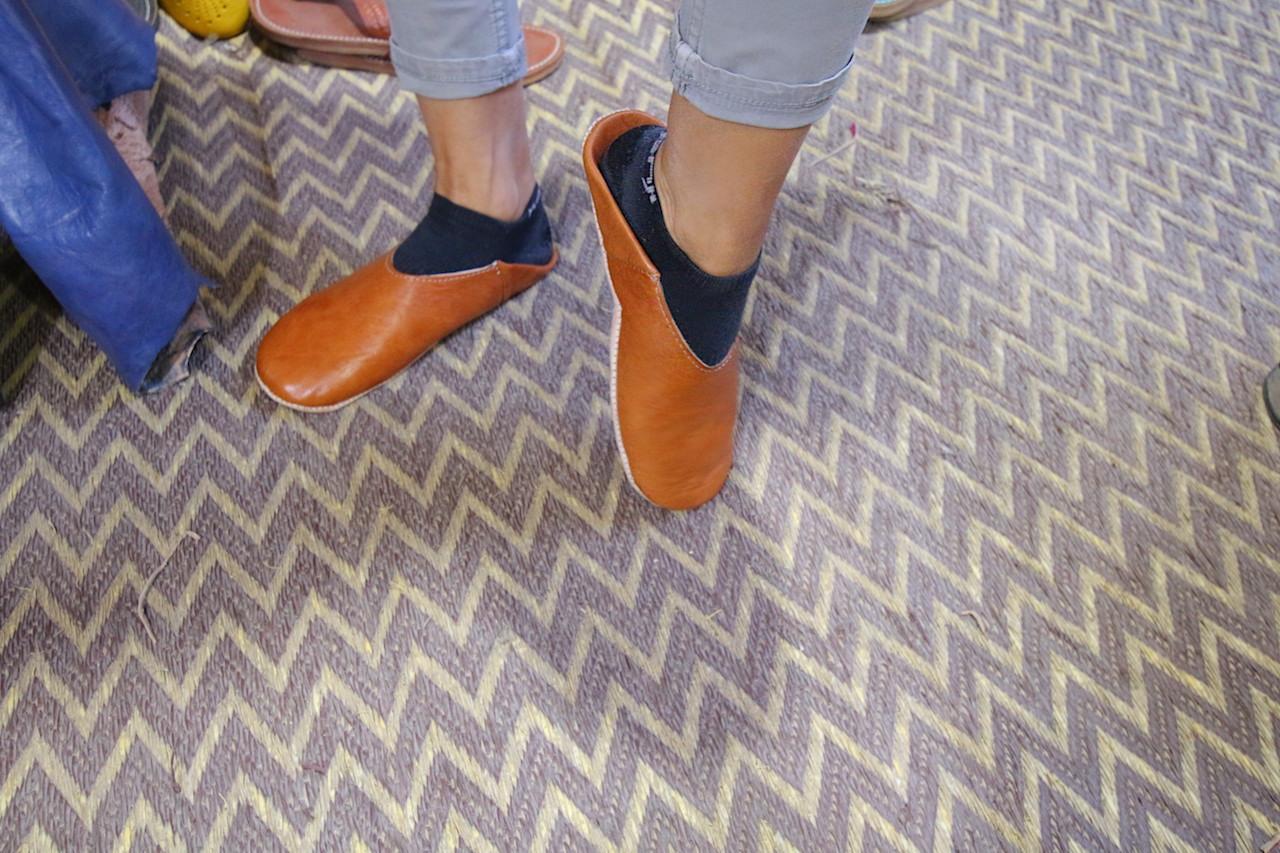 Please note that such a class would take about 3- 4 hours for a whole class, tea time included. Stitching will be taken care of by the master craftsman. Babouche – making class is offered as a choice of activities while on one of our bespoke Morocco tours. 
© Sun Trails 2019. All rights reserved. No part of this interview may be reproduced, distributed, or transmitted in any form, including photocopying, recording, or other electronic or mechanical methods, without the prior written permission of the publisher.