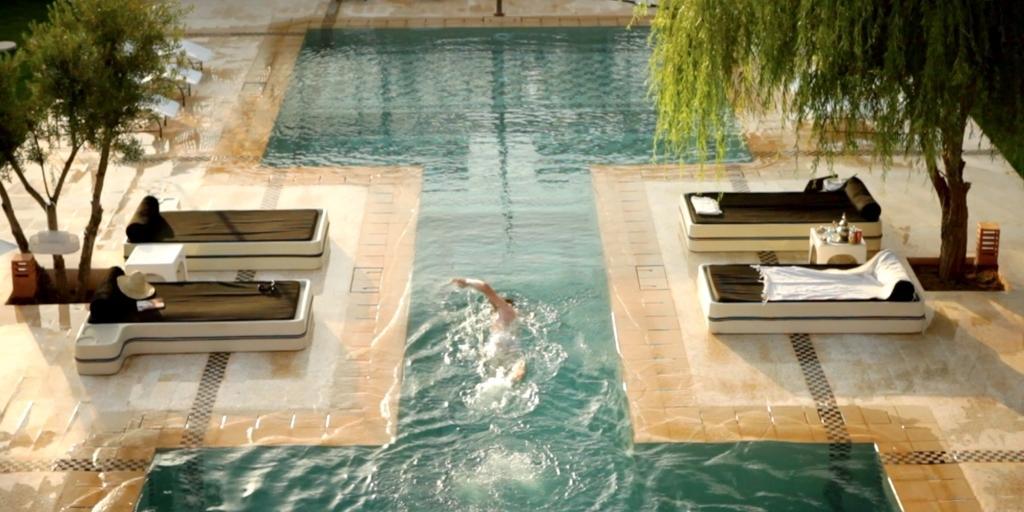 Art deco hotel less than 1 hour drive from Marrakech.
A boutique hotel at the foot of the Atlas Mountains in Morocco is a rare sight. Except for Richard Branson's Kasbah Tamadot there were no choices of staying in the area other than your typical wood- bean country club. And if you are on a private tour of Morocco, you should at least spend a night here, at the heart of the Berber country. When I first discovered Domaine Malika's website some five years ago, there was something hip and funky about this guest house. No wood beaned ceilings, stuffed animals or wool sofas like most of the guest houses had adopted in the area. I immediately felt the urge to go and visit. And so I did, a few weeks later. And that's how I met Paul, the host, a young French man who had recently arrived in Morocco and was looking to open a guest house in Marrakech. After a few mishaps, he managed to secure a villa owned by a well-heeled Casaoui and turn it into a 7- suites Atlas Mountains guest house. His enthusiasm and warmth were contagious but I do remember being a little skeptical about him creating something different in the area. And how would a French man in his early thirties cope with living in the Moroccan countryside ?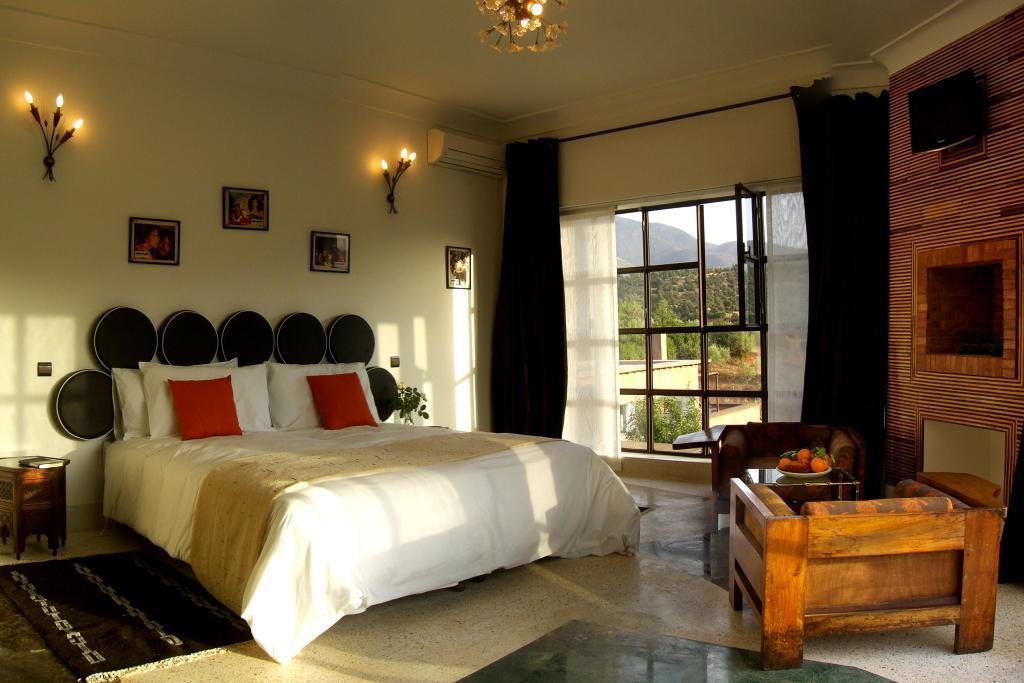 We kept in touch, seeing each other as much as our busy lives would allow us to. With time it became obvious that not only he knew what he was doing and became a success story but that he was here to stay. In a country like Morocco, quality and consistency don't often go hand in hand when it comes to guest houses. Not with Domaine Malika though. Even if you wouldn't care about them securing TA first spot year after year, Domaine Malika only became better with time. With the years, they added a spa, a boutique, they expanded their garden and gave their cuisine a French twist. Rooms are spacious and the views are bewildering even with the most basic of them. Three of the rooms have their own private access to the roof terrace where you are greeted by sun beds and breath taking views on the snow covered peaks of the Atlas Mountains. The 50's inspired salon accommodates leather armchairs, society games, three fire places and a well packed library – even Nietzsche and Chekov are on hand if you can be bothered. Or if the weather is rainy, which it almost never is…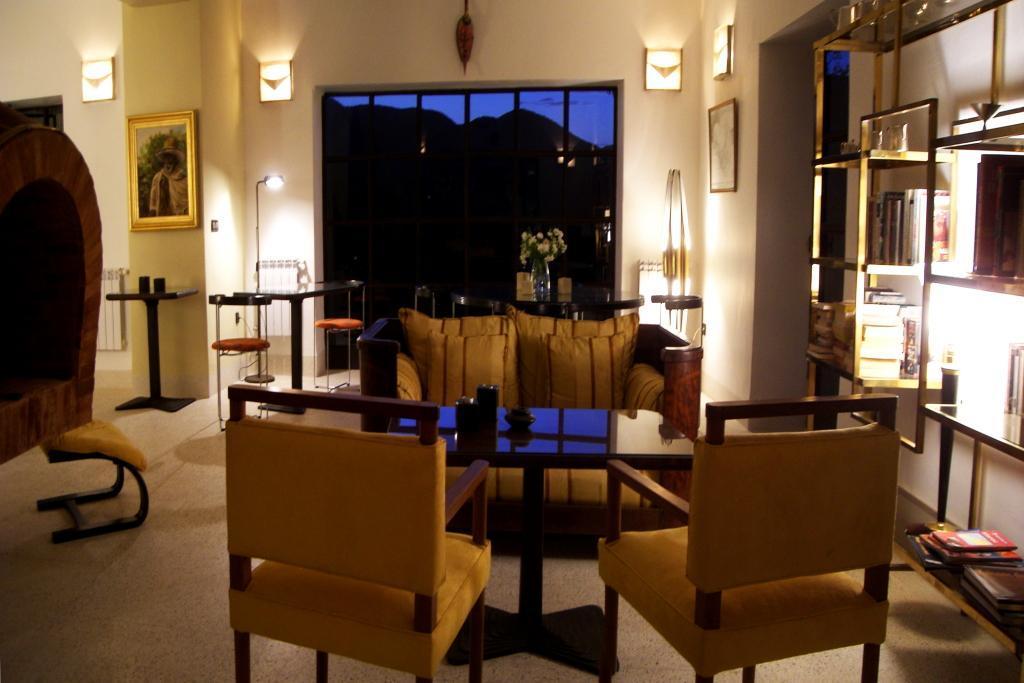 The pool is just what you need after a long summer day or a trek in the surrounding Atlas Mountains and the wine garden accommodates late dinners during those hot summer nights. Like the one I had last night, while the hotel was lantern lit, the cicadas roared and frogs came out, croaking and lolloping by the pool. The place felt chic but not groundbreaking. But then again, if you wanted a blast, a buzz, a bling, you'd be in Marrakech having cocktails at Djelabar. Here is about breathing in the Atlas Mountains night, enjoying a glass of red on the roof terrace or walking in the gardens, among apples, prunes, figs and oranges by the moonlight. One is such at ease here, it almost feels a sacrilege to only spend one night. Just the perfect spot for someone wanting to relax at the end of a 4×4 tour of Morocco coming from the desert south of the Atlas Mountains. Or someone that wants to escape the Riads of Marrakech. And Paul is as passionate and welcoming as the first time I met him. No wonder he was recently described as 'ebullient and deeply hospitable' by Travel and Leisure magazine no less. He kindly agreed to share the secrets behind his innate hospitality.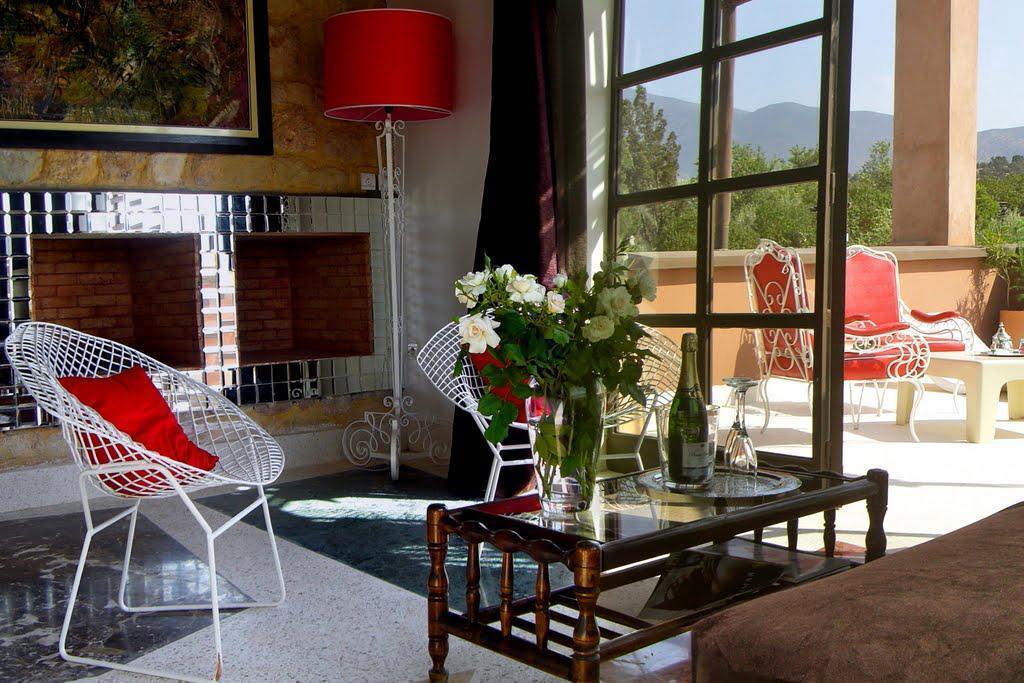 Sun Trails: I remember your beginnings here in Ouirgane and how your Atlas Mountains hotel was the exception to the rule in the region. We've known each other for over 5 years now. Was it hard for you to start this project here in the countryside? Why so far from Marrakech? Young, single, do you not miss the big city?
Paul Goetz: It is true that this was no sure bet since we were not 100% sure that our house would find its target among travelers wishing to discover the Atlas Mountains. The distance that separates us from Marrakech proved to be ideal. We are only one hour's drive from the Red City. This is sufficiently far away to offer our guests a complete change of scenery and a real alternative to the city, yet without forcing them to spend too much time driving. Living in the heart of the valley is an everyday joy because the conditions here are ideal: tranquility, nature, authentic Berber hospitality.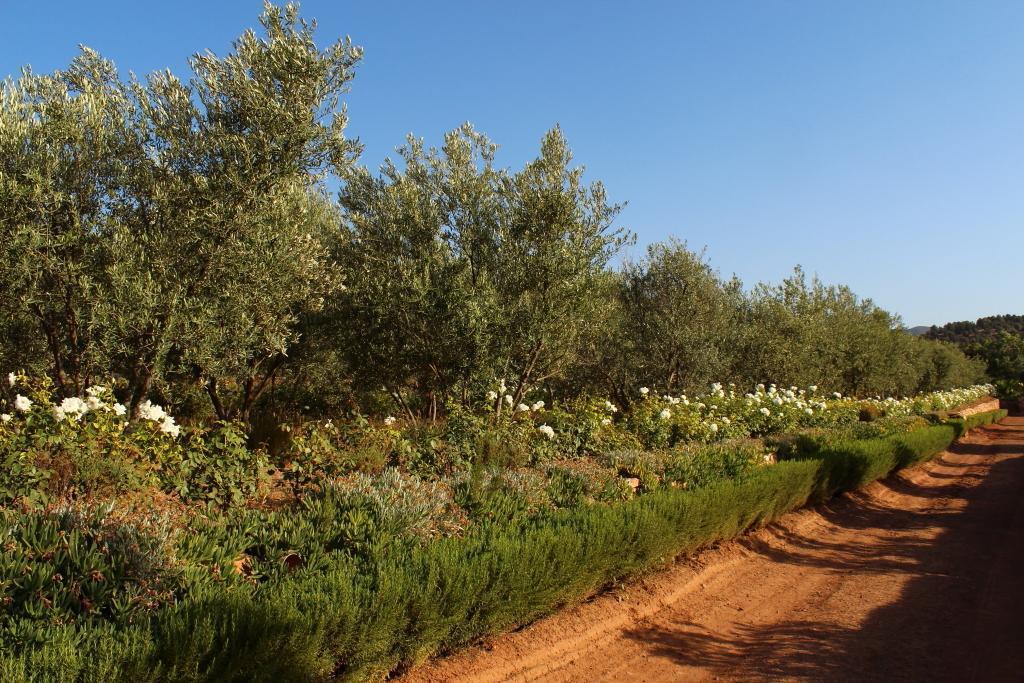 ST: The decoration of the house is not your typical 'mountain lodge' with wooden beams, wool sofas, etc. What is it? Do your guests love it? Are they surprised or do they know what to expect at the time of arrival?
PG: Domaine Malika is a designer house setting itself apart with its Art Deco/ Art Nouveau décor, offering a striking yet unostentatious contrast with its surrounding environment. The spacious rooms, with their pristine white walls and the large windows create a bright atmosphere and allow guests to enjoy the nature that surrounds the house. Most of the time, people who decide to reside here have fallen for the style of the house, having discovered through the photos or video available on our web site the true reflection of the identity of Domaine de Malika.
Hence, before arriving physically at the location, they are already under the spell of the domain.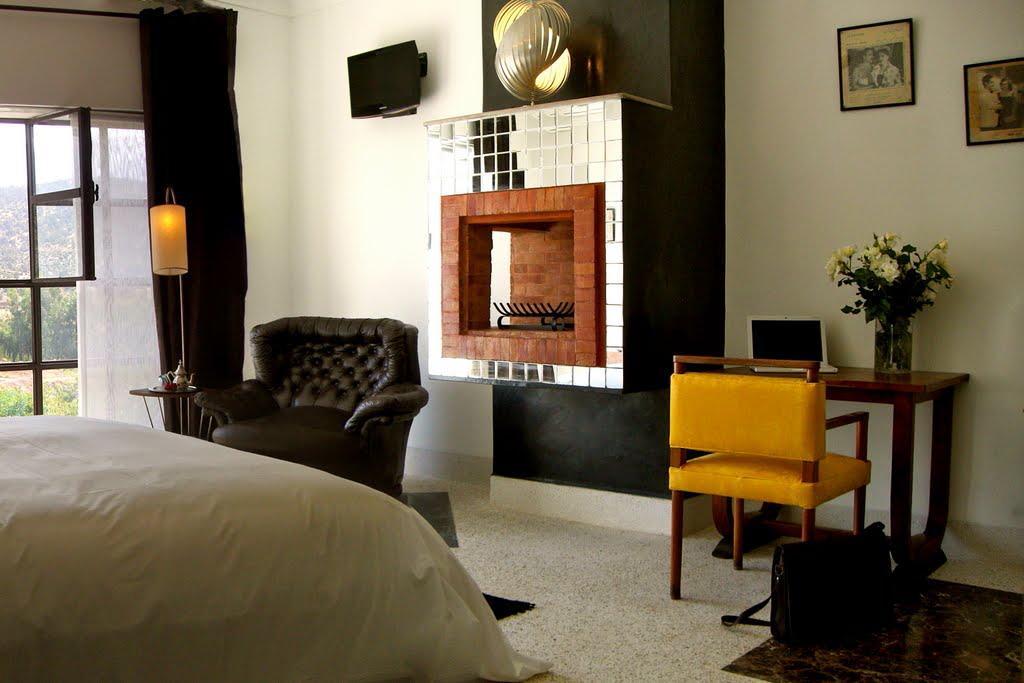 ST: Kasbah Tamadot (belonging to Richard Branson) is a few kilometers away. He (Richard Branson) is not often present, but do you not feel some sort of pressure having such a famous neighbor?
PG: On the contrary, I believe that such a beautiful hotel can only push all guest houses in the region to become more competitive. Kasbah Tamadot is an example of good taste, quality of service and excellence. We have a great relationship with their team and our guests are always delighted to go and have lunch at Kasbah Tamadot.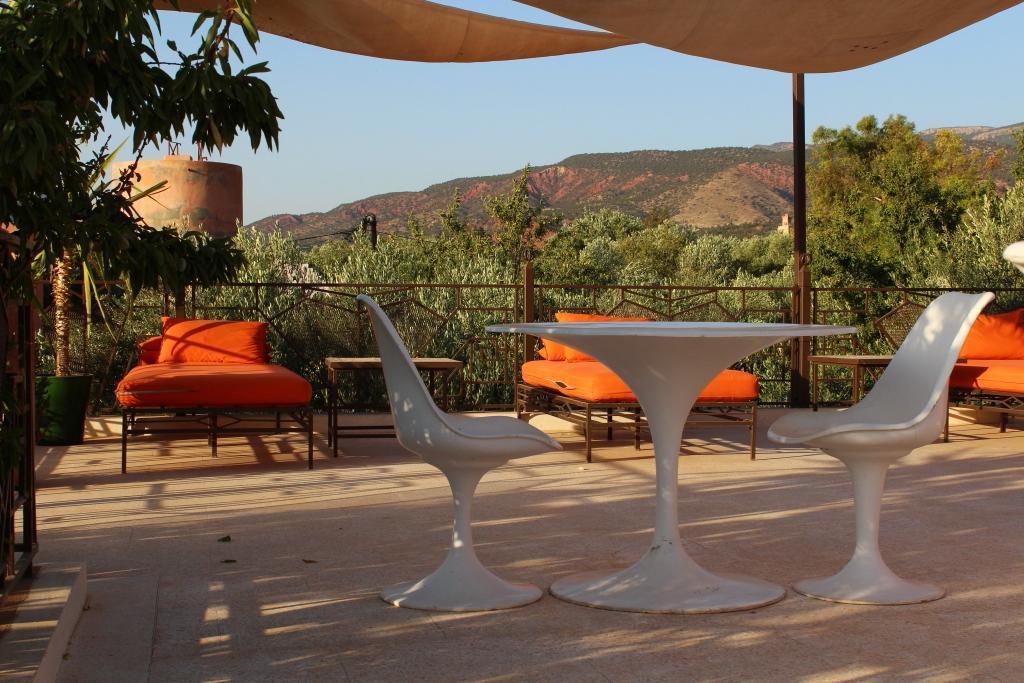 ST: Your guest house is situated on one of the most picturesque routes in Morocco, but most visitors are not aware of it. Starting in Marrakech, through beautiful valleys before passing by the village of Tinmel and its 12th century mosque. It then rises to cross Tizi n Test pass at 2000 meters above sea level from where it descends into the 'great south', Taroudant and the Sahara desert. Are many of your guests coming from the desert or Taroudant as part of a tour of Morocco or are they rather people who just want to spend a few days outside Marrakech?
PG: Well, we kind of have both scenarios. Although located only an hour from Marrakech, Ouirgane Valley is a popular stop for travelers during their stay over this majestic pass that connects the north and south.
We also have many guests who combine city, sea and mountains in the course of a week's Morocco tour. Located 7 km from the National Park of Toubkal, Ouirgane is right in the heart of the High Atlas. This privileged location makes it a prime destination.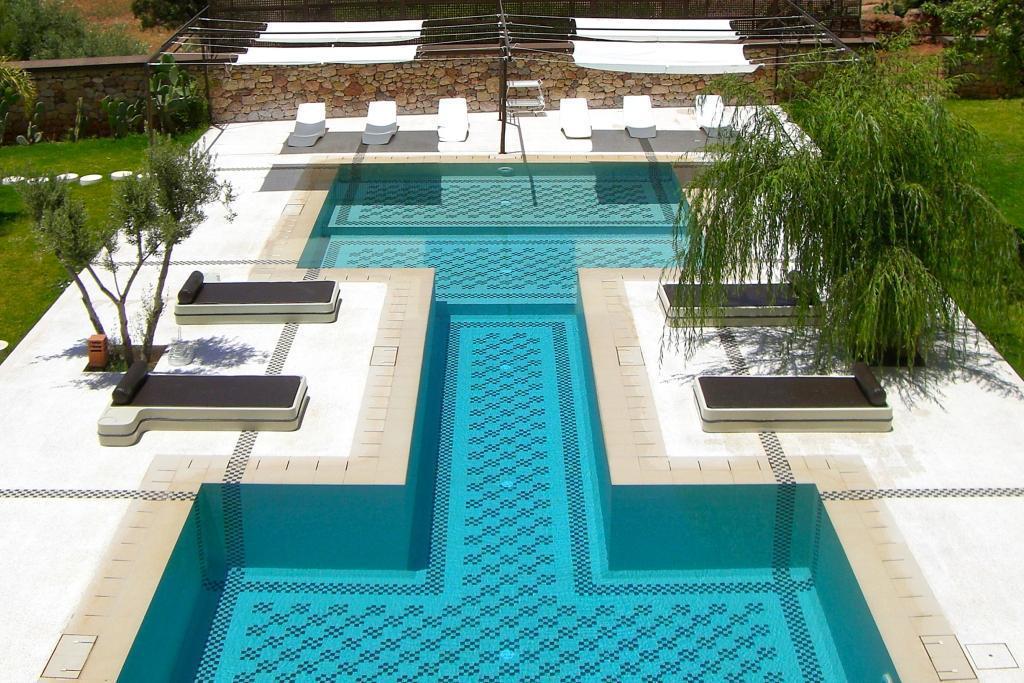 ST: What is there to do and see if we wanted to stay more than one night?
PG: There is plenty of choice in terms of leisure of activities that our valley offers. In general, our guests make the right choice when deciding to stay 3-4 days with us. The main activities have to see with nature and culture. Our mountains are a great opportunity to discover the Berber culture through trekking in the Atlas Mountains by foot or mule or horse riding. Travelers can sample real immersion into local culture during a lunch or through learning the secrets of local cuisine by following one of our Moroccan cooking classes. But people are above all here to rest, recharge their batteries, so they are particularly fond of our hammam and the spa treatments dispensed by Hanane, our masseuse.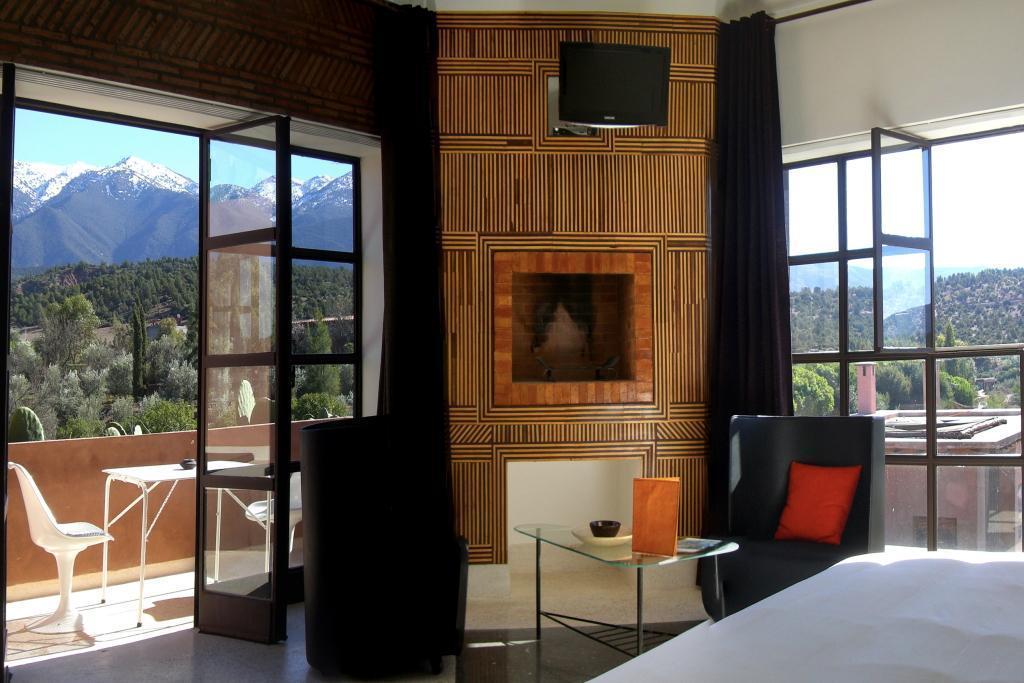 ST: What is the typical profile of your guests? What makes Domaine de Malika unique ?
PG: Our clients are mostly couples from the United Kingdom, in search of tranquility and fresh air. Domaine de Malika is for them the icing on the cake as they can immerse themselves in the heart of Berber country without losing on the comfort.
ST: Knowing that you have 7 rooms and average rates of 160 euros per night, was it difficult to train staff to be able to deliver the service expected at this level, knowing that most of them are just locals from the nearby village?
PG: Our team is by far our biggest asset. Without their love of what they are doing and their innate sense of hospitality, the soul of Domaine Malika would not be what it is. We started from scratch with them and we built everything together. Mutual respect is the foundation of our relationship. This enabled us over the years to build a strong relationship and to cultivate in each pleasure of a job well done. Guests often tell us they can feel this positive atmosphere throughout the house and that it greatly contributes to their well being during their stay at Domaine Malika.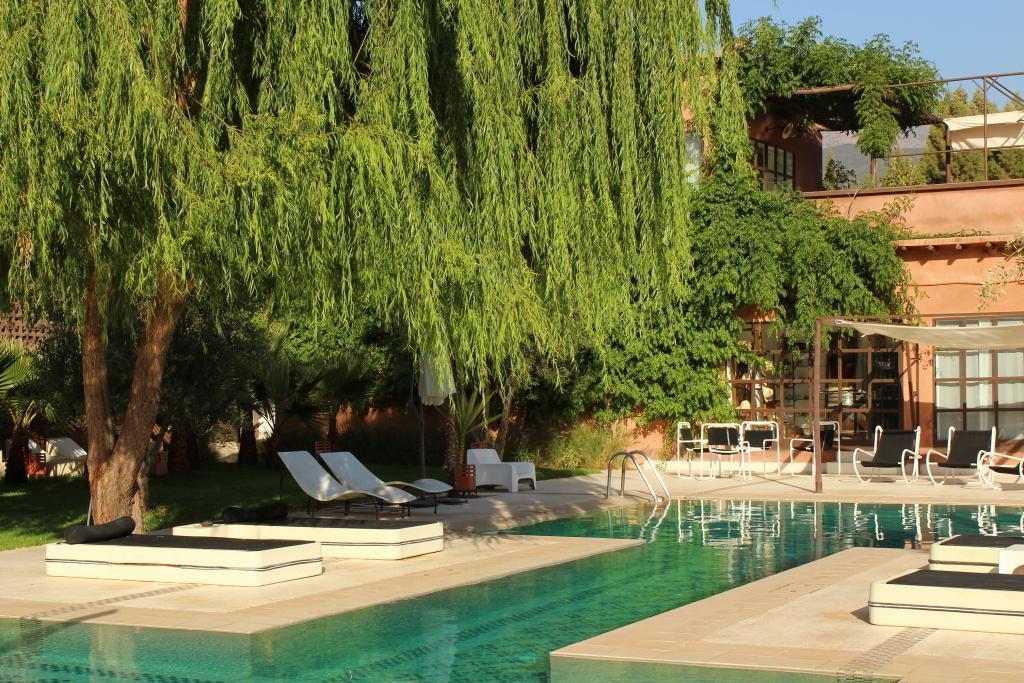 ST: I had the pleasure of trying your home made couscous the other night, followed by a rather French cake – a nice surprise indeed. Do you often blend these two cuisines ? Can you give some examples of unusual dishes made at Domaine de Malika ?
PG: Agnes, Fouzia and Hafida are behind this fine reputation surrounding our restaurant. During a trip to Morocco, people want to also travel through the local cuisine and thus discover the country in a different way. However, way too often the guest houses and local restaurants offer them the same typical and ubiquitous dishes. We wanted to go further by creating an unpretentious yet rich culinary identity and merging our French roots and Moroccan culinary traditions. Some examples are: 'beet soup with apples and spices', 'fresh goat Aumonières with dates', 'fillet of sea bream in foil with orange and anise seeds', 'quail stuffed with couscous and onions', 'strawberry mousse with fresh coriander'. People appreciate our simple and crafted cuisine made with love and fresh products coming largely from our garden and the orchard.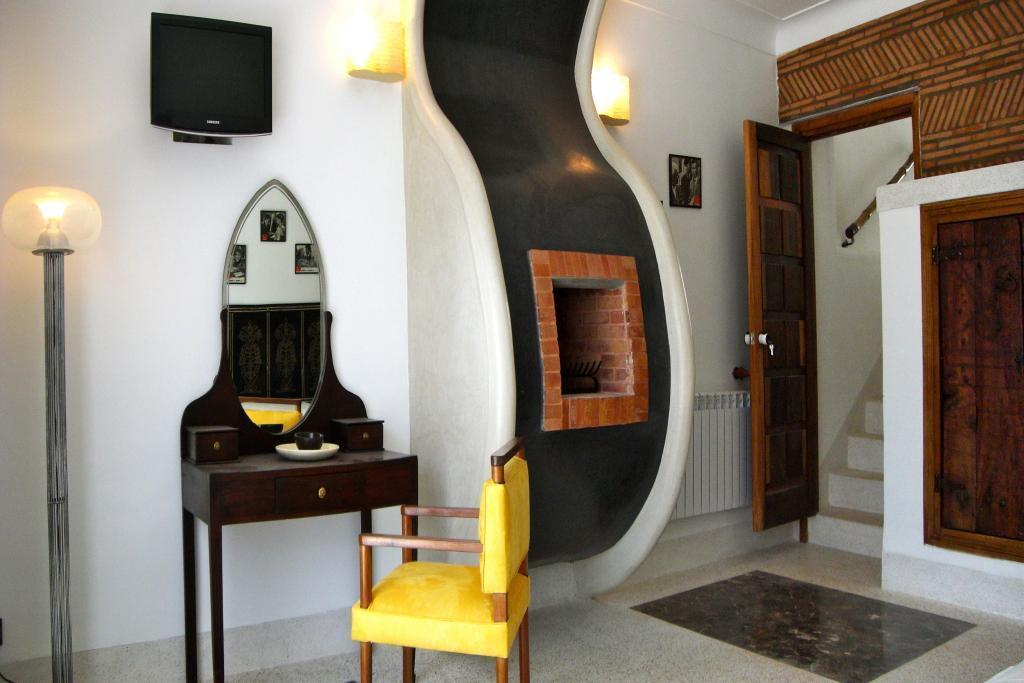 ST: I walked in your garden and I was surprised to see every imaginable fruit: apples, quinces, figs, plums, grapes, oranges, lemons. Is there a fruit you do not grow? What becomes of the harvest?
PG: We are far from having all the fruits and vegetables we'd like but we are fortunate to have a nice variety! Just like in the old times, we prepare our dishes accordingly. We also fill our pastries with them and include them in our jams for breakfast. Our customers enjoy visiting the gardens and see that all this can be found in their dish when they are having dinner.
ST: The surrounding music blends very well into the atmosphere of the house and is present in the restaurant, the garden or the living room. You prefer jazz, I noticed. In fact, I would not have been able to hear more jazz these two days if I attended a jazz festival. I must have heard three different versions of 'Summertime' only over dinner. Where did you find the soundtrack and why this choice?
PG: We are first and foremost fans of this music that fortunately fits perfectly with the style of the house and helps create that cozy atmosphere we wanted to wrap our guests in.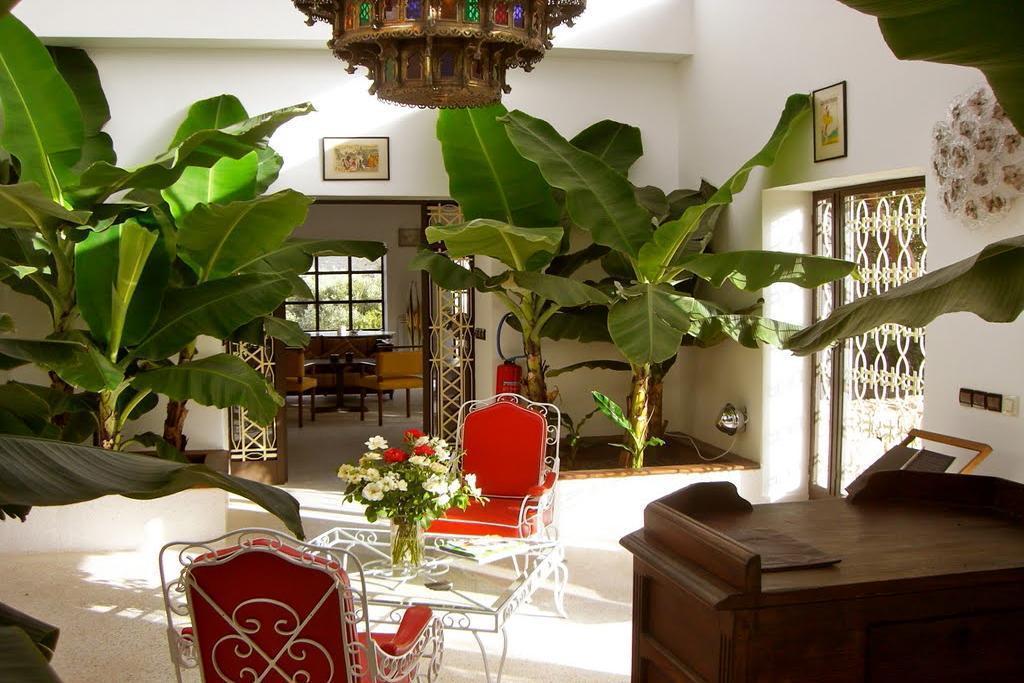 ST: Did you contribute in any way to the local community? I remember you telling me about a Moroccan actress who helped build a bridge across the river for the children to be able to attend school.
PG: This project is for us a memory that will stay with us for a long time. Initially, we were not responsible for the initiative of this great project launched by Nadia , one of our regular guests and friends, but we were fortunate to be able to make a small contribution. Contributing to the well-being of the inhabitants of the valley in which we operate is a true source of satisfaction. By motivating a handful of people around her, she managed to conclude the construction of the bridge, allowing people in general, but in particular little children, to cross the river during rains and avoid several hours of walking, which deprived them too often of attending school.
Our clients often cross this bridge without always knowing the story behind it.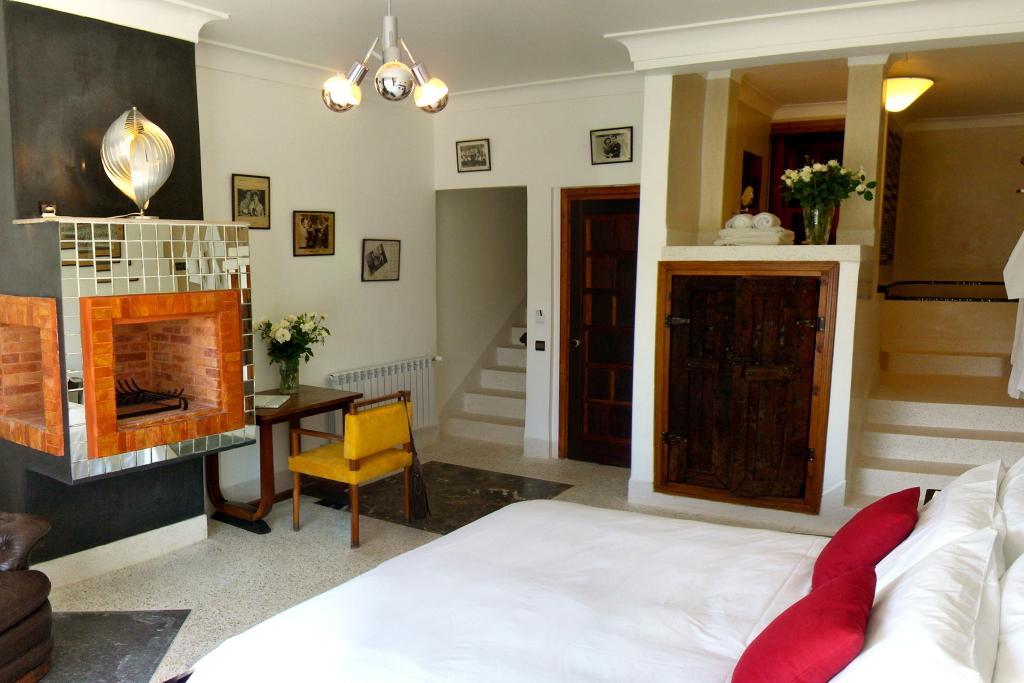 ST: I've known you for almost 5 years, but I noticed that your passion has remained intact. How do you manage? Do you see yourself here in 5 years from now ?
PG: What will our lives become in 5 years from now, Cristian ?! I have trouble answering you this, but what is certain today is that I love this country that has given me so many opportunities. I love the Moroccans who welcomed me with generosity and, above all, I love my job that allows me to share all this with people from around the world.
Domaine de Malika is currently offered on the Privilege level of our Caravans Dust tour and some other bespoke tailor made tours.
© Sun Trails. All rights reserved. No part of this interview may be reproduced, distributed, or transmitted in any form, including photocopying, recording, or other electronic or mechanical methods, without the prior written permission of the publisher.