Displaying items by tag: morocco village markets
Monday, 18 November 2019 00:00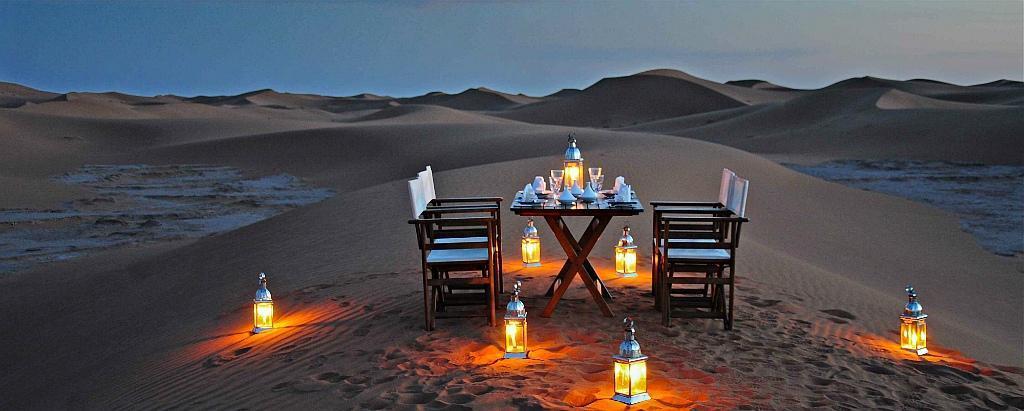 Morocco honeymoon: the ideal getaway destination in 2021.
The one trip you will remember for the rest of your marriage. Why Morocco ? Riads straight out of 1001 nights. A small plane ride to land you next to the Sahara. Tea with the nomads. A lunch on top of the dunes just you, your loved one and your private butler. More than mere glamping. Village markets and secret kasbahs. Romance complimented by authenticity- that's our idea of a honeymoon in Morocco. Picture yourselves watching sunrise over the Sahara dunes: there's no better place to forget all about travel bans, mask wearing or loosing someone close.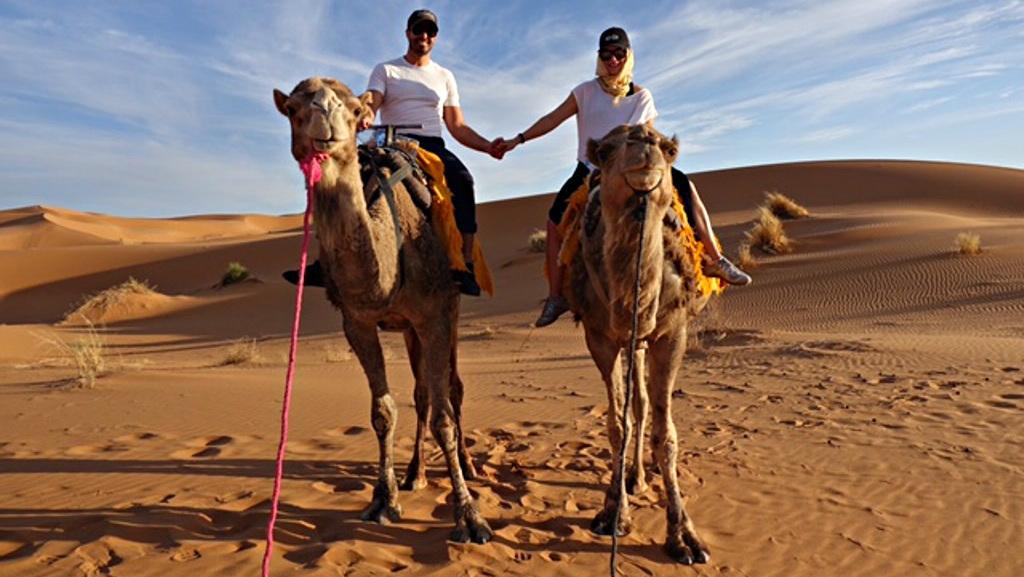 Our idea of a honeymoon tour in Morocco doesn't follow a set itinerary. Think of it rather as connecting different private local experiences and encounters with secret, intimate, authentic accommodations, within your budget and time available. Naturally, we offer a few sample itineraries on our website, to help set some kind of initial structure. Yet, for such a special occasion, why not tailor and customize each and every detail ? While favoring the privacy, remoteness and unique local experiences ?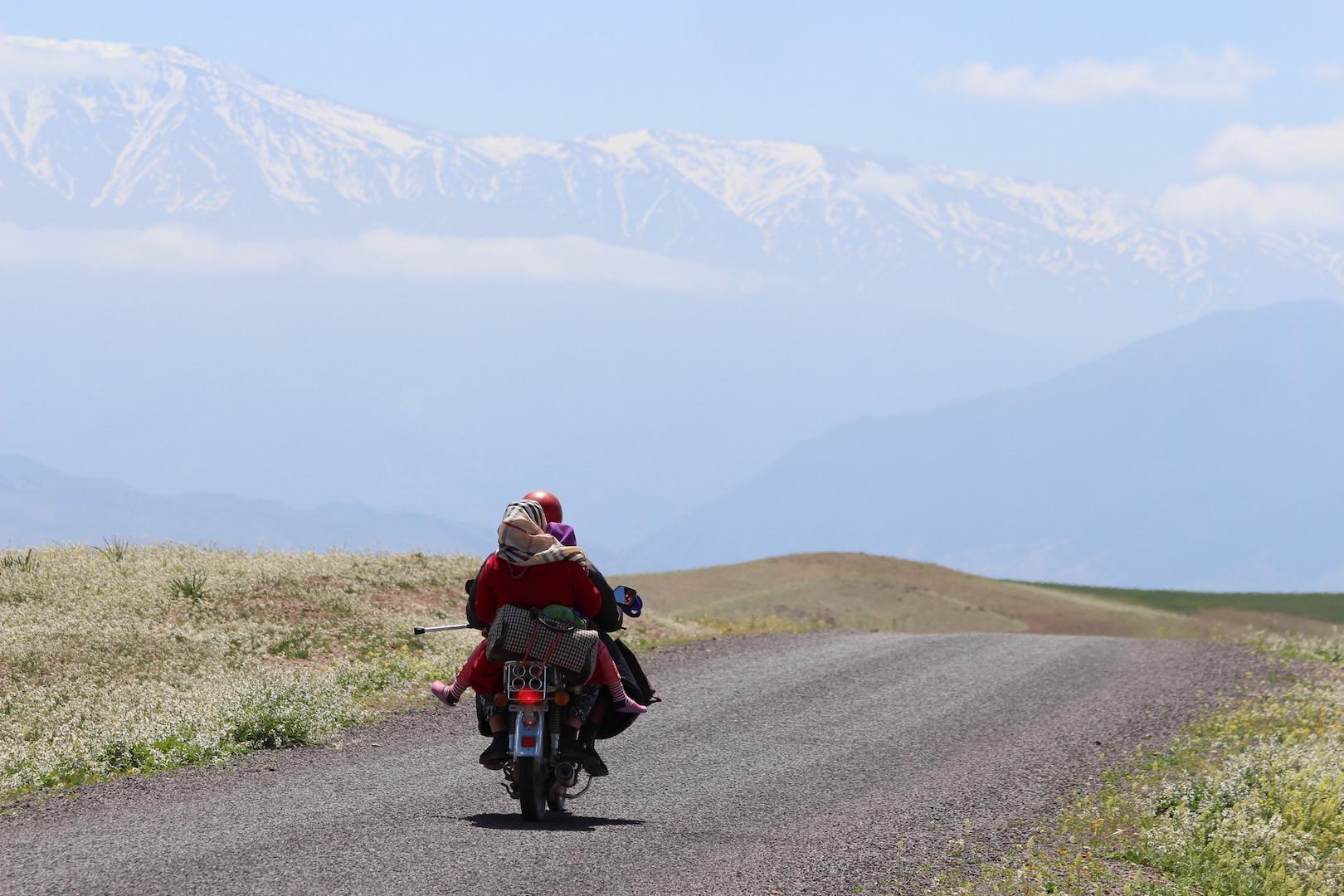 To begin with, you should know that Morocco is, above all, an assault on your senses. Here, nights smell of cinnamon. Here, what looks like a crumbling abode from outside, turns out to be a pasha's palace once you stepped in - the riads. Here, on the back of a camel across the saffron dunes, time expands. Bazaars packed with Ali Baba caves of hand woven carpets, lamps, incense, ivory- embedded chests, Syrian tea tables... Sounds like the setting for 1001 nights ? Romance ? You bet. Not a coincidence that in more than 10 years of offering private Morocco tours quite a few of our guests proposed to their loved one on the top of the dunes of Erg Chigaga.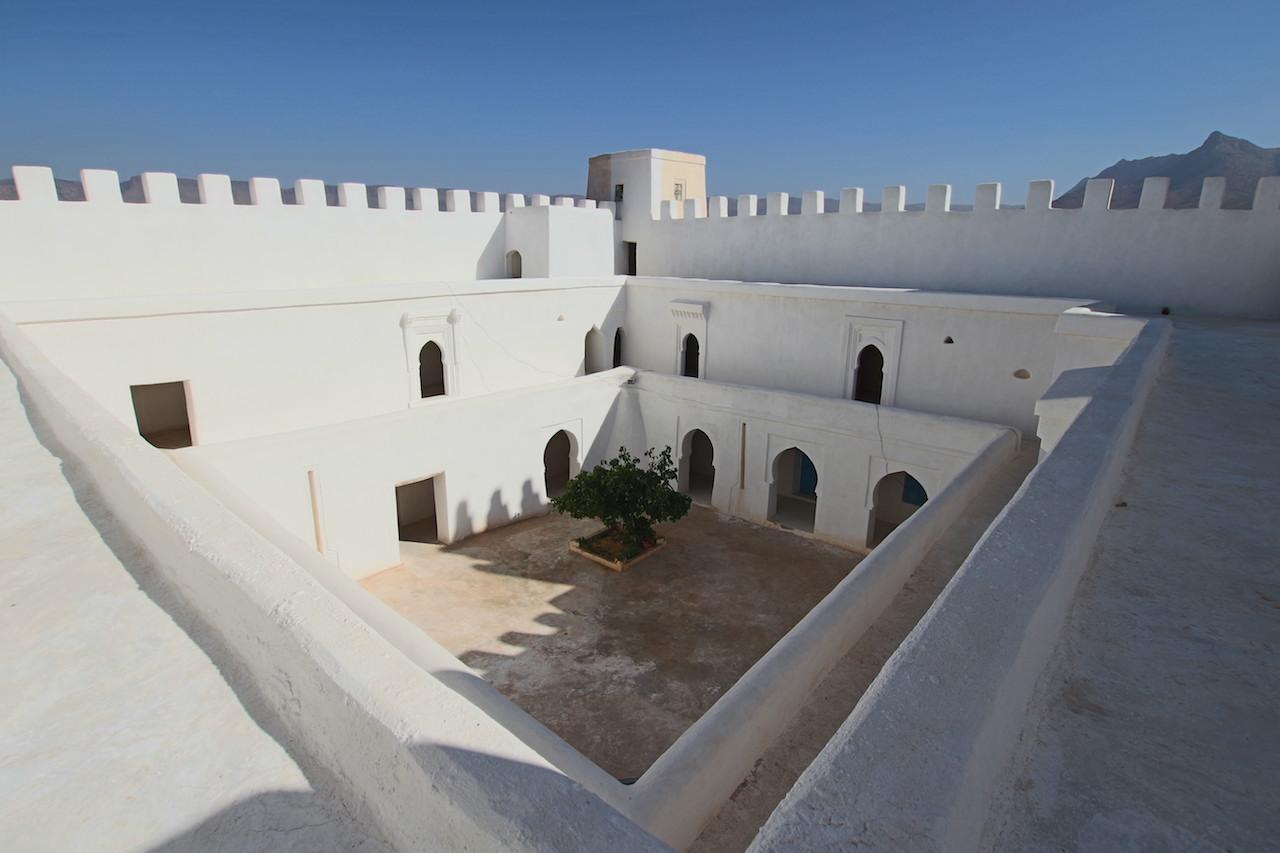 But where does the honeymoon originate from ? The tradition may or may not have been handed down from the ancient custom of "bride kidnapping." Some people say that it referred to the period between abducting a woman and the moment her family stopped looking for her. By some accounts, the phrase "hony moone" first surged in the mid-16th century. Some connect this to a supposed Babylonian practice of giving the bride and groom a month's supply of honey wine and dispatching them for a cycle of the moon to conceive a child. A lot has changed since then.
In more recent times, honeymoon associates with romance. And there's hardly any romance in sight when looking at the various offerings on the internet when searching for 'best honeymoons in Morocco' on Google and the likes. Widely speaking, you are offered the same itinararies and local experiences offered to retired couples, families with children, group of friends traveling together. But then, if you embark on a private tour of Morocco on your honeymoon, you should get much more than just moving around the country and ticking a few boxes out of your travel list. You don't want to rub shoulders with thousands of other visitors. Being taken to gigantic carpet shops where you'll spend your afternoon trying to escape a hard sale. When on a honeymoon in Morocco, there's a few things that can't miss from the mix.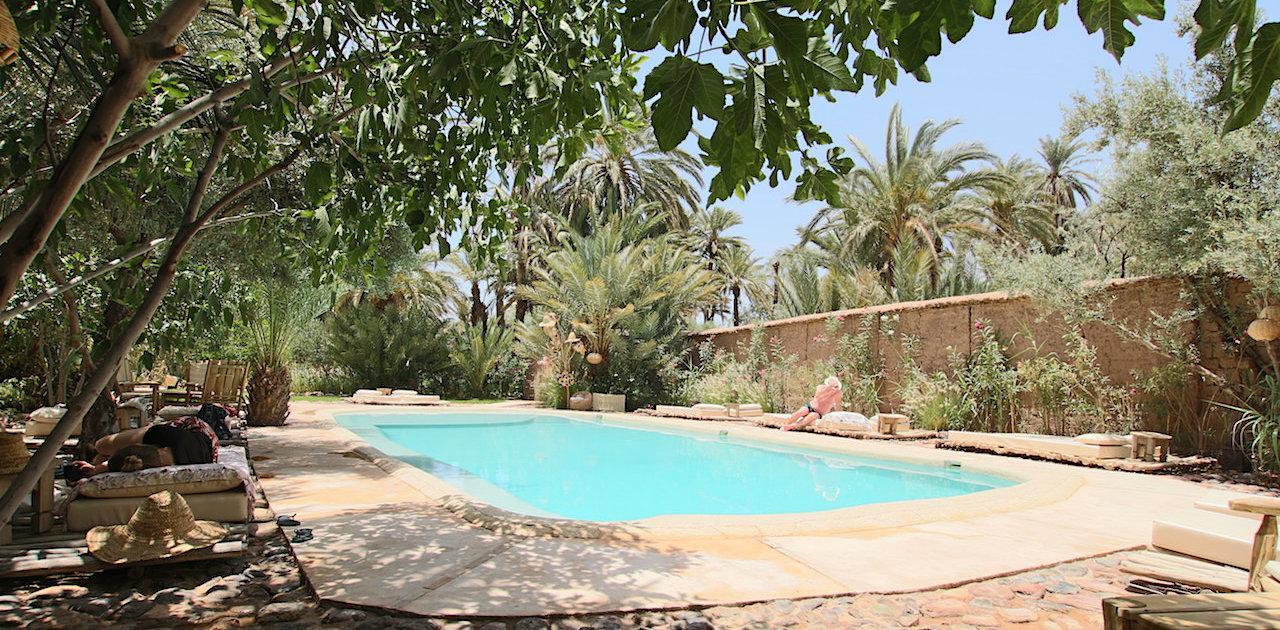 Relaxation. Even if you hired someone else to organize your wedding, you still must have gone through quite a lot of stress. Whether it is a hammam while in Marrakech, adding an extra day/ night along the way or just enjoying the premises of your lodge in Taroudant, extra time should be accommodated to ensure that fragile balance between discovery and the time you need to take it all in. Visitors take 6 days for a private tour from Marrakech to Taroudant through the desert ? Take 8 days.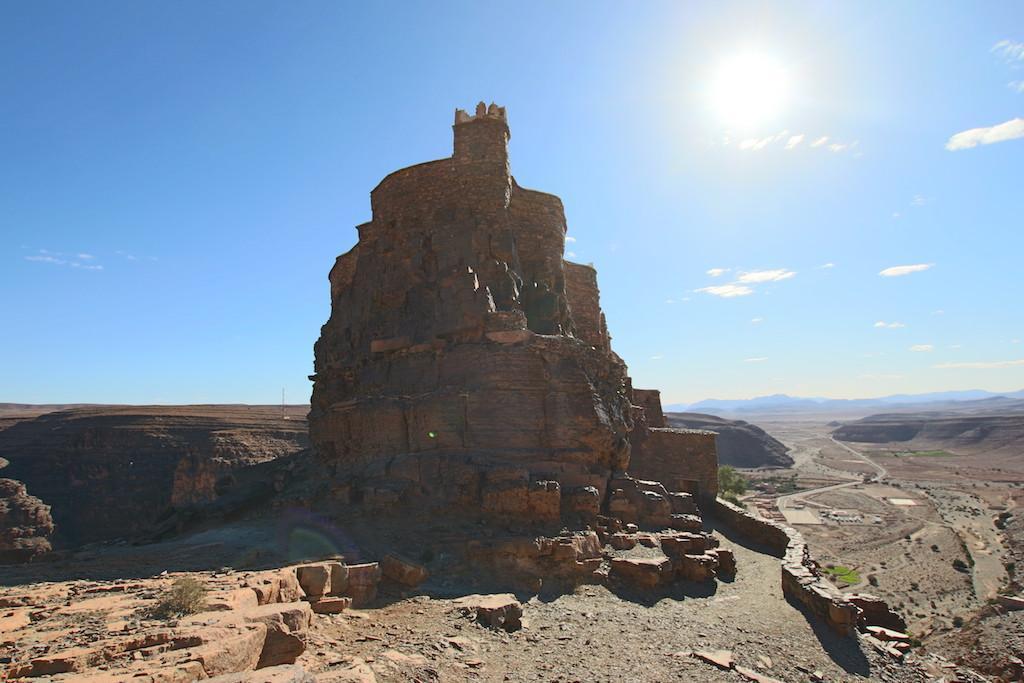 Local encounters. Bake bread in the village oven. Discover the medina with a local university teacher. Have lunch inside a Berber home and learn how to prepare a tagine. Be invited to tea by the nomads in the Anti Atlas mountains. Tread on millennia old rock engravings. ( And some luxurious ones- fly privately to the Sahara in a small propeller plane to land by the dunes). Yes, walk in the Todra Gorges and marvel at the story tellers on Jemaa El Fna square. But you don't need to rub shoulders with thousands of other visitors to Morocco. Why ? Because you know better. Because you're not likely to return to Morocco soon, if at all. What if we told you that at Sun Trails all the above experiences are private ? Ah. Privacy.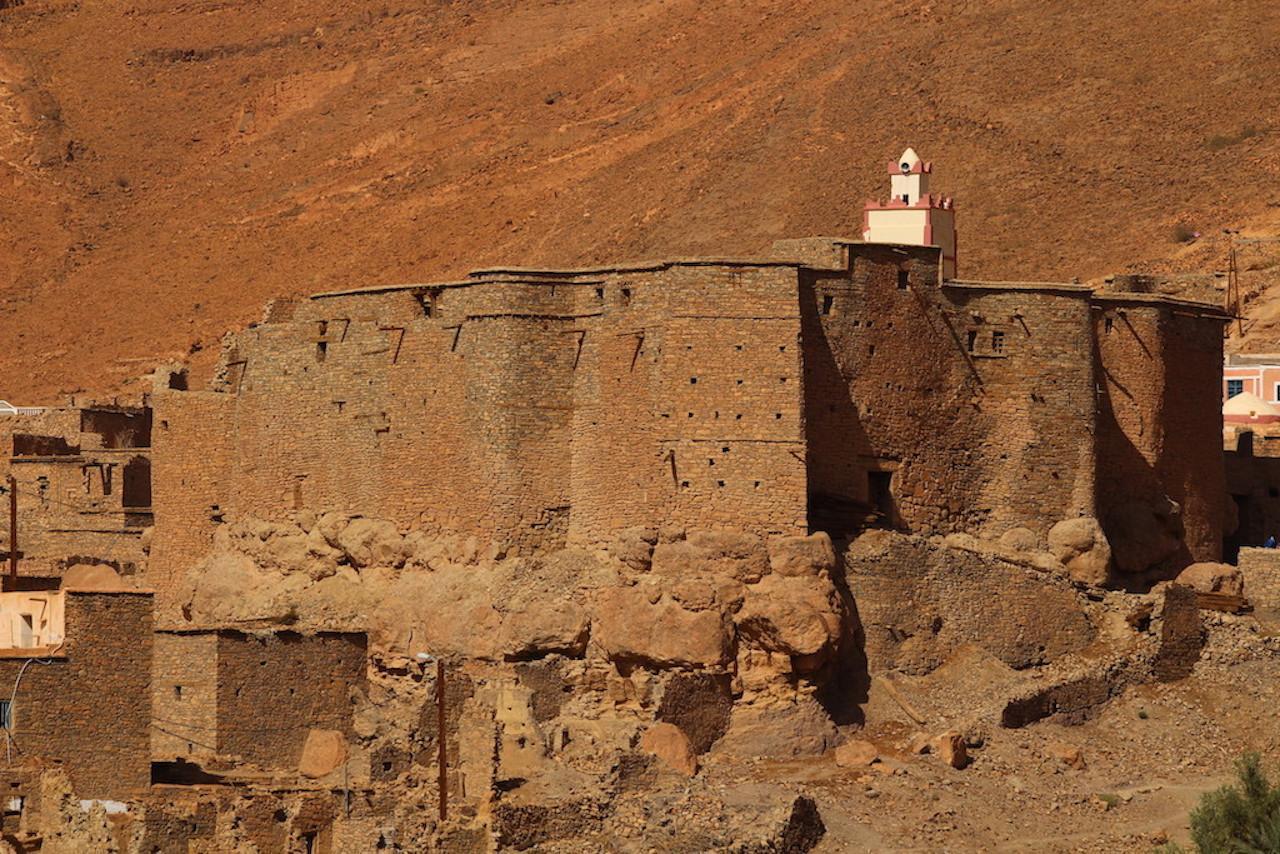 Privacy- the one ingredient that can't be missing to ensure romance ? Just you, your spouse and your guide/ hostess. And no, we can't arrange to empty the medina of all other visitors. But all our addresses are hand picked to avoid as much as we can mass interaction. Most importantly, privacy translates into staying only in those guest houses that almost no one knows about. How do we know about them ? Because we're curious by nature. We scout Morocco a few times a year, our eyes set on anything that stands out of the ordinary. And we test accommodations, guides, local experiences, music festivals, spas, trekking routes, etc. And when we say privacy, we don't mean driving secondary roads and only coming out at night. You'll have tea with the locals, bargain in a village market, trek the High Atlas with a Berber guide. With the main focus being on avoiding all mass tourism. And touring Morocco on a custom off- the- beaten- track tour while staying only in unique, intimate locations.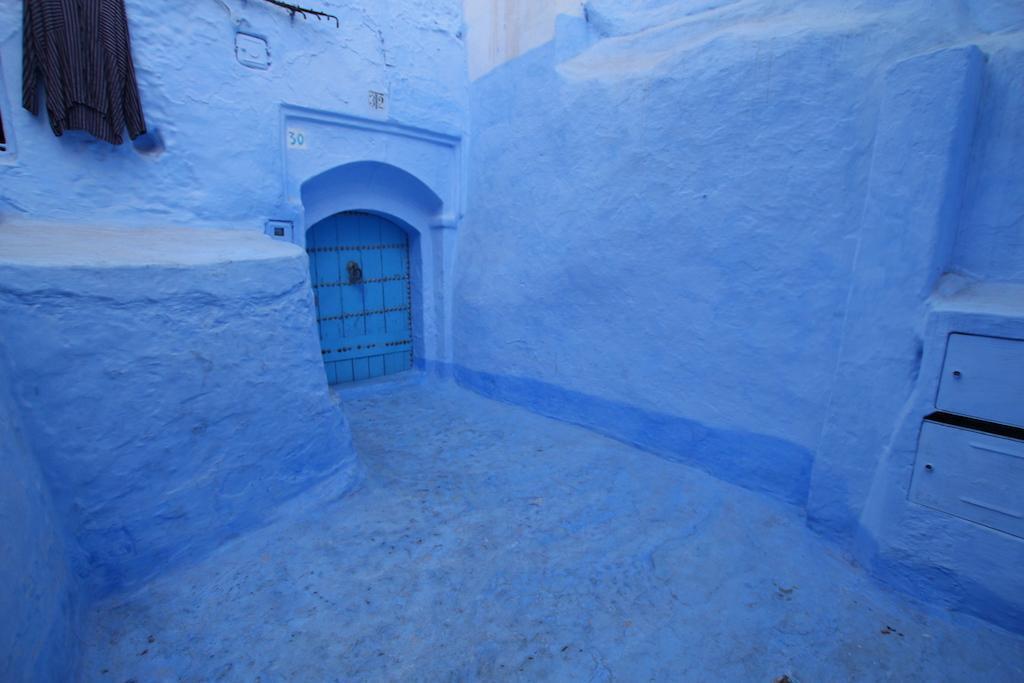 Below, we have selected a few of those addresses that we think best embody this spirit. You can select all or a few of them and have us design a private customized tour around these properties and some hand- picked experiences. They are not limited to honeymooners only. Some couples just want to get back to finding themselves again and reconnect with each other. Cut out the white noise around. Yes, that includes social media and being 'connected to the world'. But that's entirely up to you. The only limit is your budget and the time you can take off to travel around Morocco.
DAR AHLAM
The house of dreams. And it will certainly fulfill some. More than that, it will consistently leave you rapt. As Hicham, the manager, likes to put it, this is not about functional luxury. After all, you don't have square meters of Carrara marble of bathtub. Neither the latest plasma Full HD television. Actually, there's no TV at all. You do get underfloor heating and French- chef desserts, but if you're looking for value for your buck, look elsewhere. You'd be missing the point. Wonder. Experience. Enchant. The French owner used to create fantasy events in Paris, so the last thing he wanted to create is a 5 star resort inside a palm grove. What if someone knew your favorite color was purple and you'd arrive in your room to find everything is purple ? What if you didn't know where or what your next meal is going to be ? Perhaps it will be a candlelit table in a tiny room in the labyrinth that you didn't know existed. Or a set up dining area showing up out of nowhere, complete with your butler, up in the High Atlas, by the riverbed. This 14 room hideaway sits at the foot of the High Atlas mountains, nested within the 4500- acre palm grove of Skoura. Part of the wonder of staying here is learning the way back to your room. With a staff of 100, you can get an idea of how personal the attention and service is going to be. In the image- based world we live in, where information is instant, this is a world of secrets. A house of dreams. It would make little sense staying here less than two nights, arriving late evening and departing early after breakfast the next day. Magic needs time to operate.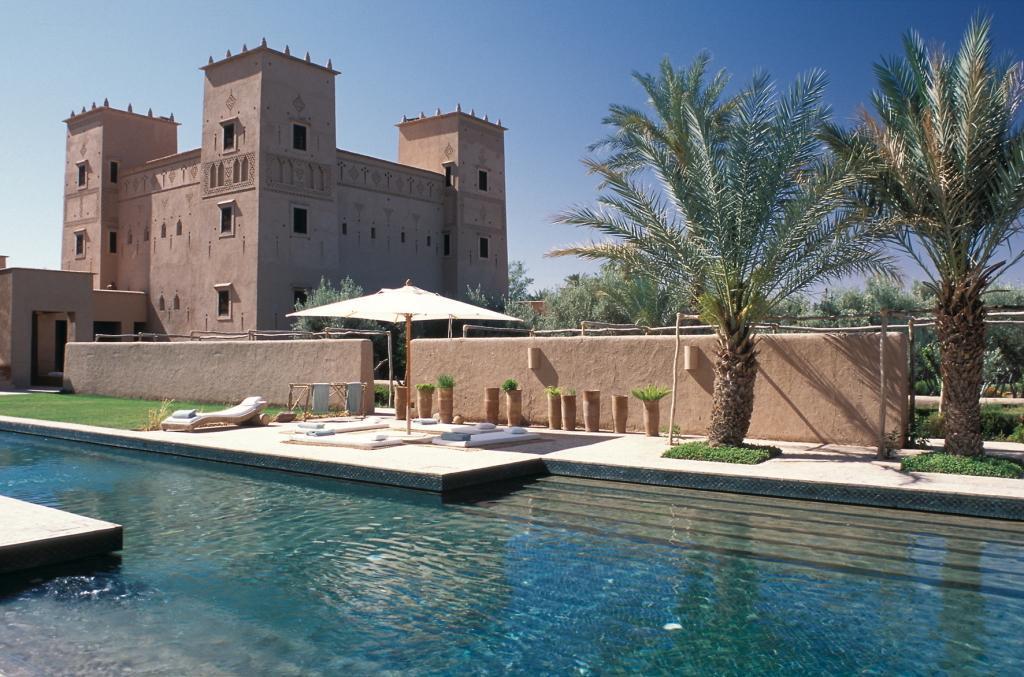 DAR ZAHIA GARDEN
Marc Belli has just realized his dream: to build sleeping cabins in the rural plot he owns facing the Atlas mountains. If he shares with many of his contemporaries a desire to get back to nature, Marc, a French photographer and art director, is also victim to a certain nostalgia for the 'paradise garden' of his youth: that of his grandmother's villa, where he spent his holidays.
Covering nearly 4,000sq m, this narrow plot is enclosed by a rammed-clay wall. It is reached by a dusty track edged by thorn bushes and cacti. There is nothing to suggest what can be found behind the walls, and no-one could guess that through the main gate is a field of roses and hibiscus by a patio in which jacarandas, euphorbias, palm trees and acanthus are reflected in a huge mirror. Another surprise awaits beyond the patio: an electric-blue raised swimming pool that seems to stretch as far as the eye can see.
Picturesque pathways dotted with garden seats wind through the fragrant, bushy undergrowth, opening the way through the eucalyptus, pomegranate, citrus, olive and fig trees, aloes, succulents and more. At the far end of the garden, buried among the vegetation, are the five cabins open to guests. Wooden cubes, the cabins are reminiscent of Balinese gazebos or small Japanese tea houses and have been fabricated out of local materials.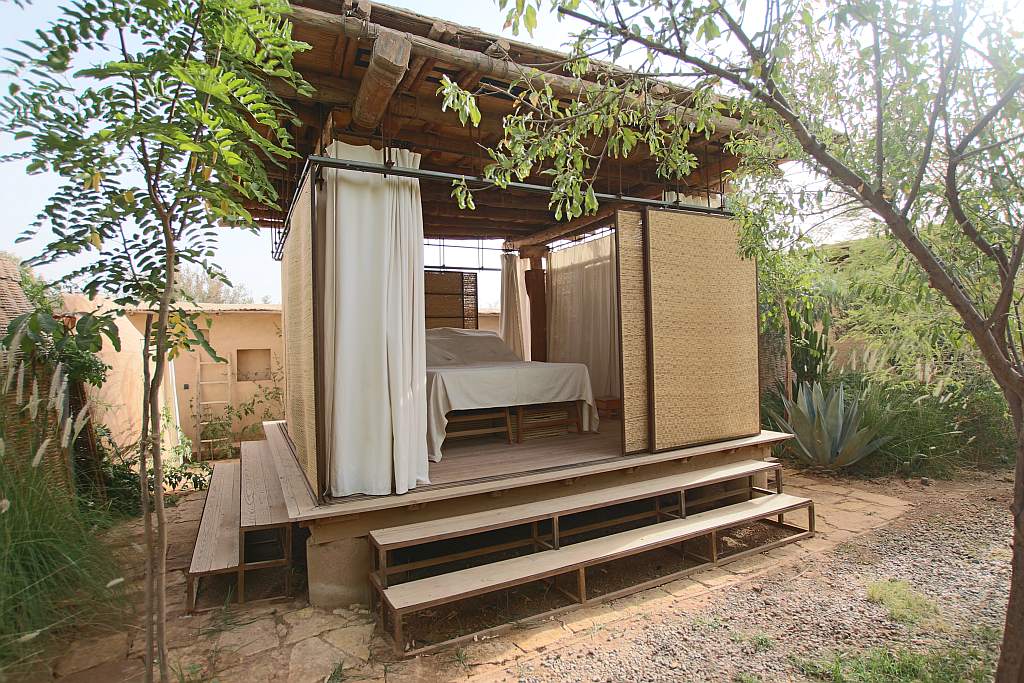 TASGUA YAN
South of Essaouira, on the Atlantic coast and north of Agadir lies the small village of Tafedna. This feels remote and at first, it's hard to see the sandy beach, tucked among the Argan cliffs that makes any encounter with the waves of the Atlantic uniquely memorable.
Therein lies Tasgua- Yan, a charming 14-room guest house overlooking the sea, its walls forged out of local stone and timber. The white washed walls and blue framed windows reminisce of the Greek islands rather than Morocco. You come here to disconnect from the world. Take long walks along the deserted beach or through the argan forest. Sit by the fire place or the turquoise pool with your favorite novel. Swim in the ocean. Linger on for dinner over fresh fish and a glass of vin gris. Let time pass. By the Atlantic, in the middle of nowhere. Literally.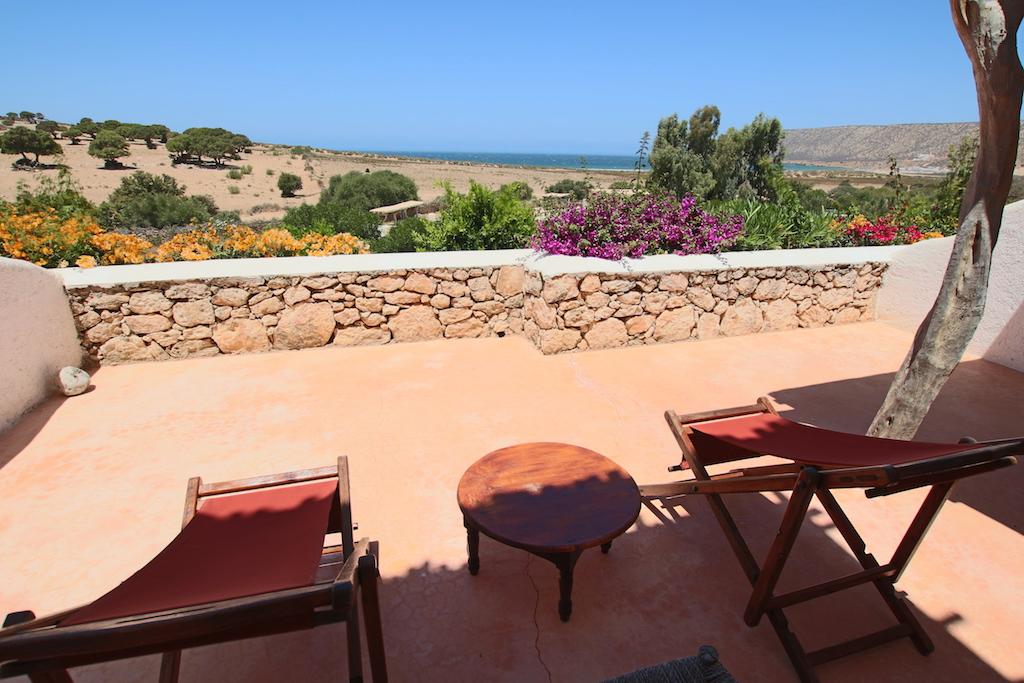 AZALAI CAMP
If one could have only one thing, one reason only to visit Morocco, this would be it: a night at Azalai Desert Camp in the dunes of Erg Chigaga. Let your driver arrange for a camel ride just before entering the dunes so you arrive in style at the camp, right about sunset. Four large white canvas tents and three slightly smaller ones, complement each other so that one might think he's on his own in the desert. Two VIP tents, further away, come with their own dedicated butler, club leather armchairs and lounge- library. Inside you'll find king-sized wrought-iron beds, quality mattresses, finest bedspreads, mosquito nets and Fes - ceramic water basins. Berber rugs cover the uneven rattan floors. King-sized beds are heavy with blankets and brocade covers – necessary in the winter – and light is provided by tin battery-powered lanterns. Bathrooms are provided with eco- toilets and pump showers with hot water. Dinner is served by candlelight, encircled by lanterns placed meticulously around the dune. The four course set menu regularly starts with harira soup, Moroccan briouates, continues with a hearty beef or lamb tagine and ends with a French desert. The hardest is to leave.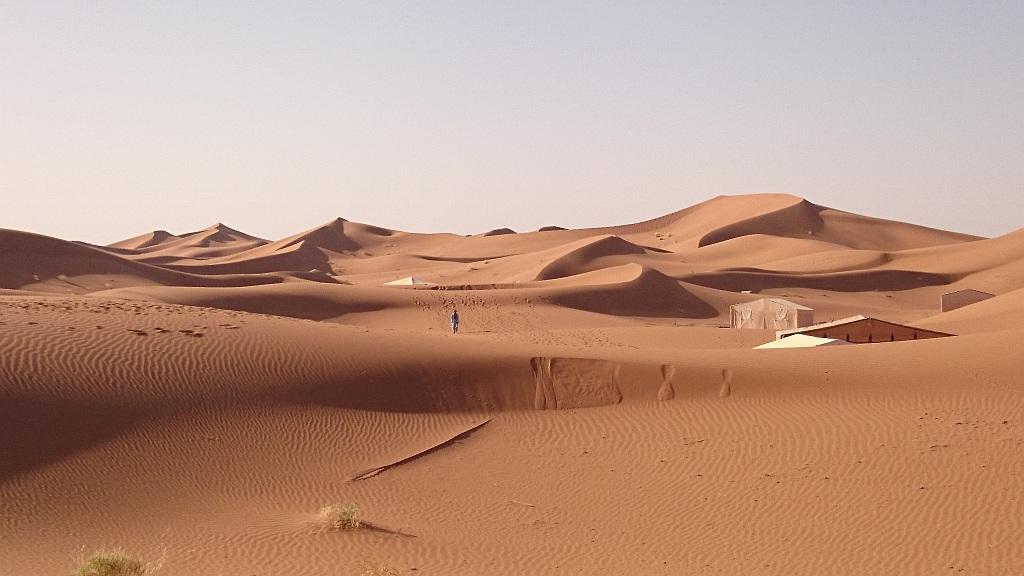 AZALAI BEACH COTTAGE
You really have to know your way to get here. About 20 minutes drive from the dreamy village of Oualidia, the road overhangs the tomato parcels juxtaposing the beach. An unassuming turn and a few miles of off- road take you to the gates of Azalai Cottage. Strong on the heels of Azalai Desert Lodge, arguably the smartest guest house south of Ouarzazate, Bouchaib, the French- born Moroccan owner, an accomplished architect himself, entrusted Helene Bartholdi to create something altogether different. The Out- Of- Africa feel was replaced by something much more Mediterranean, almost Aix-en- Provence vibe, with the occasional Berber carpet thrown- in. Five rooms, two suites and two bungalows all face the Atlantic and the gradient makes it that everyone gets a sea- view. Between the villa and the beach, a generous pool blends smoothly with the garden's palm grove, near a shaded beach hut providing a bounty of fine shell fish cuisine to be enjoyed under the cool swaying shade of the palm fronds. The well stocked library and board games make up for the lack of any TV or wifi.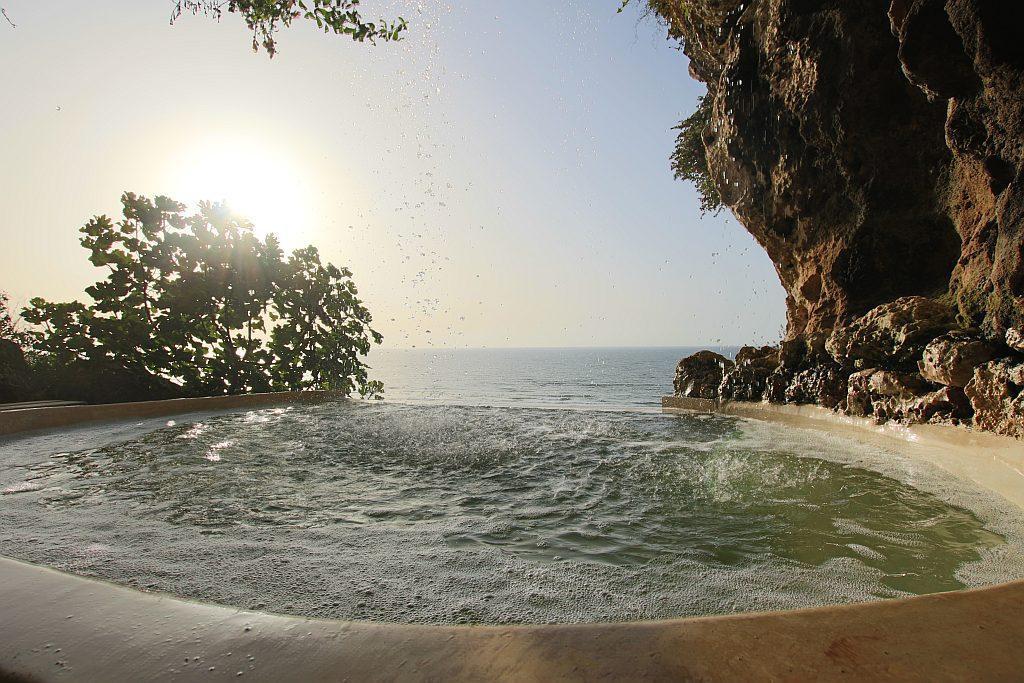 TOUR DES FAUCONS
In the 1960's, long before budget airlines and Trip Advisor, Morocco started to attract a particular kind of crowd. Fashion moguls, actors, artists and writers, settled here or had a secondary home, a Paradise Lost retreat from the disenchantment with a more and more mechanical Europe. Their villas were the epitome of design, mixing the Moroccan- inspired carpets, zellij, fountains or woodwork with modern European arts, African masks, Andalusian gardens and Italian chandeliers. La Tour des Faucons is such a place, located just outside Taroudant, but Karl, the very down- to- earth German owner, doesn't throw any opulent parties. What he likes to do nowadays is welcome guests and have good company. The art collection on display should be protected with infra- red laser at night. But don't think for a second that you'll be spending the night in a museum. The suites are immense and fully functional with floor heating and reversible A/C. The bathrooms seem to come out of Architectural Digest. There is a 30 meter long pool to keep you fit, if you manage to not get lost in the gardens. Be there at the right time of year and you can join in to harvest the olives or oranges.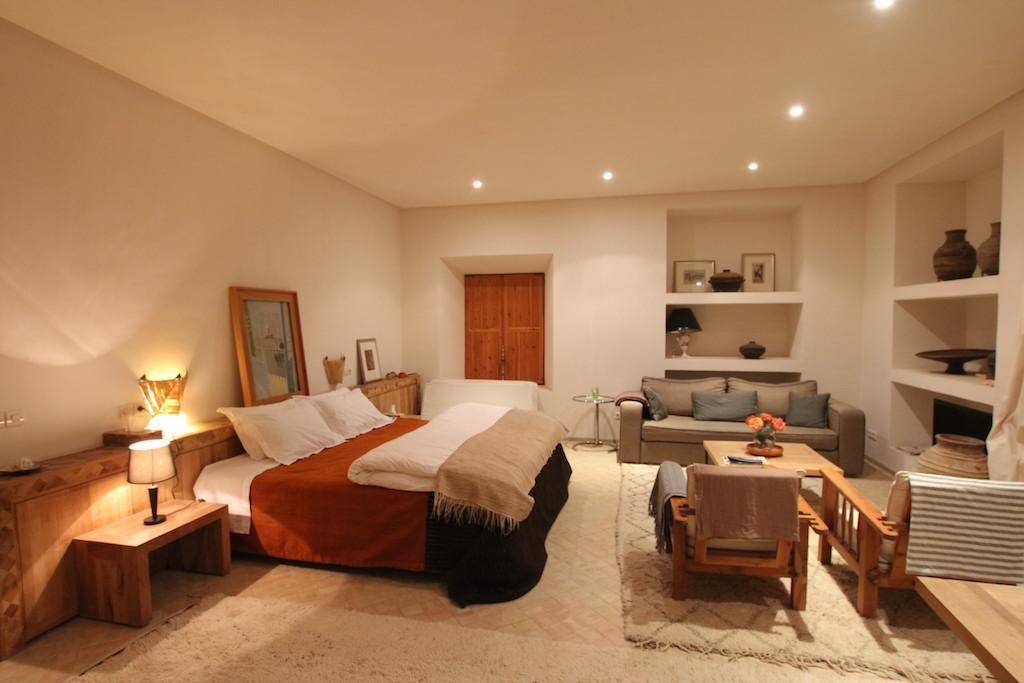 LA PAUSE
Short on time while in Marrakech and you don't want to miss the desert experience ? Well, you have Agafay desert, just 45 minutes drive away. In all honesty, Agafay desert is not really a desert. It's a startling revelation, as one is surrounded by nothing but biscuit-colored waves of rock that stretch as far as the eye can see; an isolated palm tree flapping its fronds and a couple of camels grazing peacefully add to the illusion. La Pause is a rustic retreat where you can both get back to nature and keep your comfort intact. And what better example than the wood burning stoves that stand guard keeping the chilly air of those winter nights away from the open fronted rooms ? There is no electricity and scarcely any mobile reception. But perhaps snoozing, stargazing and staring into space are not your thing. Well, worry not. Camel riding, buggy racing, Arab caligraphy, massages or a cooking class can all be arranged on site. The rooms are built of pisé (adobe and straw mix) and the stylish lodges are sublimely illuminated by candles and oil lamps. You will find a sumptuous king sized bed, a strong shower, low sofas, rugs and cushions, plus fireplaces and a patio sun-lounger for morning mint teas. Their comfortably arranged Berber tents let you enjoy magical moments and beautiful evenings under the stars, whilst listening to the captivating and hypnotic rhythms of traditional Gnawa music.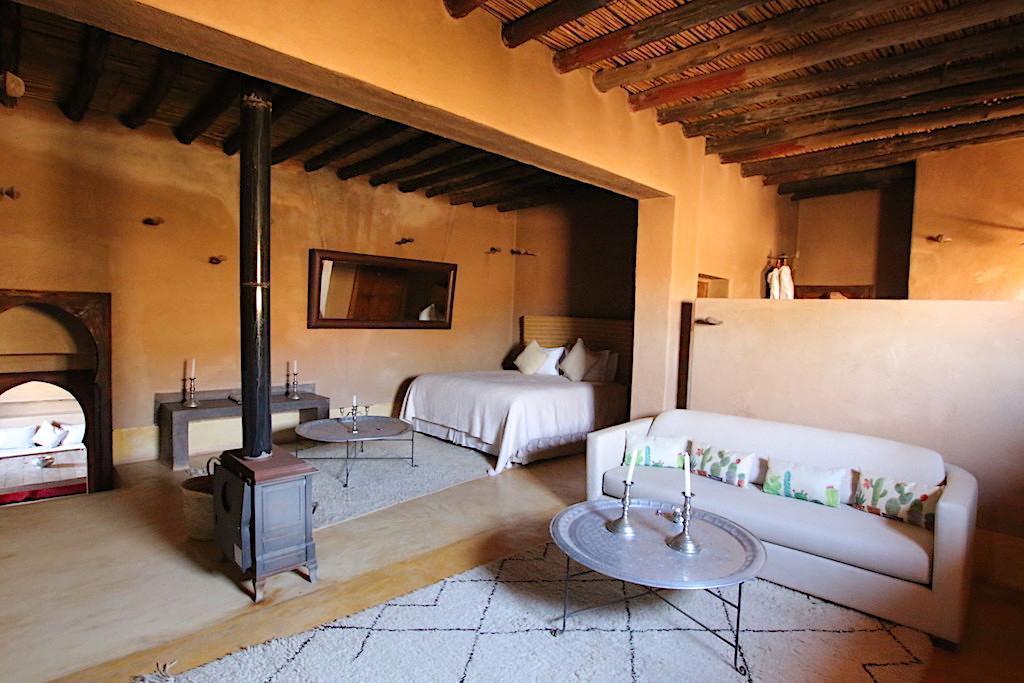 CASA JUAN
Juan, an international photographer, wanted to blend his love of photography, India and the Sahara and Casa Juan is the offspring. In the middle of nowehere, this is as remote as you can get, on the edge of the Sahara. Given the coordinates, it is hard to imagine you'd find a manager that speaks fluent English. Or refined Moroccan cuisine. Finding the place is like a treasure hunt. You will sometimes be met by Juan himself and get your luggage carried to your room by donkey. You will truly appreciate having a 4x4 here as you'll need to cross a few small dunes to make it to the house. I've hardly ever stayed in a hotel where the names of the rooms encapsulated this well their respective names: Africa, India ... From the rooms and the public areas, it is clear that the owner has travelled all over the world and has decorated the spaces with some sublime photos and very rare artfacts. Abdel , Hamid and the rest of the team could not make you feel more welcome. Just go up those stairs and come out on the roof terrace to awe at the setting sun over the palm grove and the dunes...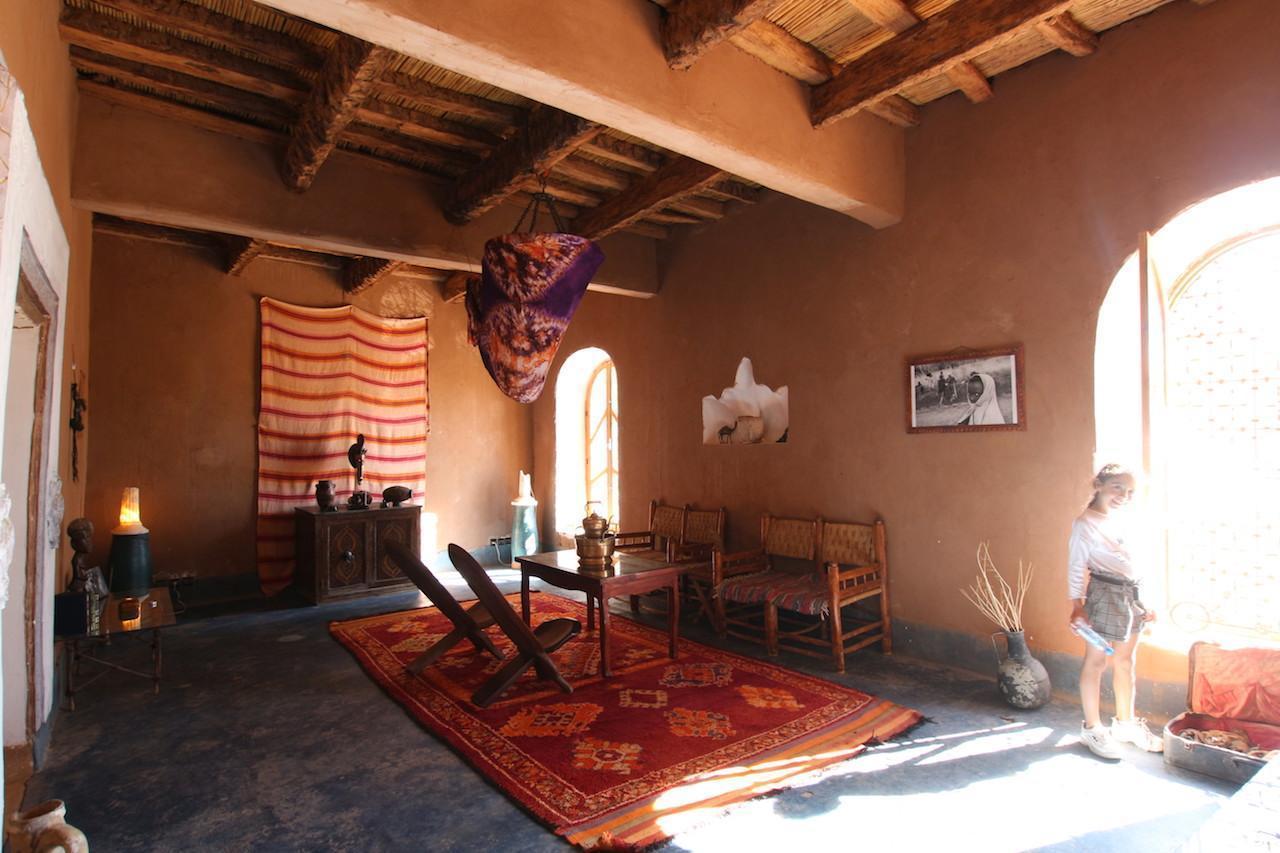 Want to start planning your Morocco honeymoon ? Get in touch with our team here or send us an enquiry at This email address is being protected from spambots. You need JavaScript enabled to view it. .