Displaying items by tag: morocco safe to travel
Wednesday, 16 December 2020 10:15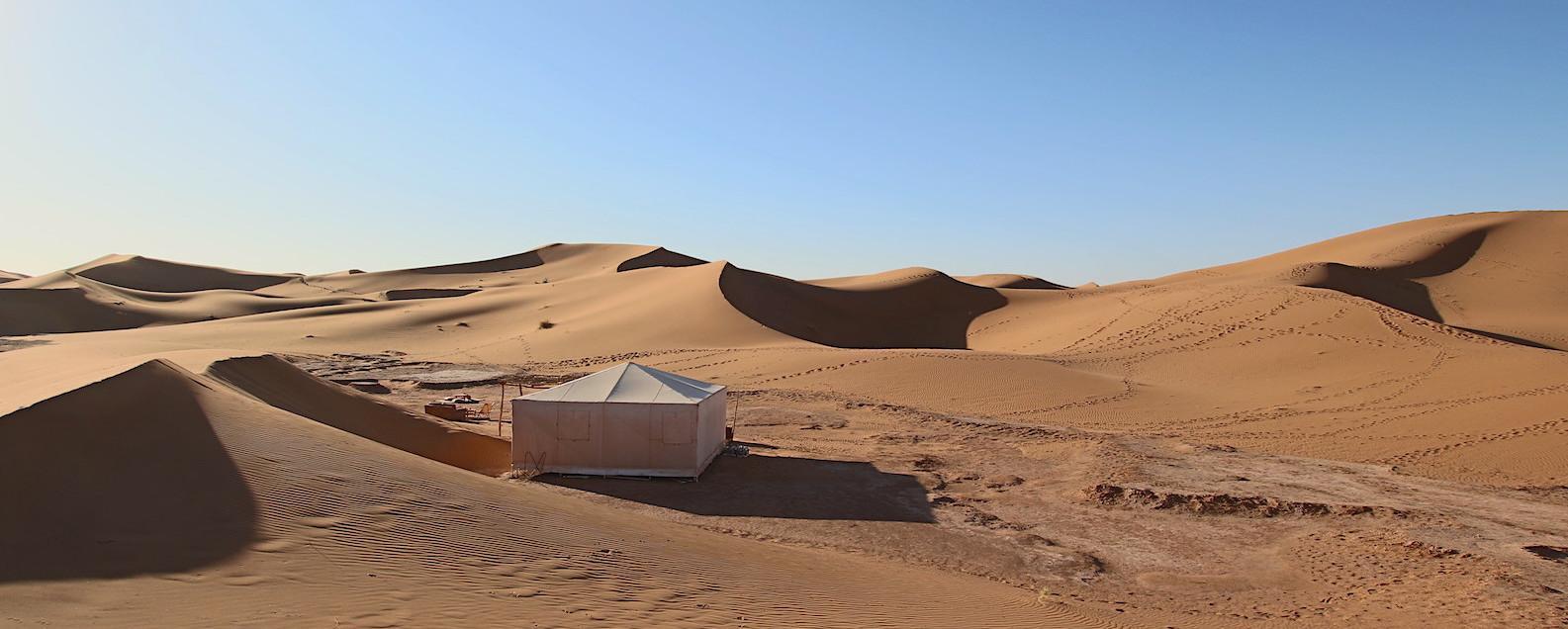 Vaccines are here. Is Morocco ready to welcome visitors ?
Update 11/10/2021: Presently, Morocco has officially caught up with the United States in terms of vaccinated population, with 56 percent of the total population already vaccinated and 65 percent vaccinated with at least one dose. Direct flights from the US to Morocco have been open and operating since September 2020. You will need to provide proof that you have been fully vaccinated against COVID-19, with the second dose administered at least two weeks prior to travel, or a negative PCR test result before boarding your flight to Morocco.
[ See photos of our guests touring Morocco recently ]
Presently, there are no Morocco travel restrictions in place. There is no obligation to quarantine upon arrival in Morocco if you arrive from United Kingdom or United States. Here you can find an updated map of List A and List B countries. If flying from a List A country ( in white on the world map) you won't need to quarantine upon arrival, if vaccinated.
Gorges and palm grove in the Anti Atlas mountains
VACCINES AND TESTS
After a gruelling wait, the much- anticipated vaccines are finally making a difference, not least in the way people are booking up travel again. In Morocco, the first country in Africa to start vaccination, the campaign started on 29 January and more than half of the population has been fully vaccinated . What's more, 9 out of 10 Moroccans have declared willing to take the vaccine. You can see here the evolution of the vaccination campaigns around the world.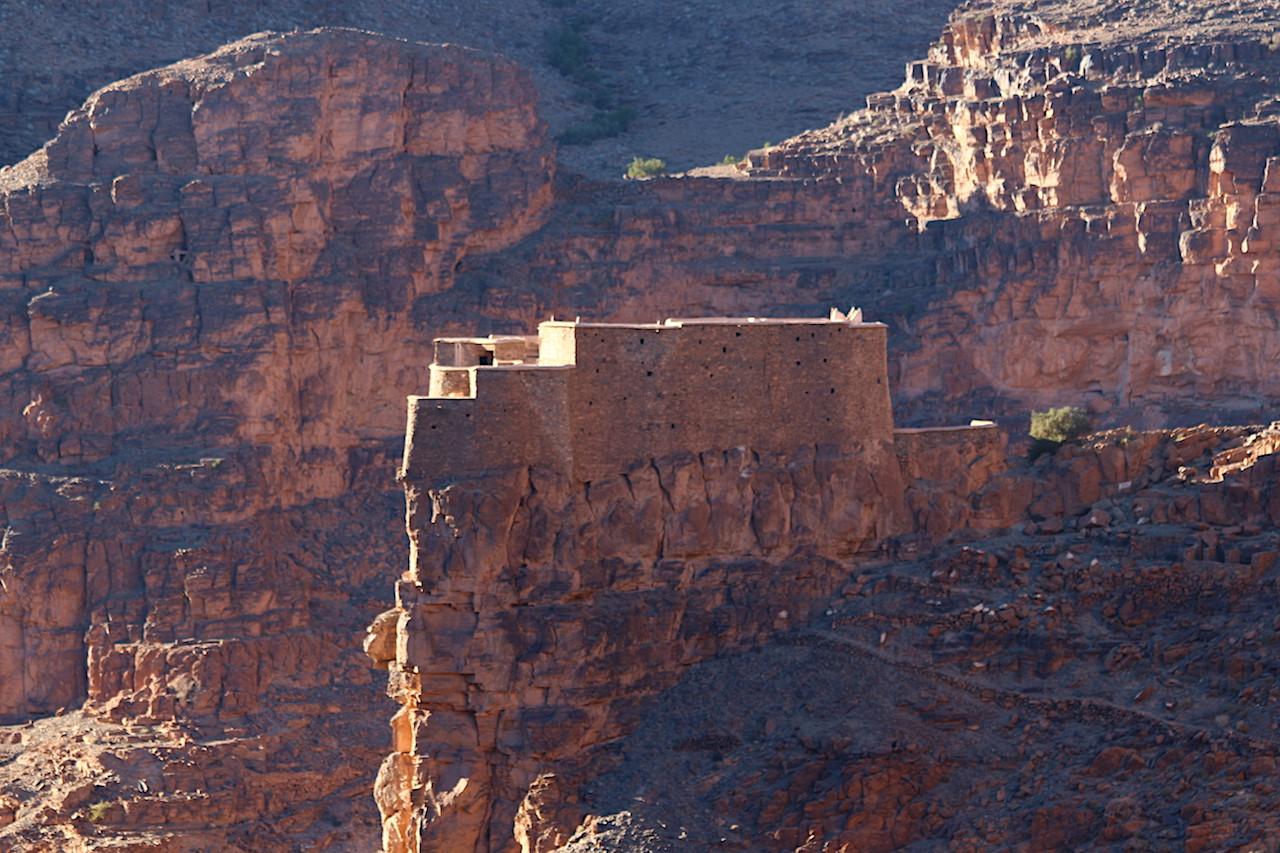 Fortress - granary in Morocco's south
HOW DOES MOROCCO COMPARE TO OTHER COUNTRIES ?
Having started end of January its vaccination campaign, Morocco is trailing just behind Spain and France ( see graph below). Since the beginning of May, Morocco is back on track with an average of 200.000 vaccinations a day, for a population of roughly 30 million. Already in September 2020, Covid testing facilities opened up in major cities and a PCR test would set you back about 500 Dirhams ( 50 USD/ 45 euros). In some locations, like Marrakech, for a little extra, you can have a specialized professional coming to your house and giving you the test for a cost of about 800 Dirhams ( 80 USD). In November, private clinics in Morocco were finally allowed to treat Covid patients, assuaging the over- burdened public health system.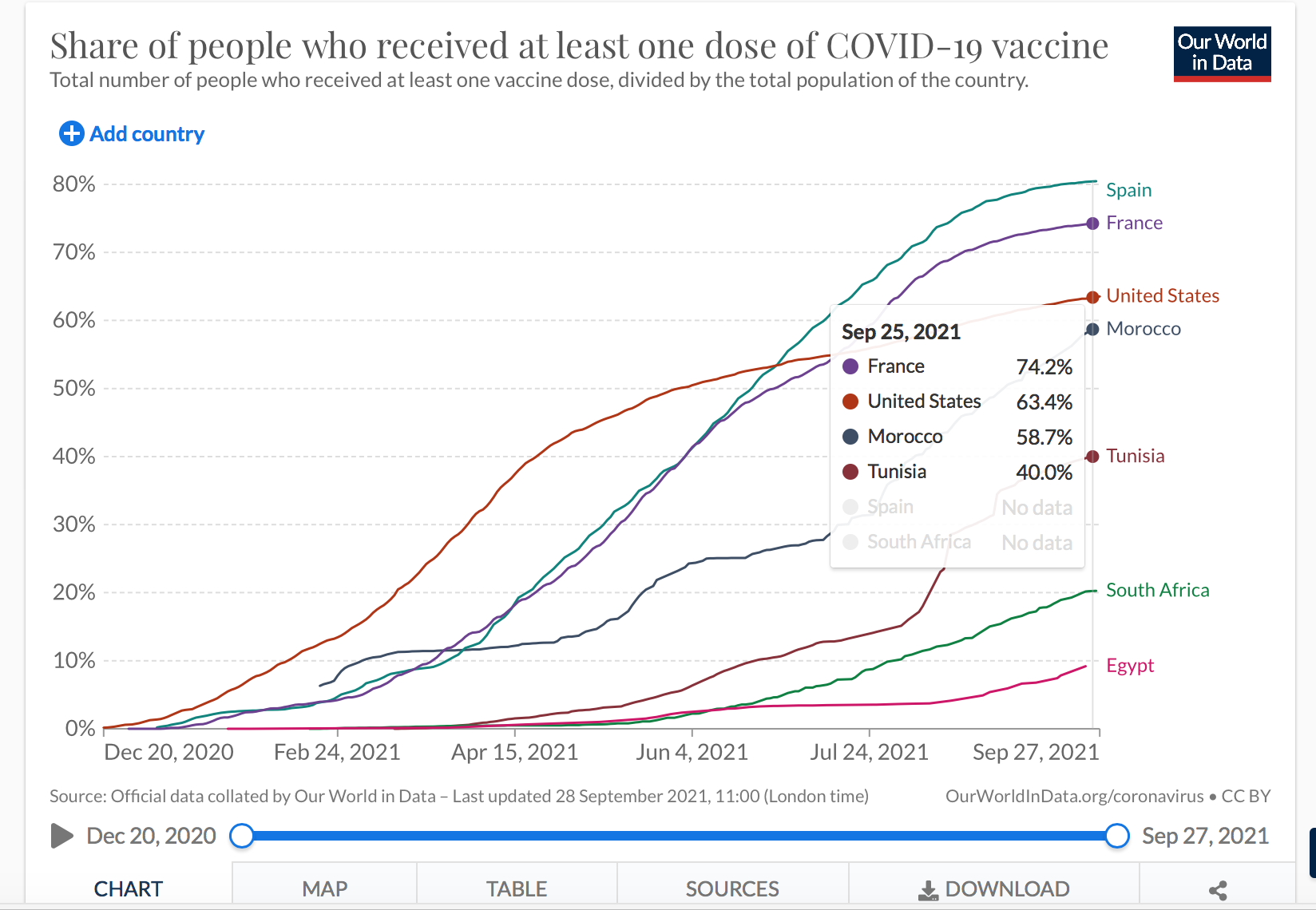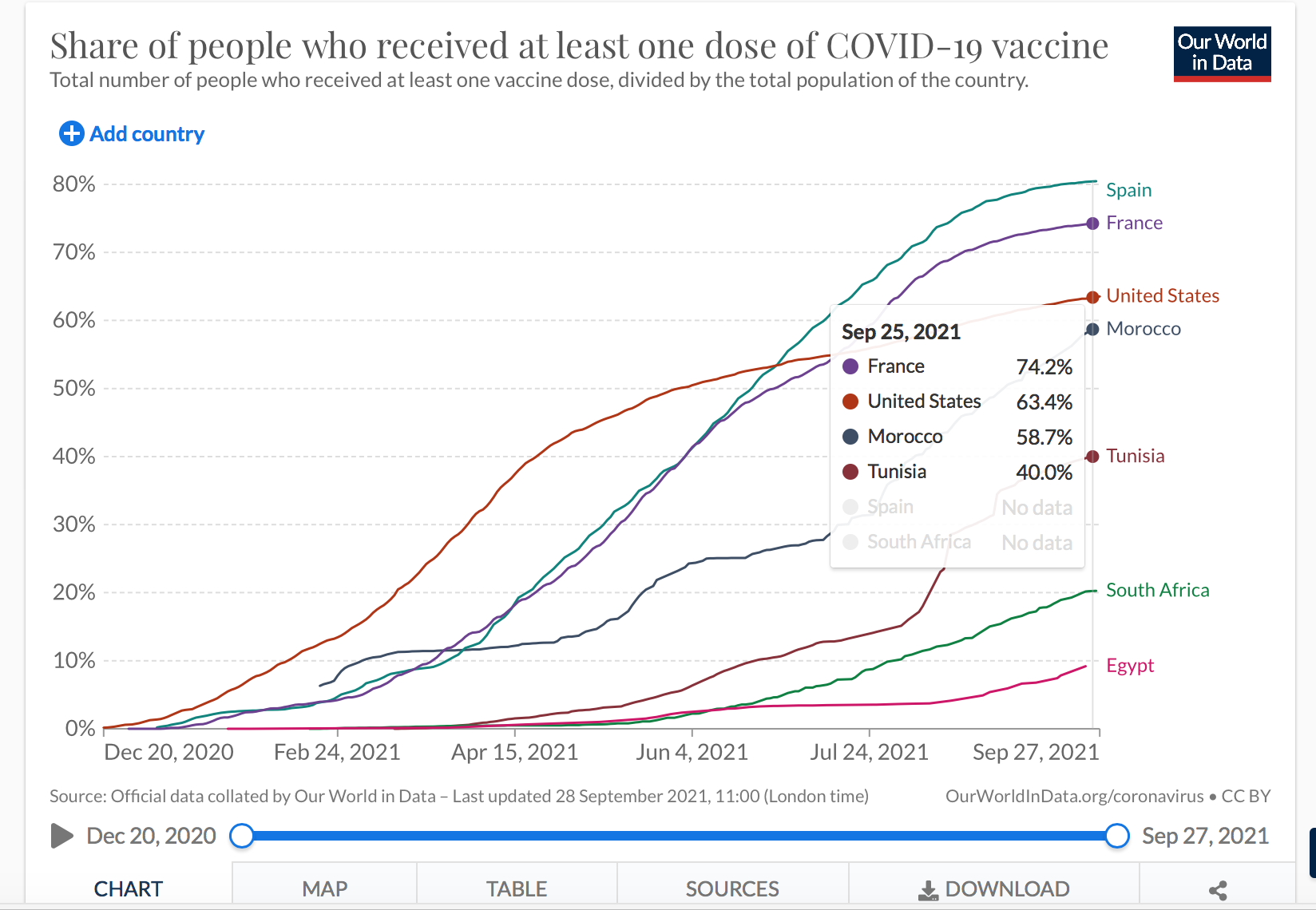 [ Read: Start planning a private Morocco tour in 2021 ]
IS MOROCCO READY TO WELCOME TOURISTS ?
Flights from US and Golf countries are operating normally. Royal Air Maroc flies into Casablanca from New York and Washington, with connections also in place from Dallas, Miami and Boston. Given the actual circumstances, we recommend booking direct flights to Morocco and avoiding connecting flights, although flying into Morocco from the A- list countries, would not pose any problem.
[ Read: Book a summer private tour in Morocco ]
TRAVEL RESTRICTIONS INSIDE MOROCCO
Wearing a mask is compulsory nation- wide in public spaces. A curfew is still in place in large cities from 9 PM to 6 AM. Public monuments are still closed to public, although Majorelle Gardens, Dar El Bacha museum, Le Jardin Secret or Kasbah des Oudayas ( most privately- owned tourist attractions) have been now open for months. Most of our partner guest houses, riads, desert camps and eco lodges have been opened since last Christmas.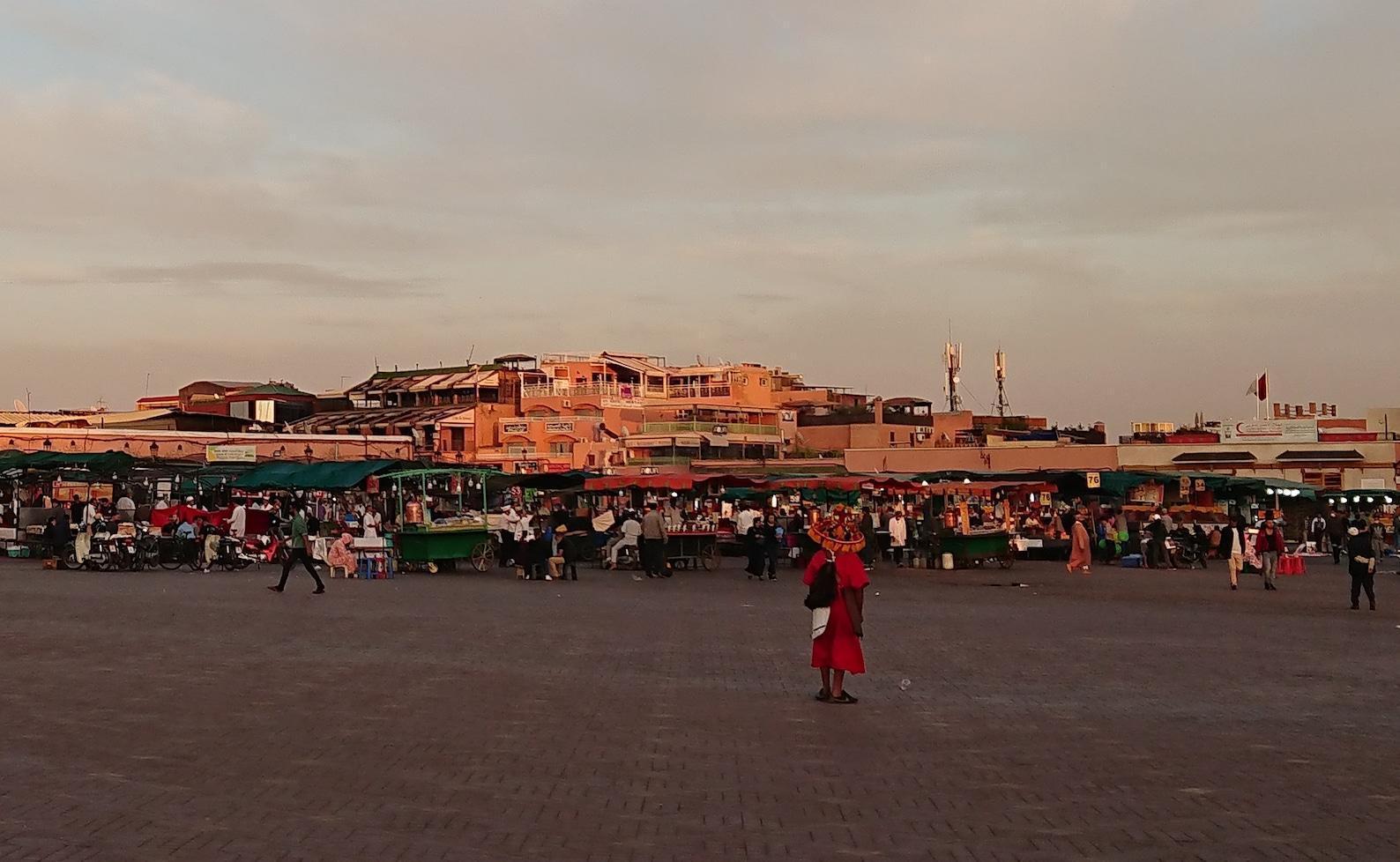 Jemaa El Fna square, Marrakech
WILL IT BE SAFE TO TRAVEL INSIDE MOROCCO ?
We expect the vaccination campaign to only gather more and more steam in the next few months. Although Morocco is a country where still many people live in remote regions, previous experience indicates that a vaccination campaign will be successful: 11 million Moroccans were vaccinated in 2013 against measles in only 4 weeks. The success of the vaccination campaign largely hinges on vaccine supply and it appears that Morocco has now managed to stream a steady supply of vaccines into the country.
[ Read: Trek in Morocco in 2021 ]
Considering the above, we estimate that traveling within Morocco should be back to normal by October. With the vaccination campaign in full swing and the new- cases rising curb bent, mask wearing and curfews should be wavered, public monuments open and free movement within the country possible by October.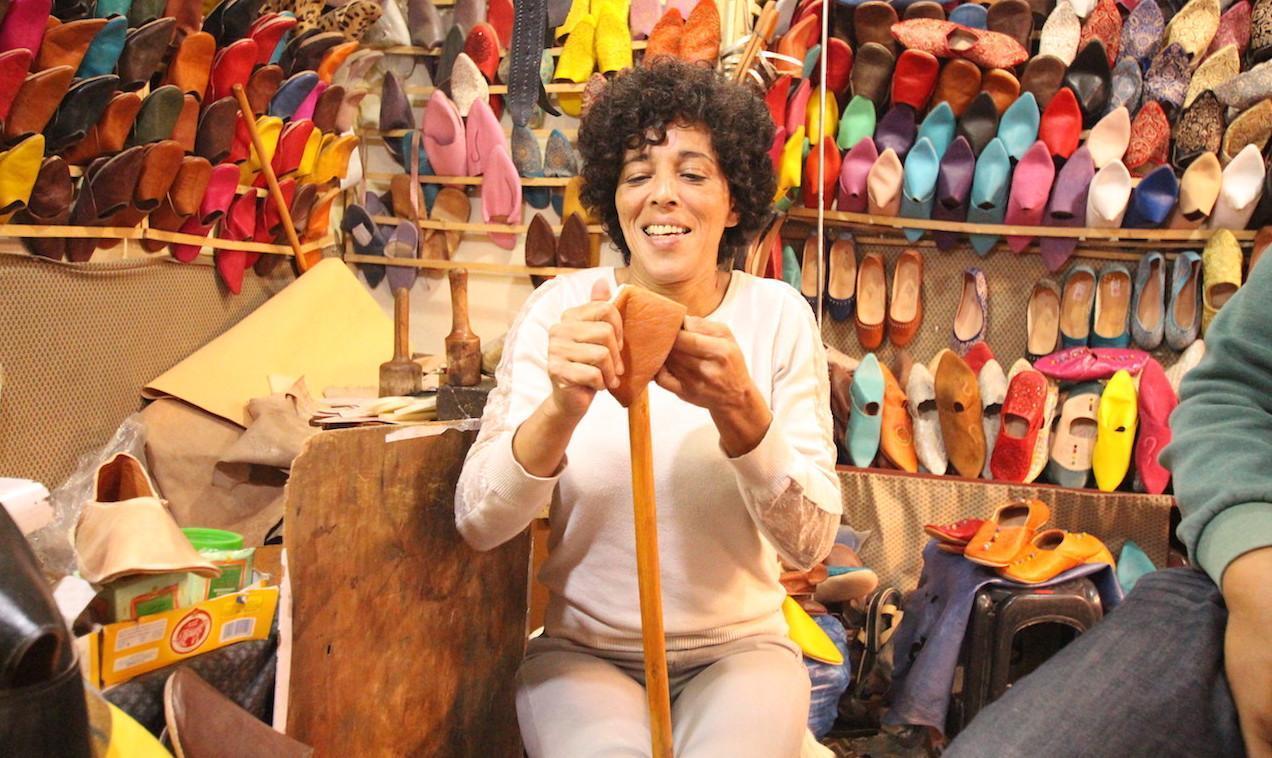 Presently, there are no Morocco travel restrictions from the US. Those flying to Morocco are asked to present a 72 hour PCR test when embarking and upon arrival at the airport in Morocco together with a hotel booking. Presently, there is no obligation to quarantine upon arrival. Naturally, most of the travelers will already have a booking confirmation whether booking just their accommodation or more comprehensive travel arrangements, such as a private tour to include accommodation, transport, activities, guides, etc.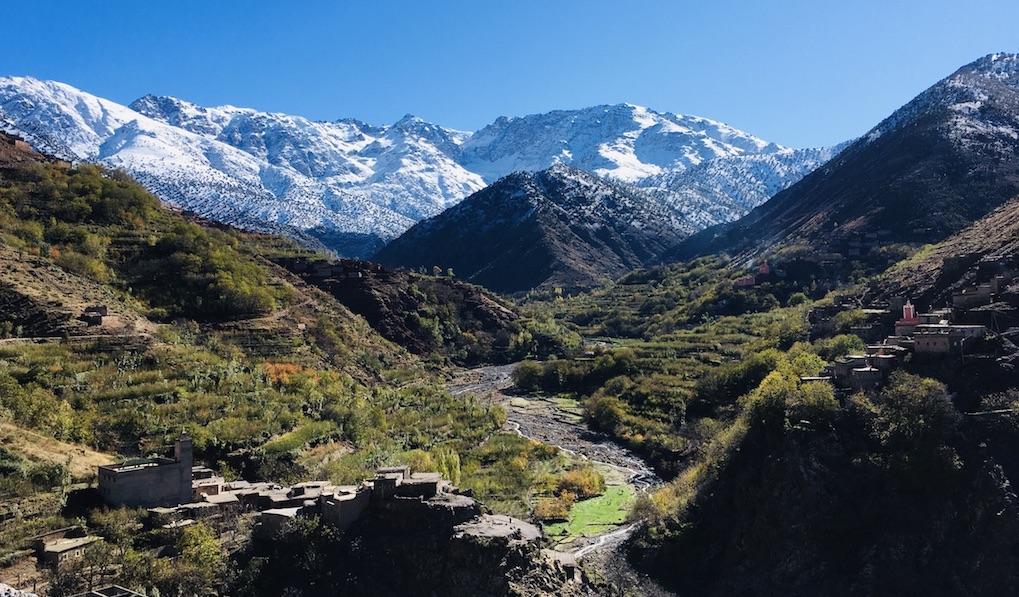 BEST TIME TO VISIT MOROCCO ?
Perhaps it has never been a better time of year to book a Morocco holiday. Avoid the crowds: We estimate that it will take some time before Morocco's visitor numbers will return to a 'normal'. How does that translate for those wishing to visit soon ? Popular sites, such as Jemaa El Fna square, UNESCO world site Ait Benhaddou or the picture perfect village of Chefchaouen will see much less of the usual hustle and bustle, rendering them all more genuine and picturesque (yes, you can actually walk around Jemaa El Fna without being pestered by a monkey...). So, no danger of confining yourself into people- packed spaces. What is more, booking a Morocco private tour will include a lot of travel to remote, off- the- beaten- track areas, such as Draa Valley, the Sahara desert or the Gorges of Dades. No chance there of being jostled. A private tour could, or rather should, include a traditional hammam and body scrub treatment or a cookery class, both of them private experiences. All our local guided tours are private, your only escort being a local, well- informed guide.
Discounted rates and flexible cancellation terms: It is no secret to anyone that everyone working in tourism in Morocco has toiled and strained from March 2020 until now, from the spontaneous food stalls on Jemaa El Fna square to the booking department of uber- luxury hotels such as La Mamounia or Royal Mansour. Therefore, you are likely to be offered last minute and/ or early- bird discounts, part of a nation wide effort to attract tourists back and ensure a more than necessary money flow to a depleted trade.
Help local populations: The pandemic has hit everyone, that is true, but unevenly. Before the pandemic, populations in remote areas of Morocco, where climate change and rural exodus are contributing to social inequalities were helped by the slight, yet constant passage of visitors. The few teas with the nomads, guided tours, bread- baking classes and the likes helped making ends meet. These populations living on a day to day basis are currently the most affected. Each of us can make a small difference in our own way by inspiring people to travel again to those areas.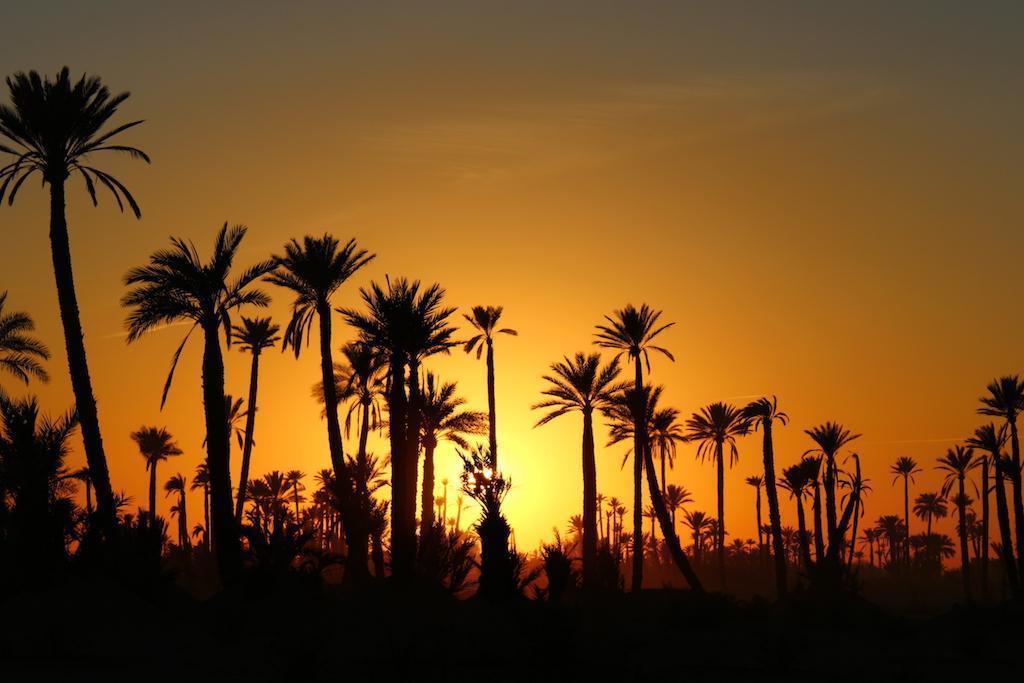 Sunset over palm grove
We've all been through a lot in 2020. I can't think of a better place to put it all behind, than the top of a dune in the Sahara, soaking in the oceans of saffron- couloured sand, while the sun rises on the horizon. Here is to a 2022 full of hope and traveling to that once- in- a- lifetime destination.