Displaying items by tag: morocco honeymoon
Wednesday, 21 April 2021 13:55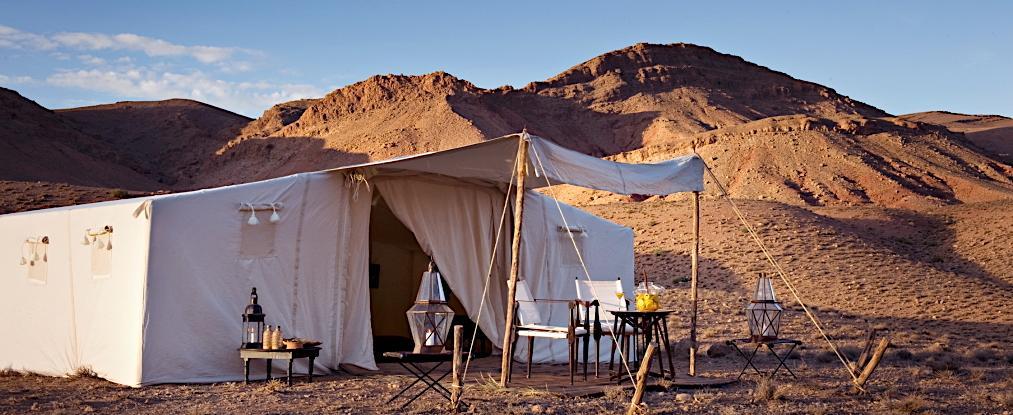 Are you planning your honeymoon in Morocco ? Or wish to experience sensations you never experienced when staying in a hotel before ?
Then, this is the place. But let's start with the beginning. 19 years ago, a man had a dream. He had fallen in love with Morocco and aspired to create a place where his guests would stay, yet as remote an experience from a hotel as possible. Having previously worked with actors and film- sets, he dreamt of a place that would shun away from all the flaws afflicting a typical guest- ouse and instead create a world of emotions, magic, where there is no limits as to how much you can surprise your guests. Thus Dar Ahlam, the House of Dreams, was born. From the opening, it set new heights, established itself as one of the most exclusive addresses in Morocco and continues to inspire those of us that believe that traveling is much hmore than a brick- and- mortar, 9 to 5 affair. Meals, experiences and room settings are constantly reinvented, which renders irrelevant the question when is it best to visit Morocco. Over the years, a few of Sun Trails' guests stayed here while on a private tour - not only the exclusivity comes with a price tag, but one needs time and a certain mindset to enjoy the unique concept. We also wanted to ask more pertinent questions such as how different will traveling be in a world post- travel bans and Covid restrictions or how can tourism empower local communities. To answer these questions and demystify some of Dar Ahlam's charm ( only just... ), we had the pleasure to interview Thierry Teyssier, the man with the dream.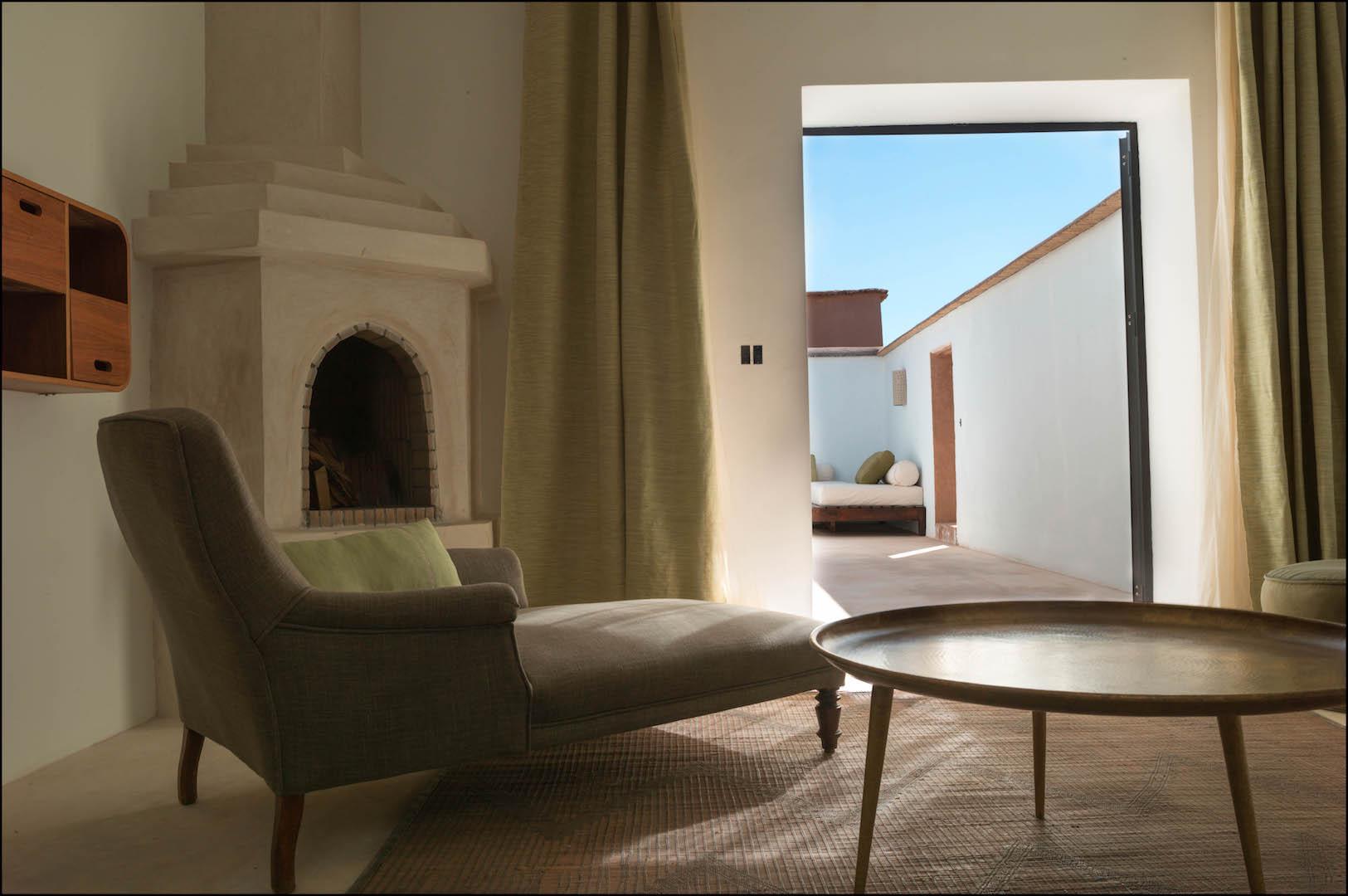 Sun Trails: You opened Dar Ahlam in 2002. Back then, there wasn't much happening outside Marrakech and Fes in terms of luxury and original properties. Why Skoura and would you do it differently now, that 20 years have gone by ?
Thierry Teyssier: Absolutely not. I would do it again the same way. Although 20 years ago Marrakech was paradise compared to today and you had 40- 50 guest- houses open ( as opposed to more than 2000 in 2021), with beautiful villas in the Palmgrove and riads in the medina, the Palmgrove nowadays is not a palm grove anymore, but just a large condominium.
ST: Why not Tafraoute, Taroudant, Meknes or somewhere else rather than Skoura ?
TT: I wanted to be in the middle of nature. I wasn't particularly stuck on Skoura, but people around me told me about it. Fint ( Oasis of Fint) was more known, but since Skoura was on the way to Dades Gorges and Roses Valley, they said: 'You should go and have a look'. It turns out one day in mid- April, I was scouting for locations not far away and so we decided to go and look and when I arrived on site, it was very beautiful: all the plants were in bloom, the water was gurgling in the seguias, the sun was setting, birds singing in the trees - it was really paradise. So I told myself: It has to be here !
ST: I can relate to that in the way that I had passed by Skoura a few times on the way to the desert and wondered from my bus window what hides behind the palm trees. The day I found out, I realized how much I had missed.
TT: It's true. Nobody used to stop. I think with the opening of Dar Ahlam, many people started to enquire about Skoura, even when not staying with us. And that lead to many other guest houses sprouting around the palm grove. I'm very proud to have been part of it.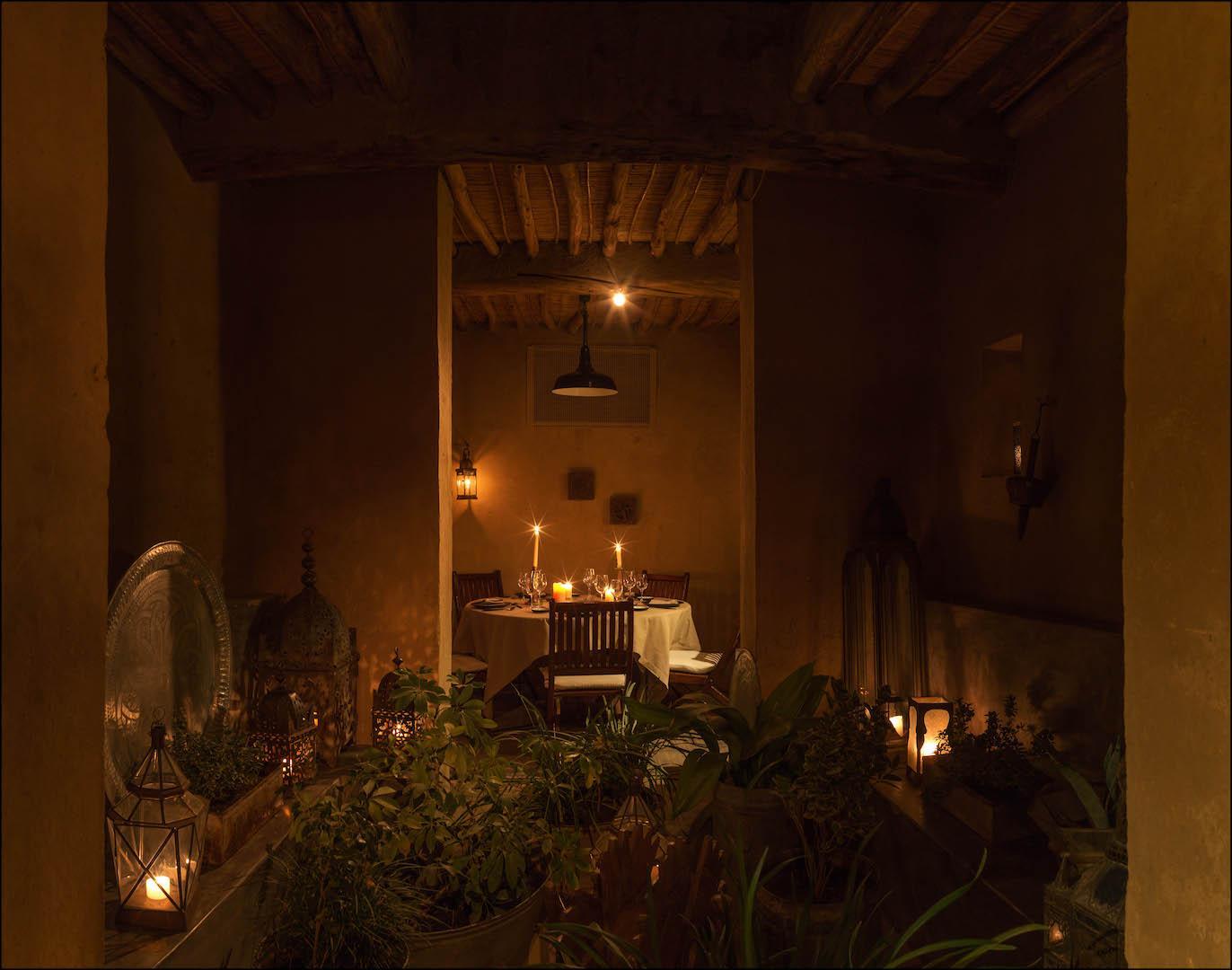 ST: What would you have done differently, now that 20 years have gone by ? Added more rooms, removed a few ? What exactly ?
TT: I would have created smaller houses and I would have created an itinerary throughout the nearby villages. Something to include the local communities so that they understand the impact of tourism. So instead of the Dar Ahlam we have today, spread on a few hectares inside the palmgrove of Skoura, have several smaller units spread over a wider area, for there are so many stunning little villages here in the south of Morocco that people should tour. Like we do with the Memory Road ( further south) but adapt it to the villages close to the High Atlas.
ST: So, sort of focus more on itinerant experiences rather than all in one site ?
TT: Absolutely.
ST: So your house offers 14 rooms, 7 in the kasbah and 7 around the garden. You employ a staff of around 100, which speaks volumes about the attention to the detail. Did you have this in mind before starting the project or is it something that imposed itself once the property was open ?
TT: We didn't have any numbers in mind. You see, we start with the guest. I know I wanted to offer special experiences, different set- ups, sceneries so you, the guest, can live a special moment. With that in mind, we then had to decide how many staff have to be involved so we can deliver on that promise. There are also restrictions from outside, on which we have no control. Some flights arrive in Ouarzazate at 1H30 AM, so guests would arrive around 2 AM at the guest house. Other flights leave at 7 AM which means guests will have to leave here around 5 AM. All this implies that we have no choice but to offer a 24 hour a day, 7 days a week service. So several shifts, hence the large numbers of our staff.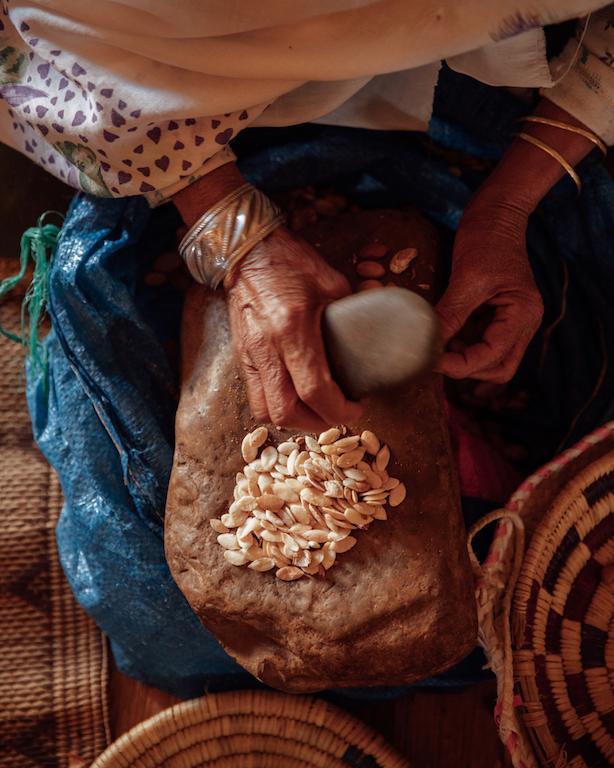 ST: How does your previous experience in event planning relate to what you want to offer at Dar Ahlam ?
TT: Well, I have a background in working with actors, so the mises- en- scene are important to me. It wasn't like I thought: 'I'm going to change the world of hospitality' or be 20 years in advance on everyone else. You know, I have 4 kids and I used to travel with them when they were little. Four kids are a nightmare, for the staff and for the other guests. So, along my travels, I used to write down what I disliked in terms of service and how much I detest hospitality protocols . I then tried to find solutions for these issues. The problem is hoteliers stay focused on their own organizational problems instead of being at your service. Put the traveller first. Start with that. Look, I think check in at 4 PM is not acceptable. If you arrive at 5 AM in a location, and you want your bedroom, they'll tell you: 'Oh, you should have booked an extra night'. That's nonsense.
ST: So, you mean, perhaps reverting to the old meaning of word 'hospitality' and not come at it from an industry point of view.
TT: Yes.
ST: When you describe Dar Ahlam, it says somewhere: 'No one is around' What do you mean ? There is literally no one around or actually there is someone, but you'll only see them when you need them ?
TT: That is partly true. What I meant is that we do our utmost for you to share privacy and where you are, there are no other guests around. We don't have any 'public spaces' here, like bars, restaurants, etc. You come stay with us on a Morocco with children holiday. You can also be on a Morocco honeymoon or a romantic getaway. You'll always be guaranteed privacy. I want every guest to enjoy an exclusive moment here, with us.
ST: Is it easy to mitigate all these different guests and personalities, especially at busy periods ?
TT: Well, that's what we are good at. We have so many choices around here. Look, you can stay with us for 2 weeks and never have lunch or dinner in the same spot or the same recipes.
ST: 'Modern comforts and necessary technologies' Would you care to comment on that ?
TT: When you come to the south of Morocco, in the middle of nowhere, you need to have the minimum: hot showers, air conditioning, heating, heated pool, high speed internet. We have 4 different contracts with internet providers to make sure you get the best connection available in Morocco.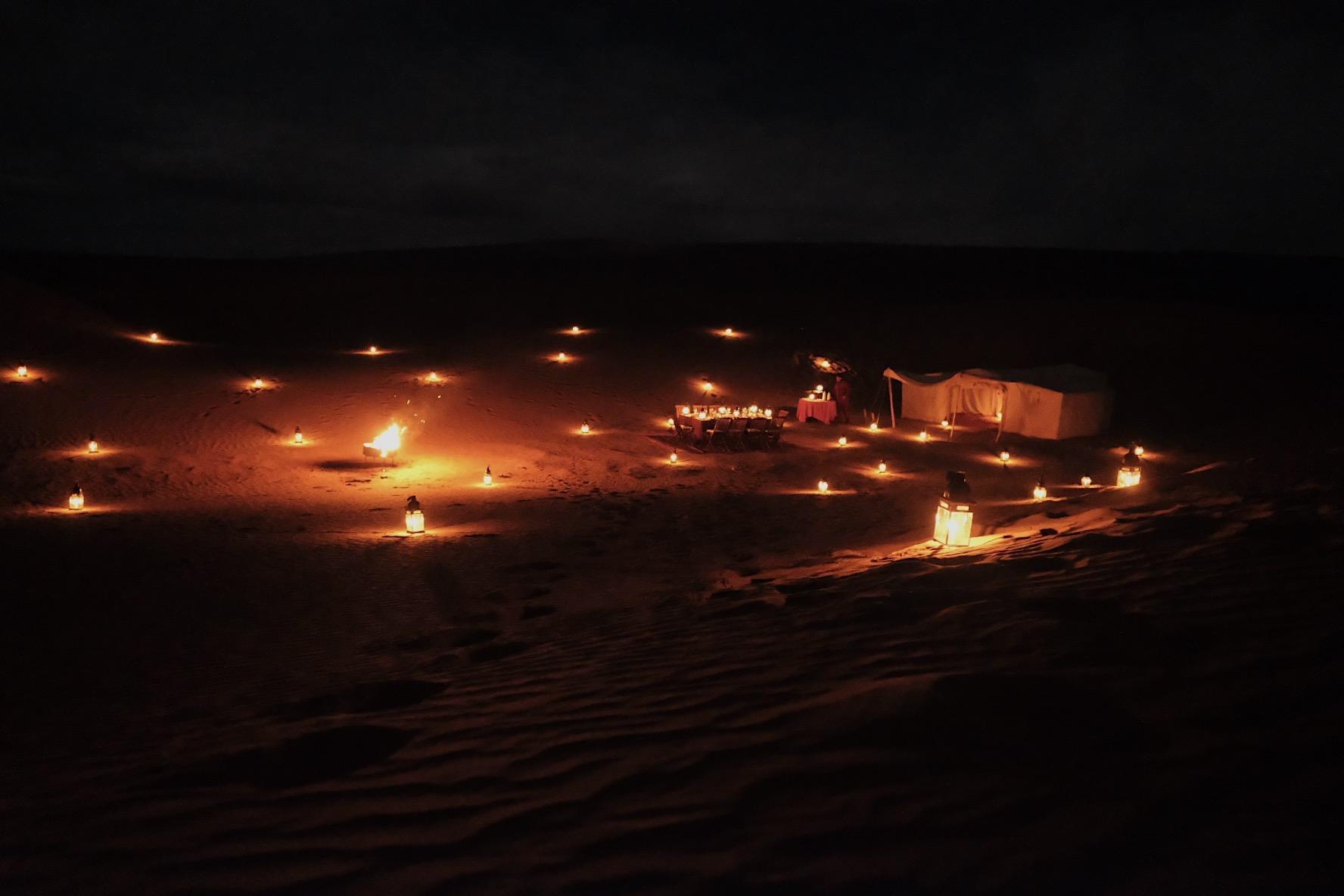 ST: What can you sample from the palm grove of Skoura and how 'organic' is that ?
TT: For the last 20 years we had our own orchard, without no chemicals to help plants grow. We also have two other orchards outside the guesthouse, to complement that. Moreover, we collaborate with local producers. Every single morning, you can go inside the kitchen and see the team, mostly local women taking to the orchard with the chef and deciding on the spot what lunch that day will consist of. Just one example, your green salad in your starter dish will be plucked just one hour before lunch. You can't imagine how fresh that tastes. One of our former chefs has retired recently. We paid him 6 months wage just to stay at home, his home and work on his garden so he can produce veggies for us that we then bought off him.
ST: Dar Ahlam was branded a hotel that will 'change your life'. Do you think that still holds true nowadays, post travel bans and restrictions ?
TT: Yes, more than ever. Because you need to reconnect with real roots. Travel, post- pandemic, will rebecome essential. It will also be different. It's not going to be sipping a cocktail by a pool, or any other such trifle you can have anywhere in the world. Here at Dar Ahlam, you are connected with local people and enjoy real experiences. A couple of Americans that left this morning, told us that during the pandemic they started to enjoy traveling to more hidden, off- the- beaten- places and that Dar Ahlam was just that.
ST: Yes, well, it's always tricky as to where you do you stop 'innovating' and where do you start minding about the local community and how your actions impact on the local ecosystem. It's a fine balance.
TT: It's true. At Dar Ahlam, we try and be mindful of that. When we hire our staff, we try and spread out evenly, thus we employ only one person per family, to make sure that as many families as possible can benefit. We invested in a water recycling system so we can save water and not use more than we need. We started to work with a glass recycling plant in Marrakech. We work with local women cooperatives. We have two main issues in Skoura: trash recycling and water management. Then it's also about changing mentalities: growing water melons in water- scarce regions is nothing short of a catastrophe. Add to that less rain in the last 10 years. We need to try and adapt and find solutions.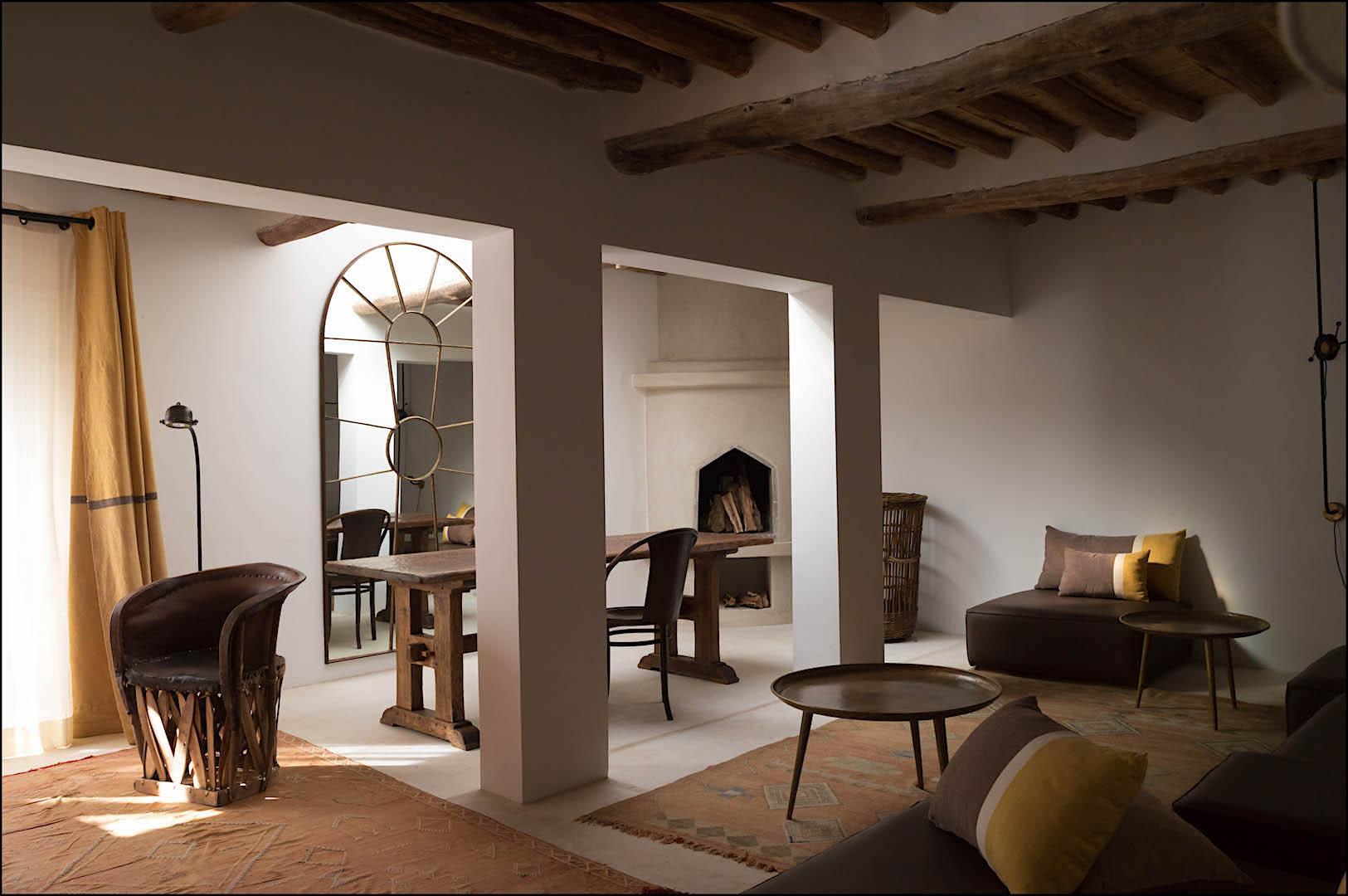 ST: Your guesthouse has inspired many other around Morocco, in the sense of offering more experiences, creating surprises and cherishing memories. Morocco also has the advantage of the year- round good weather and such a diverse landscape.
TT: It's true and that's where I think things are headed for in hospitality. And you don't have to give it the luxury coating. It can be simple, yet powerful.
ST: Well, I think you are right. On our private Morocco tours, I'm often worried about the details but sometimes guests are moved by small things. They could be in a great location in the middle of nowhere, having a snack with canned tuna and La Vache Qui Rit cheese and for them it would be the highlight of their trip.
TT: ( Laughs) Well, with us we change LVQR with fresh goat cheese and herbs complemented with freshly baked bread, but the experience is the same. And that's the DNA for the years to come.
ST: What can guests expect from the cuisine of Dar Ahlam ?
TT: I like the chefs to rotate because I want to train my team and second of all, sometimes simplicity is the hardest to achieve. Look, if you spend 10 days in Morocco, tagine every day couscous every day... stop it. I just want a green salad and fresh veggies, but not cooked into a tagine with heaps of oil. I've been here continuously for 6 months and the first person to suggest to me a vegetarian tagine, I'll probably kill him. We are constantly improving. For instance, you can have a tomato salad, but instead of a dressing you will have a Savora mustard ice cream on top. So the ice cream becomes the dressing. That's one of the examples of what we like to do here. We do certainly serve meat, we are not limiting ourselves to vegetarian. We also have a great fish supplier from Marrakech and so you can sample some choice fish dishes here. We innovate, but always using local produce. The only exception to that is chocolate. That one we need to import, there's no way around it. We also produce our own in- house spice mix, that you can sprinkle ready- made on your fresh vegetables.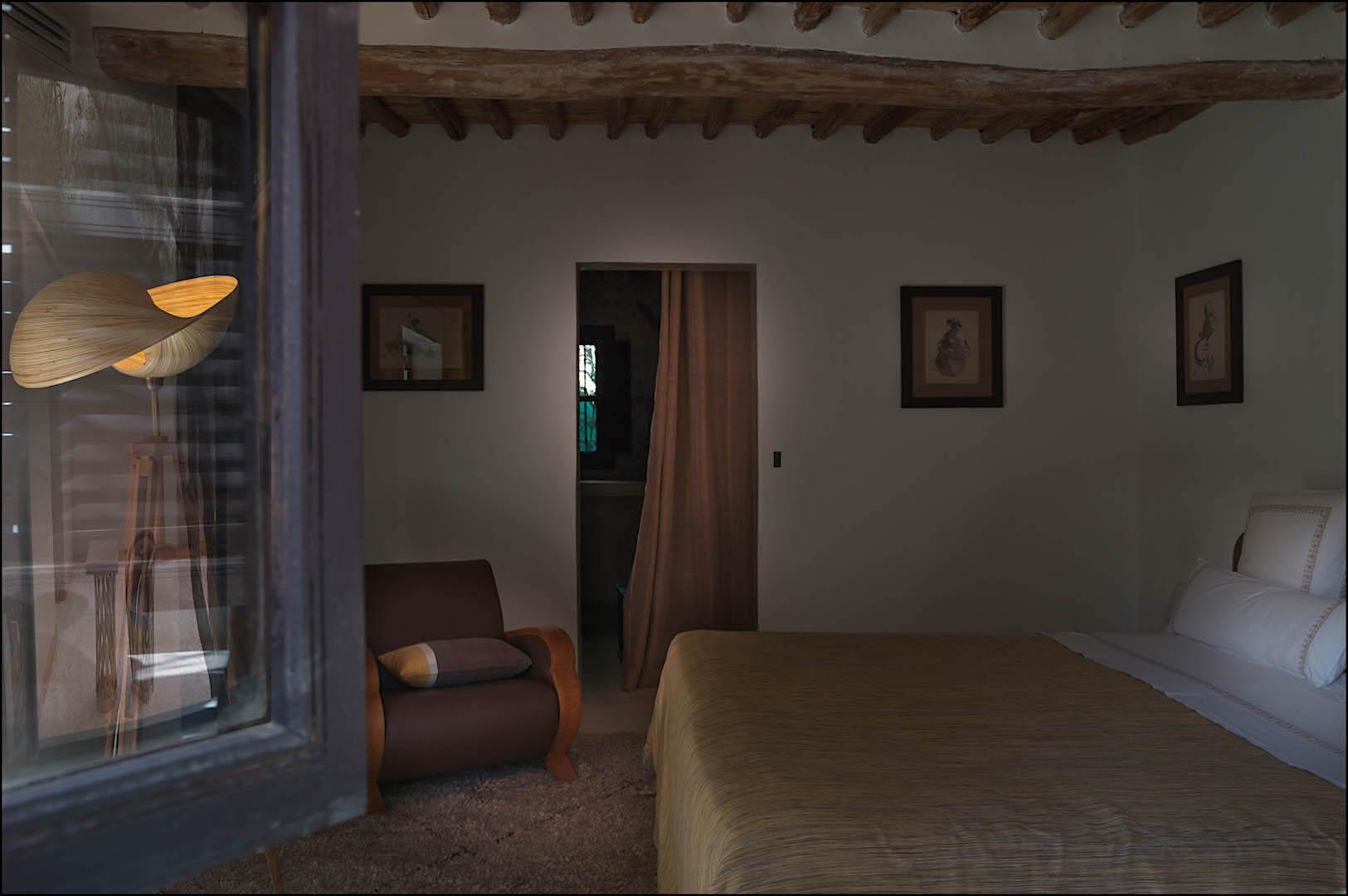 ST: How do you justify the price which is north of 1000 euros per night, to stay at Dar Ahlam ?
TT: Well, we don't sell bedrooms here. And to stay just one night, it doesn't make sense. If you consider us merely a hotel, I'd say don't stay here. You will be disappointed. I prefer you go to a nearby guest house. Some people have this idea of staying at Dar Ahlam on their way to the desert, to break down the distance. If you arrive here at 5 PM and leave next morning after breakfast, you'll completely miss what this place is about. So, you know what ? Don't stay here ! We don't sell nights here. We sell an exclusive moment. Regarding the price, it is true that rates may seem high, but compare this to some top hotels in Marrakech and you will see that you may come out more expensive there, because they only sell you the room. Add the meals and drinks, add the guided tours, add the private transport, the airport transfers and it's going come out a lot more in the end. More than with Dar Ahlam.
ST: For me it's the surprise factor. Having my next meal in the middle of some sumptuous gorges, with no one else around, with perhaps a bottle of wine and private waiter is something you can't put a price on.
TT: 100 percent correct. And my goal is to keep things as secretive as possible. Of course, we've been around for 20 years and we had quite a few magazine covers, but ideally I'd like to keep it intimate. A tip you give your best friends. I would hate to have to refuse booking requests. To have a full house most of the time. Simple address, very sophisticated in details, but not for everyone. I prefer you as a travel agent to send us guests twice a year, but the right kind of guests. And we decided to stop offering bookings of just one night. Even 2 nights is short if you think about it, but it's really a minimum.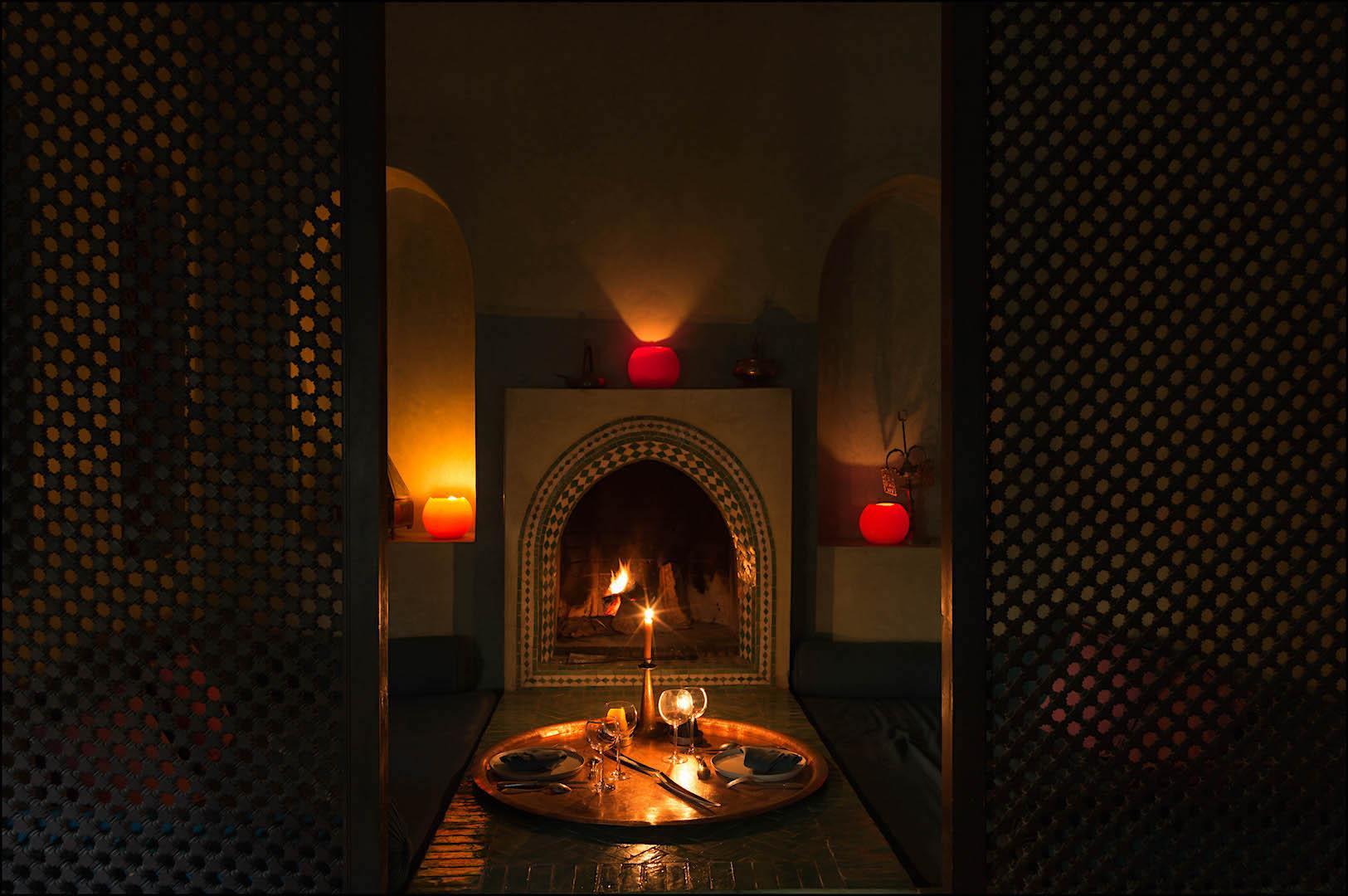 ST: You decided years ago to set up an ephemeral luxury desert camp close to Foum Zguid, not too far from the dunes of Erg Chigaga. Why not Erg Chebbi, where most of the Morocco luxury camps are located ?
TT: Because there is no one there, next to the dry Iriki Lake. We don't operate a permanent camp. There will be only you, by yourself. We don't want to be next to one hundred other camps. Some time ago, another camp arrived next to us and so we moved further away.
ST: Can you talk about the DAEM and 700.000 heures projects ?
TT: Well, instead of the usual green washing and saying 'we are going to help the community', in the south of Morocco we decided to go all in and do something together with the whole community. We're going to rent rooms in the village, it's an abandoned village, it's a partnership with the association Les Gardiens de la Mémoire of David and Salima and the village and we will sponsor refurbishing public houses, so that the ancient village can return to life. For every single dirham given to a family we will also give one to the association, so that even those villagers that don't own a house can benefit from this project. We will organize workshops and work with the local women. We will need palm trees. The local maalems will be in charge of the work. A team to rebuild the village, one to work the wood, one to clean the palm grove, we'll also try and create something sustainable in terms of small scale agriculture. The purpose is to get as much of the community as possible involved. We'll also have spaces for children inside the old village. There will be no electricity, no water pipes, we'll try out traditional ways, low- tech.
ST: If you are talking about Tiskmoudine, I will be there in a few days and can't wait to see the progress of the work.
TT: Yes, it is Tiskmoudine and of course, I encourage you to go and see for yourself, but keep in mind it's a work in progress and we hope to see it finished in September.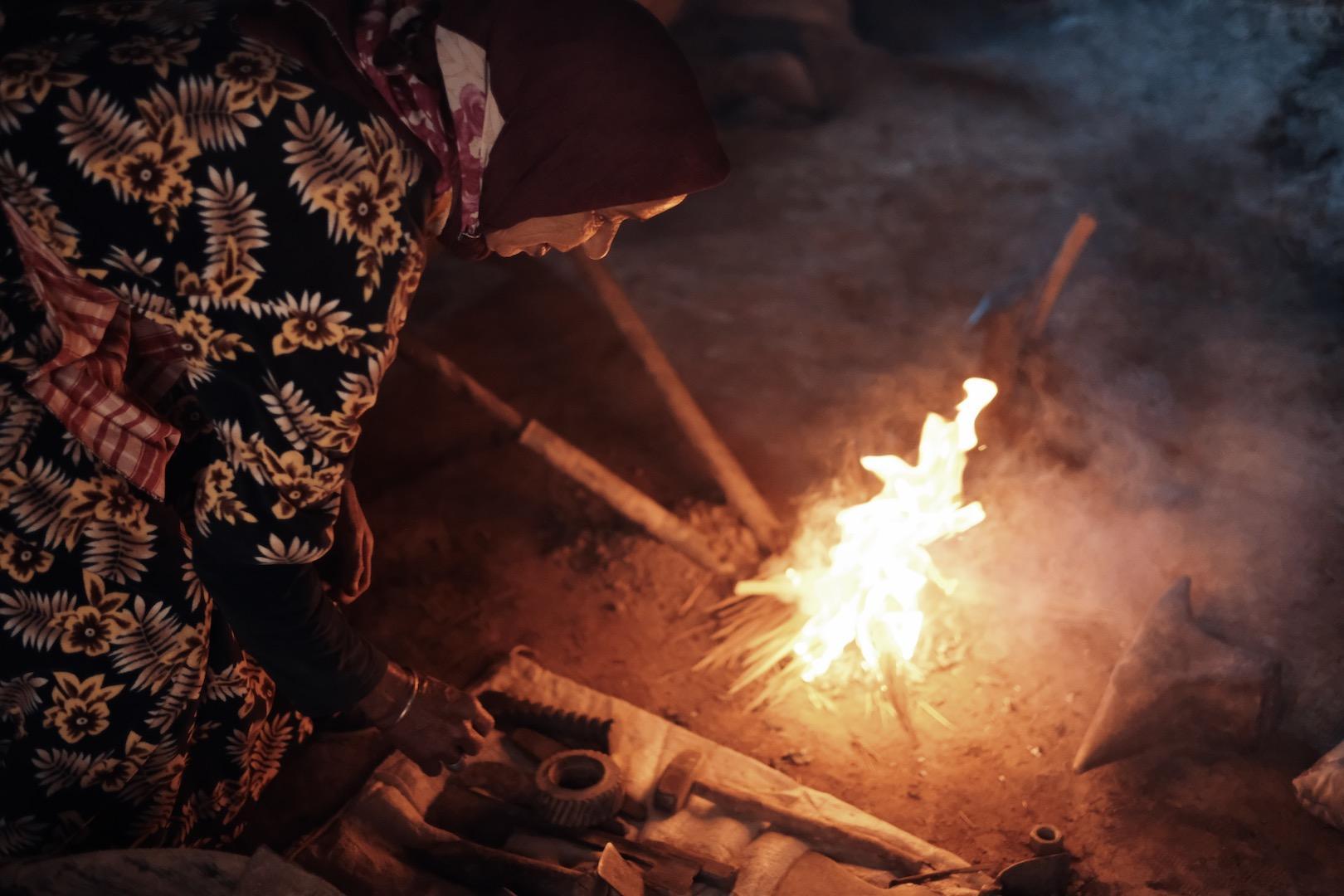 ST: How can we, as actors of tourism, make a difference in the local community, spurring cultural exchange, without commodifying the local ways and also making sure that local communities don't grow to rely only on tourism as a source of income ?
TT: Well, presently, given the pandemic and the travel restrictions, it's quite hard for them because they don't have much to live on. What we are doing is a trial and error, so even if we make mistakes, we'll amend them. The best part is that since the funds go to the association of the village, they get to decide what to do with them. Do we want to have an ambulance ? Do we want to pay the bills for the poorest families in the village ? Our interests are aligned. And if one party doesn't play fair, the effects will be felt immediately. And having Global Heritage Fund onboard will also help with the redistribution.
ST: What probably will make a big difference is transparency. If, as you say, the effect of not following through is immediately visible, it will act as a deterrent and will hopefully stoke local people to make the best of this collaboration.
TT: Indeed.
ST: How did your vision about your projects changed with the pandemic and the Morocco travel bans ?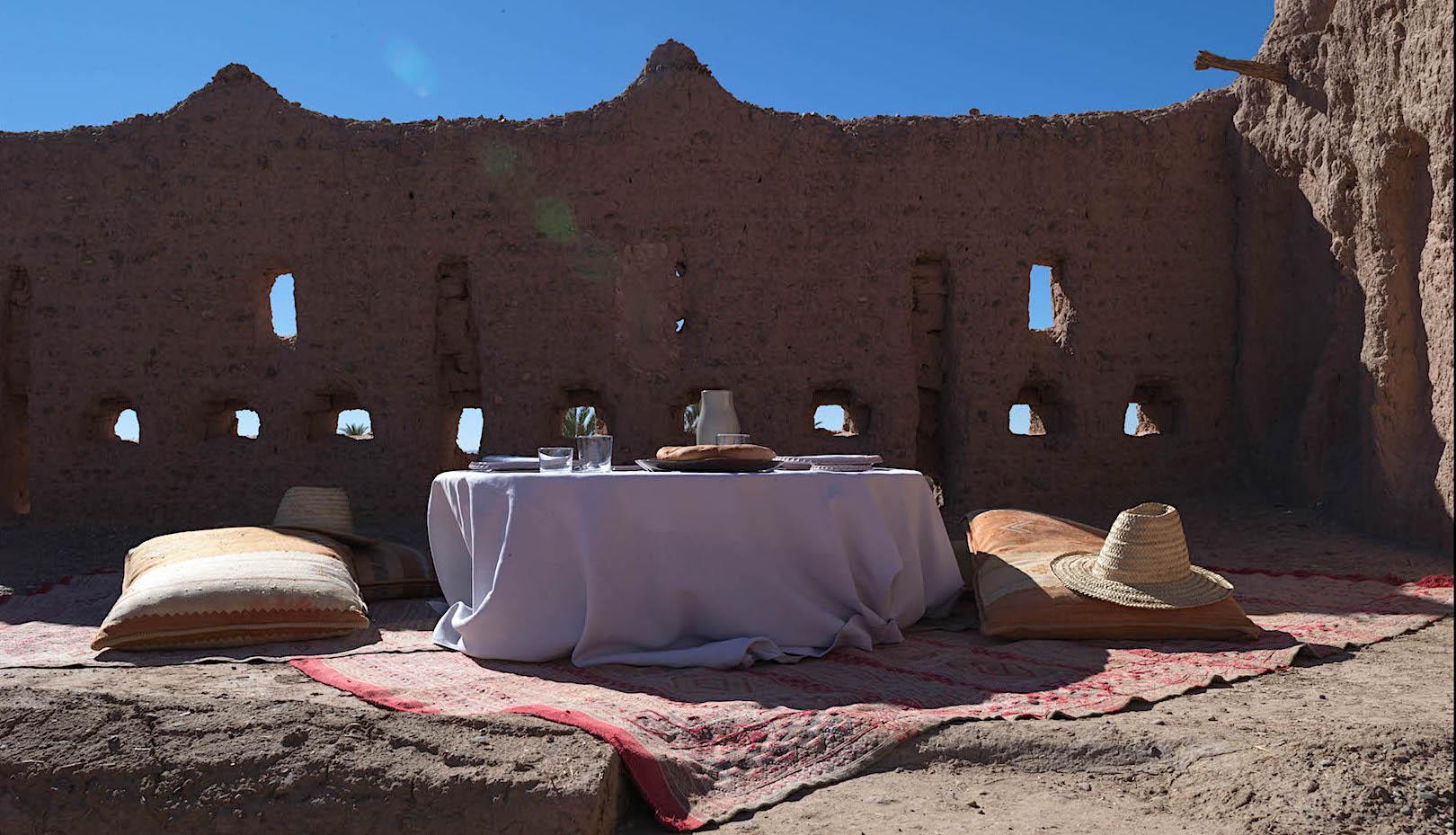 TT: Well, we've got some delays with our 700.000 hours project but our travel club is working as scheduled and very demanded. We are focused more on Europe and Morocco, particularly the project in Tiskmoudine. We have our portfolio of faithful guests and they will follow us wherever we open new initiatives.
ST: What is the location you feel most fond of in Morocco and what is the most essential aspect of traveling ?
TT: In Morocco, it's got to be the south of Morocco. This impression of being in a different country every few hours. The local communities and cultures. From Guelmine, Tata, Akka. Tafraoute, perhaps too, but a little too touristy. The most important part to travel is meeting people within their own culture. That's what tourism industry missed on and damaged many parts of the world. First, one needs to empower the local people to understand what they have as a heritage, as a culture. Second, you need to explain to the guest what they are going to witness and how they will interact with the area. Three, you need to connect them. Traveling is not about the destination, but opening your eyes on the world and its magic. When one travels, he should spend the least time inside his room. What is there to discover next to the swimming pool ?
ST: Thank you Thierry. Thank you, Stephanie.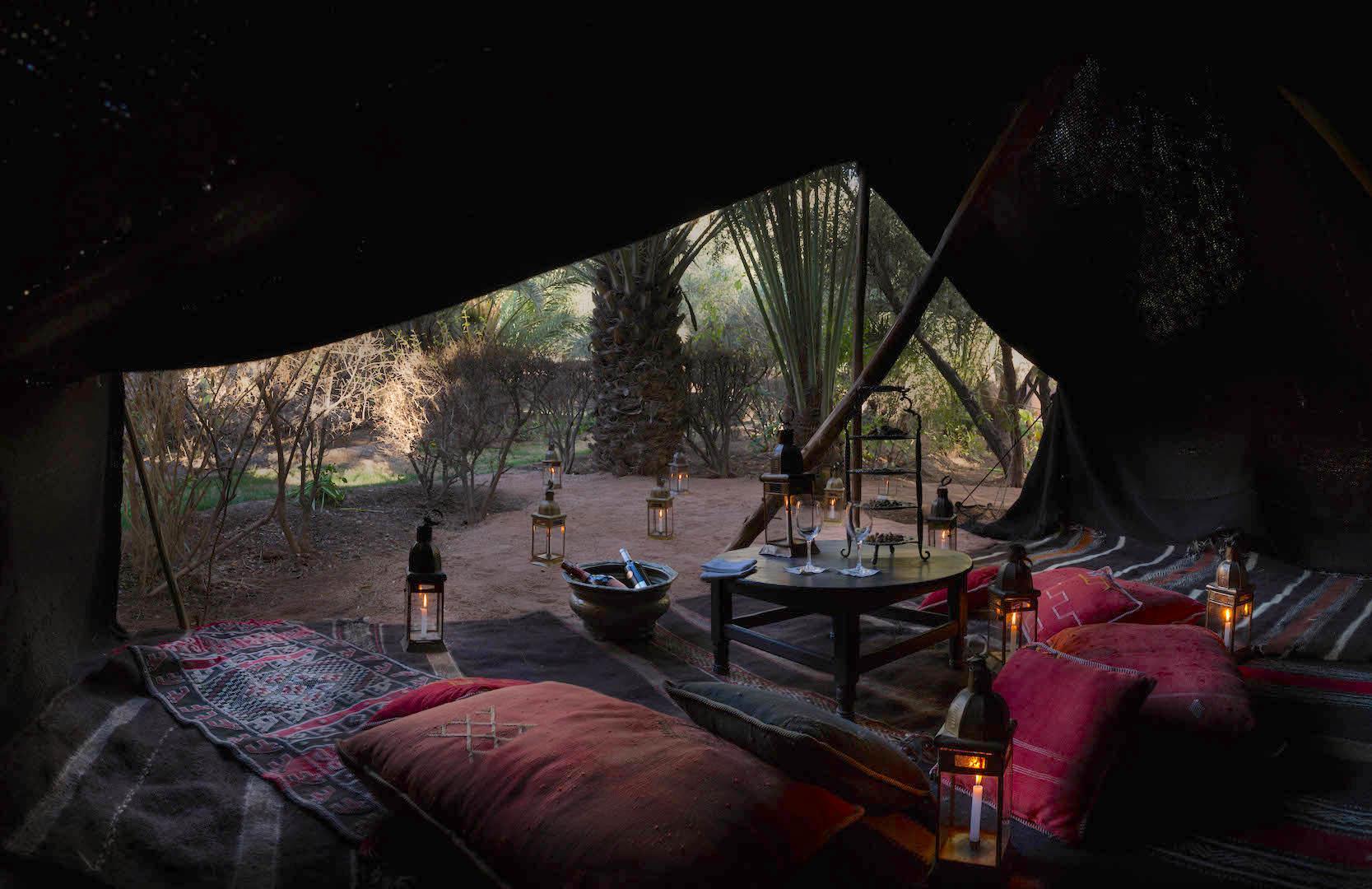 © Sun Trails 2021. All rights reserved. No part of this article may be reproduced, distributed, or transmitted in any form, including photocopying, recording, or other electronic or mechanical methods, without the prior written permission of the publisher.
Monday, 18 November 2019 00:00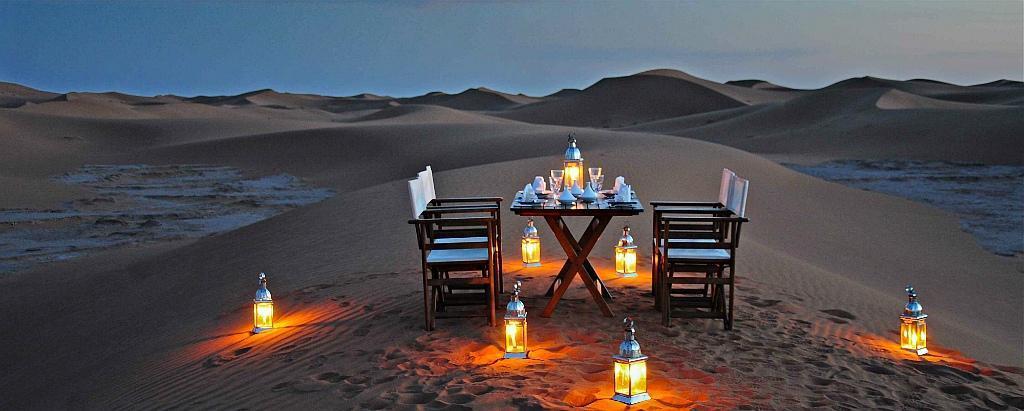 Morocco honeymoon: the ideal getaway destination in 2021.
The one trip you will remember for the rest of your marriage. Why Morocco ? Riads straight out of 1001 nights. A small plane ride to land you next to the Sahara. Tea with the nomads. A lunch on top of the dunes just you, your loved one and your private butler. More than mere glamping. Village markets and secret kasbahs. Romance complimented by authenticity- that's our idea of a honeymoon in Morocco. Picture yourselves watching sunrise over the Sahara dunes: there's no better place to forget all about travel bans, mask wearing or loosing someone close.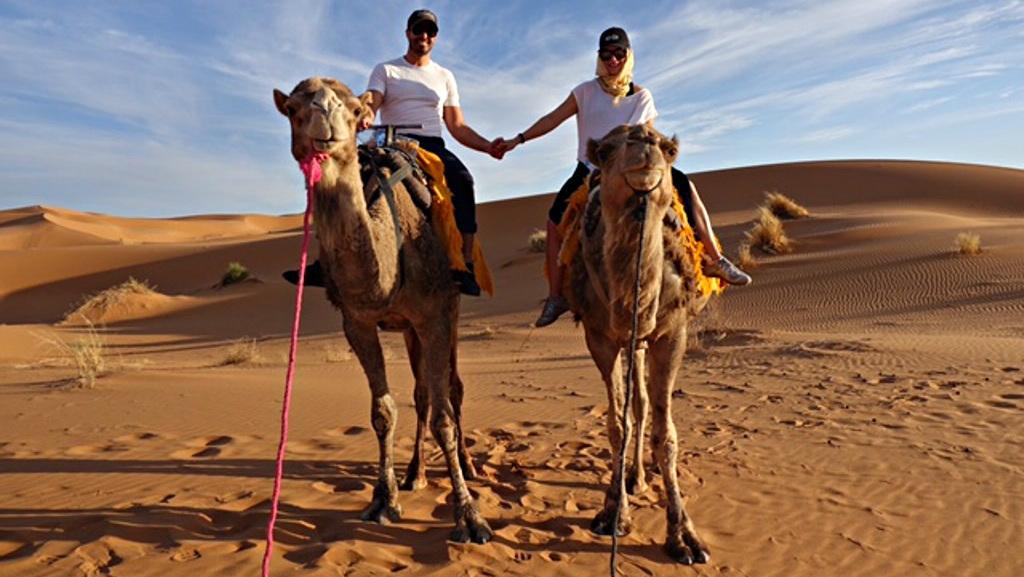 Our idea of a honeymoon tour in Morocco doesn't follow a set itinerary. Think of it rather as connecting different private local experiences and encounters with secret, intimate, authentic accommodations, within your budget and time available. Naturally, we offer a few sample itineraries on our website, to help set some kind of initial structure. Yet, for such a special occasion, why not tailor and customize each and every detail ? While favoring the privacy, remoteness and unique local experiences ?
Best Time of Year for a Morocco honeymoon
Overall, the country is best visited all year round. But to strike that fine balance between privacy, relaxation, the right temperatures and adventure, we'd recommend any time between October and May, avoiding if possible Easter and Christmas holidays, when Morocco sees quite an increase in the number of tourists. If you are willing to forego the Sahara desert, Morocco offers plenty to experience and see even during summer. Or maybe temperatures of over 40 Celsius don't scare you. Whatever your dates, send us an enquiry . With 15 years of in- country presence, we will tailor your honeymoon so as to get the best out of your time and budget.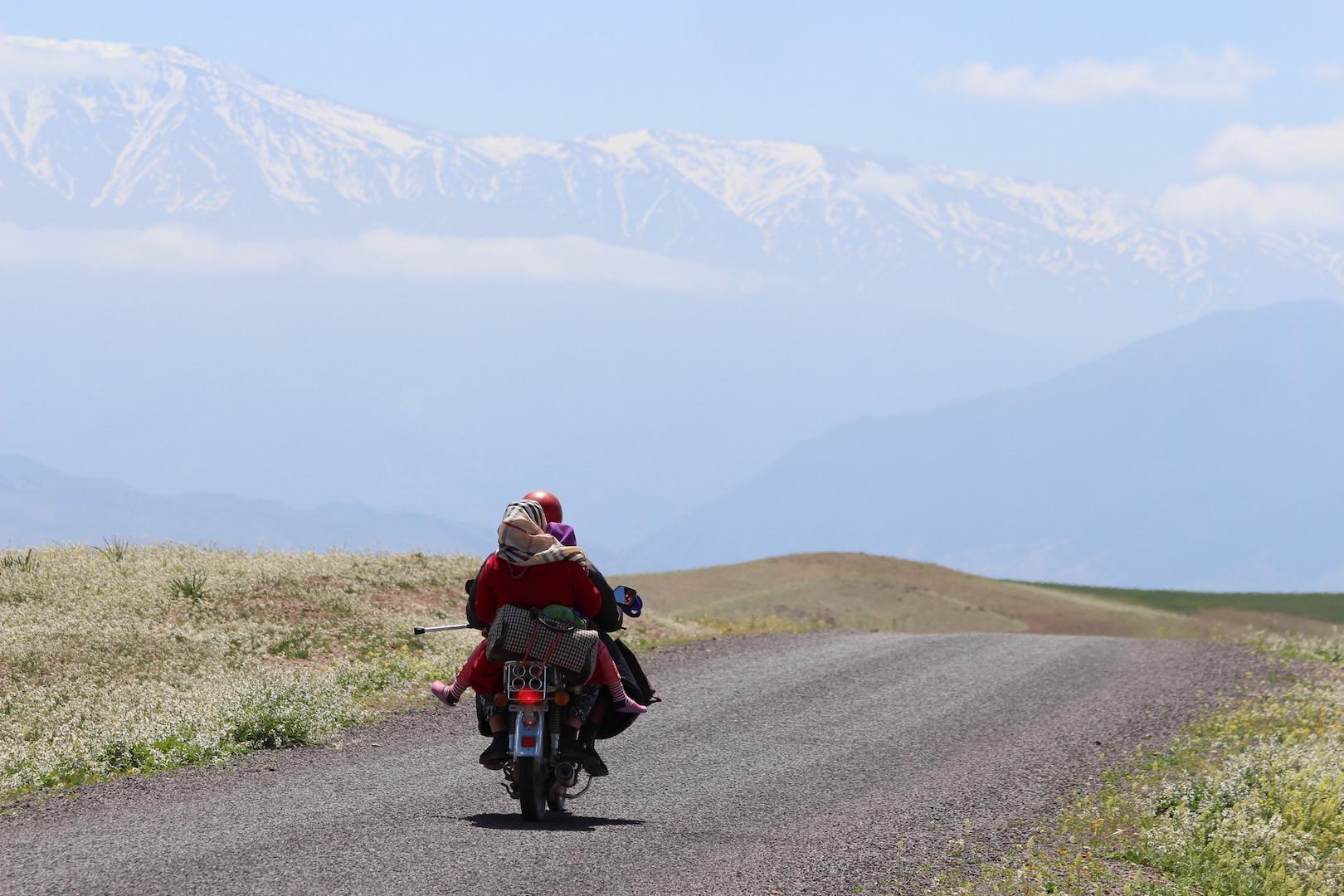 How Much Does a Morocco Honeymoon cost ?
It depends on the planning. Would you like to have your base in one location ( Marrakech or Fez) and move around from there or would you rather tour Morocco and include Marrakech, Fez and the Sahara, among others ? If the latter, a private 8 day tour with most expenses included starts at 1000 USD per person, with 3 star accommodation and can climb all the way to 4000 USD per person and more, with lodging at the likes of La Mamounia and a VIP 30 square meter luxury tent in the Sahara, including ensuite bathroom. It also depends on how much you wish to splash. Morocco is not an expensive country, when compared to Italy or Spain, but if you wish to treat yourselves to a hot air balloon ride or a hammam and massage treatment, it can quickly put a dent in your budget. Marrakech can equally be expensive in terms of accommodation and eating out, but even here you'll be able to get decent value for money.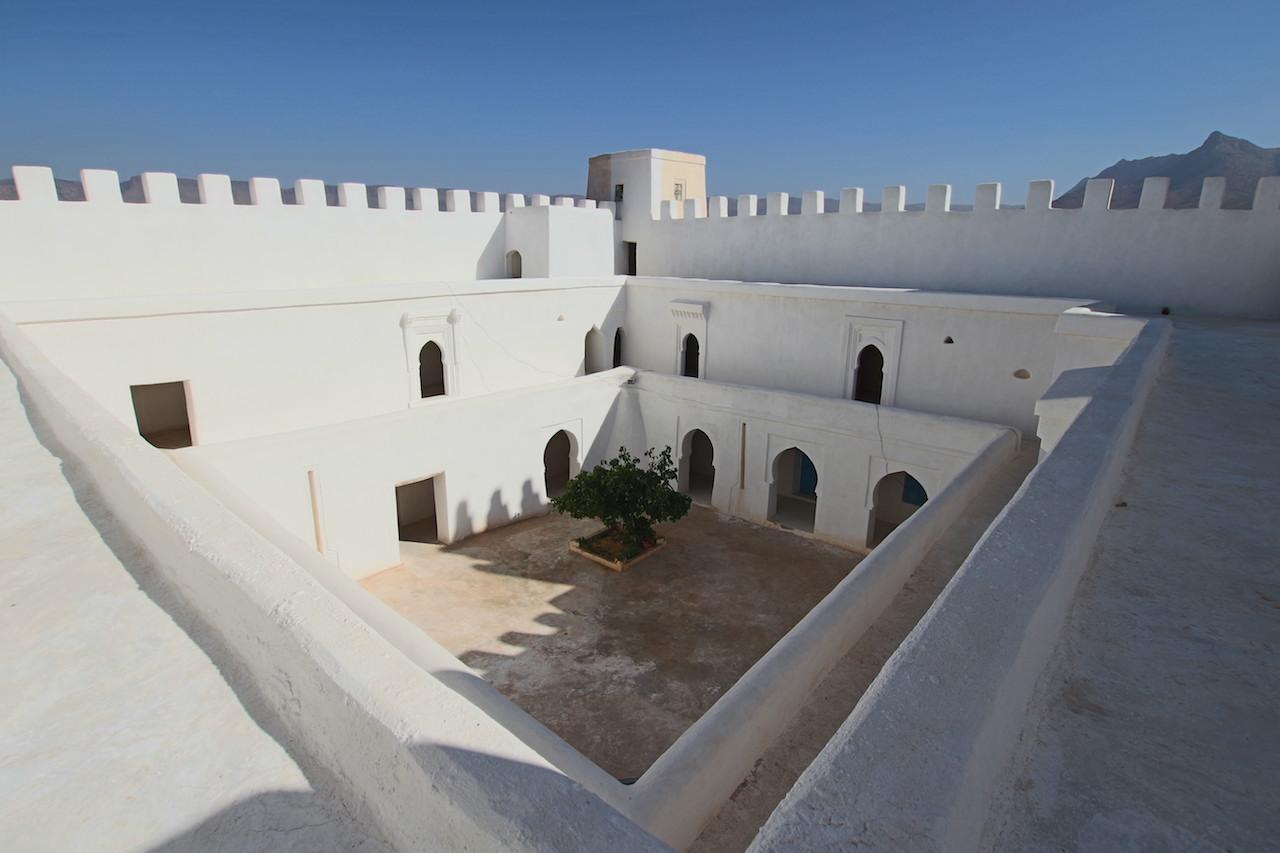 Accommodation matters: The Best Riads, Lodges, Desert camps and boutique hotels in Morocco.
One reason for Morocco being such a popular destination is the design and location of the different riads, desert camps and other eco- lodges. From itinerant desert camps to luscious, lavish riads and eco- lodges running without electricity, the creativity is almost infinite. For a honeymoon though, we'd recommend favoring those places where privacy is almost guaranteed. The last thing you wish on your honeymoon is fractious children bomb- diving in the pool next to your sun- lounge or having to queue for buffet dining. You can find our favorite hideaways by scrolling down to the end of the article.
How Many Days Should You Spend in Morocco ?
To allow for adventure and relaxation, but also immerse yourselves into the local culture ? A minimum of 7- 8 days. 9- 10 days is ideal, if you can afford the time and the budget. What is too much ? Over 2 weeks. You'd need at least 2-3 days in each Marrakech and / or Fez. The Sahara is a 9- 10 hour drive from either of those two cities, so minimum a 4 day return trip with one overnight half way both on the way there and the way back.
Must do's on a Honeymoon in Morocco
Marrakech or Fez, Marrakech being the more sensual, cosmopolitan, fashionable while Fez being the more traditional, authentic, discreet. Personally, nothing beats a walk in the medina of Fez. With no motorbikes or other modern wares in sight, it's traveling in time , the bygone era of Harun El Rashid and Aladdin... The Sahara dunes are a must, of course. It would spoil the experience if you didn't stay in a camp deep inside the dunes. And you'd probably want to go for an upgraded tent, with private toilets and showers. While Marrakech, Fez and the Sahara are obvious choices, I believe it's the local experiences that make a honeymoon unique in Morocco. Naturally, it's near impossible to schedule meeting water diviners or snake charmers in the Anti Atlas and share a cup of tea with them or visit a local's home. Most importantly though, a good local agent will design an itinerary where those experiences are likely to happen and they haven't been corrupted by the passage of mass tourism. An area rarely explored by travel agents and tourists altogether is Morocco's south- west, all the way from Zagora to the east to Guelmin to the west. Century- old fortresses, rock engravings, arresting gorges where gazelles sometimes scurry to quench their thirst, baking bread in the village oven with the local ladies, make up for unforgettable memories.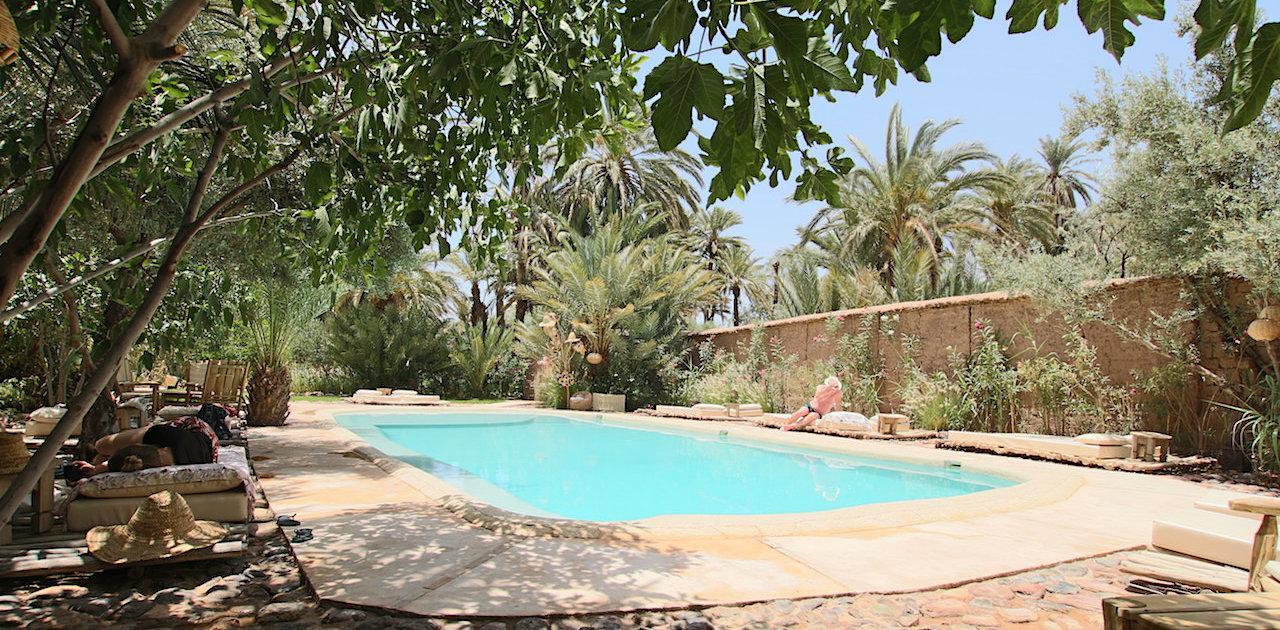 How Do You Get to Morocco from the US ?
Royal Air Maroc flies direct from New York and Miami to Casablanca. Based on our 11 years of feedback from guests, the flight and onboard service are decent enough. Delta, American and some other companies fly to Europe where there are plenty of connections with Morocco, especially from Spain, France and Italy, but also from Germany, Netherlands and the UK. We encourage you to first fly into southern Spain if you can afford a few days in Andalucia, where a stir of Morocco still lingers in the architecture, cuisine and local traditions. Connections with Marrakech, Rabat and Casablanca are available from Seville, Malaga and Valencia and the flight takes a little over one hour.
Morocco Packing List
There really isn't much that you can't purchase locally, if you forgot to pack it, whether it is sun screen, straw hats or iPhone charger. Unless you are into hardcore trekking or Bitcoin mining, you should pack as light as you feel comfortable, especially if you consider moving around the country. If you decide for a private Morocco tour, things are different. With pick- up from and drop off to the airport and a large boot that goes with the Toyota 4x4, you can almost pack your whole wardrobe. Do remember to leave some empty space in your suitcases if you plan to shop around. And even if you don't. Over the years, we've seen a few converts.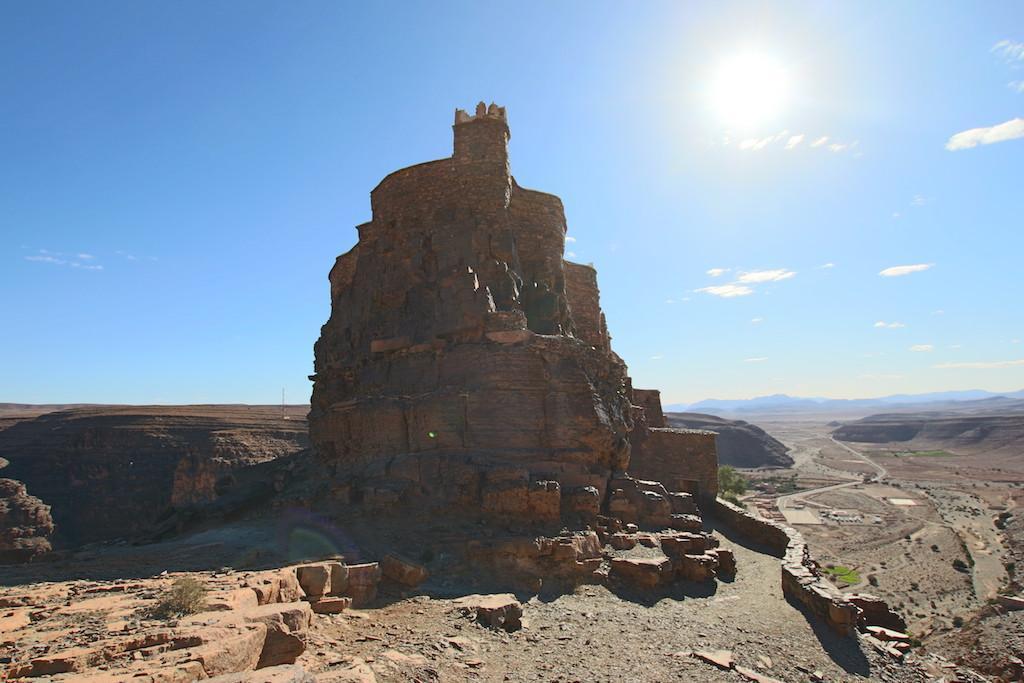 Privacy over Popularity
Jemaa El Fna square ? Majorelle Gardens ? Game of Thrones location ? Yes, we think they should be on everyone's Best Places to visit Morocco travel list. But remember, you are likely to jostle with many other travelers. You may want to intersperse those with lengthy moments of privacy. How ? Even within the madness of Marrakech's medina and its hustle and bustle you can find islets of tranquility. It can be your own Riad. It can be in the gardens of La Mamounia, if you happen to be there at sunset. And don't always believe the titles. Le Jardin Secret is not really secret. But most of the time, privacy and exploration will reward couples outside the big cities, on the way to or from the Sahara desert.
Adventure and Relaxation
As carefully as we curate every private tour to suit and exceed our guests' expectations, their most cherished memories are those special spontaneous moments on their trip. Impromptu visit to a local family that turned into lunch or an unexpected climb up to a brow from where a beguiling panorama unfolded, it's easy to always look for the next best experience. Relaxation should be factored in, and by that we don't mean a visit to the spa every other day. It may entail spending more than just one overnight at each location, so as to avoid packing every morning and unpacking every evening. Or cut out social media and being 'connected to the world'. It may imply spending the morning by the pool and put off that thought of locating the most intricate bronze lamp in the whole souk. At least for a while.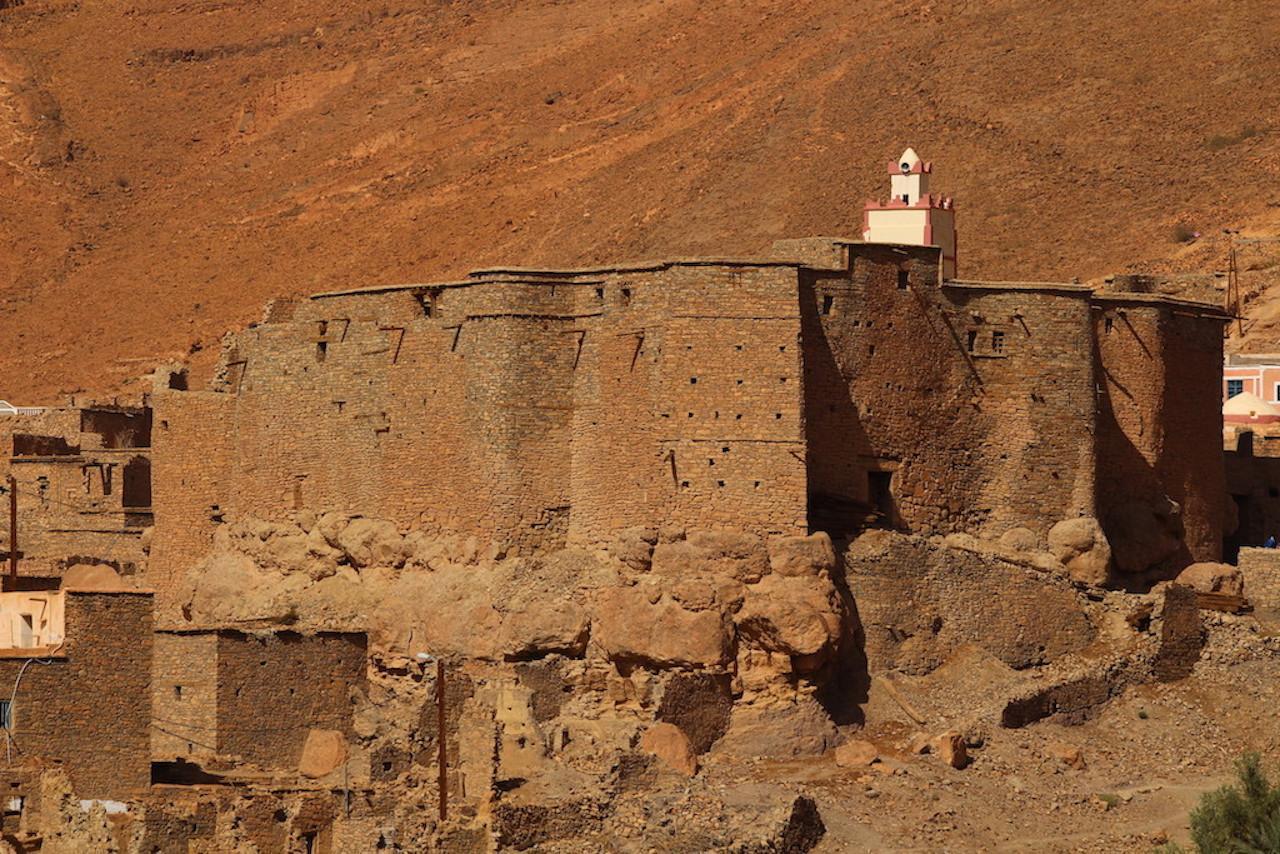 Is Morocco Safe ?
In a nutshell, yes. Recent years have proven that Europe and other parts of the world are less likely to preclude or forestall a terrorist attack. Years ago, a special division has been created ( dubbed Moroccan FBI) whose one and only mission is to make sure that there is no terrorist threat present on Moroccan territory. The BCIJ is frequently consulted by French and European secret services on matters of security and data sharing. In terms of petty crime, Marrakech or Fez rank much better than other tourism hubs like Barcelona or Paris, largely because tourism is one of Morocco's main bread earners and most citizens mean tourists well, from the local policeman to the taxi driver and master craftsman. Moreover, in the light of the recent Covid pandemic, Morocco is the most successful African country in terms of its vaccination campaign, trailing just behind France, Spain or Italy. As of summer 2021, most of the Morocco travel restrictions are now lifted.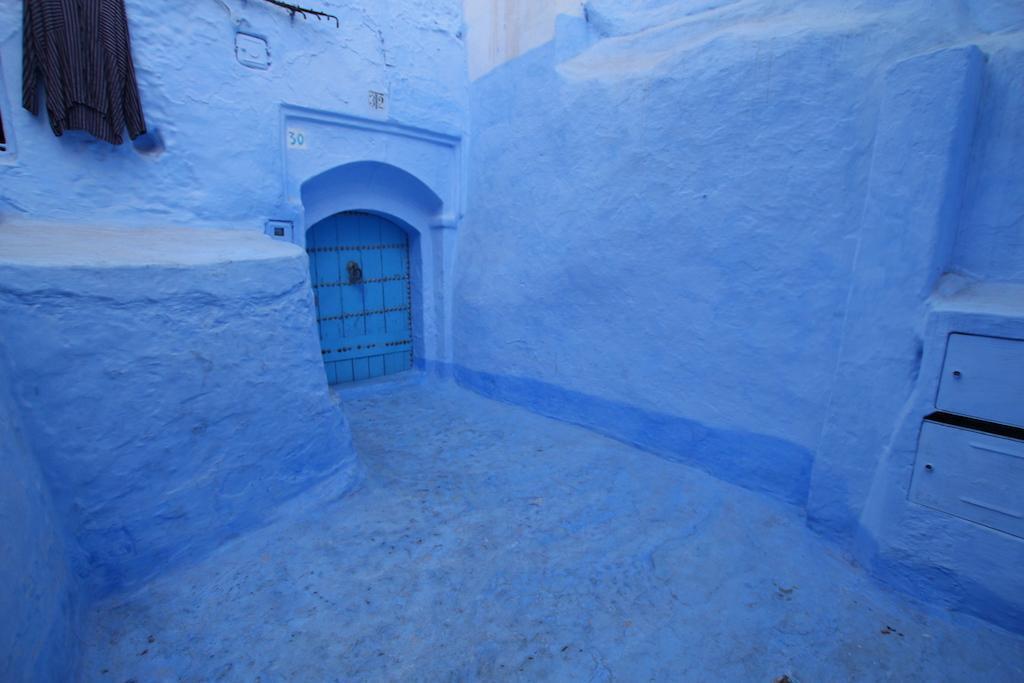 Where to eat out
Although Morocco is still to boast its first Michelin star restaurant, the local food scene in the big cities will satisfy the most demanding gourmets, its influences being French, Italian, Thai and naturally, Moroccan, among others. Our personal favorites are: Fez: Dar Hatim ( Moroccan ), Dar Roumana ( Moroccan/ French); Marrakech: Dar Rhizlane ( French / International), Al Fassia ( Moroccan), L'O a la bouche ( French). This list is by no means definitive, as the restaurant scene in Morocco sees a high turnover. We try and test and rank local restaurants as often as we can, bar a worldwide pandemic.
Most Romantic Sahara camp
Not only do you deserve a romantic camp, but ideally, a remote one, with plenty of privacy to admire sunset and sunrise from a top of a dune, the view unencumbered. With Erg Chebbi and Erg Chigaga, the two dunes locations, we'd urge you to consider the latter. Yes, maybe the dunes of Erg Chebbi are taller, but you are never sheltered from the risk of crossing paths with herds of tourists on a camel group ride or a quad bike outing. In contrast, the dunes of Erg Chigaga are more remote, less transited, possibly due to being simply less accessible. By bus, that is. Not for nothing, Dar Ahlam chose this location for their itinerant camp. Our favorite must be Azalai Camp with its white canvas tents, vintage suitcases and leather club armchairs, like stepping onto the set of Out of Africa...
Below, we have selected a few of those addresses that we think best embody the secret hideaway spirit. You can select all or a few of them and have us design a private customized tour around these properties and some hand- picked experiences. They are not limited to honeymooners only. Some couples may merely desire to find themselves again and reconnect with each other. Cut out the white noise around. Yes, that includes social media and being 'connected to the world'. But that's entirely up to you. The only limit is your budget and the time you can take off to travel around Morocco.
DAR AHLAM
The house of dreams. And it will certainly fulfill some. More than that, it will consistently leave you rapt. Wonder. Experience. Enchant. The French owner used to create private events in Paris, so the last thing he wished for is a 5 star resort inside a palm grove. What if someone knew your favorite color was purple and you'd arrive in your room to find everything is purple ? What if you didn't know where or what your next meal is going to be ? Perhaps it will be a candlelit table in a tiny room in the labyrinth that you didn't know existed. Or a set up dining area showing up out of nowhere, complete with your butler, up in the High Atlas, by the riverbed. This 15 suite hideaway sits at the foot of the High Atlas mountains, nested within the 4500- acre palm grove of Skoura. Part of the wonder of staying here is learning the way back to your room. With a staff of 100, you can get an idea of how personal the attention and service is going to be. In the image- based world we live in, where information is instant, this is a world of secrets. A house of dreams. It would make little sense staying here less than two nights, arriving late evening and departing early after breakfast the next day. Magic needs time to operate. If you wish to know more about it, please click here.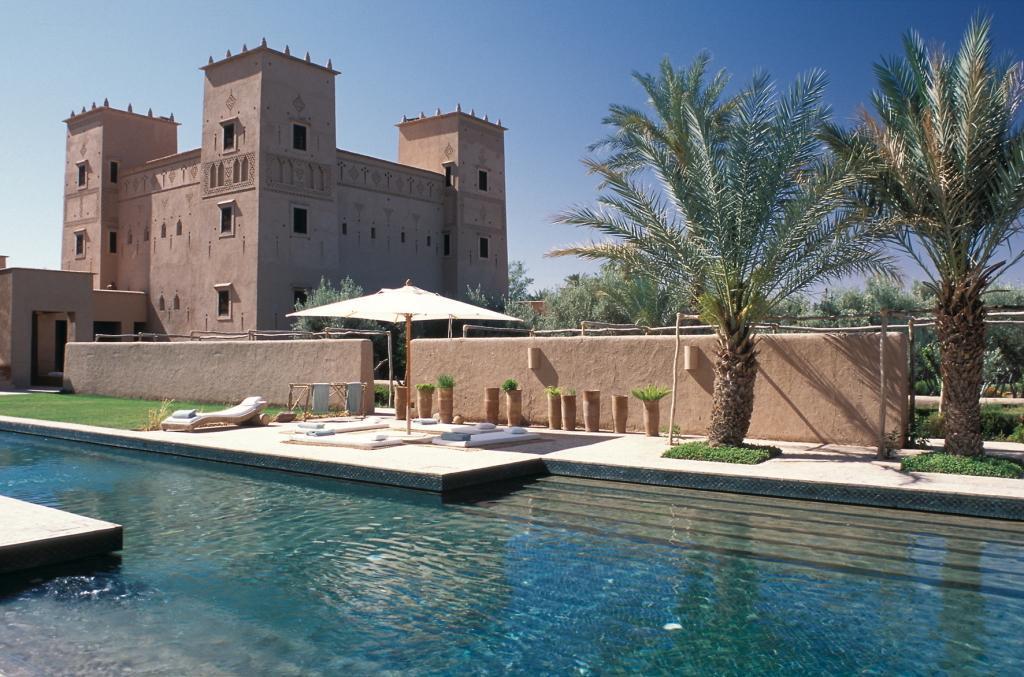 DAR ZAHIA GARDEN
Marc Belli has just realized his dream: to build sleeping cabins in the rural plot he owns facing the Atlas mountains. If he shares with many of his contemporaries a desire to get back to nature, Marc, a French photographer and art director, is also victim to a certain nostalgia for the 'paradise garden' of his youth: that of his grandmother's villa, where he spent his holidays. Covering nearly 4,000sq m, this narrow plot is enclosed by a rammed-clay wall. It is reached by a dusty track edged by thorn bushes and cacti. Another surprise awaits beyond the patio: an electric-blue raised swimming pool that seems to stretch as far as the eye can see.
Picturesque pathways dotted with garden seats wind through the fragrant, bushy undergrowth, opening the way through the eucalyptus, pomegranate, citrus, olive and fig trees, aloes, succulents and more. At the far end of the garden, buried among the vegetation, are the five cabins open to guests. Wooden cubes, the cabins are reminiscent of Balinese gazebos or small Japanese tea houses and have been fabricated out of local materials.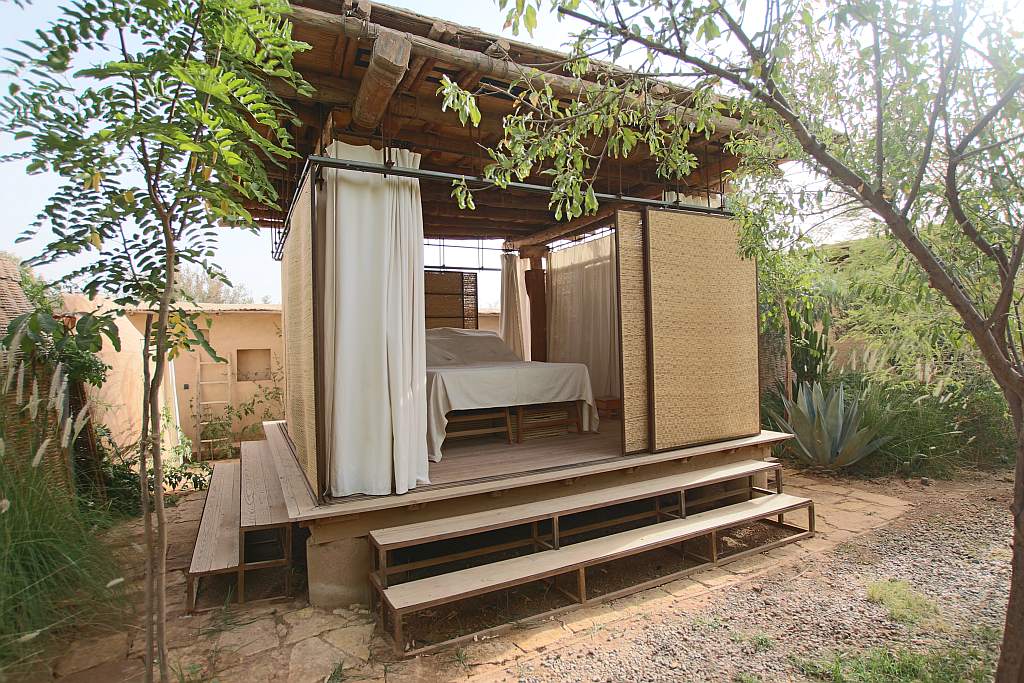 TASGUA YAN
South of Essaouira, on the Atlantic coast and north of Agadir lies the small village of Tafedna. This feels remote and at first, it's hard to see the sandy beach, tucked among the Argan cliffs that makes any encounter with the waves of the Atlantic uniquely memorable.
Therein lies Tasgua- Yan, a charming 14-room guest house overlooking the sea, its walls forged out of local stone and timber. The white washed walls and blue framed windows reminisce of the Greek islands rather than Morocco. You come here to disconnect from the world. Take long walks along the deserted beach or through the argan forest. Sit by the fire place or the turquoise pool with your favorite novel. Swim in the ocean. Linger on for dinner over fresh fish and a glass of vin gris. Let time pass. By the Atlantic, in the middle of nowhere. Literally.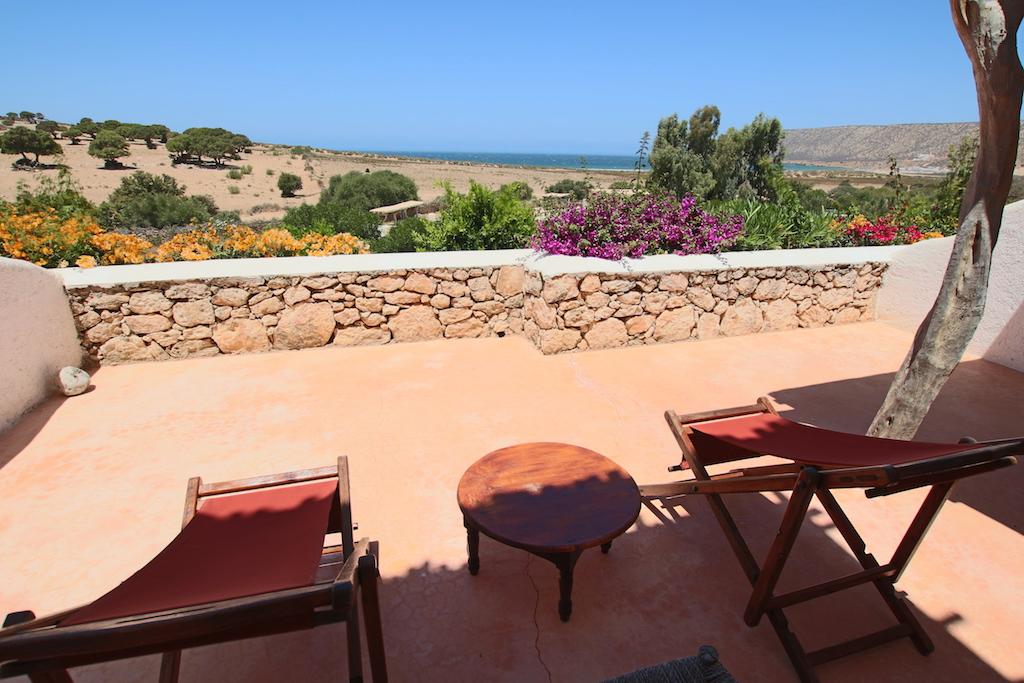 AZALAI CAMP
If one could have only one thing, one reason only to visit Morocco, this would be it: a night at Azalai Desert Camp in the dunes of Erg Chigaga. Let your driver arrange for a camel ride just before entering the dunes so you arrive in style at the camp, right about sunset. Four large white canvas tents and three slightly smaller ones, complement each other so that one might think he's on his own in the desert. Two VIP tents, further away, come with their own dedicated butler, club leather armchairs and lounge- library. Inside you'll find king-sized wrought-iron beds, quality mattresses, finest bedspreads, mosquito nets and Fes - ceramic water basins. Berber rugs cover the uneven rattan floors. King-sized beds are heavy with blankets and brocade covers – necessary in the winter – and light is provided by tin battery-powered lanterns. Bathrooms are provided with eco- toilets and pump showers with hot water. Dinner is served by candlelight, wreathed by lanterns placed meticulously atop the dunes. The four course set menu regularly starts with harira soup, Moroccan briouates, continues with a hearty beef or lamb tagine and ends with a French desert. The hardest is to leave.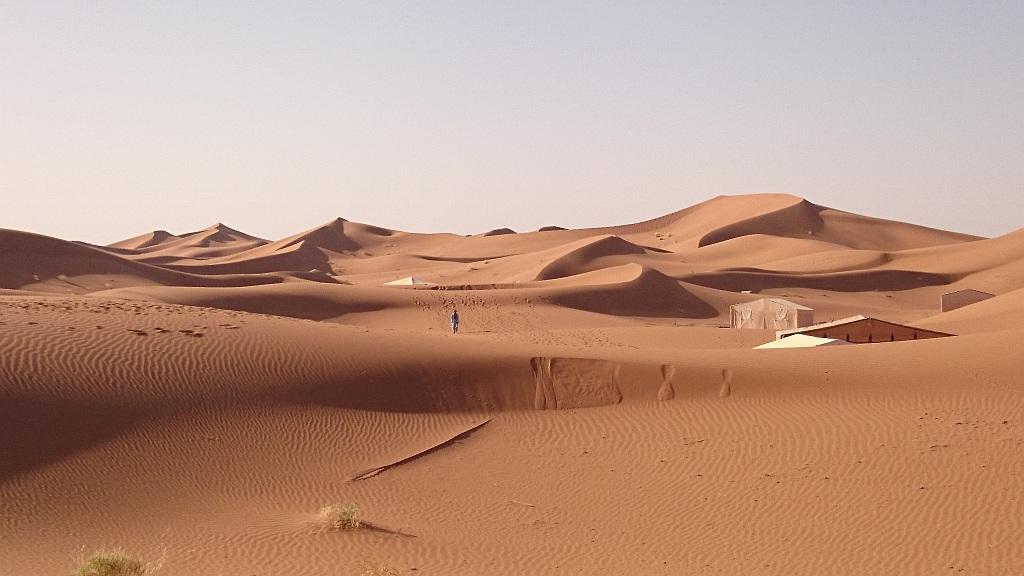 AZALAI BEACH COTTAGE
You really have to know your way to get here. About 20 minutes drive from the dreamy village of Oualidia, the road overhangs the tomato parcels juxtaposing the beach. An unassuming turn and a few miles of off- road take you to the gates of Azalai Cottage. Strong on the heels of Azalai Desert Lodge, arguably the smartest guest house south of Ouarzazate, Bouchaib, the French- born Moroccan owner, an accomplished architect himself, entrusted Helene Bartholdi to create something altogether different. The Out- Of- Africa feel was replaced by something much more Mediterranean, almost Aix-en- Provence vibe, with the occasional Berber carpet thrown- in. Five rooms, two suites and two bungalows all face the Atlantic and the gradient makes it that everyone gets a sea- view. Between the villa and the beach, a generous pool blends smoothly with the garden's palm grove, near a shaded beach hut providing a bounty of fine shell fish cuisine to be enjoyed under the cool swaying shade of the palm fronds. The well stocked library and board games make up for the lack of any TV or wifi.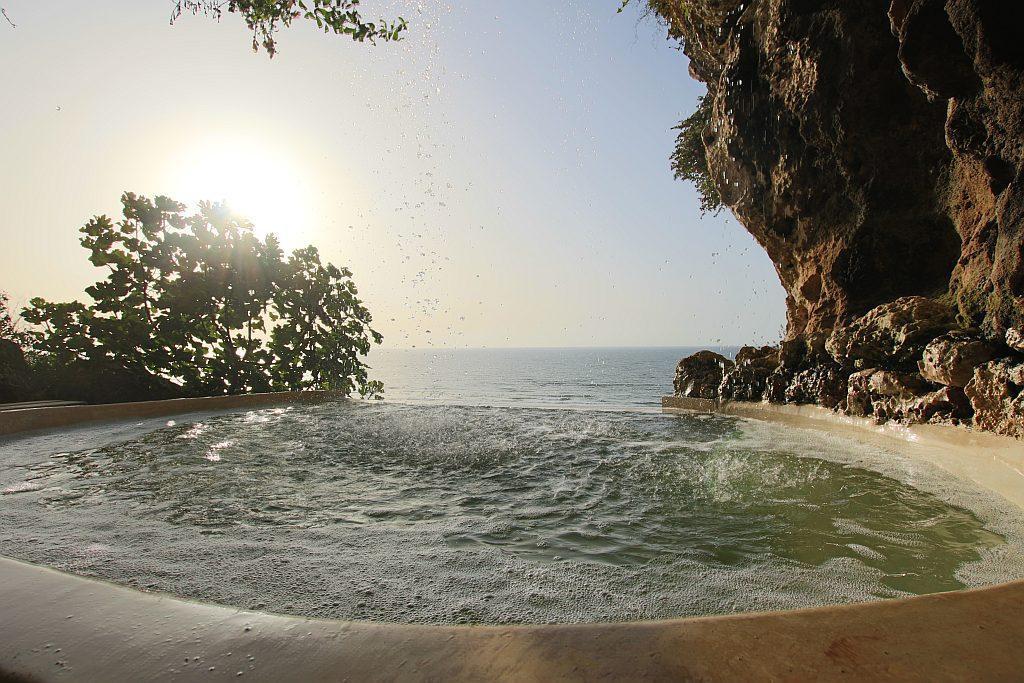 TOUR DES FAUCONS
In the 1960's, long before budget airlines and Trip Advisor, Morocco started to attract a particular kind of crowd. Fashion moguls, actors, artists and writers, settled here or had a secondary home, a Paradise Lost retreat from the disenchantment with a more and more mechanical Europe. Their villas were the epitome of design, mixing the Moroccan- inspired carpets, zellij, fountains or woodwork with modern European art, African masks, Andalusian gardens and Italian chandeliers. La Tour des Faucons is such a place, located just outside Taroudant, but Karl, the very down- to- earth German owner, doesn't throw any opulent parties. What he likes to do nowadays is welcome guests and have good company. The art collection on display should be protected with infra- red laser at night. But don't think for a second that you'll be spending the night in a museum. The suites are immense and fully functional with floor heating and reversible A/C. The bathrooms seem to come out of Architectural Digest. There is a 30 meter long pool to keep you fit, if you manage to not get lost in the gardens. Be there at the right time of year and you can join in to harvest the olives or oranges.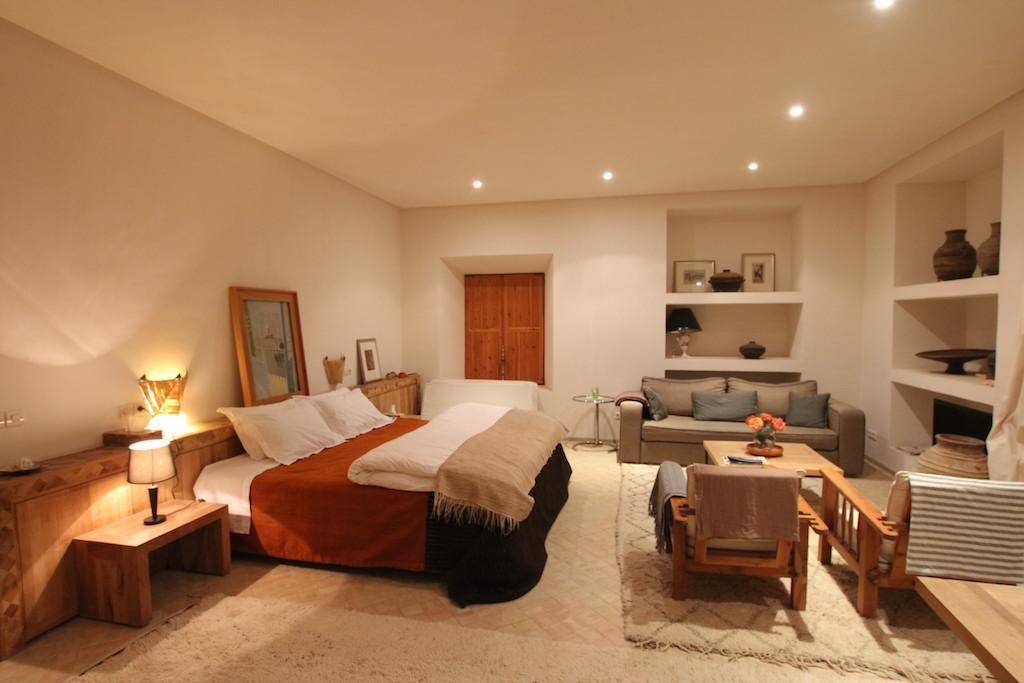 LA PAUSE
Short on time while in Marrakech and you don't want to miss the desert experience ? Well, you have Agafay desert, just 45 minutes drive away. In all honesty, Agafay desert is not really a desert. It's a startling revelation, as one is surrounded by nothing but biscuit-colored waves of rock that stretch as far as the eye can see; an isolated palm tree flapping its fronds and a couple of camels grazing peacefully add to the illusion. La Pause is a rustic retreat where you can both get back to nature and keep your comfort intact. And what better example than the wood burning stoves that stand guard keeping the chilly air of those winter nights away from the open fronted rooms ? There is no electricity and scarcely any mobile reception. But perhaps snoozing, stargazing and staring into space are not your thing. Well, worry not. Camel riding, buggy racing, Arab caligraphy, massages or a cooking class can all be arranged on site. The rooms are built of pisé (adobe and straw mix) and the stylish lodges are sublimely illuminated by candles and oil lamps. You will find a sumptuous king sized bed, a strong shower, low sofas, rugs and cushions, plus fireplaces and a patio sun-lounger for morning mint teas. Their comfortably arranged Berber tents let you enjoy magical moments and beautiful evenings under the stars, whilst listening to the captivating and hypnotic rhythms of traditional Gnawa music.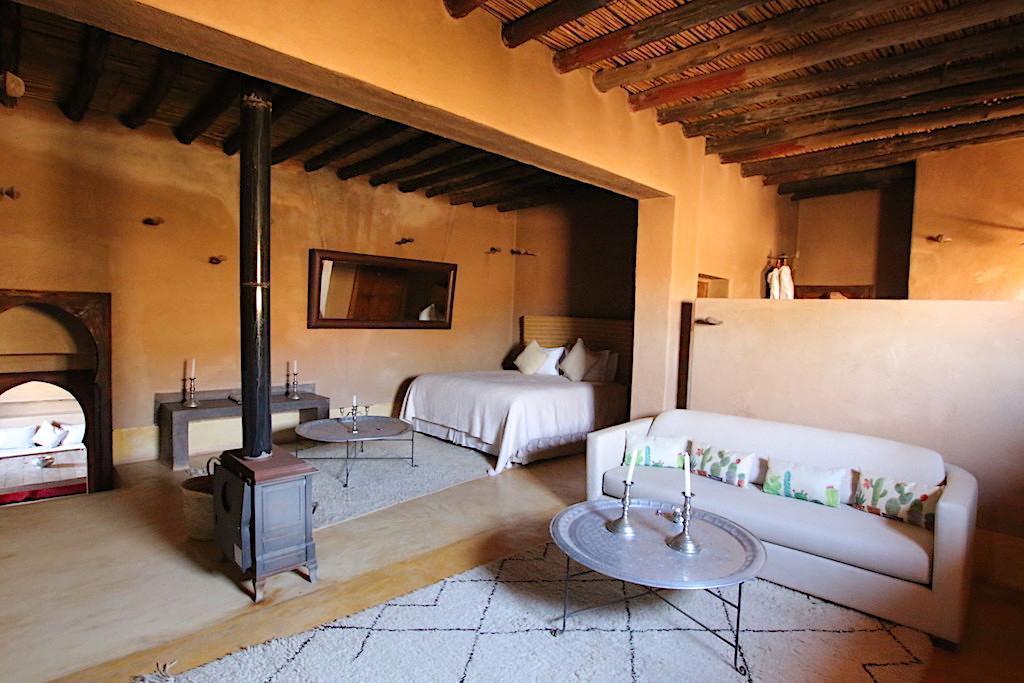 CASA JUAN
Juan, an international photographer, wanted to blend his love of photography, India and the Sahara and Casa Juan is the offspring. In the middle of nowehere, this is as remote as you can get, on the edge of the Sahara. Given the coordinates, it is hard to imagine you'd find a manager that speaks fluent English. Or refined Moroccan cuisine. Finding the place is like a treasure hunt. You will sometimes be met by Juan himself and get your luggage carried to your room by donkey. You will truly appreciate having a 4x4 here as you'll need to cross a few small dunes to make it to the house. I've hardly ever stayed in a hotel where the names of the rooms encapsulated this well their respective names: Africa, India ... From the rooms and the public areas, it is clear that the owner has travelled all over the world and has decorated the spaces with some sublime photos and very rare artfacts. Abdel , Hamid and the rest of the team could not make you feel more welcome. Just go up those stairs and come out on the roof terrace to awe at the setting sun over the palm grove and the dunes...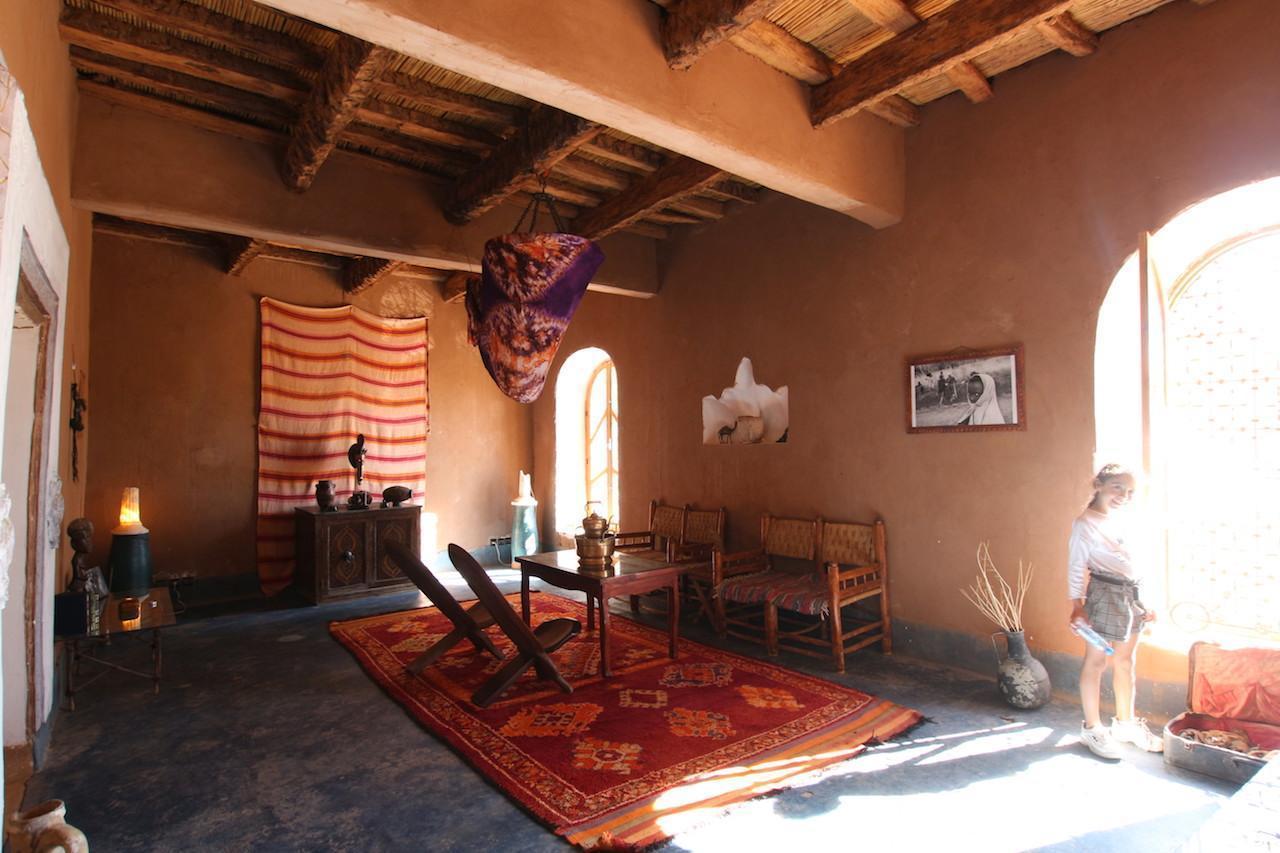 Want to start planning your Morocco honeymoon ? Get in touch with our team here or send us an enquiry at This email address is being protected from spambots. You need JavaScript enabled to view it. .