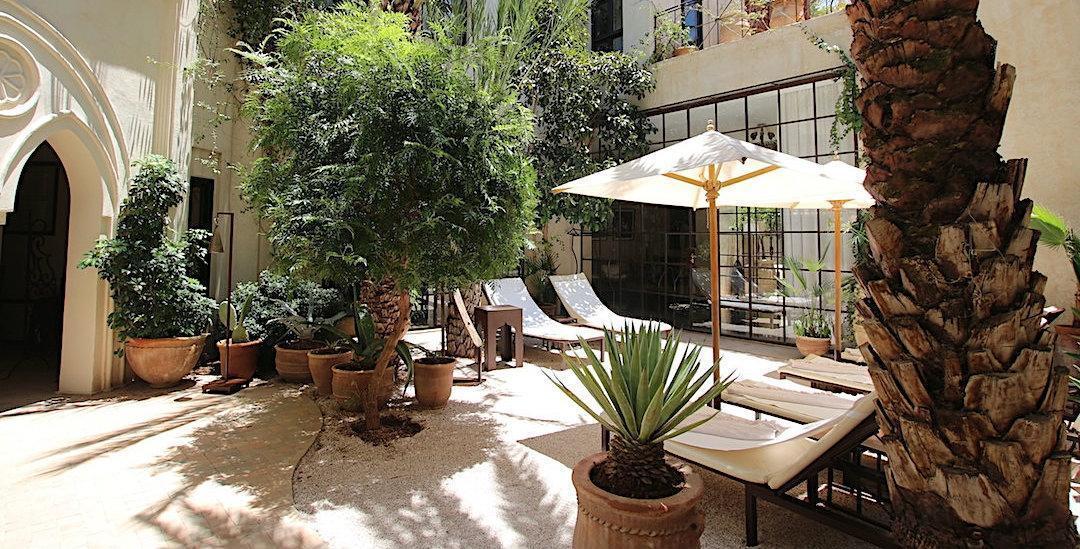 When I find myself sometimes wandering about the medina of Marrakech in the morning, I yearn for a good coffee in a beautiful setting, somewhere away from the hustle and bustle. Away from the selfie sticks. And Palais Khum is just the place. After all, Stefano, the owner, is Italian and from Milano, which means great coffee and good taste. Jazz pouring through the speakers ensures just the right mood for coffee. When Palais Khum opened its doors to guests, it was not just another 5 bedroom riad. With the opening a couple of years later of a cafe giving onto the pedestrian street, Stefano emphasized his desire of making the restaurant a vibrant place where passers- by would mingle with the in- house residents. Some of the rooms here have their own private terrace. There's an elevator, two restaurants, a decent size covered heated pool and a spa. But it's also the man behind it all, Stefano. He's often on site, always available, greeting guests and sharing insider tips, without being invasive. He graciously agreed to an informal interview with us.
Sun Trails: How long has Khum Palace been open and how did that idea come to you ?
Stefano: Palais Khum opened in 2014. At first we purchased it to make it a private house. Afterwards, we realized that it was too big for us to live alone in it, so we deemed it would be better to turn it into a guest house. We were inspired by the concept of riad but we endeavored to create an open space, not so much separated from the outside – or the cafe that overlooks the street and communicates with the inner garden. It also has to do with the pleasure of being in a Moroccan setting and decor, in the medina, but with a garden, an indoor pool, a spa, etc. This is what makes the charm of Marrakech.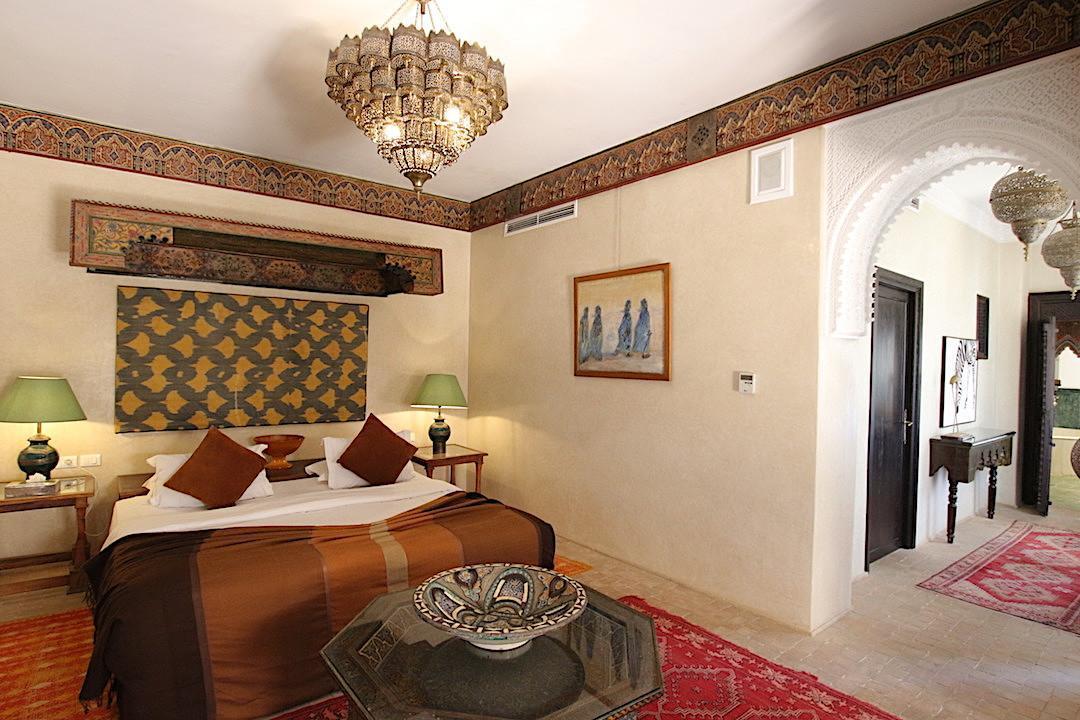 ST: Where does the name Palais Khum come from?
Stefano: In Italy, there is a lido (beach) called Kum, where my daughter was always asking me to take her so she could hang out with her friends. This place was dear to her and so I wanted to pay homage to it. At the same time kum in Arabic means your so Palais Khum = your palace. It is a name that is easy to recall. Moreover, all the guest houses are called Riad or Dar. At the time, the building was a foundouk (caranvaserail) among the other hundreds of foundouks in Marrakech (the foundouk was a building for caravans to stop, where camels and slaves occupied the groundfloor, while the merchants held the first floor).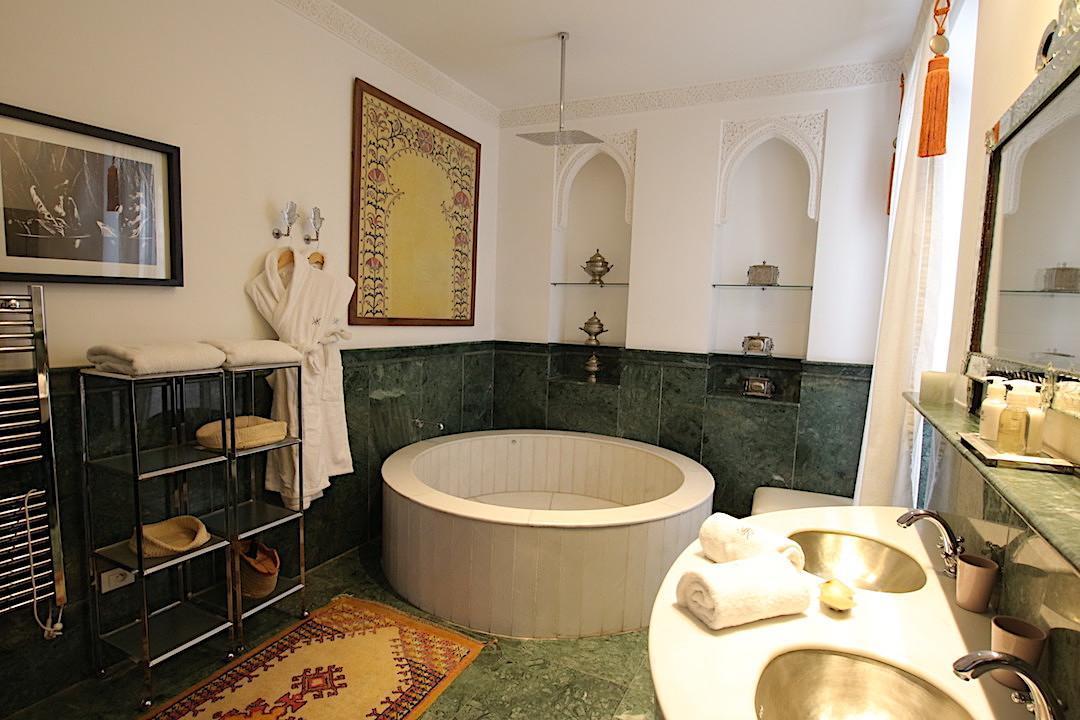 ST: Why Marrakech and not another city in Morocco?
Stefano: It's chance. To tell you the truth, I adore Cairo in Egypt, but considering the situation there, I prefer to be in Morocco, where there's security and political stability to which the King ( of Morocco) went at great lengths to ensure. He is a sovereign who travels a great deal, even when he is sick. I find him very dedicated to his country. The location of Marrakech is also ideal. Very well connected with the countries abroad and this close to Europe, the cultural difference is very intense. The desert, the mountains and the coast are quite within easy reach. Everyone falls in love with Marrakech. Since Winston Churchill, discerning travelers have always frequented Marrakech, just like they did Istanbul or Cairo.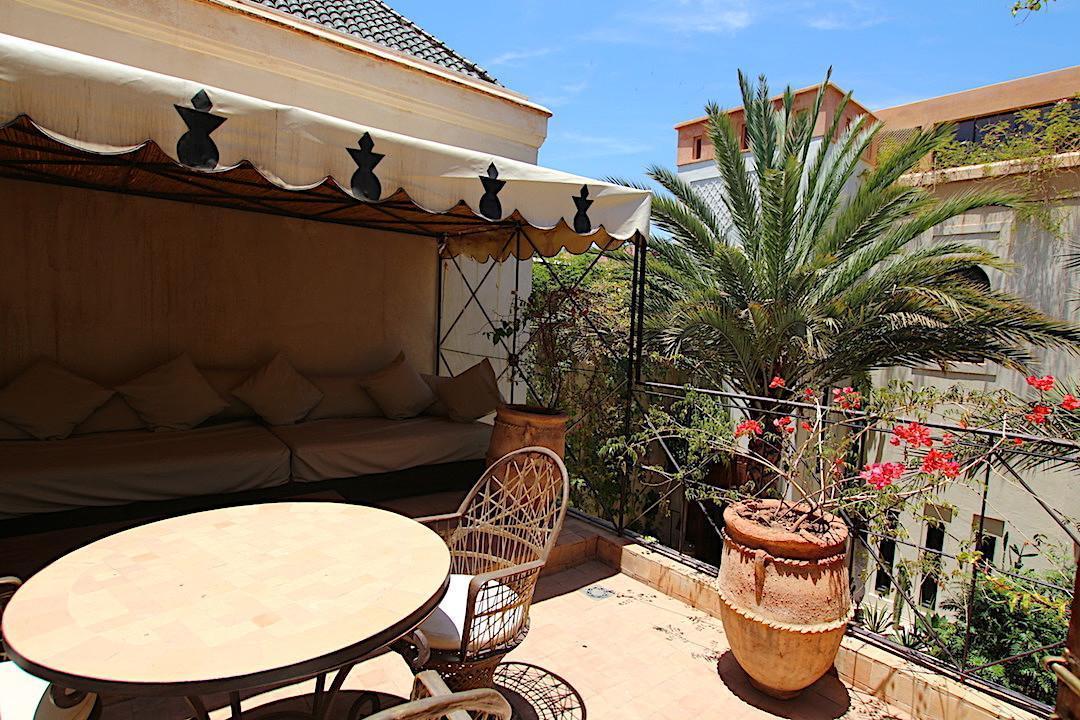 ST: When you bought the house, it was in the current state?
Stefano: No, we had to refurbish everything. We had to redo the plumbing, the lighting, and so on. Since we had added an indoor pool, an elevator, a spa, two restaurants, this was essential. Not to mention a certain range of comfort that we wanted to offer. However, we tried to preserve as much the Moroccan spirit as possible in the decor and architecture. The pool is a western touch – as you probably know, in a traditional Moroccan riad, you would find at best a central fountain, but never a pool for swimming. The local authorities have been kind enough to allow us to build this.
Sun Trails: How many rooms are there ?
Stefano: 11 rooms and suites. We also have two restaurants (Moroccan and Italian / International) and a spa. We will expand spa in the near future. We welcome people from the outside looking to enjoy our garden and our restaurant, but from 10:00 pm, common areas are exclusively reserved for resident guests.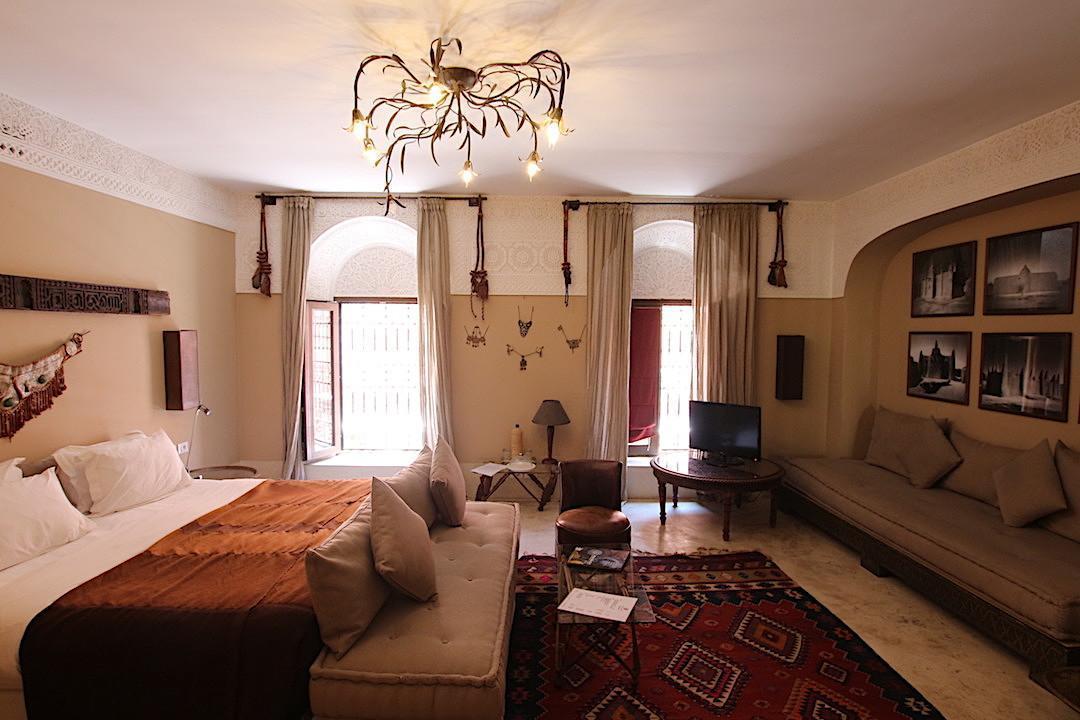 ST: Have you had any experience in the hotel business before the opening of Palais Khum or is it something new for you?
Stefano: No, I have not had experience before and besides, I don't know if I would do it again one day, if given the opportunity. It was quite strenuous, even if today, 4 years later, we have earned a reputation and enjoy a good occupancy rate in the year. Personally, I believe in the principle of staying local, whether it is the staff, the cuisine or even the wine. I think there is some very good Moroccan wine being produced now. We do not serve French wine, even though I know that other houses do it. Also, the team manager must be Moroccan. I'm here to correct things sometimes, but I'm proud of my small, yet effective team. They speak several languages. Moreover, the spirit of welcome, to receive, is profoundly Arabic, so also Moroccan. Among my travels to Central Asia, I was able to experience this at every opportunity. There, when you visit someone, you are treated like a king. We give you everything we have best.
But visitors must try to respect the customs and local traditions.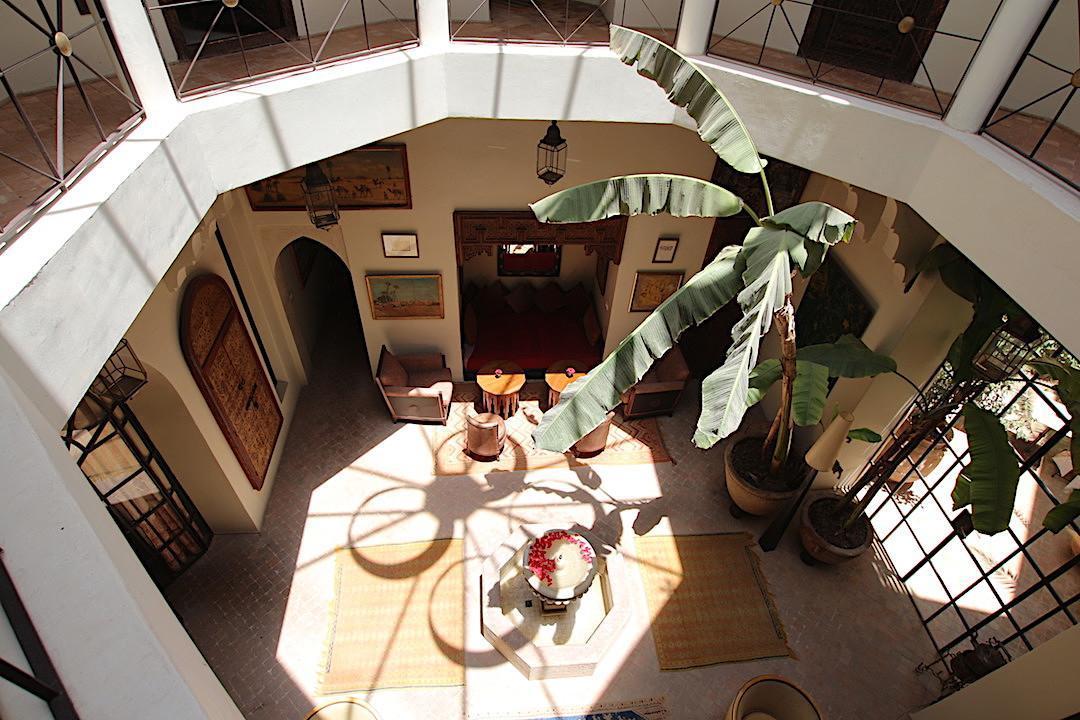 ST: What type of clientele stays at Palais Khum ? Is there a nationality that is dominant ?
Stefano: There is no predominant nationality. We receive guests from all over. On the other hand, the Chinese are on the rise compared to past years. On the other hand, Chinese do not often speak other languages. It's not easy to understand them – they do not wish to mix with others and even in Marrakech seek Chinese restaurants.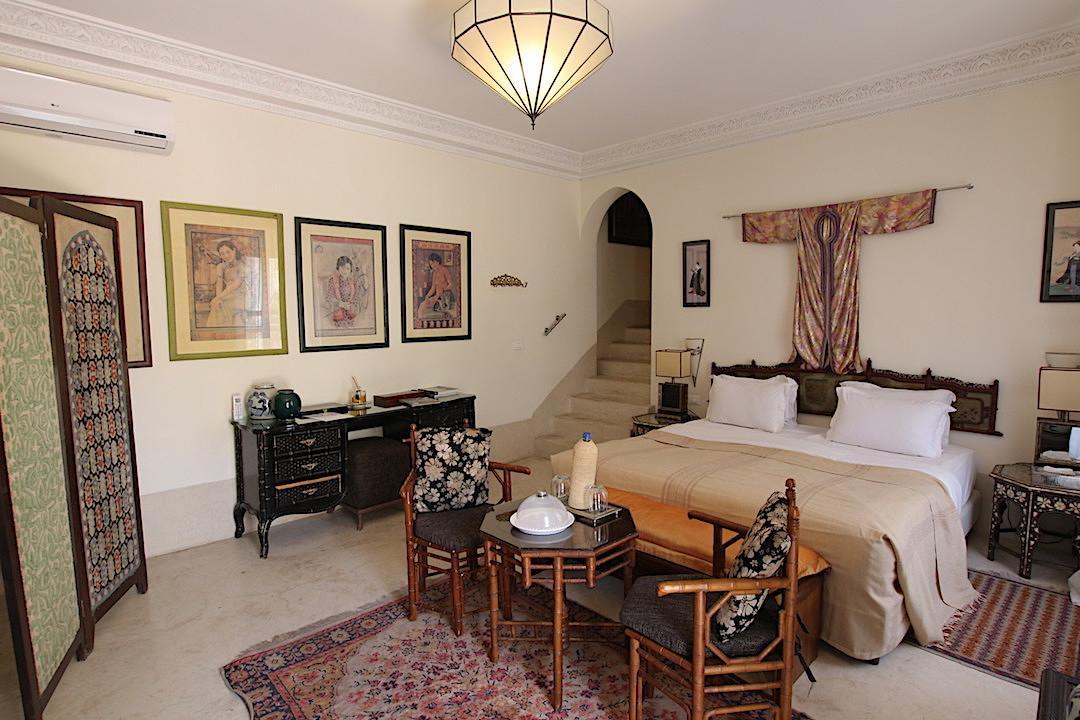 ST: What are your favorite places in Marrakech?
Stefano: Personally I prefer to visit Raids. There are not so many monuments in Marrakech. Marrakech, its medina, is one large museum. I love going back to beautiful houses instead. For example, I take pleasure to go sometimes to dine at Riad Kniza. I also like Gueliz, not so much the other districts of Ville Nouvelle. As a place to go out and party, the Jad Mahal.
ST: What else could Marrakech do to attract tourists?
Stefano: In my opinion, it could do with a music festival. In Italy, in Peruggia, we have a jazz festival and this brings a lot more tourists to the area. But for a music festival, you have to have the right line- up. And music is easier than cinema. The Film Festival ( that was being held every December) is now dead. They are holding one of the of Formula E races, but to make things big, it will be necessary to build a circuit and hold a Formula 1 race. With music, things are easier, but you need consistency and a well curated line up.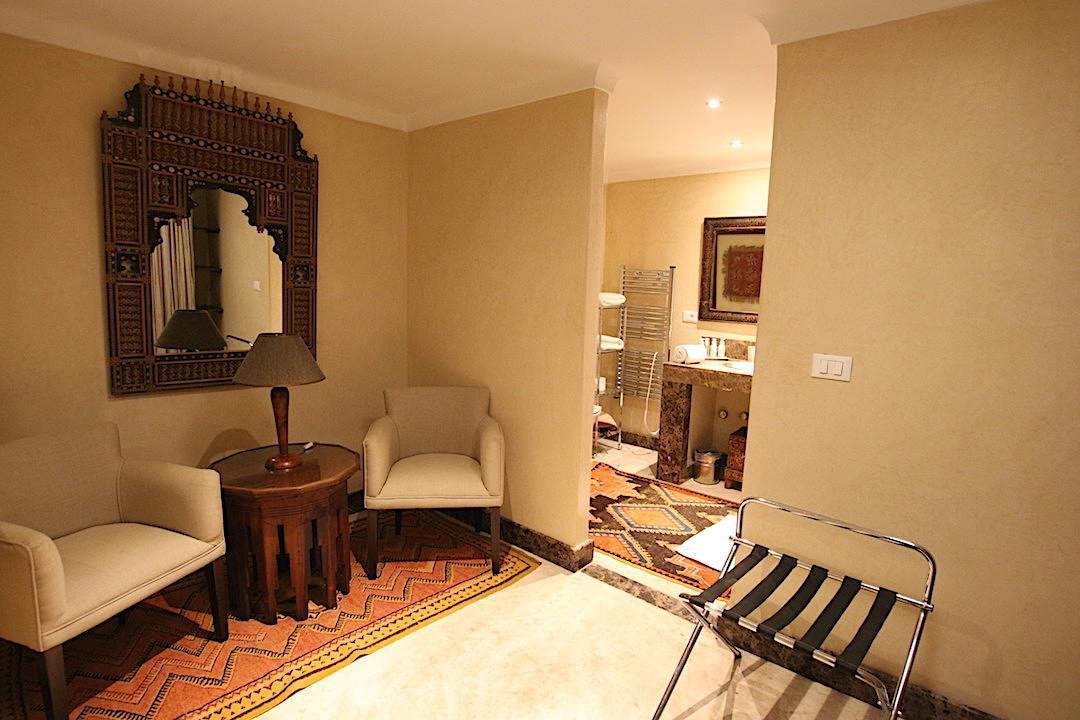 ST: You offer Moroccan and Italian cuisine. Are there special dishes?
Stefano: We offer pesto tagliatelle, tramezzi and a few more dishes. The pasta comes from Italy, but I try to use local ingredients. As for the Moroccan cuisine, I am not keen on revisiting. For me, foie gras has no place next to couscous. The cuisine is part of the local culture, it is often an introduction into a culture and Morocco is rich in cultures. Why revisit traditions, local cuisine ? It's not my angle.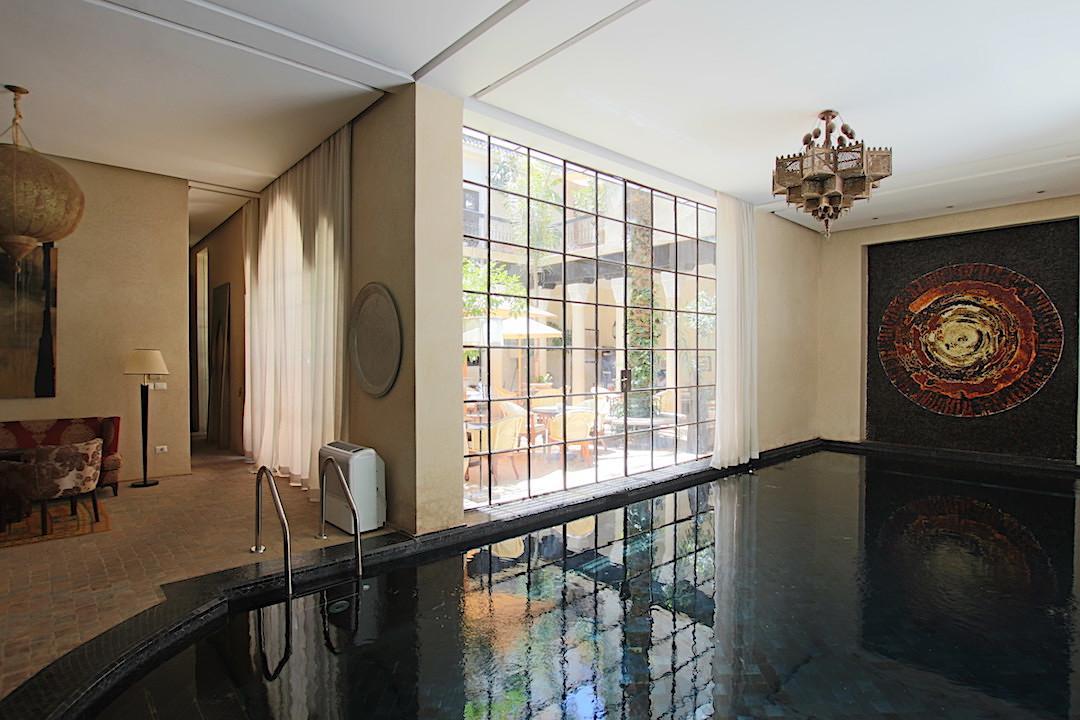 ST: What makes Palais Khum unique ?
Stefano: I think every house is different. Every house has a soul to itself. I think even we could suggest tourists to visit various Riads in the medina. They truly are works of art. At the same time, I can not recommend my guests to go to visit my competition :). Much of our furniture comes from La Mamounia hotel, which had sold their furniture before the renovation.
ST: What is the best time to visit Marrakech?
Stefano: There is no season. Maybe in July and August people should avoid Marrakech if they do not support the heat. But even during these months, you can go out in the afternoon and in the evening and spending most of the day by a swimming pool.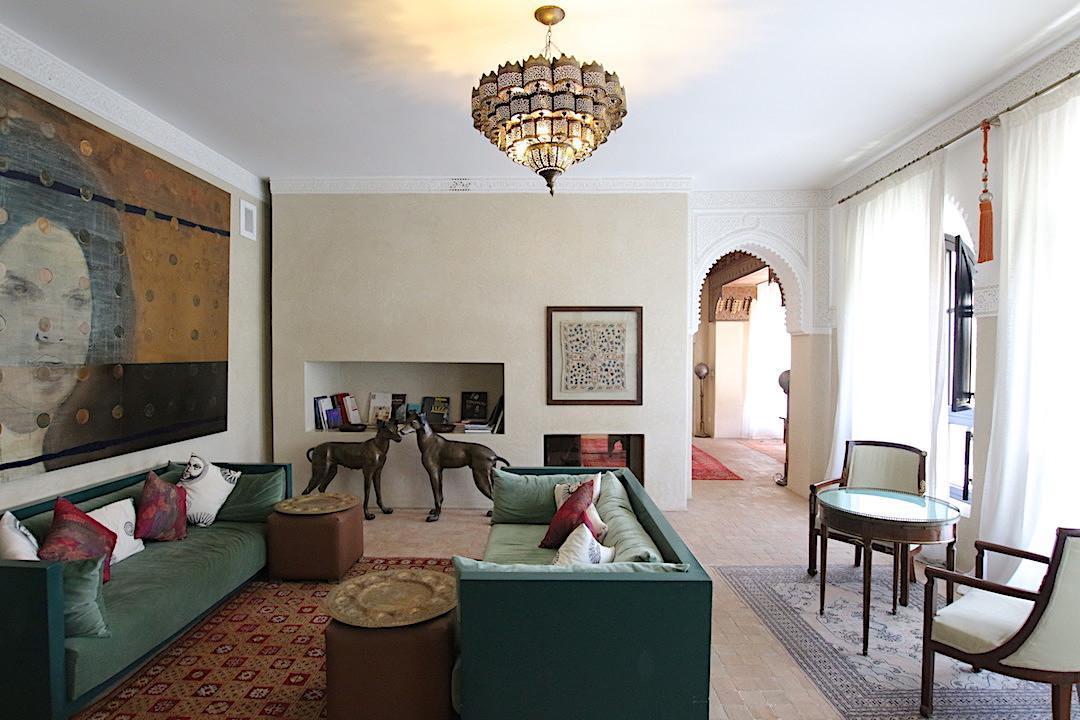 ST: Do you have plans for the future of Palais Khum ?
Stefano: We are always trying to improve. Like I mentioned before, we are expanding our spa. Many of our neighbors did cooking classes. Many have opened cafes as well. Perhaps a boutique. A boutique inside the cafe. I think it is something that could work.
Accommodation at Palais Khum is currently being offered on our tours with our Privilege range.
© Sun Trails 2018. All rights reserved. No part of this interview may be reproduced, distributed, or transmitted in any form, including photocopying, recording, or other electronic or mechanical methods, without the prior written permission of the publisher.