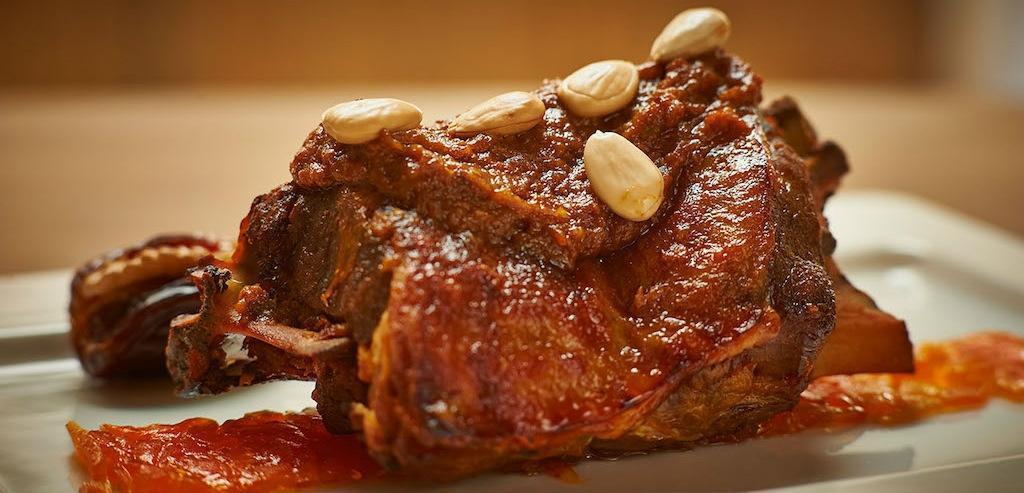 The best restaurants in Fes are not that easy to find.
When you ask a Moroccan which city best represents Moroccan cuisine, the answer will most likely be: Fez. And there's a feeling that the time has stood still here for the past few centuries when walking aimlessly through thousands of derbs or just turning the corner to find oneself in the middle of an auction- sale of goat skins. Where Marrakech is opulent and sensual, Fes is traditional and discreet. There is no wonder then that some of the long- forgotten Moroccan dishes can still be found on the menus of some of its restaurants.
However, the last decade has also seen the arrival of foreign chefs that are pushing for Morocco- inspired imaginative dishes, lured by the organic ingredients they can easily source in the surroundings of Fes. John Dorry with Chermoula, Sephardic Bitter Orange or Scored Calamari with Zaalouk are variations on staples of Moroccan cuisine. We are often in Fez and have tried most of its best well- known restaurants so we are going to talk about 3 restaurants that really stand out. Two of the them twist Moroccan cuisine while the third one keeps long- forgotten Moroccan dishes alive or enhances classical tagines.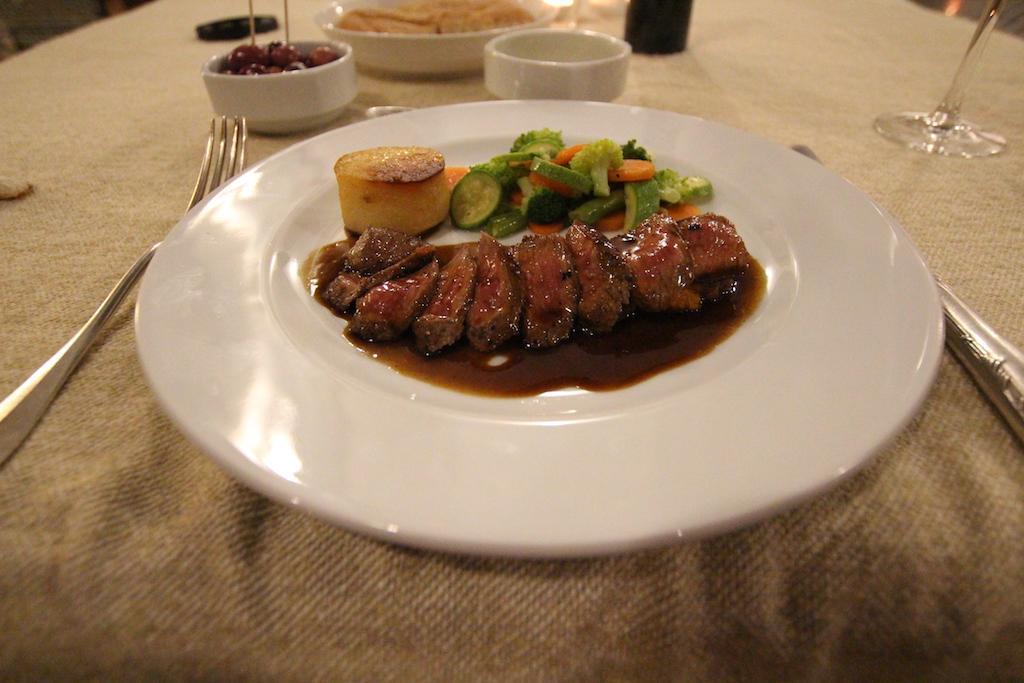 DAR ROUMANA
Moroccan food with a twist in Fes all started with Vincent Bonin, a chef who had worked in several Michelin-starred restaurants in the UK, worked for legendary chefs in Australia and catered to celebs on their yachts in the Caribbean and Mediterranean. He and partner Vanessa took over Dar Roumana in 2005. She was managing the guest house and he was in charge of the cuisine. In the beginning, it was a question of serving something different to the resident guests. Eventually word got around and they had to open the restaurant to more and more non- resident guests. Ultimately, the charm of French countryside got the best of Vanessa and they decided to end their Moroccan adventure in 2015, leaving the cuisine in charge of Chef Younes Idriss who worked alongside Vincent for 7 years.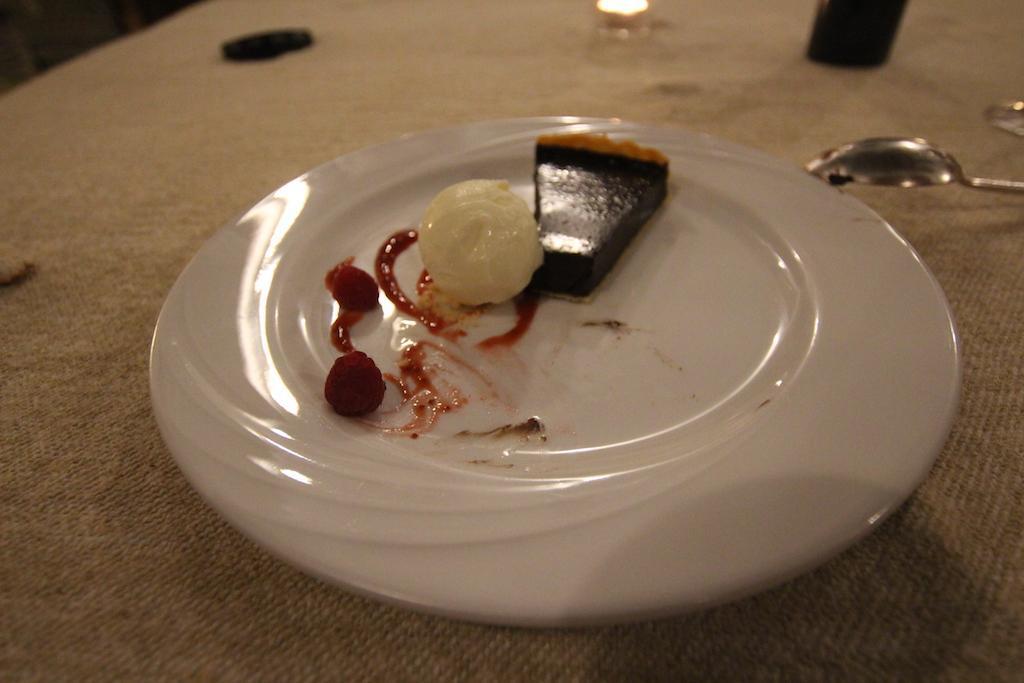 Having had the privilege of dining there 3 times in the last 7 years, last time after Vincent had left, I can only assert that the imagination and great taste are still present. I wish I could choose a favorite dish but you're not likely to find it again as the menu is constantly changing. Before dinner, offer yourself a glass of wine on the roof terrace and take in the beguiling panorama of the medina of Fez at night. 3 dish menu at 350 Dirhams per person.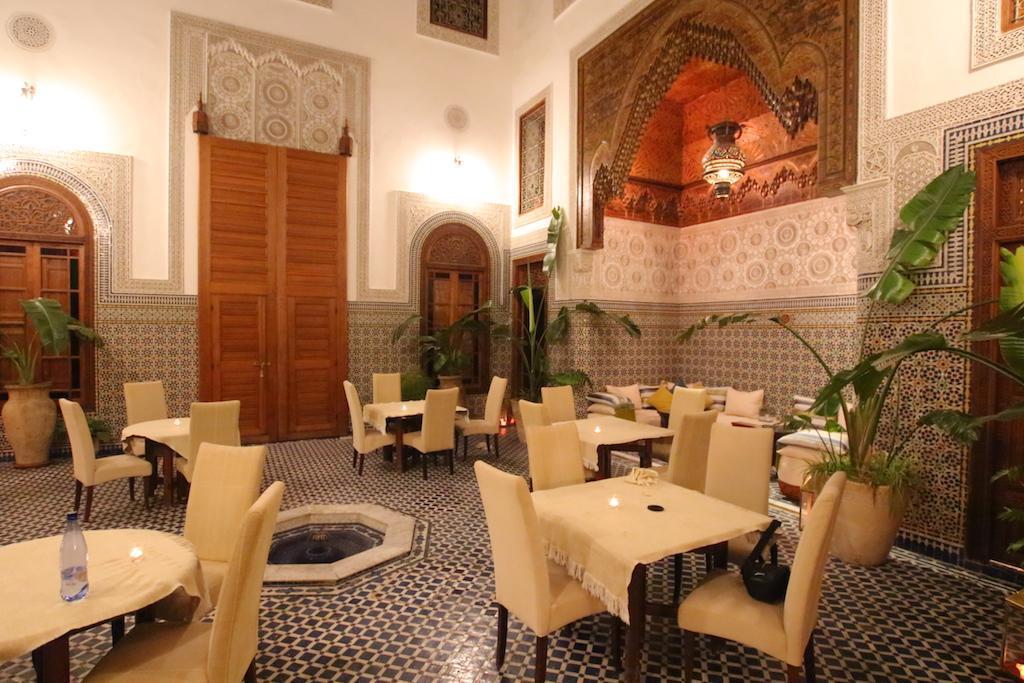 L'AMBRE @ RIAD FES
A more posh affair, the Ambre restaurant is set inside Relais & Chateaux's only property in Fes, Riad Fes. Here, it is not about twisting the Moroccan recipes but making sure that some of them don't disappear in the wake of mass tourism cuisine. Some of the visitors in Morocco complain about the uniformity of their meals as they seem to be served the same dishes all throughout. In reality, mainstream restaurants are cautious of stepping outside the norm and copycat the same menus. And some travelers soon end up 'tagined out'… When family culinary traditions have been passed down for generations, why not celebrate them with the people who know ?
Lamb tossed in Smoked Onion Jam or Spiced Sea Bass roasted with vegetables are not your typical Moroccan restaurant dishes. With this idea, the restaurant opened itself up to cooks who have never set foot in a cooking school but have learnt everything from their mothers; a true marker of authentic cuisine. On arrival, they receive training to supplement their existing know-how and are taught to use products in their entirety, to eliminate waste. Each year, Michelin-starred chefs also choose to complete their training at the Riad Fès. Here, fruit and vegetables are all seasonal, sourced from a local sustainable farmer. Light menu from 350 Dirhams per person.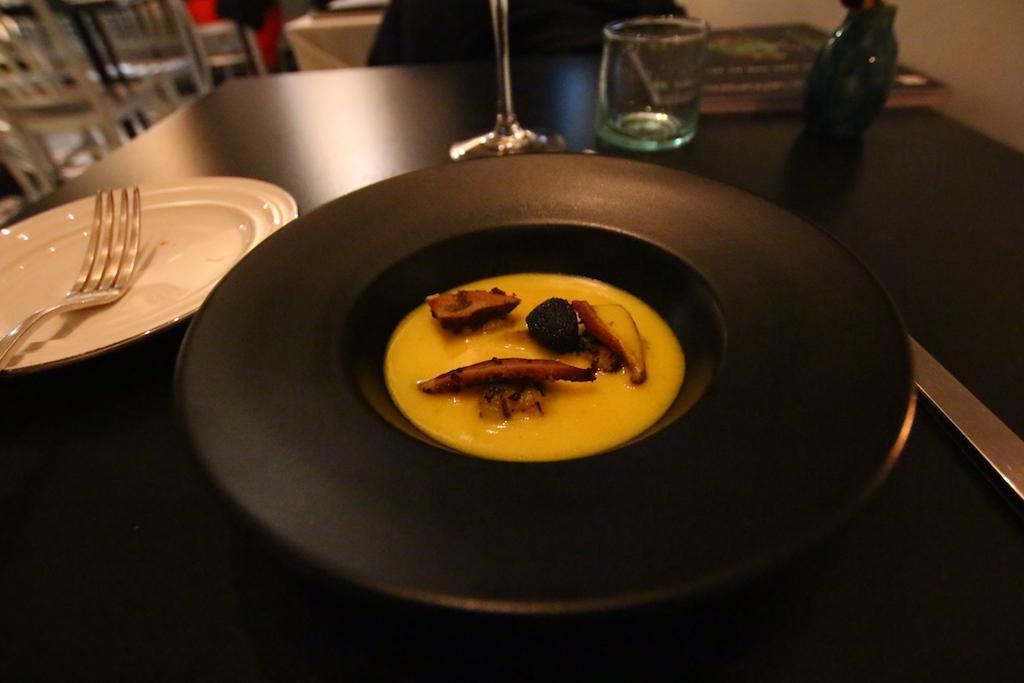 NUR RESTAURANT
When first opened a few years back, Numero 7 caused a stir in the rather conservative Fez medina. A small riad patio, very minimal in design, that could accommodate at best 30 persons, a 6 dish menu of what resembled molecular cuisine concocted by a resident chef that would change every three months. It was never heard of. Although the formula proved to have some success, it was a concept difficult to manage, especially given the logistics of being tucked in the middle of the medina. In 2016, the concept changed and so did the name: Nur. It was the idea of chef Najat Kaanache and her husband Charles. Spanish- born but of Moroccan origins, Najat wanted to pay tribute to the proud cultural and agricultural diversity of Morocco. She affectionately refers to her country as "the mouth of Europe", forged through its unique confluence of colonial cultures. She must know what she's talking about since she is the only Moroccan chef that has worked in the kitchen at restaurants like El Bulli and Noma, among others.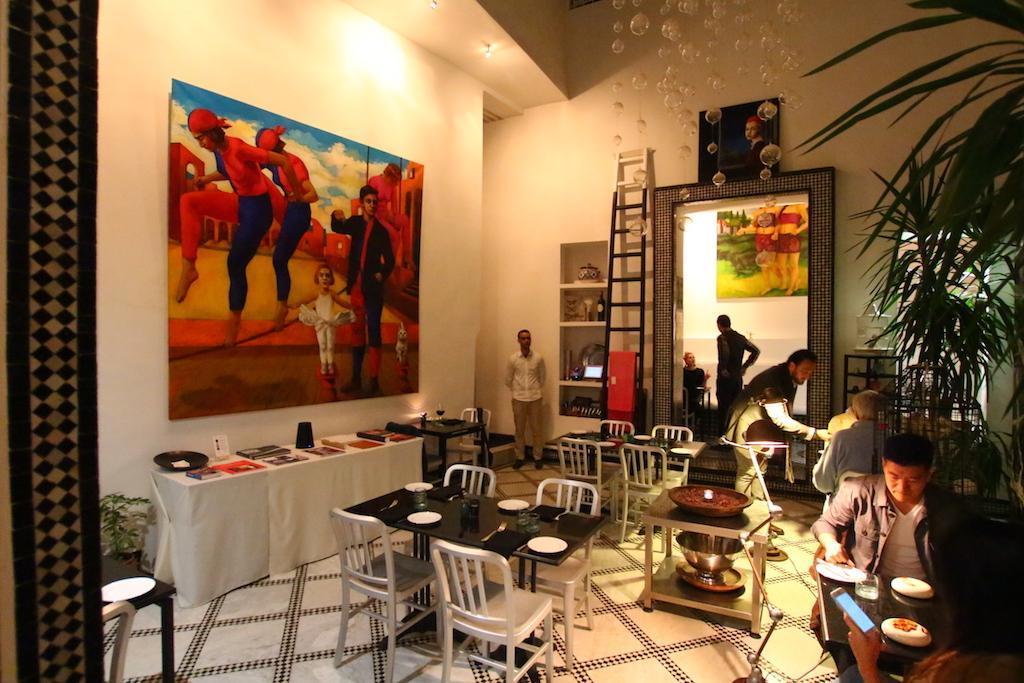 Last November when I had dinner there, in between my 10 courses , Najat had time for a chat where she explained among other things that she wanted to create something unique, a very refined cuisine yet retaining the Moroccan flavors. She also felt a little disheartened that some of the best Moroccan produce ends up in restaurants in Spain and that although Moroccan cuisine is so rich in recipes, most restaurants reproduce the same bland menus.
Each morning, she and her team source the best available produce from within the Medina and construct the largely improvisational menu around the seasonal seafood and local protein offerings from their specialty purveyors. And if 10 dishes seem like a lot to take in, don't expect to come out bloated – this is much more about a culinary travel than getting your belly full. 10 dish menu at 700 Dirhams per person.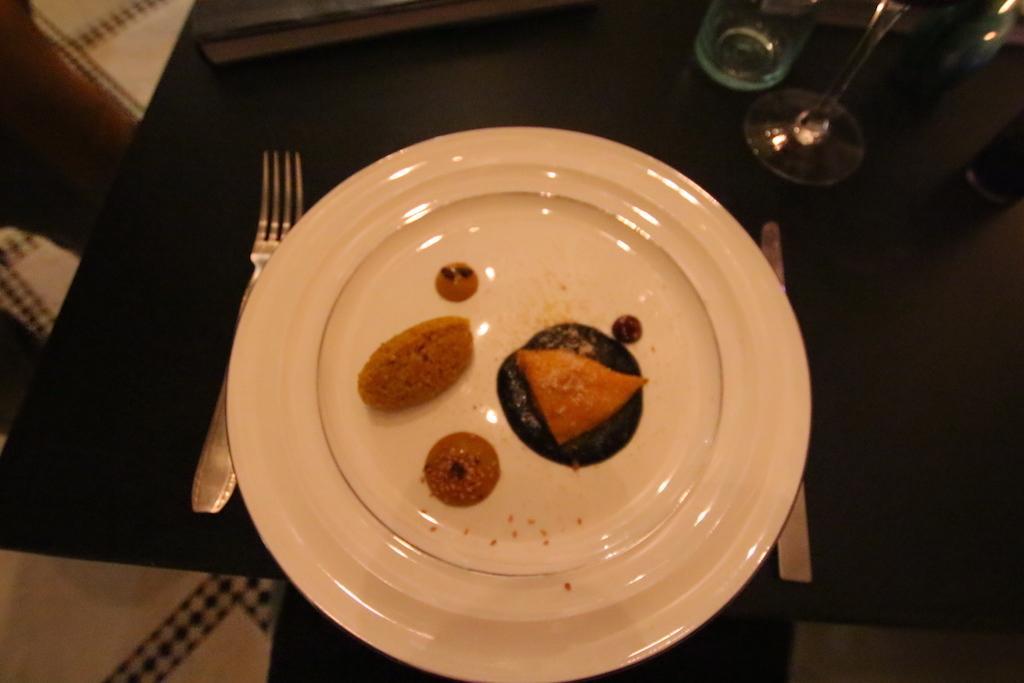 © Sun Trails 2020. All rights reserved. No part of this interview may be reproduced, distributed, or transmitted in any form, including photocopying, recording, or other electronic or mechanical methods, without the prior written permission of the publisher.