Displaying items by tag: maison de la photographie marrakech
Tuesday, 18 November 2014 00:00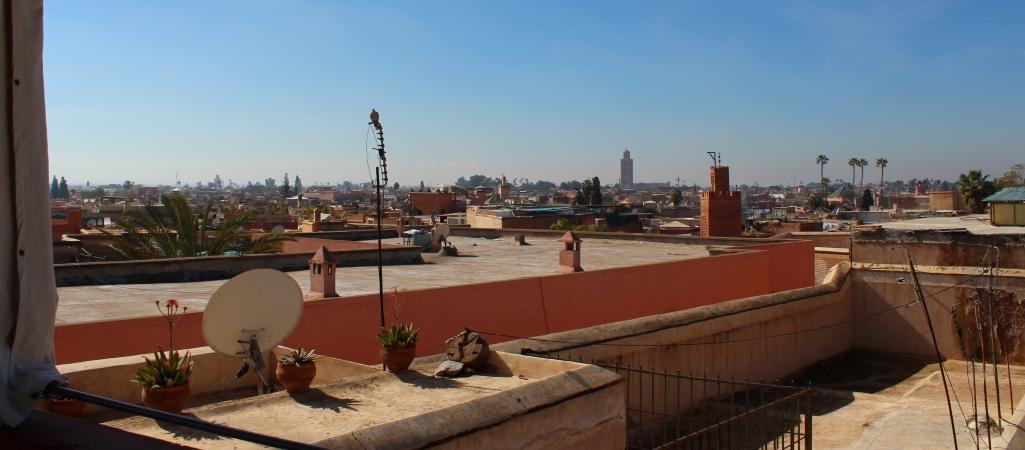 I remember meeting Patrick back in 2009 for the first time, just when Maison de la Photographie had opened. I was managing a Riad in the Medina of Marrakech at the time and someone told me about this interesting photography museum that just opened around the corner. Out of curiosity, I went to visit and was blown away by these black- and- whites showcasing a Morocco of a century ago. Back then, French photography pioneers crossed the Gibraltar strait with what probably was a truckload of instruments and traveled across Morocco taking photographs.  Patrick was very easy to approach and quite passionate about what he was doing, if somewhat insecure. In the post- crisis age, the thing to do for foreigners wishing to invest in Marrakech, was still buying a Riad. I reassured him, pointing out that there was no one else that was offering anything remotely similar in Marrakech. Time proved me right and the fact they now rate among the first five things to do in Marrakech according to Trip Advisor proves something. But the success of the place wasn't just something that happened by itself. Along the years, Patrick surrounded himself by a very dedicated team and invested himself into quite a few projects that were about rehabilitating the heritage of the Medina. The more word got around, the more famous hotels and riads adorned their walls with prints of exhibited photographs. If you needed more reasons, La Maison also has one of the best roof terraces in Marrakech, where visitors can enjoy a mint tea or a juicy tagine ? If you needed more reasons to visit… It was only natural that I should make an article about him and his work. Humble and hospitable as ever, he agreed to an interview with us.
Sun Trails: When was Maison de La Photographie opened? How did the idea come about ? Why choose Marrakech as a city and Moukef district in particular, for such a museum ?
Patrick Manac'h: The Maison de la photographie was opened in 2009. It was a common project decided with Hamid Mergani, in Paris, where photography is quite a major cultural priority. We selected the place first for its historical location, close to Medersa Ben Youssef and secondly, for financial reasons. We wanted Maison de la Photographie to be a financially independent institution. We chose Marrakech because it is a main tourist center and Hamid is a Marrakchi.
ST Tell us a little about yourself prior to opening the museum – your background, your studies, your experience, your interests.
PM: For the last 25 years I was a private fine art dealer and simultaneously I was very much involved in humanitarian action in Nepal. I studied political sciences and history of ideas. As you well know, living in Paris and in Europe allows for someone to be continuously exposed to a cultural life. I am fond of gardens and the art of gardening and that's how I wanted the Maison to be organized: as a garden open to public.
ST : What exactly is Maison de La Photographie ? What is on display? What sets it apart among other sites/ monuments of the Medina of Marrakech ?
PM:I must stress that Maison de la Photography is not a place that would welcome various exhibitions. Our main goal was to create an archive about Morocco and to display those archives and original prints to the general public. The period we cover is 1870 to the 1950's . Our priority is not contemporary photography, although we support some young Moroccan to participate in residencies in Europe. It is the only place dedicated to the memory that Morocco and France (and Europe in general) have in common. I believe what really sets us apart is that we make sure to welcome each guest individually.
ST: Is it possible for visitors to buy photos from the museum or copies of them?
PM: Visitors can buy reprints, since we own 3000 glass negatives and we have a printing workshop. This is also a big help to the financial independence of the Maison.
ST: Someone said once that philosophy is a battle against our intellect being lured by the means of speech. What is photography to you?
PM: For me, photography is not an art of reality. The photographs belong to cultural experiences. It is very interesting to compare photographs and, if available, the accompanying texts that came with them. So, indeed, history is a narration. There is no good and bad in history and history doesn't claim truth. Permanently we need to do a double archeology of us as the public (the receivers) and the work of art (the transmitter). Denise Belon said that each photograph is a second stolen to eternity. For me, photography is mainly a witness to the history of ideas: architecture, ethnology, anthropology, Judaism, etc.
ST: Do the photographs exhibited change in time? Can you tell us a little about previous exhibitions? And the future ones?
PM: Exhibitions change regularly: recently we did an exhibition in France only focused on portraits, one currently dedicated to Nicolas Muller, and another one is dedicated to Tayeb El Mokri, probably the first Moroccan photographer with the young sultan Moulay Abdelaziz, in the early 20th century. We did an exhibition on the work of Henri Terrasse and his researches. At the moment, we are planning one called 'Maroc Multiple' and we will print a catalog.
ST: You also have parallel projects going on at 'La Douiria' and 'Eco Musee Berbere'. How did that come into existence ? Can you tell us what they are exactly ?
PM: The Eco Musee was opened before Maison de la Photographie and it was the first museum dedicated to the Amazigh ( Berber people), an important part of the Moroccan culture. The Douiria of Mouassine is a hidden treasure of the Medina, a house of 17th century. Long and patient restoration was undertaken. Xavier Salmon, general curator of Louvre Museum wrote a book about it that we are currently translating into Arabic. Concerning the Douiria, it was a total coincidence: I was looking for a place for me to live and I was so impressed by the beauty of the place that I decided to restorate it and open it to the public in order to promote the importance of heritage in Morocco.
ST: What are your favorite places in Marrakech ? Do you think the city has changed since you settled here ? Tell us about some hidden gem you only know about.
PM: There is a little Koranic school ( medersa) of 17th century where I would have liked to be a pupil. It's located close to Mouassine district where Ahmed Baba lived at the end of the 16th century. He was a philosopher and a lawyer and his contemporaries called him ' the pearl of his time'. That place is an exquisite Medersa. One of my other favorite places is the Almoravid koubba and the gardens of Agdal. As I live in the Medina, the city has not changed much – with the years the people have become more and more hospitable towards me.
ST: I see more and more of your photos in luxury hotels and riads in Marrakech and Morocco. What famous hotel has acquired photos from your collection recently ?
PM: Yes, you are right about that and we are proud that decorators and owners of hotels and riads request some photos of our collection. The list of famous hotels is quite long: Royal Mansour, Naourra Barriere, Riad Farnatchi are but a few.
ST: As I know you, you are always preparing some new project. What are your plans for the near future ? How do you find the time for all this ?
PM: We are preparing the restoration of a large house close to the Douiria in order to create rooms for exhibitions and maybe we will open an annex in another city in Morocco and print catalogs. We keep increasing the collection; we support a small children school in Tafza, the village where the Eco Musee is located. We have a partnership with Arles in France. For me it is also important that my staff reaches their goals and are passionate about what they are involved with.
A visit to La Maison de la Photographie is included with any of our bespoke tours of Morocco  as part of our guided visit of Marrakech. 
© Sun Trails. All rights reserved. No part of this interview may be reproduced, distributed, or transmitted in any form, including photocopying, recording, or other electronic or mechanical methods, without the prior written permission of the publisher.