Now the Moroccan south has its own luxury kasbah, a perfect location half way between Marrakech and Erg Chigaga dunes.
But this is not just another kasbah turned guesthouse story. It's personal. And it's inspiring. Why personal: the owner of the house spent his childhood therein and returned decades after to restore it and create something he could share with the travelers on the way to the desert or back from it. Inspiring, for people from the area that had to find work in other countries or cities in Morocco could return to their home village and make a living on site, instead of having to live away from their families. Inspiring, because it employs local ladies that otherwise most likely couldn't find work. Inspiring, for it tries its best to give back to the community.
Jana and Abdou, with a previous experience as luxury camp owners, turned their dream into reality, creating something less nomadic, a place where hospitality blends seamlessly with luxury and local craftsmanship. Not one, but two sister lodges, Kasbah Hnini and Dar Hnini were born. Almost a decade ago, we interviewed the owners of Azalai Lodge, another lodge nested in the palm grove of Zagora, so this seems like a timely addition to the portfolio. Kasbah Hnini caters to the regular traveler, whereas Dar Hnini is meant for those that love their luxury, even in coordinates as remote as these. We sat down with Jana, the owner, to find out all about the lodges and what is there to do and see in the Draa Valley.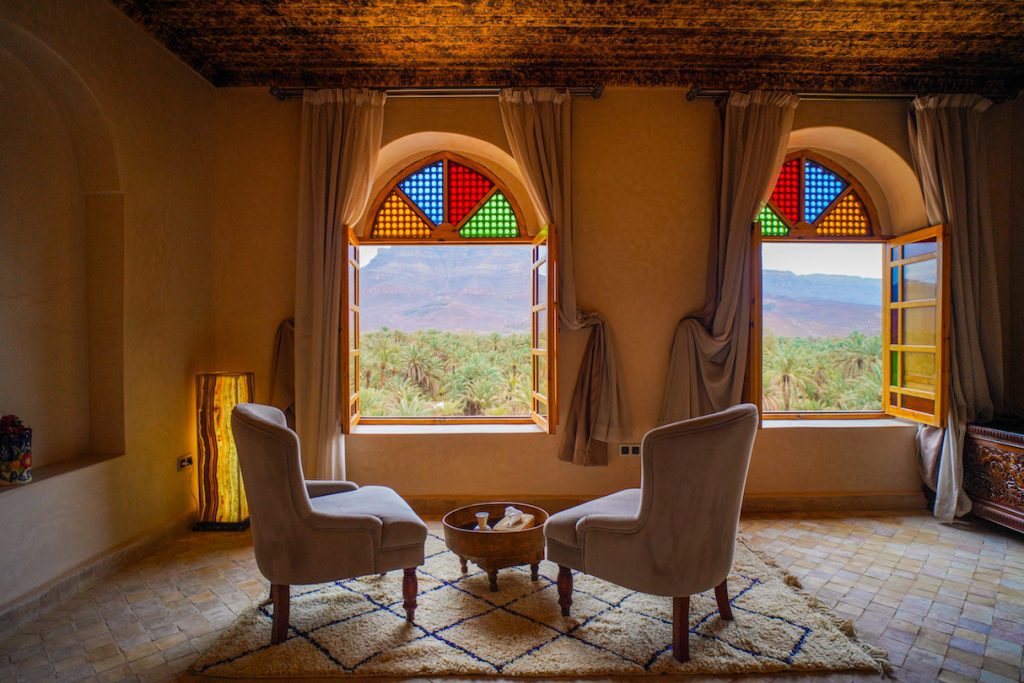 Sun Trails: I think I first came upon your name when I was still managing riads in Marrakech, around 2007- 2008. Guests used to ask me for companies doing desert tours back then and I believe Your Morocco Tour was one of them. You are originally from Czech Republic, right ? How come you ended up in Morocco ? What made you stay ?
JANA: Yes I am originally from Czech Republic but after the velvet revolution when borders opened up I left my home country and lived in UK, France, Canada eventually settling in New York where I thought I'll stay for the rest of my life. However, one vacation to Morocco has changed that. I fell in love while on my holiday in Morocco. But I wasn't ready to give up my life in the Big Apple. We kept a long distance relationship visiting each other as much as we could. We started mutual travel business of Your Morocco Tour. The business grew over the years and I was getting older and therefore decided to leave my glamourous New York life behind and move to Marrakech.
ST: Did you have any previous experience in the hospitality ?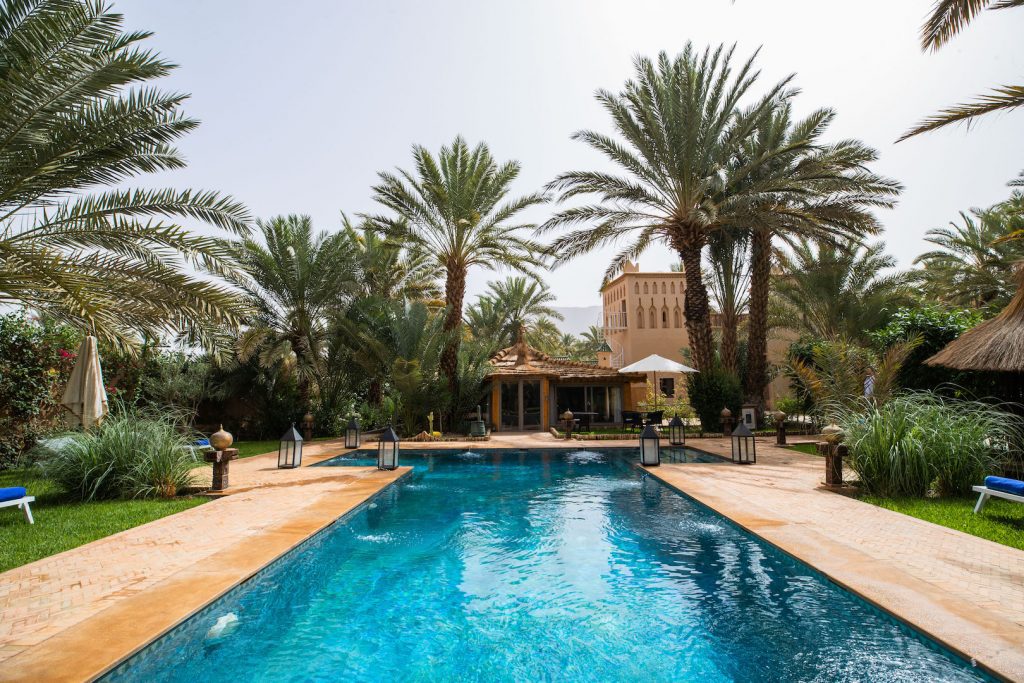 JANA: I have a bachelor's degree in hospitality management. I worked previously in travel agencies in Prague and then in the USA as well.
ST: Why a guest house here, in Ouled Yahia ?
JANA: Ouled Yahia is home to my husband. This is the place that he truly calls home . It is a place where many of his relatives live , place that he loves returning to.
ST: How do you make time for all the projects, your two guest houses, your tour agency and the two camps ?
JANA: Honestly, I don't even know how I make time for all these projects , plus being a mum. I work at all times even weekends. But I have some wonderful people helping out and the endless energy of my husband.
ST: Tell us a little about the different amenities that make these 2 places special: the bungalows, the villas, the tower rooms, the infinity pool… I stayed in a one bedroom villa last June and the decoration is out of this world. And so are the bathrooms… Who was in charge of the decoration ? Where did the inspiration come from ?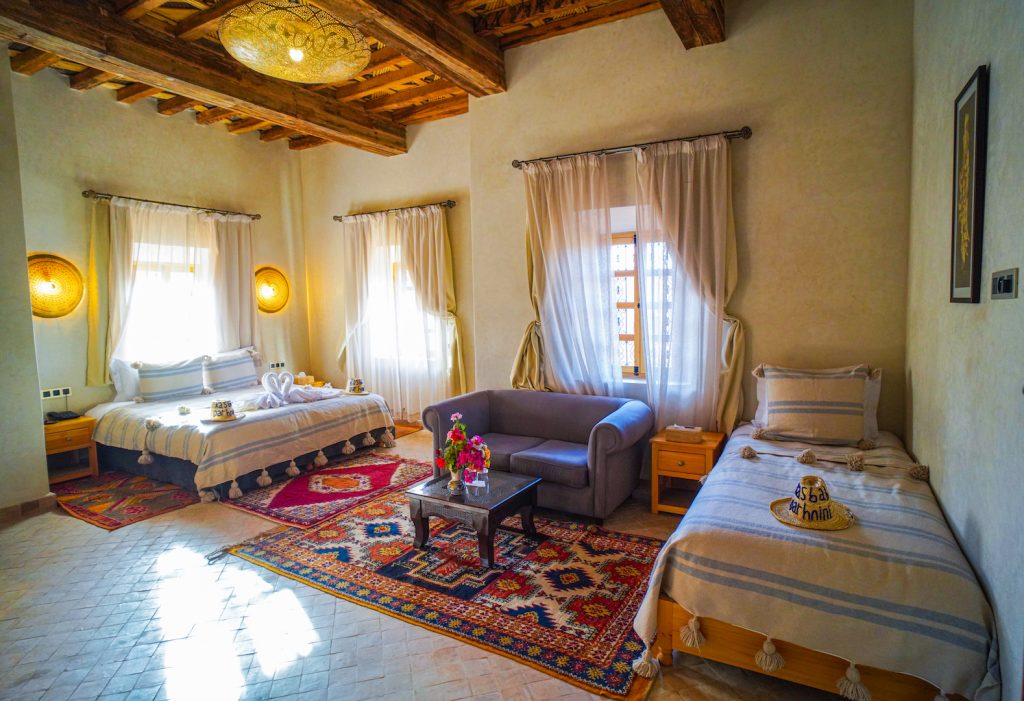 Both properties Dar Hnini and Kasbah are both charming but in some way different. Dar Hnini is more luxurious with the amenities you expect in 5 star hotel. Each of the units offer great privacy in a stunning setting. Kasbah Hnini is special as well as it is restored Kasbah with splendid views on the date palm groves and mount Kissane beyond. It is set in the middle of the ancient village where guests can see the adobe buildings around them.
We have designed both properties on our own. We took some inspiration from our own past travels and also searche photos on Pinterest and other sites.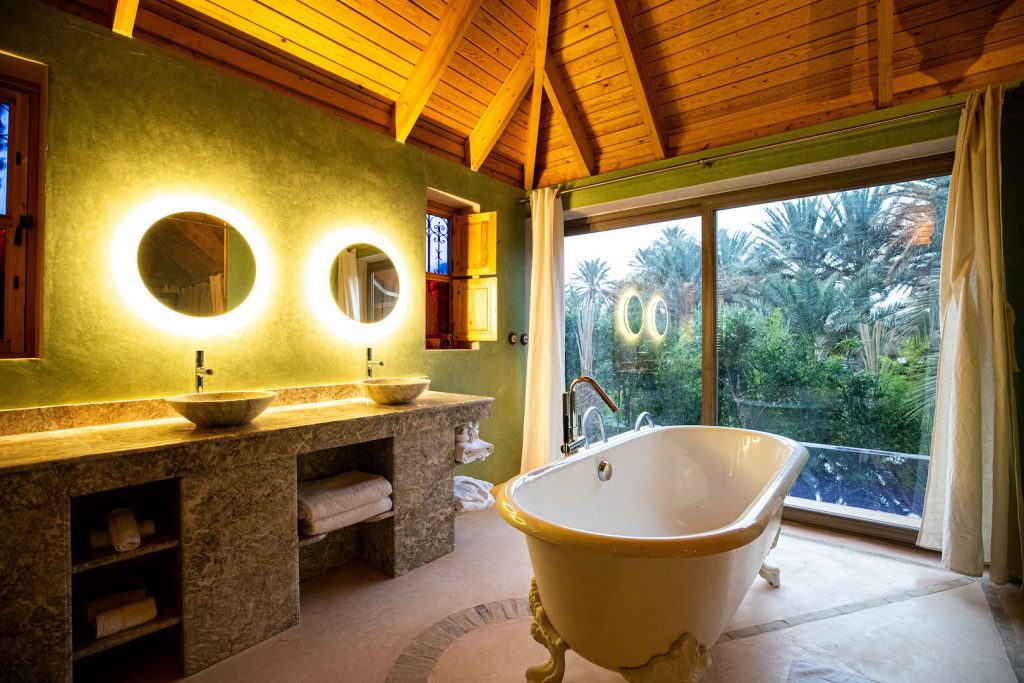 ST: What kind of cuisine do you offer on site ? Are there vegetarian options ? How much of your ingredients is sourced locally ?
JANA: We have two Moroccan chefs at this moment, so the food is very heavily influenced with Moroccan cuisine and the spices. We try to bring a little different twist and not to do the typical tagines that you see everywhere. However, I think we still have a way to go to improve .. Yes, we offer vegetarian and vegan dishes as well to accommodate the dietary requirements that many travelers have.
We source as many ingredients as much as we can locally. Fruits and vegetables are bought at weekly souks and we also have small garden where we grow some of vegetables too. There are plenty of fruit trees on the property. We also buy milk and cheese from a local farmer and get fresh eggs from people in the nearby villages.
ST: I was there last June when they were laying the garden and the pool. It seems that Abdou ( Jana's husband and partner) knew most of the workers personally. How come ?
JANA: Most of the workers are from the nearby villages. Many of them Abdou knows personally from a long time ago. There are few newbies that we have that are not from the Draa directly but are still from some parts of Southern Morocco. I know most of our staff personally too as well as their families.
ST: How do you interact with the local community ( do you employ local guides/ buy some of the produce of the locals/ employ staff from the area ) ?
JANA: We know the community very well. Coincidence makes it that today is Eid feast, celebrating the end of Ramadan, and I spent half of my day visiting and drinking lots of tea with many of the local women wishing them a happy end of Ramadan. Life in these villages is not easy and many people are poor, and we try to help. Every Ramadan as far as I can remember we have provided a big shopping bag with the daily necessities like oil, sugar, tea, rice, for many of the families. We have gifted local mosque with new carpets. Yes, we employ many people from the nearby villages and buy as much produce from local farmers. We have some ideas that we like to realize in future.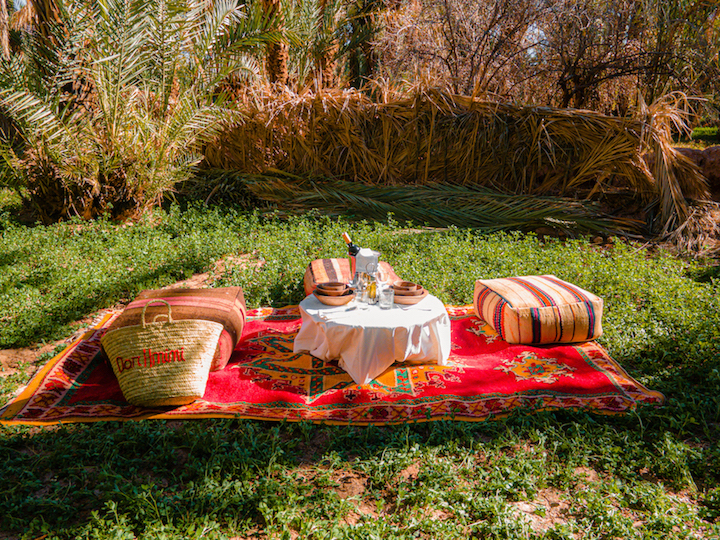 ST: What nationalities are your guests and for how long are they staying on average ? If they stay more than an overnight, what is there to do on site ? Would these guesthouses be adapted for families with children or families with teenagers ?
JANA: Guests come from all across the globe. Majority of them are Europeans and North Americans. We had welcome travelers from Southern America as well as Asia, Australia. Majority stay only 1 night which especially in Dar Hnini is a shame , we believe 2 nights minimum is need it to fully appreciate it. We had some other guests staying weeklong.
We organize walking guided tours in the valley , biking trips to nearby villages or the rocky desert nearby. Clients can book a cooking class and on Mondays and Tuesdays combine it with a visit of the local souks. There is a possibility of henna workshop where one can see and learn about the plant and do henna. We are opening our hammam. We are hoping to do some healthy retreats with yoga and massages..
There are many areas nearby to visit such as Kasbah Othame, Foum Chema rock carvings, Amzrou and its synagogue, the Jewish cemetery or Tamengroute and its pottery artisan.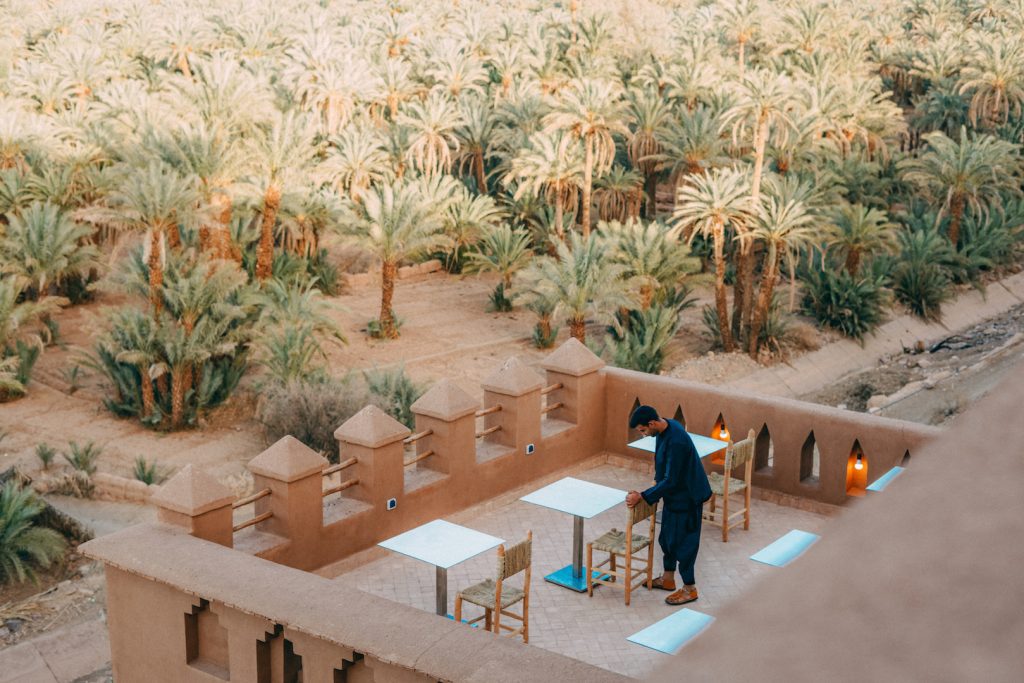 ST: what is unique at Kasbah Hnini and Dar Hnini that guests can't find elsewhere ?
JANA: For both of them it is the location. You know yourself how beautiful the Draa is , contrasting against the rocky planes and the mud brick built villages, where life seems to stop still. I had friends visiting us here that are Moroccans living in Marrakech and they can't believe that this style of life still exists in Morocco. They see the simple culture without the rush , the bond of families , the relationship to the land.
Kasbah Hnini is special in its way that it is truly ancient home that has been restored. Kasbah Hnini is the home of my husband. It is the place where he grew up. When you are inside he can show you where animals were kept, where kitchen was , where they use to sleep. We have been visiting this place for so many years, planning , dreaming of restoring it and sharing the beautiful views that it offers. Thanks to the expertise of a man from the oasis of Skoura it was all made possible.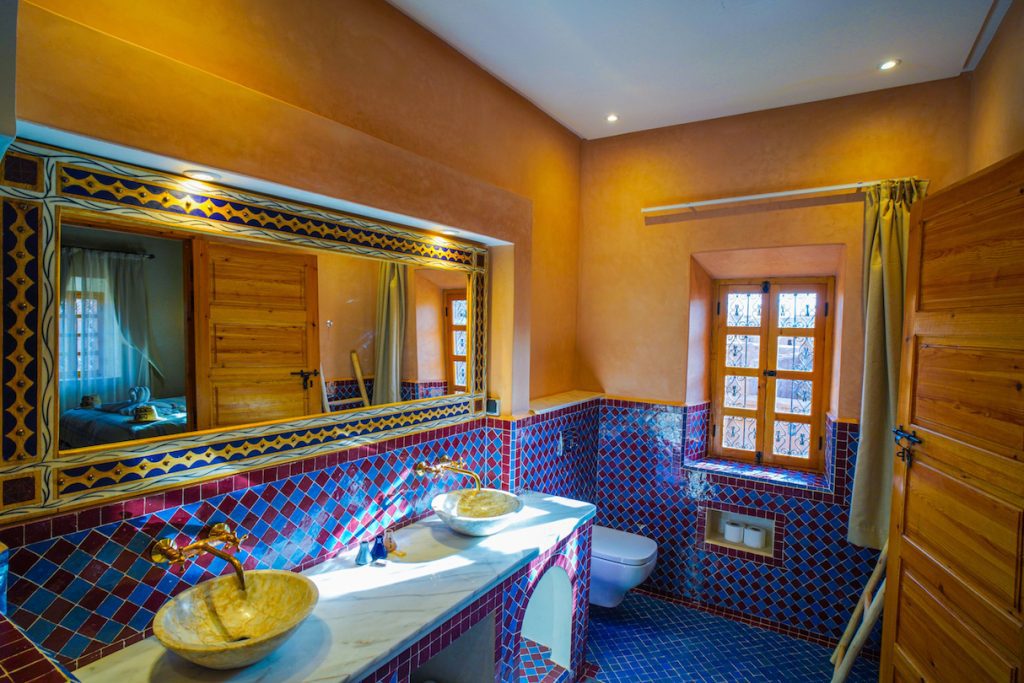 ST: Rates at Dar Hnini are north of 300 euros per night. How do you manage to recruit and train staff for such high demanding standards ( from the area) ?
JANA: Sometimes when you are looking you find it with a bit of help or luck. Mohammed , our manager, is from the same village . He worked in Qatar for a while and when he returned he was looking for a job. Dar Hnini wasn't even built at that time, but we saw the capabilities in Mohammed. We found him a job in a prestigious riad in Marrakech and convinced him to verse himself in hospitality. He worked there for several years and when Dar Hnini was ready to open its door, Mohammed was happy to be here greeting our guests. He has helped immensely training new staff too from the local villages.
Rachid, our main gardener, used to live in Casablanca having a gardening job and sending money to his wife/ children that live here. He was so thrilled to return to home. He has been such a great help even with designing the gardens here.
Rockaya , she is a young girl that finished university but wasn't able to find any job. Apart from teaching me to read and write in Arabic , she started to clean the rooms here. Now we have 7 girls from the villages and Rockaya is in charge of them, teaching them, organizing the rooms, making sure all is in order.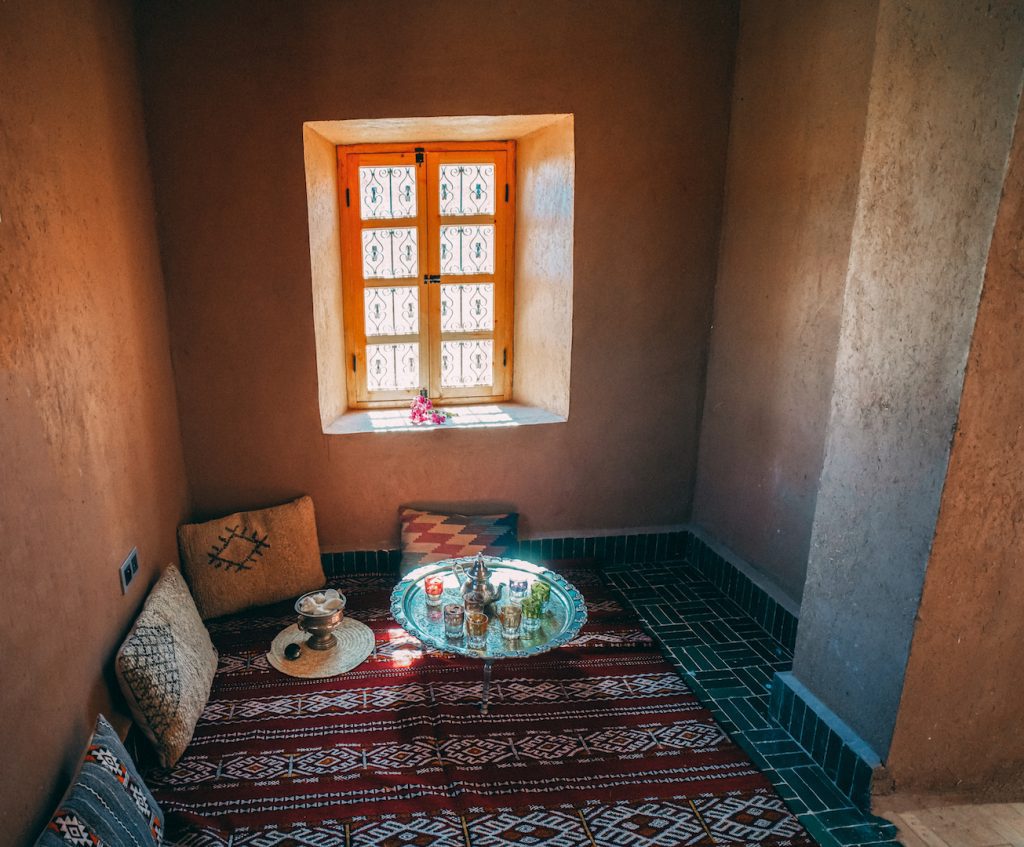 JANA: I wonder myself whose idea was it to grow watermelons in these regions. They are growing and sending away a fruit that takes consumes a lot of water , the most important asset they should preserve.
When we were building or restoring the Kasbah we were making bricks the ancient traditional way. We collected mud mixed it with straw, water and then put it into these forms and let it dry. We used cement and classic bricks but as much as we could it was the natural materials. We used wood from the dead palm trees for ceilings , restaurant in Dar Hnini. We used rocks. Many of the tiles, decoration, pots/ dishes come from Tamengroute , the local pottery. We use solar panels. Our entire parking in Dar Hnini is covered by solar panels.
Many things are sourced locally and as mentioned we try to employ local staff. We cook only with seasonal ingredients. We make straws from bamboo shoots. The organic waste is given back to people to feed the domesticated animals.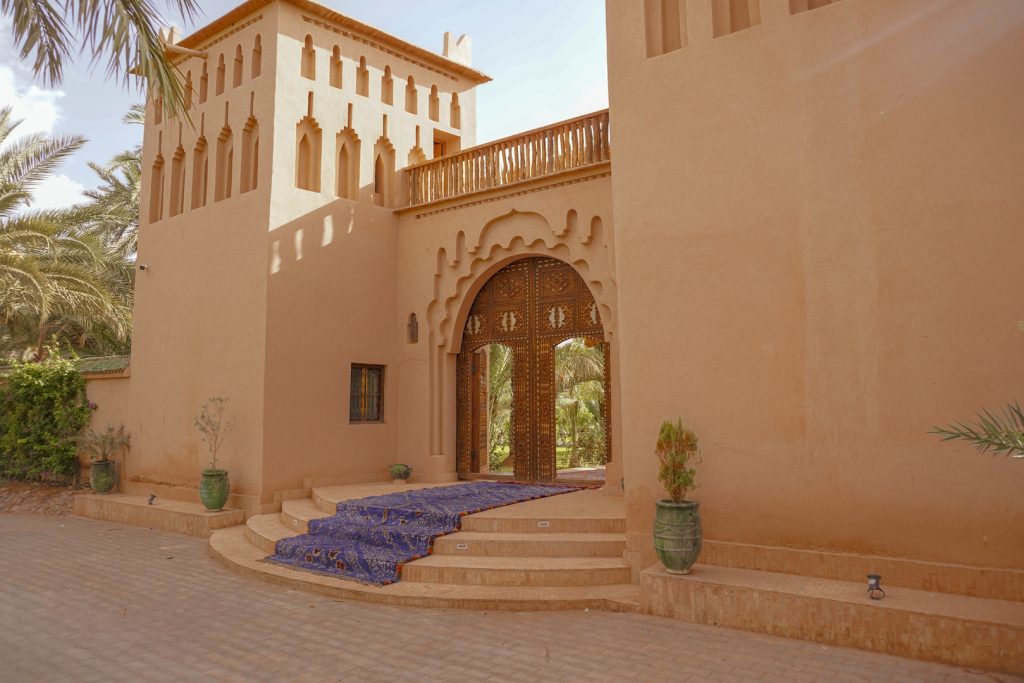 We encourage guests not to keep changing towels if they are staying for several nights.
But we still have a long way to go and are keen to learn more how we can help to protect the environment. We face many challenges here such as no trash collection After several years we finally have a truck that picks up the waste.
Educating locals about the environment and stop putting their waste everywhere. It's with sadness when I see diapers discharged i the palm groves. Diapers take a very long time to decompose.
ST: If someone could visit only one site in the whole of the Draa Valley, from Agdz to Mhamid, which should it be ? Is there a best time to visit the Draa Valley ?
JANA: I think everyone is different and everyone may prefer different places. For me it's the beauty of the ancient villages made of mud bricks. Draa Valley can be visited all year round except summer, when weather is extremely hot.
ST: How hard were the desert camps impacted by the pandemic ? How resilient was the local hospitality business ? Are there any lessons to be learnt from all this ?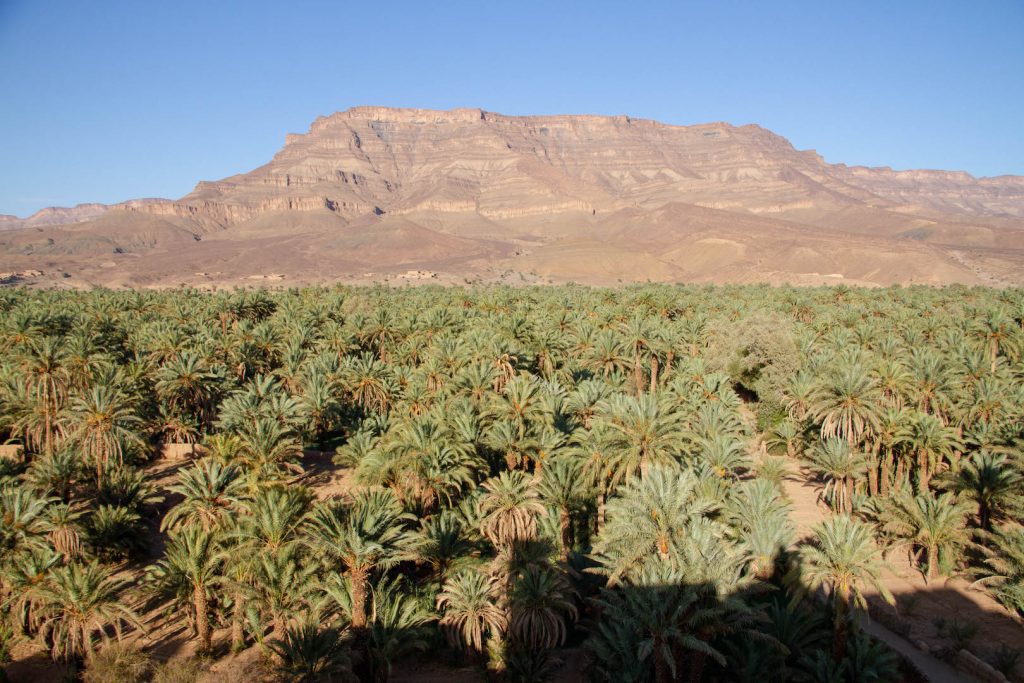 JANA: I can't talk about the entire Merzouga, you'll have to catch up with Hamid (our partner living in Merzouga) and ask him, but we did face a lot of challenges.
We had about 20 camels and suddenly no income to feed them. Hamid practically turn to farming just to be able to feed these camels.
I think the uncertainty when this all will end was hard too. The camps deteriorate a lot with time. We had to tear down the tents, packed most of it during Covid and kept only few tents built up. When we start setting up the camp back again, we had to put a lot of investment to restore what was possible or buy new tents, equipment. Having a camp is a challenge in itself as everything is exposed to harsh changing temperatures, strong winds and it is an constant struggle of repairing / fixing.
ST: What are your plans for the future ?
JANA: Oh, please, no, nothing for now!
No, we have plans and ideas but for the properties that we already have making them even better. We have just redesigned and improved our bathrooms in the Main camp and Royal Camp in Merzouga and there are additional plans that we have for the Main camp but not sure when that will happen. In Kasbah and Dar Hnini perhaps making the pools heated , be more sustainable, educate people here about the waste and a few other ideas.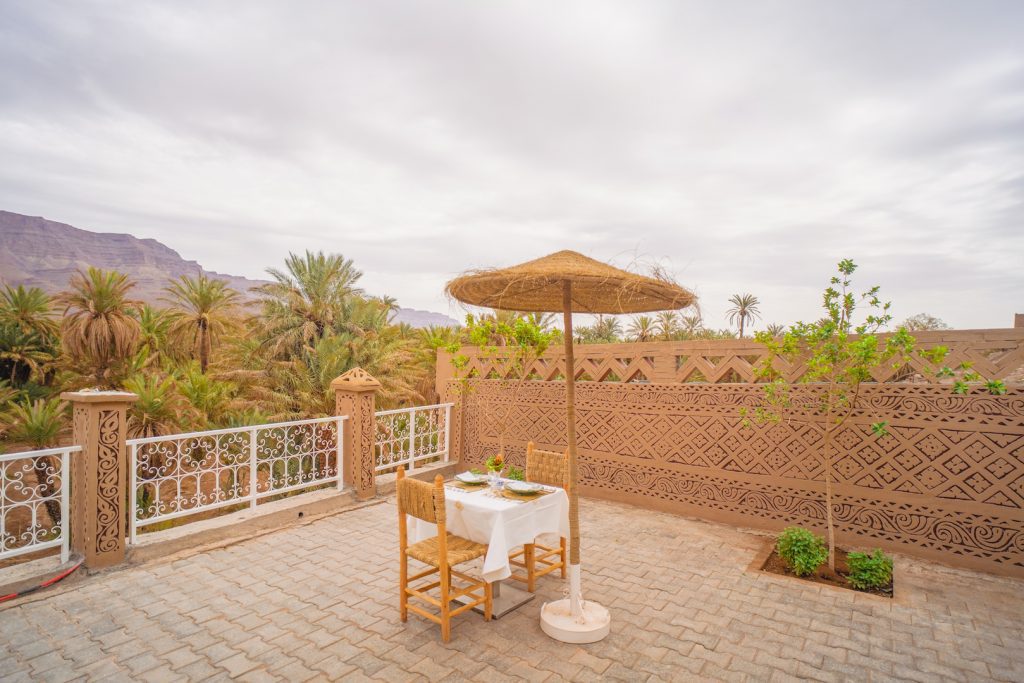 Accommodation at Kasbah Hnini and Dar Hnini is offered as part of our private tours of Morocco.
© Sun Trails 2023. All rights reserved. No part of this article may be reproduced, distributed, or transmitted in any form, including photocopying, recording, or other electronic or mechanical methods, without the prior written permission of the publisher.