La Mamounia revamped itself during the pandemic.
Staying true to its origins: the epitome of luxury in Marrakech.
Never resting on its laurels and making good use of the forced shutdown during the pandemic, La Mamounia revamped itself in 2022. The French restaurant has been replaced by an Asian. The Italian restaurant boasts a new chef: Jean Georges. The newly opened oeneotheque offers private wine tastings with the dishes of your choice, just for you and your group. You can watch your favourite movies in a state of the art cinema hall, for all those rainy days, which are but a few in Marrakech. Other changes are more subtle and you'd need to spend a night or two to appreciate the nuances…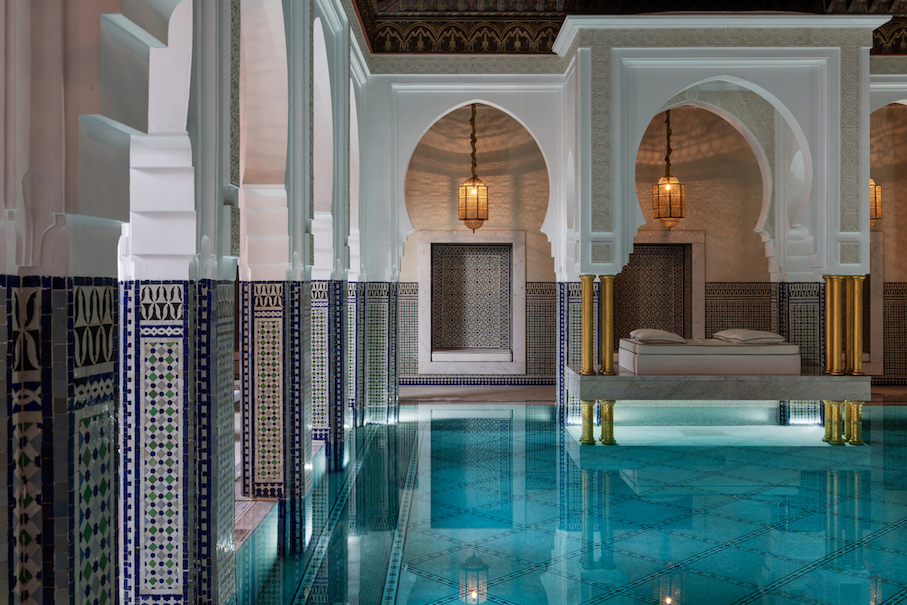 What makes La Mamounia unique
As long terms residents of Marrakech, it is somewhat of a civic duty to put things right when it comes to La Mamounia- more than a palace, a monument of the Red City. After all, when you disburse north of 700 USD for an entry level double room, you should know what you get for your buck. Those that claim that Four Seasons, Oberoi, Mandarin Oriental or Fairmont are the competition, are missing the point. The Fairmont, for all its luxury, is not part of Marrakech history and will not be in 100 years from now. La Mamounia is and has always been unique, since opening in 1922. 
Why ? Well, let's not blob you with how the staff will bend to any whim or caprice or having one of the best spas in the world ( at that price tag, it's only fair play). La Mamounia is unique simply due to its history and character. It never had a budget per se and never had to fit in no expansion strategy. It went its own way. After all, it had once acquired the insides of a Orient Express wagon just to decorate one of its suites. In 2009, a grand renovation took place, supposedly because it was beginning to look out of touch. Not everyone thought so. An auction where columns, bathtubs, paintings and carpets from the palace were sold, raked in 4 million USD. La Mamounia had it clear from the beginning that it will be a place where elites would stay. Part oasis, part palace, it grew organically over time, just like the city itself, decades before tourism even became an 'industry'. Back in the 1930's this was the only place where elites of the day could gather and socialize, as someone put it, 'between Cairo and Timbouktou'. And that's the spirit it still retains to this day.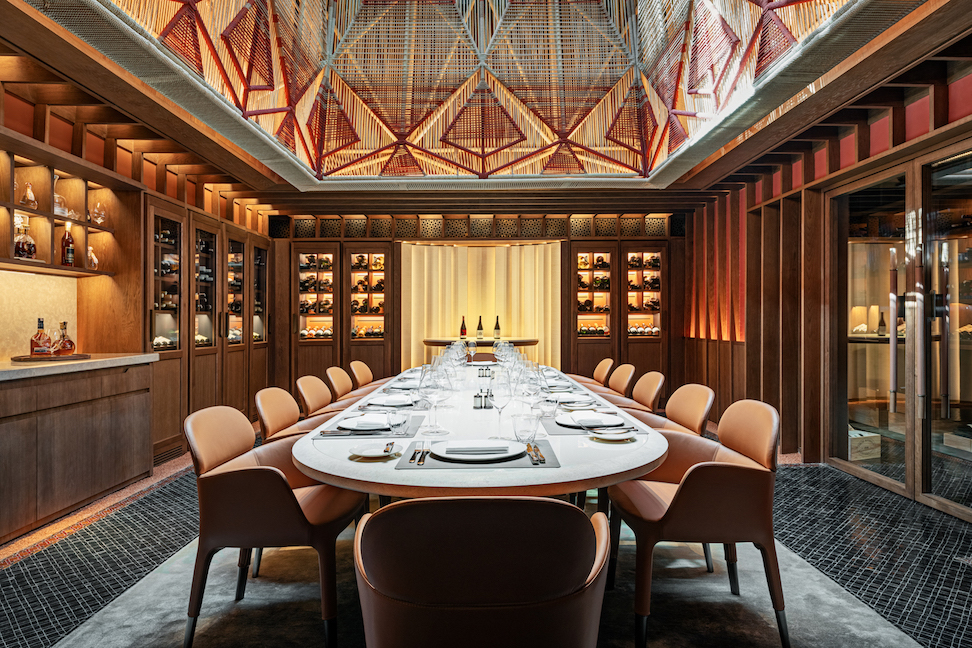 And sitting here in the lounge of La Mamounia, over a coffee one sultry morning in May 2023, I attest to that. La Mamounia is a monument of Marrakech. A monument to style. To elegance. Also, to a certain bygone era. We still speak wistfully of the time when men put on their tuxedos and where the ladies covered with in exquisite jewellery, wore long evening dresses. Staring at the painted wood ceiling of the hall ( how does one even piece that together ?…) and then lowering my gaze wherever I look, one is faced with the same qualms when visiting, perhaps, the Alhambra: how many generations of craftsmanship does it take to create something so intricate, so tasteful, so accomplished ? A mere visit is a privilege. An immersion in a culture and sophistication at its most refined.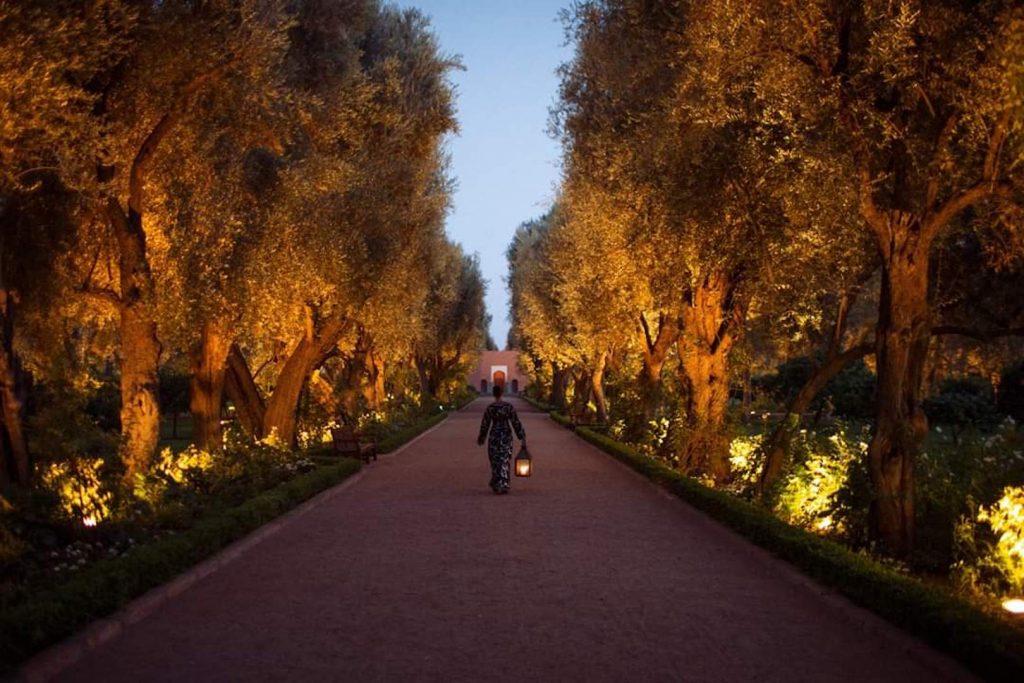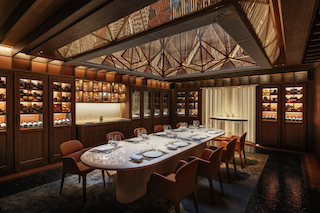 A bit of history: La Mamounia has had such an adventurous existence, since its inception in 1925, that it's a wonder no book has been written about it ( yet ). Did you know that in the 1920's and 1930's wealthy Europeans used to camp here for months, bringing along their own furniture ? If you read any of the novels where exotic foreigners travel to Morocco in the fist half of the 20th century, two locations come up mostly: the city of Tangier and La Mamounia hotel in Marrakech. 
"During the season, the Mamounia is just a little harder to get into than heaven," says a character in Paul Bowles' novel Let It Come Down, reflecting the 1930's. 
That was before Winston Churchill discovered it and made it his favourite retreat, away from the busy world of politics, indulging in something as soothing as painting, from the balconies of the hotel, facing the snowy High Atlas peaks. And, the following decades brought the The Rolling Stones, Jean Paul Gaulthier, Nelson Mandela, Tom Cruise, Elton John and the Reagans, together with all the stars that come for the Film Festival of Marrakech. 
La Mamounia has therefore always been an embodiment of authentic Moroccan hospitality, the preferred sanctuary for global celebrities, and an iconic symbol of Marrakech's rich heritage.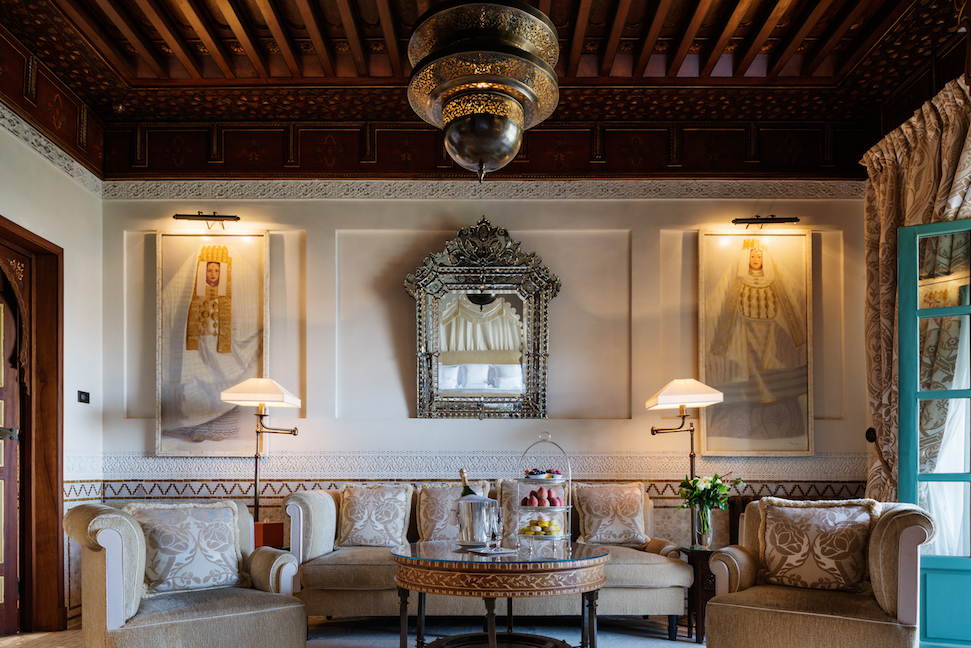 How to book a stay at La Mamounia.
Whether you are on a Morocco honeymoon, want to pamper yourselves or traveling with children, we can arrange the accommodation that suits you best. With 200 rooms and suites, not all rooms are created equal. With more than a decade of the on- the- ground experience, our team can get you the best accommodation, there where the insider knowledge makes a difference. So whether you are back from an intense desert tour around Morocco and/ or just looking for somewhere palatial and romantic to pamper yourself and shed off the sand of the Sahara, this is the place. If you have 7 days in Morocco or thereabouts, make sure to spend at least a couple here.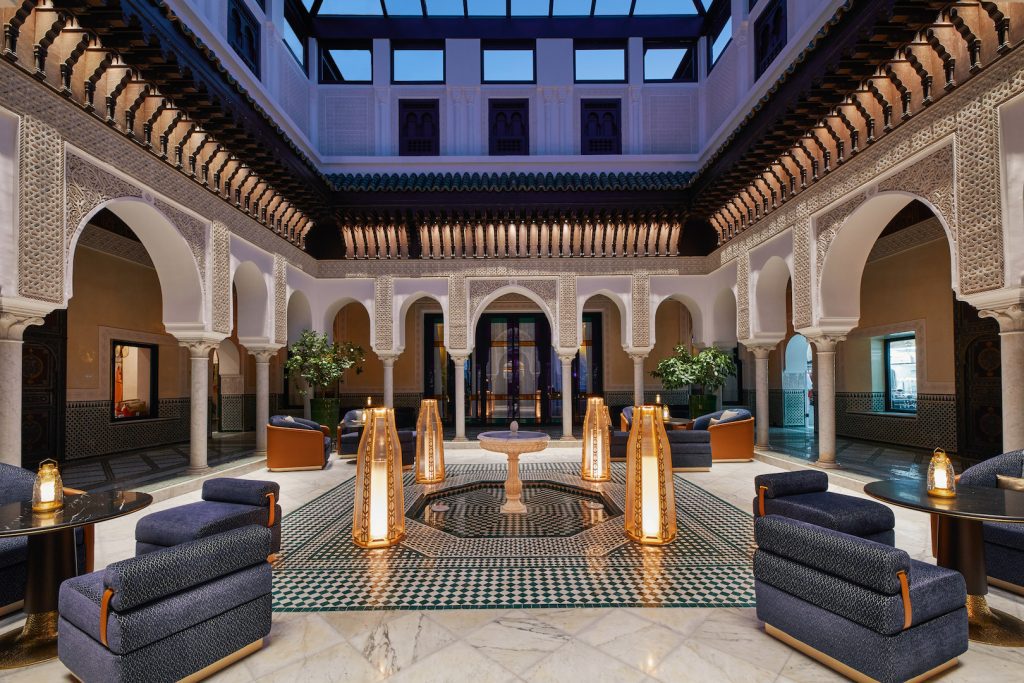 [ Read: Private Tours of Morocco to include a stay at La Mamounia ]
You are staying in a palace, not a hotel. A stone's throw away from Jemaa El Fna and Koutoubia.
Nestled in a verdant 17-acre park and only a stone's throw away from the bustling Jemaa El Fna square, this is more than a hotel. Immersing yourself in the serene grandeur of La Mamounia, you'll quickly realize that it's a world that appeals not just to the eyes, but to all senses. Stepping inside you wouldn't believe that you are 10 minutes walk from the madness of the souks, where as one friend put it the best way to acclimatise is to 'embrace the anarchy'. The architectural finesse whispers tales of a regal past while the intricate designs of its fine materials exude understated elegance. The hushed rustle of leaves in tranquil gardens, the enchanting murmur of new sounds, and the irresistible aromas wafting from the kitchens all work in harmony, composing a symphony of sensory delights.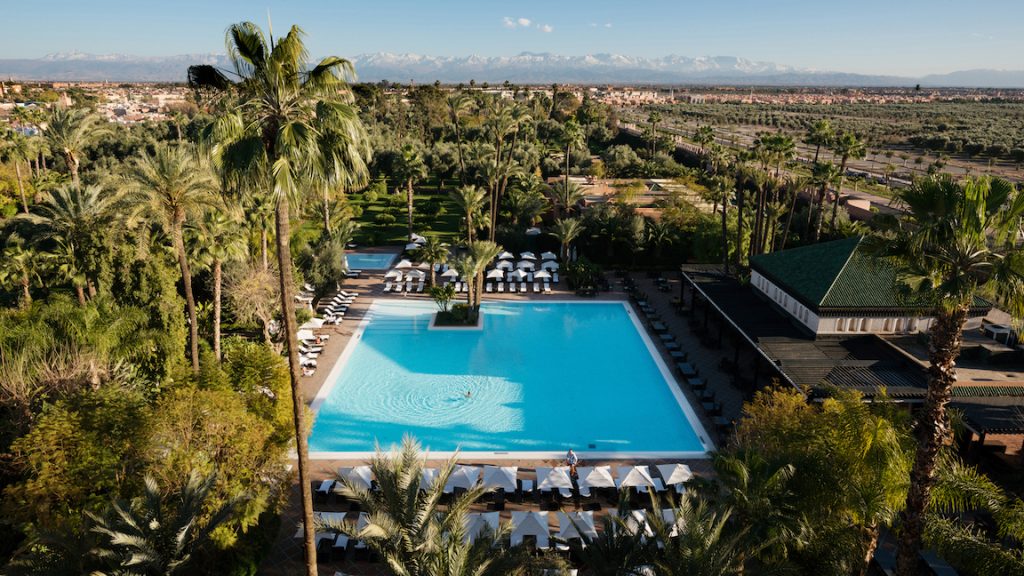 Luxurious Accommodation Designed for Royalty
 A mere stroll away from the famed Jemaa el-Fnaa Square, La Mamounia redefines luxury and comfort, mirroring the sophistication of a palace hotel. Each of the 135 rooms, 71 suites (including 6 signature suites), and 3 Riads are thoughtfully designed to provide breathtaking views of the lush gardens, the commanding Atlas Mountains, and the historic Koutoubia Mosque. The accommodations at La Mamounia are not just about comfort; they are an interpretation of the Moroccan art of living. Each space, ranging from 30 to a palatial 700 square meters, is a testament to Moroccan elegance, from the sumptuous décor to the luxurious amenities.
Whether you choose a room, a suite, or a Riad with its private swimming pool and terraces, you'll be stepping into an ambiance that gracefully blends tradition and modernity, providing an unparalleled Moroccan experience.
A tip: since Majorelle Gardens are now asking you to book your visit on the internet, why not have a coffee on the terrace at La Mamounia and then wander around their expansive gardens instead of bustling shoulders with dozens of other tourists ? Why should you visit gardens when in Marrakech ? Gardens and water, the earthly idea of paradise in Islam, are part of a tradition century- long going back all the way to Baghdad, Samarkand or Isphahan which then expanded westwards and gave us the Alcazars of Cordoba and Seville in Moorish Spain.
Go before sunset. You won't regret it.
A Culinary Voyage: some of the best restaurants in Morocco.
At La Mamounia, gastronomic pleasure is an integral part of the experience. The hotel's culinary offerings are a homage to flavours from near and far, promising to satiate every food connoisseur's palate.
L'Asiatique par Jean-Georges welcomes you on an enchanting culinary journey to South-East Asia. Under the expert guidance of Chef Jean-Georges, the restaurant serves a symphony of Asian flavors with an elegant finesse. Whether you dine indoors or on the terrace, the captivating ambiance enhances the culinary experience.
L'Italien par Jean-Georges reflects the spirit of a luxury trattoria, complete with natural light and a lively atmosphere. Here, cuisine meets guests in an interactive space, the heart of the restaurant, adding a unique charm to your dining experience.
Le Marocain stands as a testament to Moroccan culinary heritage. It's not just about the authentic, high-quality traditional cuisine; the ambiance, steeped in Arab-Andalusian decoration, adds to the allure. The historical charm of the restaurant, coupled with its delectable fare, promises a dining experience you won't forget.
Finally, the day at La Mamounia begins and evolves beautifully with Le Pavillon de la Piscine. From a breakfast buffet to a musical Sunday brunch, the restaurant offers a variety of dishes, inspired by global and local cuisines, in its opulent setting. It's a place where every meal is a celebration of flavours and a feast for the senses.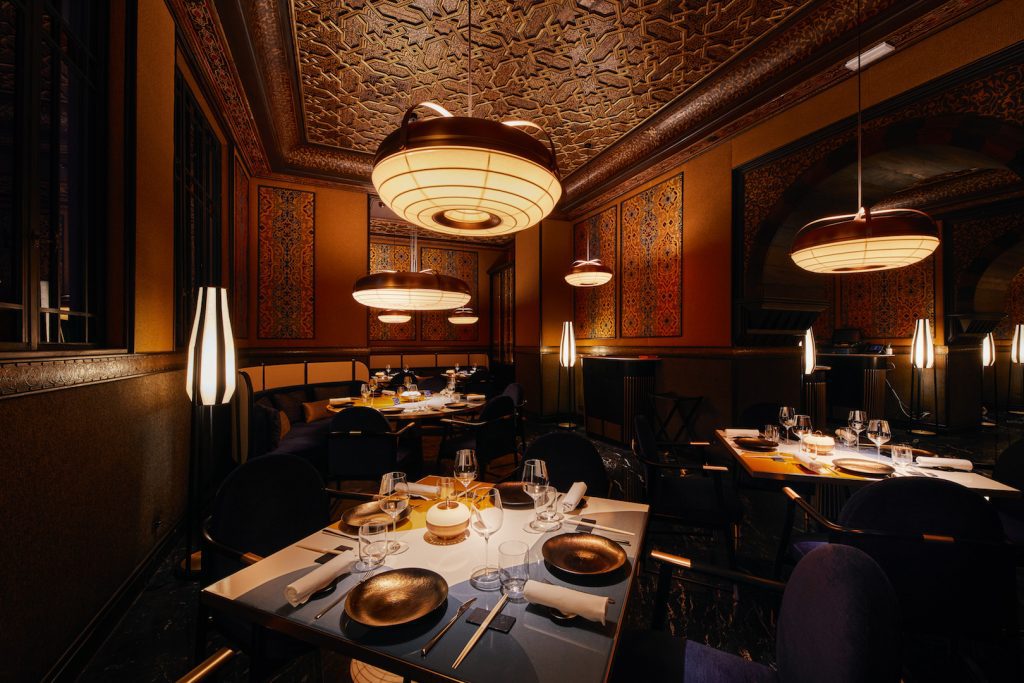 Sip and Savor: The Bars of La Mamounia
At La Mamounia, each bar is an experience unto itself, offering distinct ambiances and unique drinks that cater to a range of tastes.
Le Club, located on the second floor of the Moroccan restaurant, provides an intimate space, perfect for enjoying late-night beverages. Le Bar Majorelle, situated in the Majorelle Gallery, offers a larger capacity with an option to relax in its vibrant indoor setting or the tranquil terrace.
In contrast, the intimate Le Churchill, located in the Mamounia Gallery, is a cozy retreat for small gatherings. For those seeking sun-soaked relaxation, Le Bar de la Piscine by the pool provides a refreshing respite during the day.
Lastly, Le Menzeh, ensconced within the sprawling gardens, serves as a day-long sanctuary amidst nature, offering a serene spot to enjoy the daylight hours. Each bar at La Mamounia promises a distinct experience, catering to every mood and preference.
Did you know that the famous Grammy winning jazz pianist Randy Weston, that played with Dizzie Gillespie among others, recorded Marrakech in the Cool of the Evening album in the ballroom of La Mamounia in 1994 ?
L'Œnotheque: A Gastronomic Voyage
L'Œnotheque, an extraordinary venue, stands as a testament to La Mamounia's celebration of hedonistic pleasures and the finer things in life. This exclusive 'table d'hôtes' invites its guests on a sensory adventure, pairing delectable cuisine with the finest wines from their expansive cellar. An intimate experience, the L'Œnotheque can host up to 12 guests, and it's recommended to book your experience 24 hours in advance.
Salon de Thé par Pierre Hermé: A Sweet Interlude
Discover the majestic Salon de Thé par Pierre Hermé, nestled in the grandeur of La Mamounia Gallery under a resplendent crystal chandelier. Helmed by renowned Chef Pierre Hermé, the salon extends its hospitality from breakfast to afternoon tea. Indulge in an array of meticulously crafted pastries, travel cakes, and minute delicacies, along with inventive choice dishes. A delight to the senses, the Salon de Thé maintains its charm all day, so make sure to visit.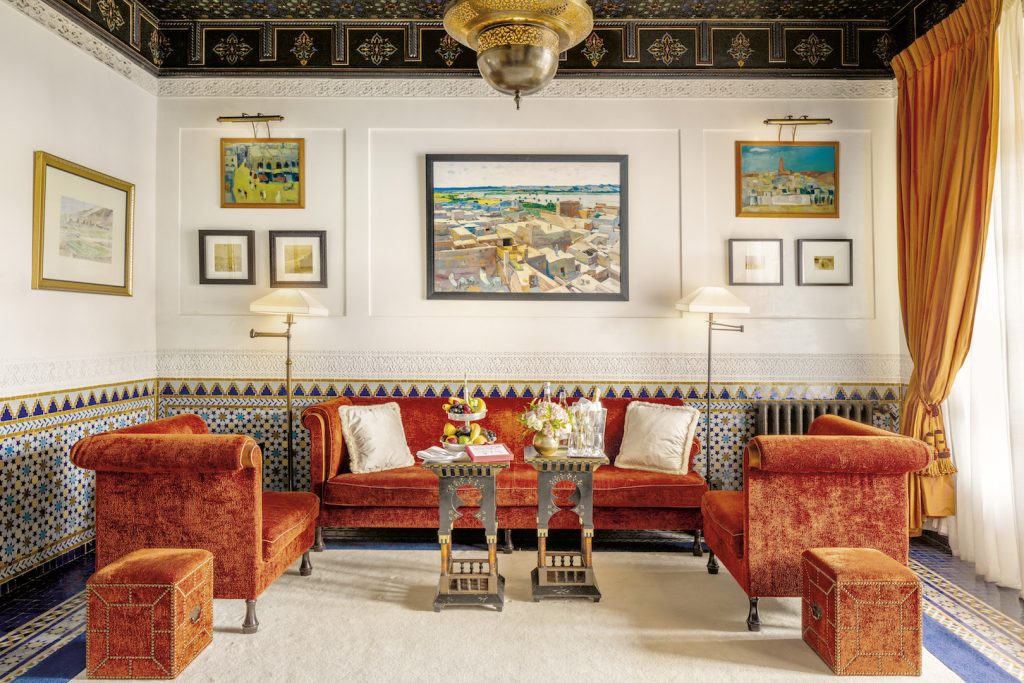 Boutiques: A Symphony of Style and Flavor
At La Mamounia Boutique, each item is a story in itself. From elegant lifestyle products to chic clothing and tasteful decor, the boutique curates a symphony of style that mirrors the hotel's charm. This is not just shopping, it's an experience, a chance to bring home the refined elegance of La Mamounia.
Dive into the world of sweet indulgence at the Pierre Hermé Paris boutique. Just like a jeweller crafts a gem, Pierre Hermé creates pastries that are emblematic, vibrant, and simply irresistible. It's a paradise for those with a sweet tooth and an appreciation for culinary artistry.
The bloom of beauty awaits you at Le Kiosque à Fleurs. Located at the hotel's entrance, this enchanting flower workshop offers bohemian, romantic, or natural floral arrangements, each designed to refine and accentuate your exceptional moments at La Mamounia.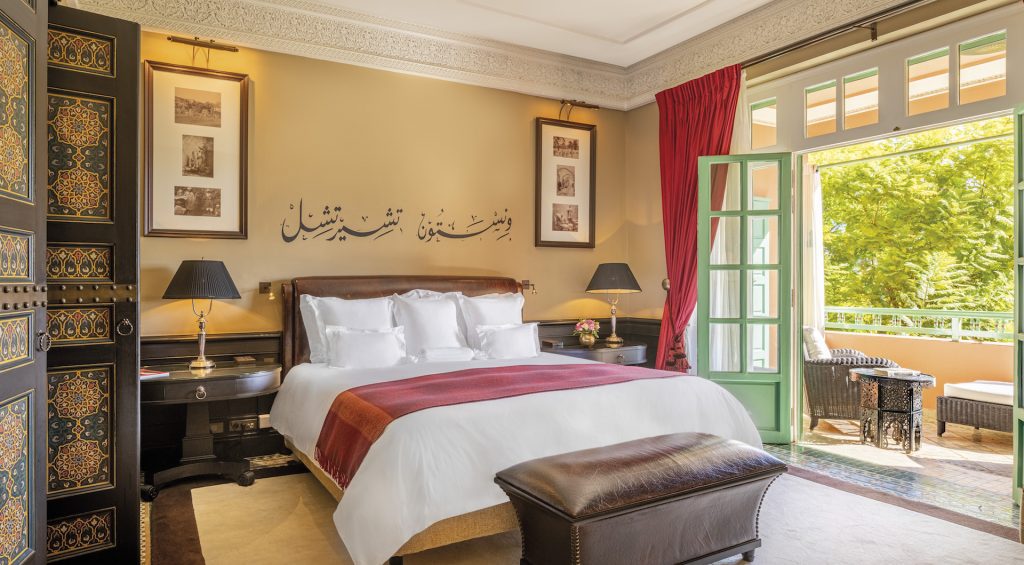 Other Amenities: A World within a World
La Mamounia is a world that extends beyond the ordinary, offering a myriad of leisure opportunities that enrich your stay, making it a truly unforgettable experience.
La Salle de Cinema
In a tribute to La Mamounia's special relationship with cinema, the exclusive screening room, La Salle de Cinema, is a haven of elegance. Weekly screenings are held here, complemented by a meticulously curated snack menu from the masterful Pierre Hermé, promising an unforgettable cinematic journey.
La Salle de Jeux
In the heart of the gardens lies a playful arena, La Salle de Jeux. With a pool table, table football, pinball, and a cozy lounge serving a selection of drinks, it's a haven for fun, a space that truly encapsulates the spirit of playfulness and joy. If you travel to Morocco with children or teenagers, this will be their home away from home.
Library
As with any proper library, this is a quiet sanctuary, home to a rich collection of books that tell tales of Morocco and Marrakech's cultural heritage, lifestyle, and well-being. It's a space that invites introspection and discovery, allowing you to connect with the essence of this vibrant land.
Vegetable Garden
Visit the expansive Vegetable Garden, flanked by ancient olive trees, a treasure trove of natural beauty. Spread across 1500 sq.m, this verdant oasis is a riot of shapes, colors, and flavors, an enchanting spectacle that truly encapsulates the soul of La Mamounia.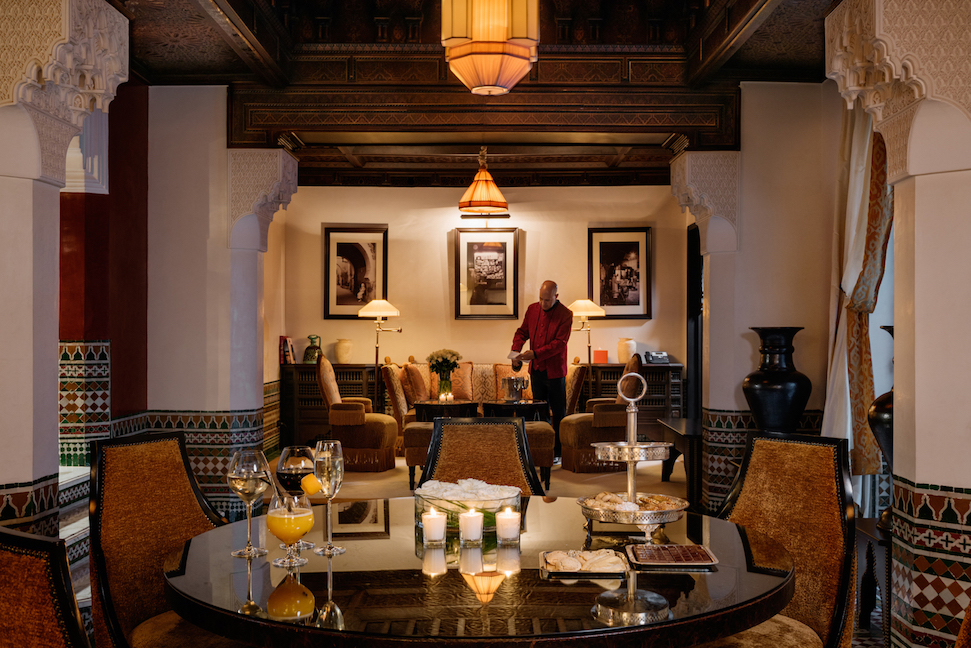 Serene Spa & Leisure Facilities
Immerse yourself in the tranquil serenity of La Mamounia's expansive 2,500 sq.m spa. Here, luxurious brands like Valmont, MarocMaroc, and Augustinus Bader merge with La Mamounia's signature range, inspired by Moroccan ancestral traditions, to create an exquisite wellness experience. The Spa has won quite a few awards and accolades throughout the years, including the Best Spa in the World by Conde Nast Traveller. 
Relax in the traditional hammams, indulge in customized treatments in the multifunctional rooms, or retreat to the privacy of the exclusive spa Suite. The hairdressing salon and manicure rooms offer top-notch grooming services, while the fitness studio, equipped with state-of-the-art Life Fitness equipment, caters to your fitness needs.
Take a refreshing dip in the indoor pool, treated with ozone for pure, clean water, or unwind in the comforting warmth of the Jacuzzi. Complete the experience with a visit to the spa shop, where you can take home the essence of La Mamounia's wellness philosophy. The relaxation room provides the perfect spot to breathe and reflect, letting the spa's peaceful energy wash over you.
Dynamic Fitness & Recreation
Feel the burn in the fitness room, equipped with cutting-edge Life Fitness and Technogym equipment. Benefit from personalized sessions in the coaching room or enjoy a rejuvenating sauna session. Outdoor amenities include two clay tennis courts, a ping pong table, and a boulodrome for a lively game of petanque.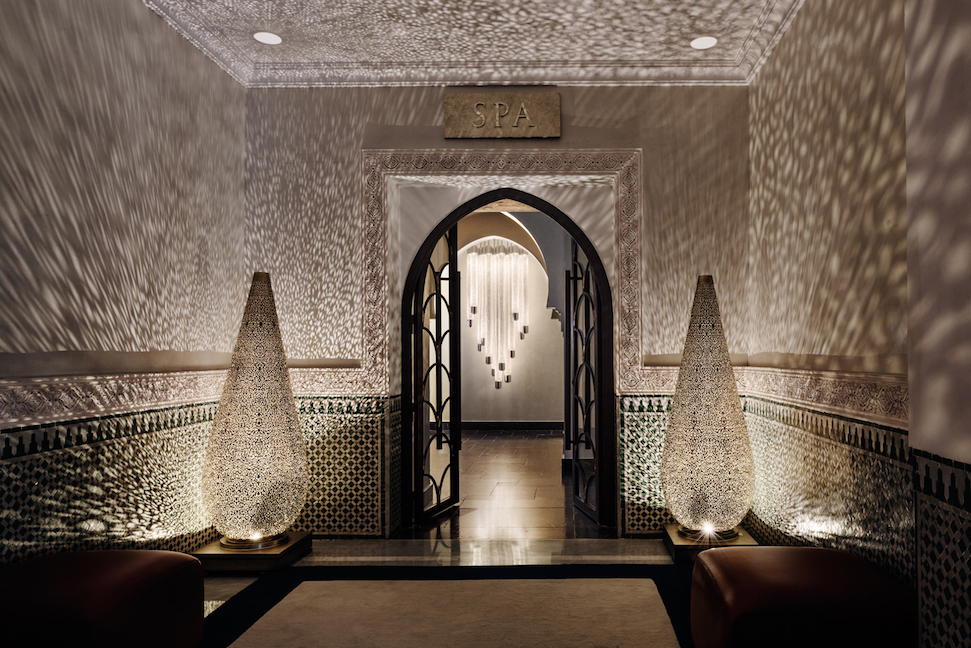 To sum it all up: if you are looking for best value for money in luxury accommodation in Mararkech, you can find better. If you wish to stay somewhere truly unique, a destination within a destination, look no further. 
© Sun Trails 2023. All rights reserved. No part of this article may be reproduced, distributed, or transmitted in any form, including photocopying, recording, or other electronic or mechanical methods, without the prior written permission of the publisher.