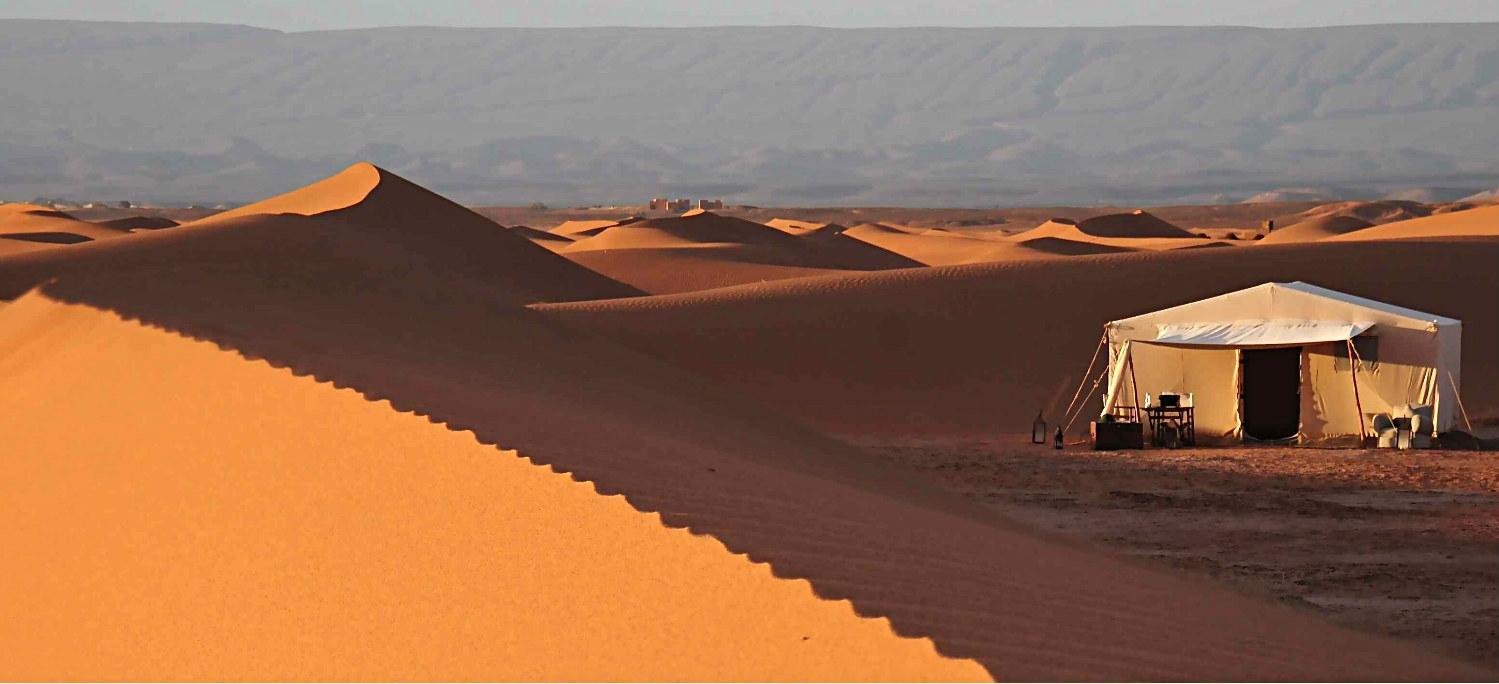 A desert luxury camp experience in the Moroccan Sahara.
You want to spend a night in the desert but don't want to loose on the comfort ? Or perhaps you are considering renting a car and drive there yourself, but are afraid of getting lost, coping with the traffic of Africa or missing out on things to do/ see on the way ? Then this Morocco luxury desert camp experience is just what you need ! Our English fluent driver- guide and comfortable air- conditioned 4×4 will take you from Marrakech to the luxury desert camp in Erg Chigaga and bring you back to Marrakech over 3 nights and 4 days.
We will book the luxury accommodation, the meals, camel rides and local guides. We will even take care of all entrance fees and stock your 4×4 with refreshing drinks so that all you have to focus on is laying back and enjoying the breath- taking landscapes. On this private tour you will have the 4×4 all for yourselves and your private driver will often stop for you to visit a local attraction, take a stunning photo or simply stretch your legs. This Morocco private tour is available any day of the year.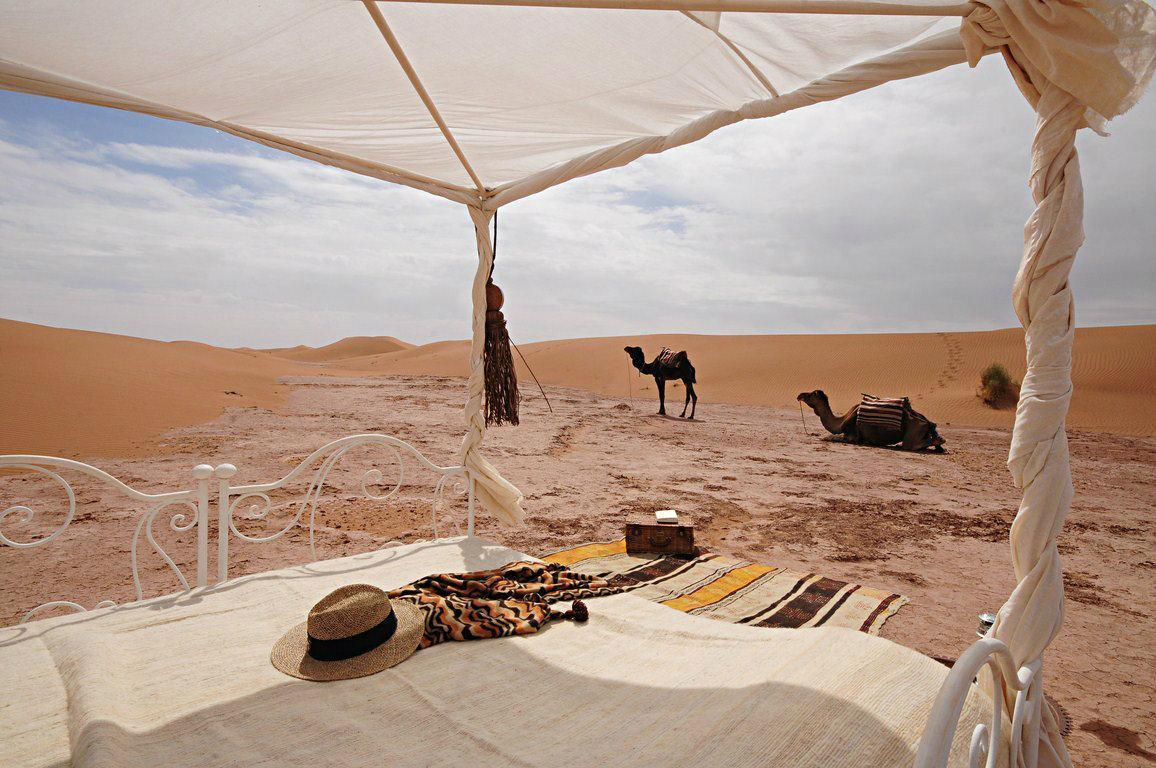 This 4 day private tour leaves Marrakech over the Atlas Mountains and reaches Erg Chigaga's dunes by the second evening. The first and third nights are spent in a suite at the very elegant Azalai Desert Lodge set in the palm grove of Zagora ( it can also be arranged to describe a loop and return to Marrakech via a different route, maintaining the same duration). The second night is spent inside a 20 square meter ( 215 square feet) luxury desert tent with en-suite toilet and shower in the most remote dunes of Moroccan Sahara.
On the way to the Sahara, you will cross the High Atlas at 2300 meters ( 7500 feet) high, visit UNESCO world site Ait Benhaddou, the Kasbahs of the south, Biblical adobe villages, wind along mythical Draa Valley, stop by the oasis, walk through the palm groves, watch emerald- colored pottery being baked at Tamegroute, visit the Jewish ksour in Amezrou, uncover honey- combed ksours, ride a camel into the Sahara, sleep in the desert under the starriest sky, awe at the ruined Pasha's pasha's palace.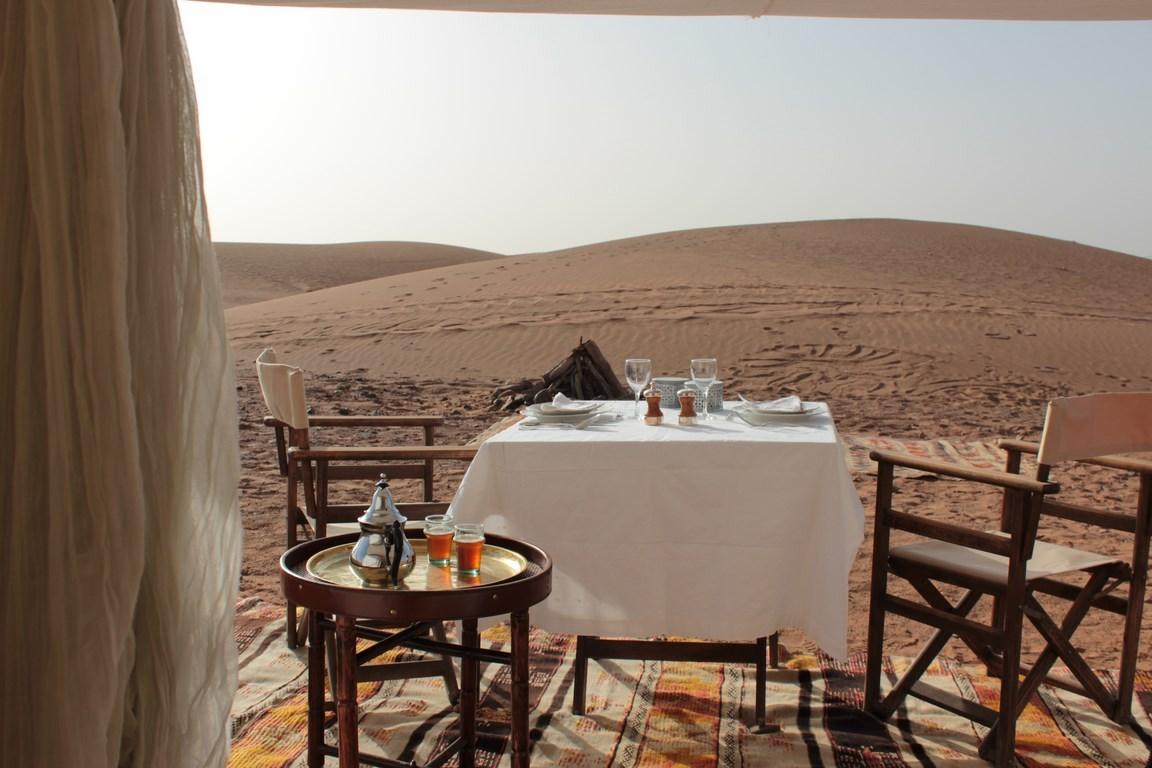 Best time to visit Morocco for a Sahara overnight ? 
February to April, if you can make it. Temperatures are cooler at night and very pleasant day- time. So is October to mid December, but photography- wise there is dust in the air. Mid December to February can be cold at night ( close to 0 Celsius, athough you will be quite warm cuddled up under the duvets), but so rewarding for those that wish to avoid the crowds ( outside of winter holidays).
Is Sahara one of the best places to visit in Morocco ?
You bet. I've stayed in a desert camp a dozen times since I've settled in Morocco back in 2006 and it never gets old. Sahara still stirs up my most intense emotions, sitting there on the top of the dunes, engrossed in the immensity of sand. If anything, it is even more compelling now, after the year we all had in 2020. It is possibly the most befitting location to forget all about virtual museum visits, mask wearing and social distancing. 
Should we include this on our honeymoon ?
Oh yes. If you can, try and spend two nights in a row. The particular dunes of Erg Chigaga offer a complete immersion into the desert setting, unlike the dunes of Erg Chebbi. Visit a nomad school, have tea with a nomad family, look for water wells, pluck out fossils, meander aimlessly around the dunes or try and hike the tallest one, you won't feel time passing you by. To not mention the Mily Way night…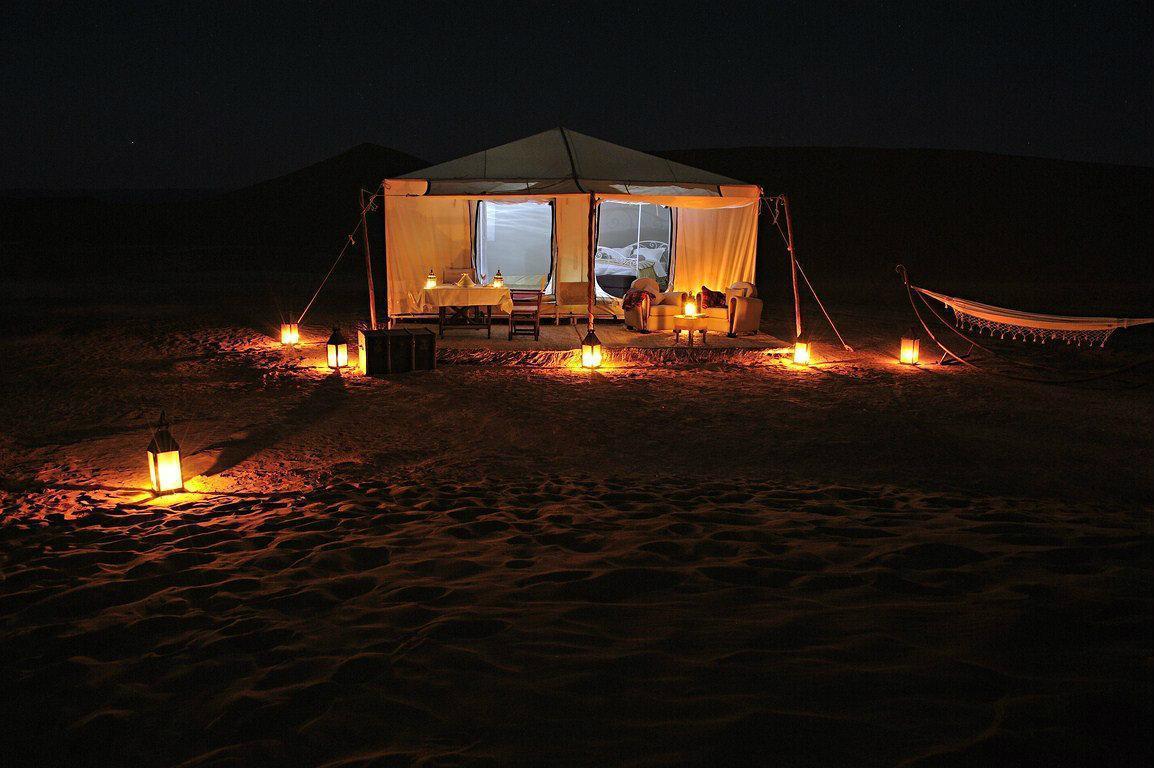 The rates for a 4 day private tour from Marrakech to the luxury desert camp start at 975 €/ 1160 US $/ 835 £ per person ( junior suite & luxury tent with en suite shower and toilet);
Ready to create your unique Morocco tour? Get in touch here with our on- the- ground team in Morocco.