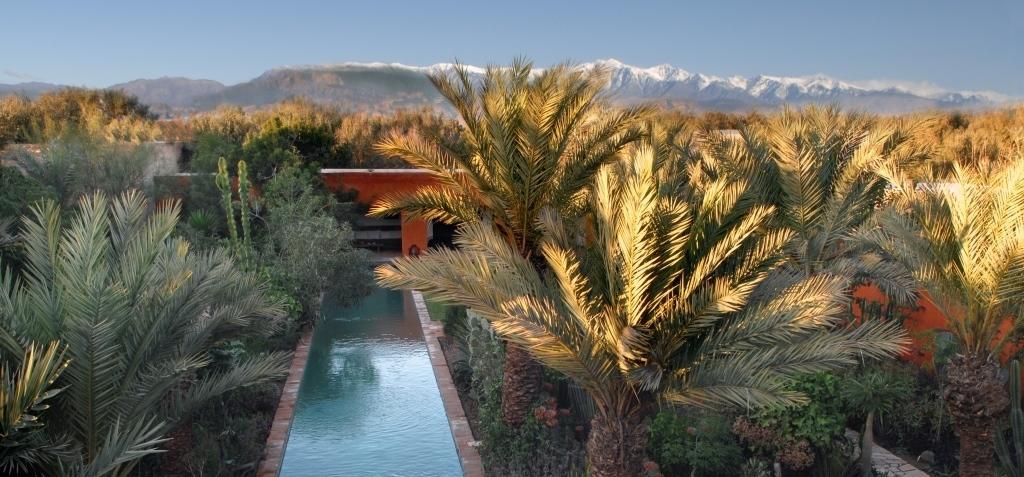 Chic Lodge on the outskirts of Taroudant with prize- winning gardens.

Update 2023: Ollivier Verra passed away last year. His partner Xavier has successfully taken the reins of DAH since then and we are glad to say that there are now new additions: a la carte restaurant open to non residents, new suites and more. In the 9 years since this interview was taken, many of our guests have enjoyed the uniqueness of Dar Al Hossoun and continue to do so.

Beyond the snow covered peaks of the Atlas Mountains, between Marrakech and the Sahara lies a quiet town – older, yet less famous than Marrakech. And that is how its residents like it. Away from the glam, flamboyance and millions of tourists of the red city, Taroudant is a quiet provincial town. Although quite a popular stop for those on a private tour across Morocco, it is a little far to reach on just a day trip from Marrakech. After a caleche ride around its 6 miles, 16 century ramparts and a visit to the silver jewelry souk, you haven't got much else to do. Or have you ? The surroundings are spectacular: the Altantic coast just 1 hour away, the Atlas Mountains nearby, a heaven for trekking, Sous Massa national park is a bird watcher's paradise. Fancy cooking bread with the locals or picking the olives in September ? All is within close distance. To not mention the all- year round amazing climate. It is perhaps what has seduced Ollivier Verra to settle here and create his dream of a guest house where his love for exotic plants and organic local architecture have given birth to Dar Al Hossoun, the luxury eco- lodge to stay at, this side of Marrakech. He was kind enough to share with us the drive behind this untypical yet most accommodating guest house.

Sun Trails: How did you get the idea of creating Dar Al Hossoun ?

Olivier Verra: I guess by chance … After 20 years of work in commerce and international relations, I felt I needed a change of pace, environment and career… Before I decided on something , I wanted to fulfill a dream : having one foot in Morocco, not going back to being a tourist traveling across Morocco as I had been for the ten years before. I was looking for a small house for mostly to

entertain and host friends and family … I discovered Dar Al Hossoun and I literally fell in love !
Obviously, the property was much larger than what I needed for my private use and I soon realized that a place like this takes work, staff and had to be shared with people that were moved by those same things that moved me.
I had acquired a taste for hospitality and human relations and so I thought "why not a

guest house ? ". There were only 6 or 7 of them in Taroudant when I took on the project.

ST: . Tell us a little bit about your previous experience. Have you ever had a guesthouse before or worked or in the field ?

OV: I was both totally alien to the world of plants/ gardens and the hospitality and catering… I applied basic management practices and organization, I implemented what I loved about all the different places throughout my travels, I researched what

was available elsewhere and I obviously sought advice with hotel and restaurant managers and experienced travelers.

ST:Where did you travel in the world and what was the destination that has moved you the most ?

OV:My pre-guesthouse owner 'career' gave me the opportunity to travel quite extensively.
Many destinations have touched me in my travels : India, China, Australia, United States… Each time, I had the pleasure of the exchange with the local people, the discovery of local traditions and gastronomy. Luxury, for me, was authenticity, calm and being original … And that is what we have tried to recreate with Dar Al

Hossoun.

ST: Why Taroudant ( and not another city) ?

OV: I must confess that Taroudant was not our first choice … I first tried to set up in Meknes , another city that I love … Perhaps because it is a city that has been forgotten for a long time. But, certainly, also because the area is very beautiful. It reminded me of my original Provence ( region in France) .
The climate is the same in Meknes as it is in Provence in fact … Very nice winter days , the

sun … But only 15 or 16 degrees in winter ! That wasn't good enough for me as I wanted good temperatures all year round. That is why I decided to go 'further south' and found the sleeping beauty which is Taroudant, whom I had discovered 3 or 4 years before while on a trip with my good friend Antoine Bourseiller , a theatre director. We were then looking for a place to create a festival of theatre and other performing arts !

ST: What makes Dar Al Hossoun different of other guest houses in Morocco in your opinion ?

OV: Well, most of all its ambiance. The comfort is there, but not in excess or unnecessarily so, the authenticity of the building ( traditional adobe structure ) , the exceptional gardens who have been since classified among the 20 most beautiful contemporary gardens of Mediterranean… You feel at home very quickly … Or staying at a friends place, but certainly not "at the hotel." We wanted above all to avoid that and I think we have managed pretty well.

ST: Tell us a little about your botanical garden. Was it easy to plant and grow these species ? Did you have any plant of your own or some plants had to be transported from other countries?

OV: Our beautiful gardens host more than 900 varieties of plants from arid deserts and five continents ! Most plants have grown from seeds collected and brought to Morocco by Eric Ossart and Arnaud Maurières, the garden architects who created these gardens.

The gardens can be interpreted in a few different ways: you can see them as 'mere ornamental gardens' or as experimental gardens since we introduced many species unique in the world or at least in Africa. They can also be seen as preservation gardens since we preserve some endangered species or a few already extinct in the wilderness.
It is a huge responsibility and a permanent training, maintenance and support job, but it is a source of inspiration and pleasure if one is passionate about it.

ST: Do you use in your kitchen products from your own terroir ? Give us some examples. Is the cuisine strictly Moroccan or do you sometimes mix different countries? What is your favorite dish at Dar Al Hossoun ?

OV: This is true … and let me start with the products of our gardens : cactus, cactus fruit or plants unknown in this part of the world ( Casimiroa from Mexico , dragon fruit ,papaya,etc. ). I am constantly searching for new recipes and I enjoy tasting whatever we prepare fresh. Obviously, some of the vegetables come from our own organic garden and the rest from small local producers.
Our kitchen is naturally Moroccan adapted to Western tastes (less sugar, less fat), but we do not impose couscous or tagine at every meal. We also have fun 'twisting' classical dishes from French or Mediterranean cuisine and adapt them with ingredients grown locally.
For example, we make homemade ravioli with beet leaves or minestrone with Taliouine saffron, camel stew… Lebanese, Greek or Egyptian menu are also regulars !

The dishes are sometimes inspired by friends or guests visiting and some have proven quite successful. The turkey fillet with apricot and orange sauce tagine is such an example.

ST: By its architecture and gardens Dar Al Hossoun is more than a guest house . You spoke of 'garden lodge' ? What does this mean for your guests ? What are the benefits of staying with you ?

OV: In fact, Dar al Hossoun is a REAL guest house … in the sense that it was originally a private house that was then open to hosting guests passing through or staying…it is not a "hotel disguised as a guest house."

The house was built gradually, linking together several pavilions with contemporary lines, but built in pise ( adobe ) and following traditional methods.
All rooms give onto the outside and the gardens therefore, architecture and vegetation are related . We live "inside-out" throughout the year and our guests sometimes can't tell whether it is a house in a garden or a garden in a house!
What people staying with us are saying they enjoy the most , beyond the food or

the beauty of the place is the atmosphere. "It feels like visiting friends , not a hotel " is what we hear most often .

ST: In the rooms / suites you are trying to maintain an 'organic' architecture / design while providing a level of comfort and high end finishes. How did you manage ?
OV: In fact , our goal was to provide everything that can be practical and can make a stay here more enjoyable… but more importantly, we wanted to avoid the superfluous load decor and avoid the glitz and bling bling. This is what gives the place its zen ambiance.

ST: The rumor is some of your neighbors in the small palm grove of Taroudant are celebrities: shahs, princes, etc. Is it true ?

OV: Yes, that's right… Some of them had their " Marrakech period " and got quickly exhausted: too many tourists, too much noise and pollution, too commercial, too " Paris ", too expensive… we heard all sorts !
Many of those who chose Morocco to spend all or part of the year because they like the "real" Morocco have opted for Taroudant area: the former Empress Farah of Iran is our neighbor and so are Belgian royalty and designers, collectors and art dealers or even TV personalities and politicians… The Chiracs also come on holidays regularly.

ST: What are the attractions of the city and surroundings of Taroudant in your opionion ? If a person visits Taroudant, what is a thing not to miss ?

OV: I'm known for saying that Taroudant is not a city to visit, but definitely a city to live. Even for a…few hours or days ! It's true, besides the 9 km adobe walls , there are no outstanding monuments or exceptional gardens… but the atmosphere of this small provincial town and souks is worth spending a few hours around it.

The real attraction in Taroudant is the surroundings: the countryside, the Anti-Atlas to the South, the High Atlas to the north. We organize day trips to discover the Berber mountain villages, lunches or dinners within exceptional natural sites. There is really plenty to do for several days… but our hosts sometimes have trouble leaving the house to see what goes on outside. And then, years after, they come back to … see everything else !

ST: Where do you see yourself in 5 years from now ?

OV: Probably still at Dar al Hossoun !
This is actually our workplace, but we are not fully aware of that: life is sweeter and the pace is slower here. The guests we receive are always friendly and make up for the otherwise busy social life we used to have back in Europe.

ST: What is your favorite place in Morocco (outside Dar Al Hossoun ) ?

OV: I have a real soft spot for places still ignored by mass tourism… natural sites as Tafraoute. This is another gem that can be discovered and explored on a day trip from Dar Al Hossoun. Then, I really like the mountains and the desert… in Morocco we have it all !

Dar Al Hossoun is currently offered on our 'Caravans Dust' tour and other tailor- made tours in the Privilege level option of accommodation.

© Sun Trails. All rights reserved. No part of this interview may be reproduced, distributed, or transmitted in any form, including photocopying, recording, or other electronic or mechanical methods, without the prior written permission of the publisher. Translated from French by C. Martinus.