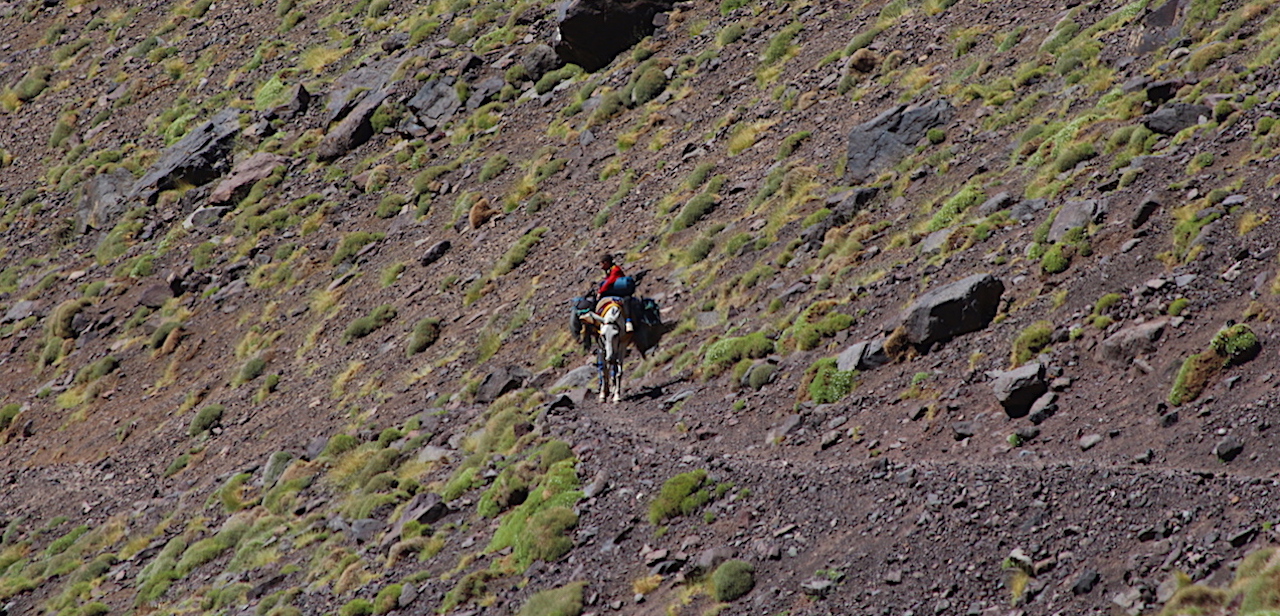 Covid restrictions and the trend to work from home, have but amplified a natural propensity to explore Morocco. After all, it's about trails. And sun.
Mount Toubkal, the highest summit in North Africa. Always the reference when it comes to hiking or trekking in Morocco. 60 km south of Marrakech, it's become a staple with tourists, a box to be ticked off along with the likes of 'Sahara desert camp' or a 'tour of the Jemaa El Fna Square'. 4160 meters high sounds an awful lot, but truth be told, if trekkers don't make it to the summit, it's rather more owing to the altitude sickness and occasional snow patches, than to a lack of stamina.
But is this really what it is about ? Numbers ? Ticking boxes ? As much as I relish mountains and wild nature, it's remoteness and solace that make it special, along with the vistas and a few gulps of spring water along the trail. And on top of that, beware ! It's not necessarily weekend trekkers and their reveling. Morocco or anywhere else, there's a new race of traveller, tormenting themselves and others, hanging on to their phone for dear life, insta-reeling their way up the slopes, influencing something. But, good news. Keep reading and hopefully, you'll tread where youtubers daren't.
In 16 years of living in Morocco I've done my share of hiking in the High Atlas mountains. Ironically, it is still to this day thought of a desert country – and yes, there is desert, but what defines Morocco both geographically and culturally is the mountain. Ourika Valley, High Atlas, Imlil, Ouirgane, Oukaimeden are all good spots for starters. But that many years is also more than enough time to figure out how to get 'off the beaten track'. And you know what ? It's easier than you might think. One of the issues with guided trekking in Morocco is that local guides, well – intended as they are, tend to stick to the area around their home village. But why not dare a little more ?
Let's take the High Atlas and Imlil as an example: Imlil is the most obvious place to start your hikes in the High Atlas and/ or to Mount Toubkal. Yet, why hike your way under the scorching sun reflecting off piles and heaps of gravel and stones and not walk in the shade of the nut trees, by the gurgling streams ? Why cross villages advertising free wifi and rooms for rent, when the best hikes lie just on the other side of the scarp, where shepherd dens and rock hamlets await you, where the nomads camp in the hot summer months ?
Mighty waterfalls sprinkle you at each wind gust. Lay down on the green moss , catch your breath and peek at the terraced wheat being ploughed or harvested, by hand. You'll hardly cross another soul and the majesty of the surrounding summits is only yours to behold. And later, arrive at the mountain hut, yes, that one, perched at 3000 meters high, just below the colossal plateau, where eternal snows lay dormant in its chinks.
On a clear afternoon like this one, the brow ahead appears of bronze, inexorably moulting layer upon layer of rust. If it were my first time here and I weren't aware there is a way up there, on top, through it, or rather on its side, by the waterfalls, a slit where you have to scrabble and clamber by and by ( don't look back !), I would resign myself to just spend the night here, at this spartan, sturdy mountain hut, one of the few good things the French (Alpine Club) left behind ( sic). It's not my first time here so yes, it's pretty special to me.
Most don't venture that high up: they stop by the waterfalls 500 meters lower – I don't blame them, the ascent is harsh and you need the night to make it back down. Shepherds are the masters of this hinterland, them and their droves of goats and sheep: you're certain to never be too far from one, at this altitude the only fodder to browse on, tufts of briars lining the streamlets and draws. The one that handed me a hot glass of mint tea by the waterfalls with an awkward glee seemed to wonder what could possibly exert someone to toil up the mountain hauling a back pack. Or did he ? He scooted shortly after, nonchalantly, club and bundle, careless in the world. Or rather, with other cares than us, the ones that assume their cares matter more.
Dusk falls cautiously as I cast about the inaccessible plateau. It's been 5 years since that fateful expedition and just the thought of clambering up that cranny all by myself, on the morrow, to toil up to 4000 meters high, runs my mouth dry.
What I'll reminisce most about the next day is the lashing, unavailing, menacing wind, its gusts slapping me, occasionally nudging me off my feet, face turned leeward so I can breathe. Up there, past the gush of the stream, at 3500 meters high, it's Mars. The trails end. Any trace of green has been blotted out. The only landmark, the pass ahead at 3900 meters, a lip to this immense stone funnel.
In the distance, the sheer colossus of stone, see- sawed up on the brow, baleful. Closer to me, a wall of slate, two natural cavities dug in, caved in, like two gigantic eye sockets. No shepherds here, who would take his herd over the pass with nothing to browse on, loping from boulder to boulder ? It isn't trekking anymore, it's an extreme sport that hasn't been named yet.
Gravel. Rock. Scree. Boulders. And repeat. Ankle deep in scree or windthrown backwards, reeling. Reaching the pass, I feel sapped. The views are to die for, but I can't linger on – the whips of wind lash out again, forcing me to retrieve my steps. A couple of hours later, I make it back to the hut, few falls along the way, thankfully just scratches.
The mule browsing outside on the hillock above the stream becomes the only instance of soothe and peace, among a nature that seems bent on evicting us, the moving, from its bosom. Hussein, the hut guard, had left earlier this morning with two trekkers, further away, above 4000 meters high. Later that afternoon, they return, exhausted yet gleeful. The memory of reaching the summit made it all worth it. We spend the afternoon playing cards. The wind subsides.
And Sunday, the next day, was not going to be a holiday. I sip my coffee, take one last look and bow at the summits and away I march. Soon, I am scurrying past the waterfalls and stop to fill up on spring water, there by the hamlets, where the runnels meet. I can hear Berber music off a radio somewhere and a couple of workers are busy piling rocks, patching a water course. From here, head north and it's a short way to Imlil, but I'd rather try something new today. So I head full east, breasting yet another scarp, once again trying to divine the trail.
Around lunch time I reach the pass at 3000. In the guise of lunch, I munch on some loaf of stale bread and scraps of hard cheese. Down in the valley, I can glimpse a populous village, 1200 meters below. It's going to be 2 hours of downward toil, treacherous, slippery gravel under the boots. Once down there, it's cars, people and the familiar trappings of civilization. A youngster takes pity on me and transports me to Imlil on the back of his motorbike. The village is alive with Moroccans on the Sunday afternoon outing and cases of local cherries are lining the alleys. Oh, espresso ! Oh, electrical plugs ! Oh, public transport !
Did I climb the highest in North Africa ? Not quite. Was it 3 days of great Morocco trekking and remote, untouched Berber country ? You, the reader, be the judge of that.
Although there are a few Atlas Mountains maps available, we strongly encourage you to book a local guide. TREKKING IN ALTITUDE IS NOT A GAME.
© Sun Trails 2022. All rights reserved. No part of this article may be reproduced, distributed, or transmitted in any form, including photocopying, recording, or other electronic or mechanical methods, without the prior written permission of the publisher.