The cosiest kasbah accommodation in Skoura's palmgrove ?
Most likely. In only few years, this guest house in the palm grove of Skoura, has become a reference. Recently, previous guests have booked two years in advance, booking the whole place for them and their group of friends. The recipe for this success ? Instead of one single ingredient, there are a few: a dedicated, English speaking- team, always discreet but always on hand. A passionate owner, Vanessa, for whom nothing is too much when it comes to making her guests happy. An architecture that strays away from the kasbah/ Berber/ pise/ wood beans architecture and favors modern and the profusion of light, above all.
A different Moroccan cuisine ( think chicken tagine with figues and almonds, goat cheese salads), using the local ingredients grown in the gardens. Very comfortable beds and bed linen, wall mounted radiators and wide windows inside. Vast gardens with private lounges for everyone, complemented by a heated pool, outside. And children are welcome – there's walks in the palm grove they can take with the resident horse and mule. We sat down with Vanessa one evening in June and talked about it.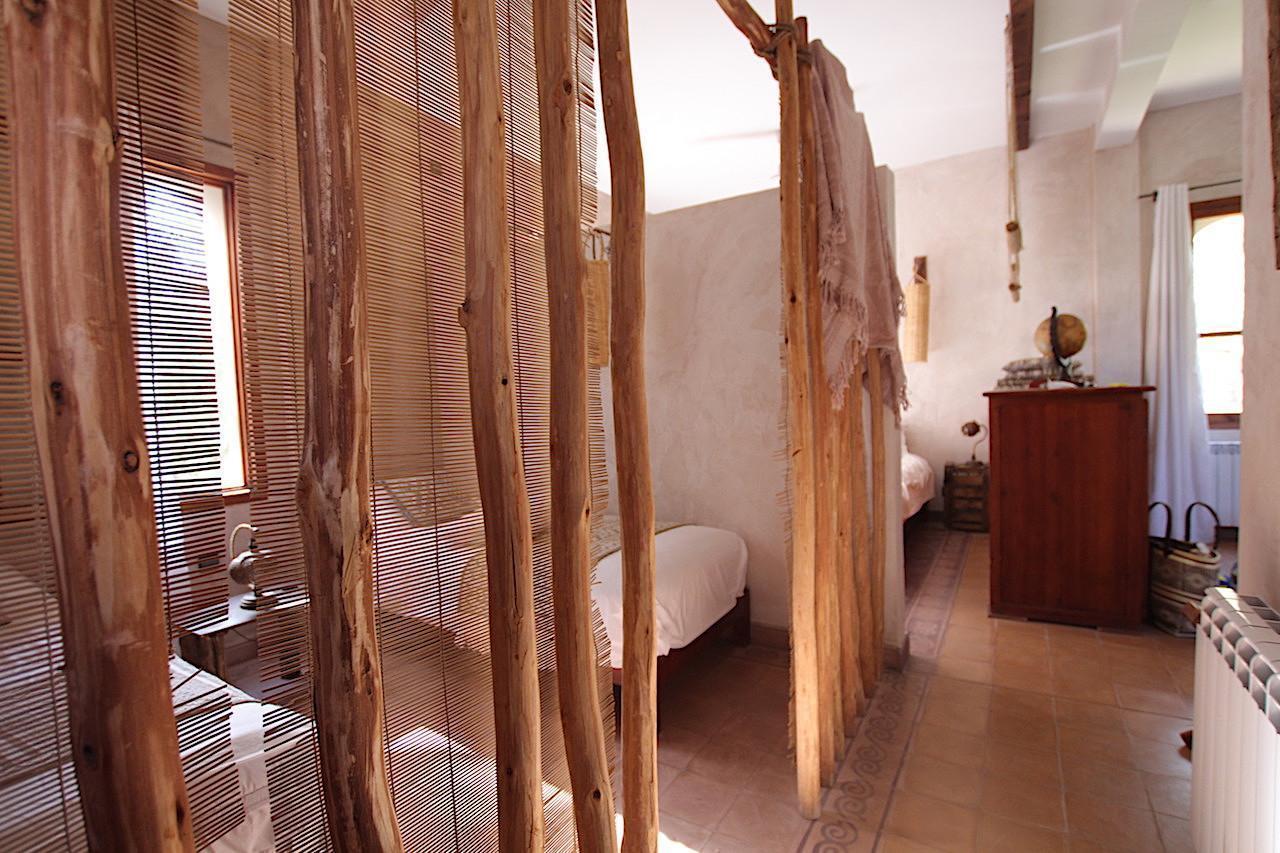 Sun Trails: Why Morocco?
Vanessa: At the time I was a guide for Club Med. I started working in Morocco in 1998 in Tangier. Then I got transferred to Ouarzazate in 1999, and after that to Marrakesh. But it was in Ouarzazate that I had the crush. It seemed like the ideal place to organize day trips around. In just one hour, one could be in the Atlas mountains or next to an oasis, or even in Dades Gorges. At first it wasn't easy, since I did not speak Arabic and I was a young non-Muslim woman. It was the kindness of the locals and the drivers that coached me, that allowed me to go beyond all that and trully integrate. I then went back to Martinique, then to Miami but I always dreamt of returning to Ouarzazate some day. One day, I met Xavier, that was to later become my husband, and I told him I'd like to go back to Morocco, but to Ouarzazate and nowhere else.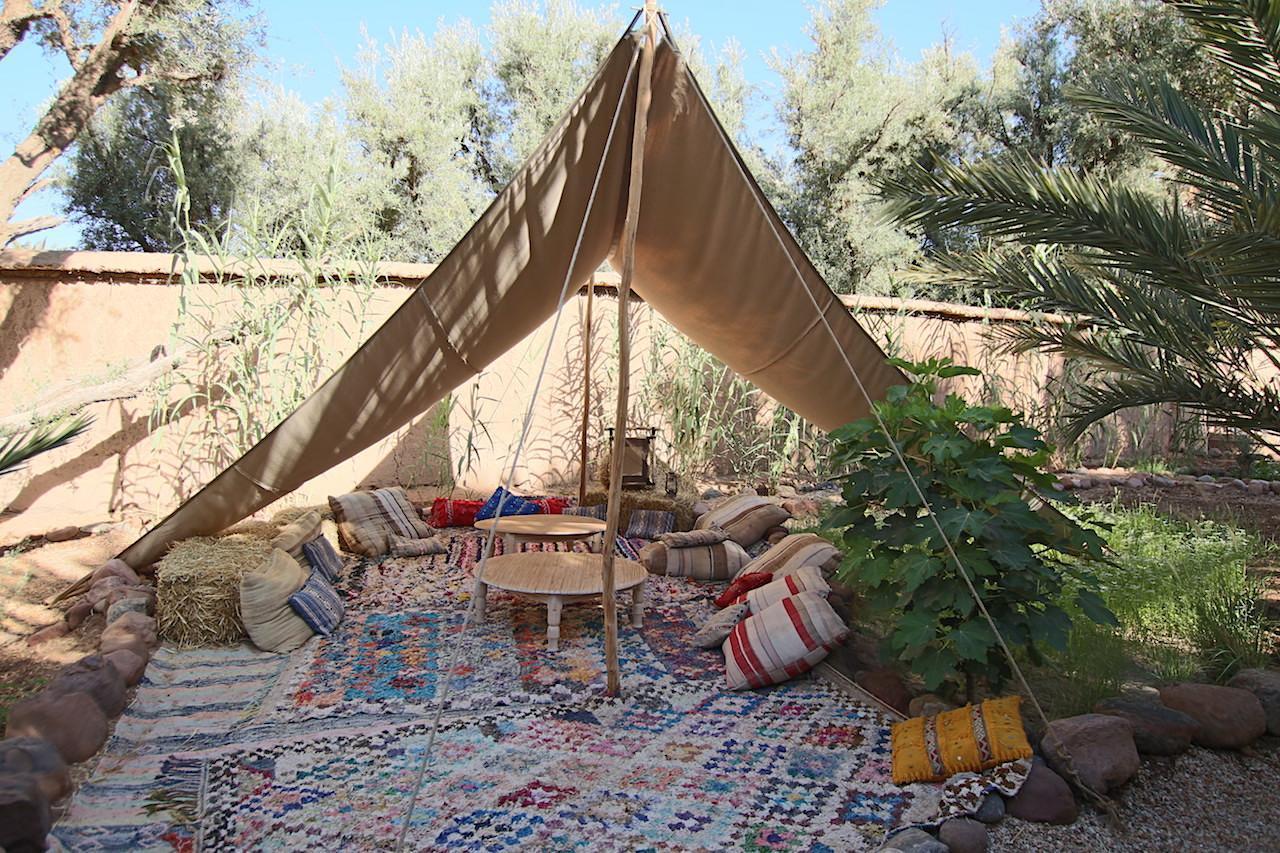 ST: At the time, what was the most popular day trip from Ouarzazate?
Vanessa: Hmm. It was the loop of Telouet and Ait Benhaddou, at that time still an off road track. You must have known it. During those years, big travel agencies lost several of their 4×4's on this track. The valley of Ounila remains incredible by its beauty even today, after all the progress. But at the time I used my spare time to trek around these lost off- the- beaten track regions, spend time with the locals. If you had two days to spear for a tour, the trip to be done was to the dunes of Erg Chigaga. My first memory of Ouarzazate after arriving late at night: I woke up and saw the morning mist rise on the Kasbah of Taourirt. It had such an impact on me.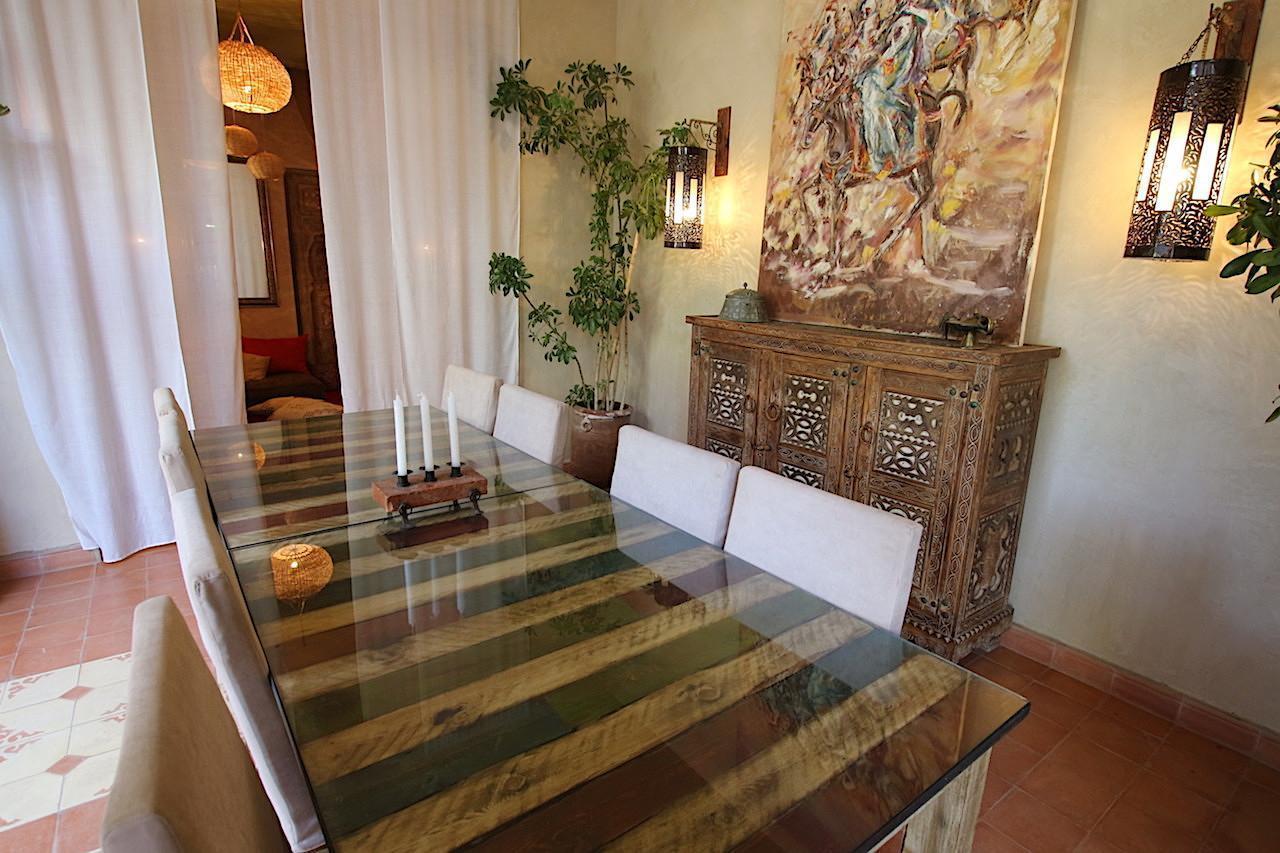 ST: So, Ouarzazate at all costs?
Vanessa: Yes. At first, for Xavier it was really a challenge. The climate here is very different from Toulouse in France. You know, Ouarzazate, there is nothing happening – it's a very quiet provincial town. But at the same time, it's a clean, secure, unpolluted city. Of course, if you're into exhibitions, theatre, cinema, that kind of social life, there is nothing, but me and my family, our priority is walking, cycling and hiking every day.
ST: How did you manage to become part of the community?
Vanessa: In the beginning, the locals feared that we were going to alter their lifestyle. The terrain here was a stopping place for caravans. Then it became the playground where the young people of the village came to play football, and climb in the trees. People in the village were scared at the thought that we might settle here and open a nightclub, there will be alcohol, loud music, etc.
The fact that we arrived with just enough to purchase the land and that the construction took 5 years (and we put our hands into it) allowed the community to understand that we really wanted to belong here. We hadn't planned in the beginning to have a 7 bedroom bed and breakfast. The project sort of grew up on its own. The one thing I had clear in my head: I wanted a place with a lot of light.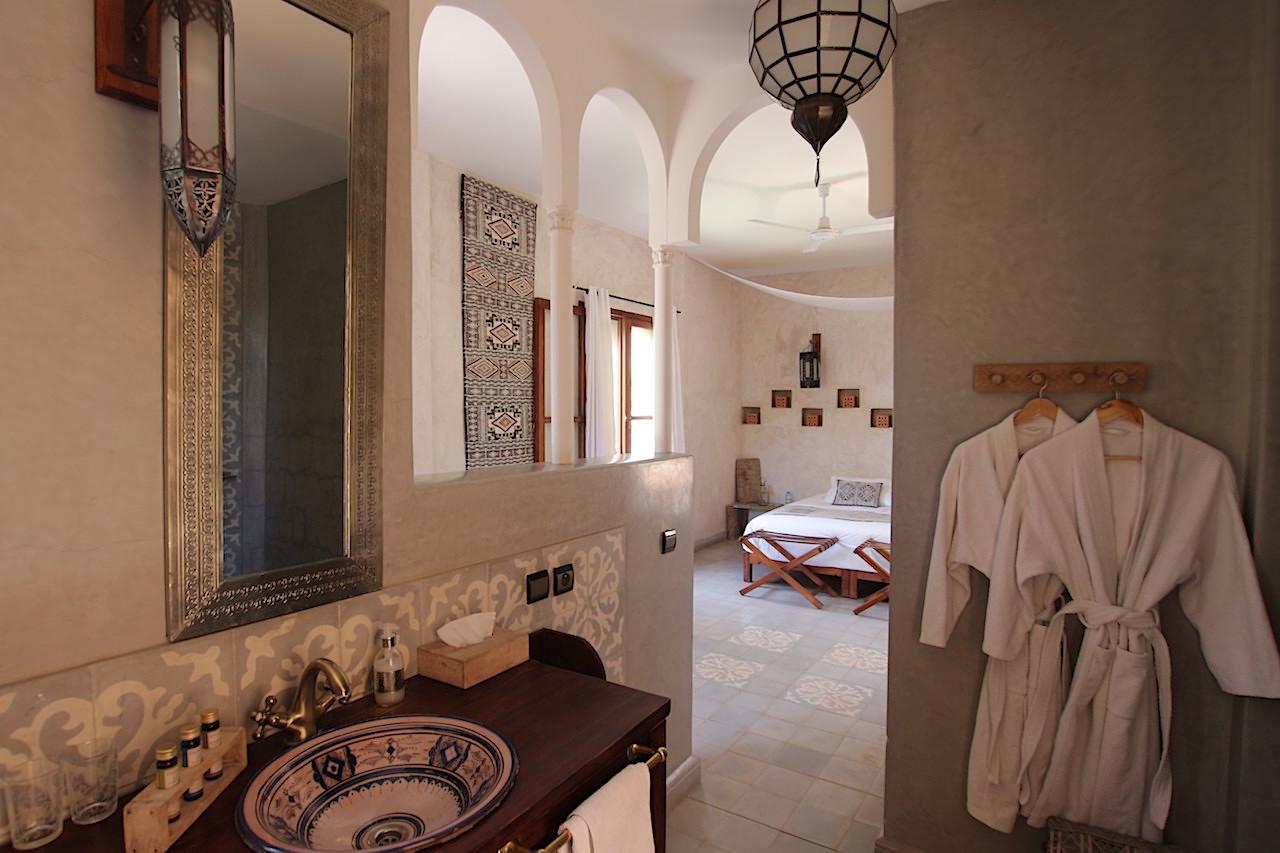 ST: Jardins de Skoura is a reference.
Vanessa: Indeed, and I think there isn't a more typical and comfortable guest house in the palm grove of Skoura. But we had in mind something different, something modern. We did not want to build another kasbah or Berber- influenced structure.
ST: LMa Lodge reminds me a bit of Azalai Lodge in Zagora.
Vanessa: Indeed, Bouchaib ( the owner of AL) has come several times to stay with us and we adore Azalai Lodge.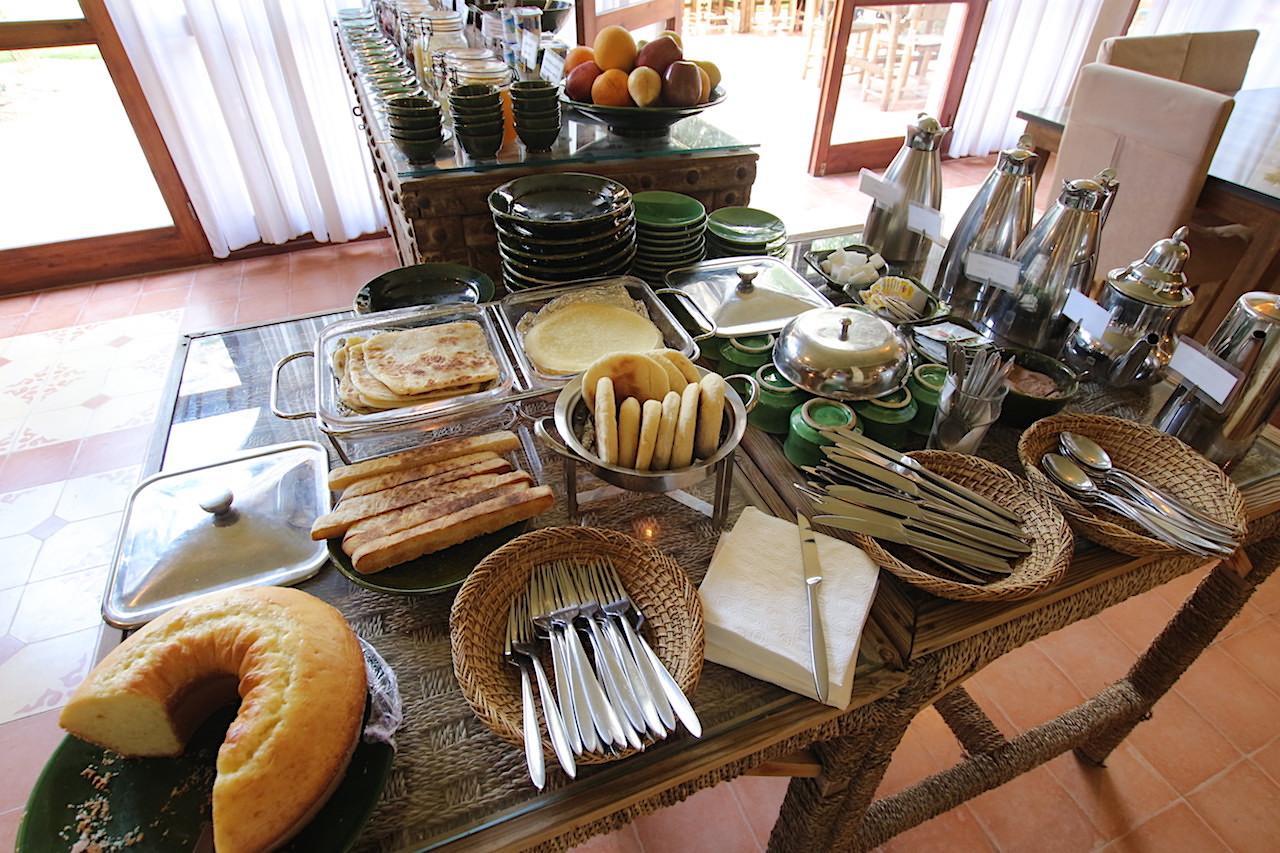 ST: How did you go about recruiting and training the staff here?
Vanessa: The construction of the house took 4 and a half years so we had the time to recruit well. For example, at the beginning I wanted to have a man responsible for the household and cleaning. Given the structure of the house, I deemed that the household is a difficult task and not suitable for a woman. So one of the workers came to see us and offered to take on this task. It was someone who cared for both his parents who were old so I knew he was going to be someone conscientious. Abdelrani, who provides customer service during the day, I knew him from Club Med in Ouarzazate.
Soufiane is really maktoub (destiny). All the way in the beginning, we hadn't anticipated the guest house would take off so fast. So, in no time, it had become my golden prison. One day I almost broke down, exhausted by the work that had taken up all my time and I could not see my children anymore. The same evening, Soufiane knocked on our gate and introduced himself and told me that he wanted to work for us. As he spoke very good English and had a very good experience, he fitted in right away. It allowed me to become a mother again and to have time for my family.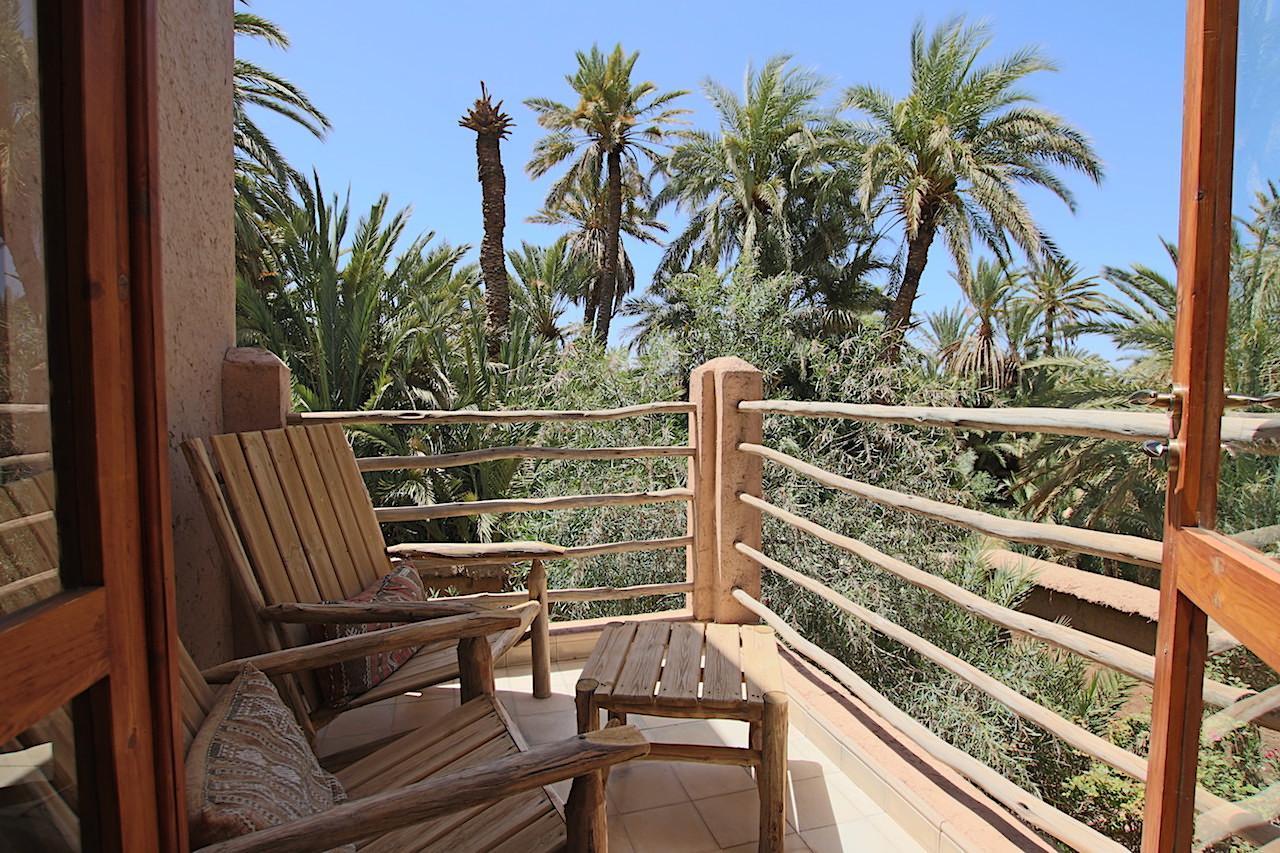 ST: There is a lot of talk today about sustainable tourism. Personally, I think Skoura is an example of how a region and its people can benefit from tourism, without losing its culture and identity. Do you agree with me that maybe due to tourism, people in the area do not need to migrate to the big cities to earn a living, which is sadly happening in other parts of Morocco?
Vanessa: Completely. At first, this was almost a ghost village. People have come back and they are now able to take care of their families while working in the area. They took up credits. Look how many new motorbikes you see riding around … Well, tourism is a big part of it. Besides, the negative aspects of tourism are not here. If you attend the souk ( market) of Skoura, you do not get harassed every 3 minutes , as you would in Marrakech. I would even say things are better than at the time when I first arrived in Ouarzazate, when tourists were followed on motorcycle by false guides.
ST: Milo and Charlie, your children, have spent their whole lives in Skoura. How do you find time for your children and also for LMa Lodge?
Vanessa: This is my challenge for the following year. To become a full-time mother again, to spend more time with them. Holding a guest house is an incredible job and I can't be more grateful: we meet people from all over the world. Every day is different and very rewarding. The downside is that we can not get off work.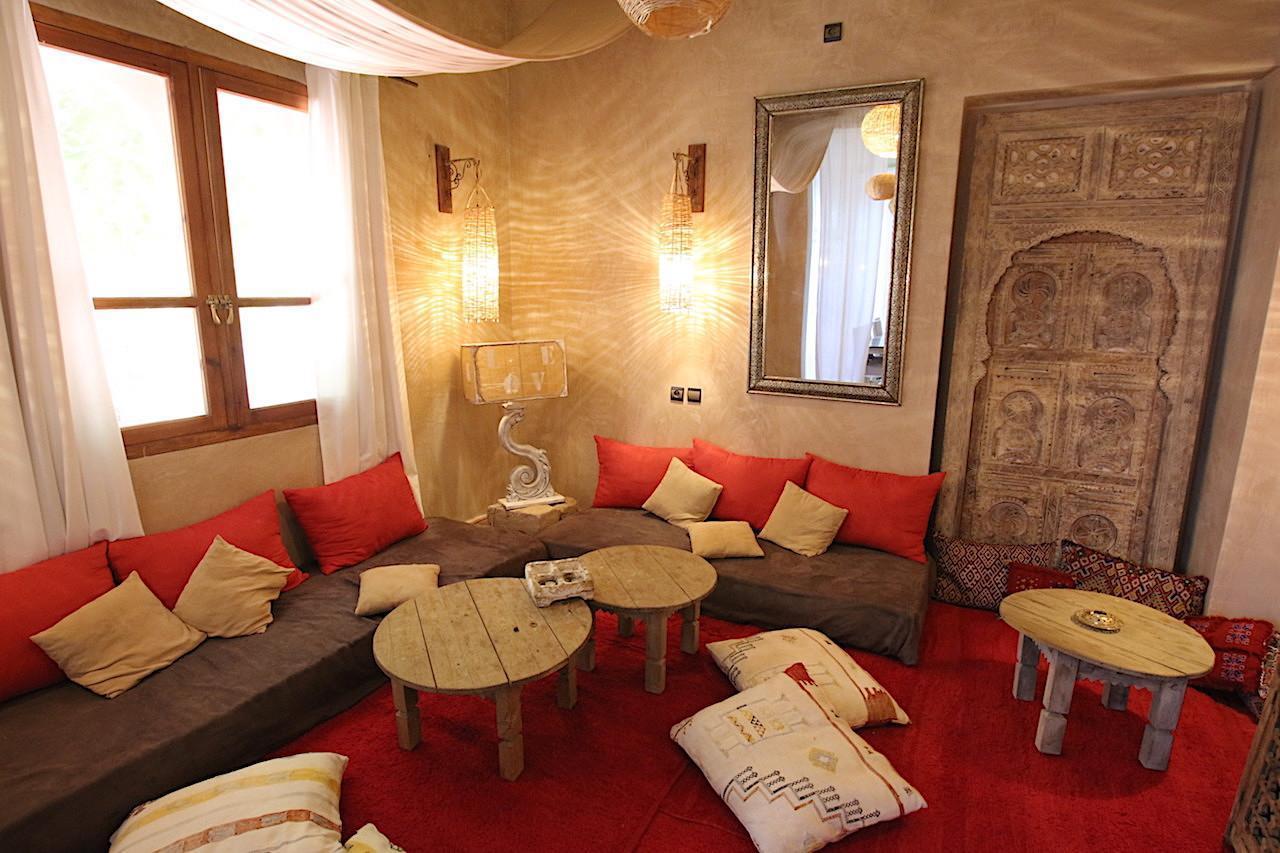 ST: You could always consider adding more rooms. There is room enough and you got plenty of demand…
Vanessa: Maybe. But what I want to privilege is space and intimacy. As it is, the garden accommodates so many small corners that even with full occupancy and families with children in all suites, everyone will find space to have their own private corner in the garden. Our success is also due to the garden and implicitly to the space that comes with it. We would rather add a hammam – we also have an excellent masseuse, so that people who come back can say: oh look, they added a few new things.
ST: By the way, I think a challenge would also be to find the time. Since the clientele is used here to be cocooned and looked after, to have you come and talk to them at breakfast or dinner, etc.
Vanessa: I agree.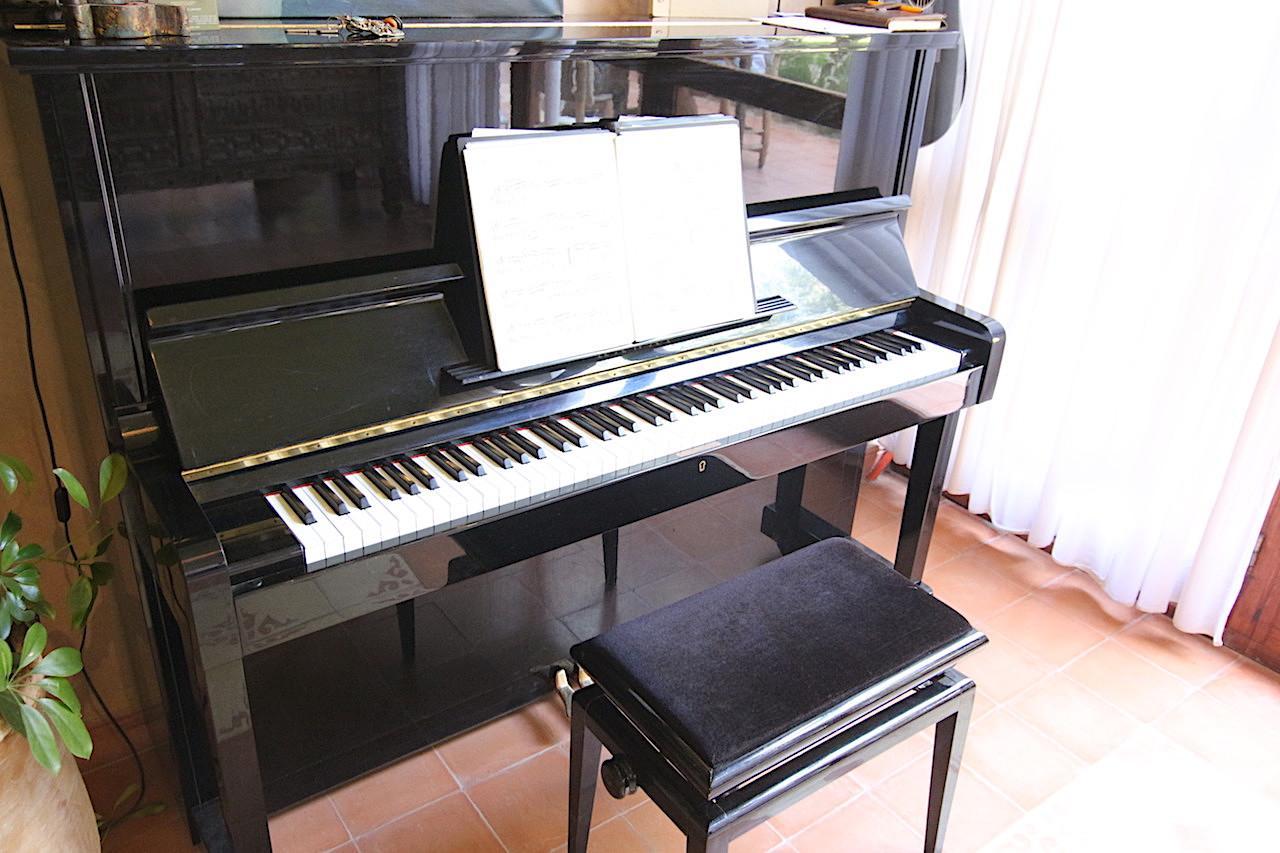 ST: What are some unique dishes that you offer in the kitchen?
Vanessa: First, the salads. 'LMa salad' with goat cheese that is sourced locally in the palm grove. Other salads include figs and pomegranates from our own garden – depending on the season. 'Carrot and chicken tagine in orange juice', 'Chicken tagine with almond and figs', Hamid's 'Kefta with rosemary'.
ST: That's a welcomed change, as visitors on a tour around Morocco often complain that they always eat the same tagines. It's a pitty knowing that Morocco boasts dozens and dozens of tagine recipes and carries one of the finest cuisines in the world.
Vanessa: Of course. Besides, if we have guests that stay 4-5 days, we will also offer them a couscous, which is one of the staples of Moroccan cuisine, you have no excuse visiting Morocco and not try it. Lait- citron for desert, also our ice creams are homemade. We have a whole bunch of homemade jams also at breakfast.
ST: What makes you stand out from other guest houses in Skoura?
Vanessa: Especially the brightness of the rooms and spaces. There are radiators in the rooms for the cold months. The gardens. The pool which is heated during the summer. Since we are at 1200 meters above sea level, it is necessary to heat it even in spring. The difference is also that we live on the spot too and we are always available. Our animals (horse, mule, goats) and gardens. Guests are invited to work the land or pick olives or dates with us and the team, when the season is right.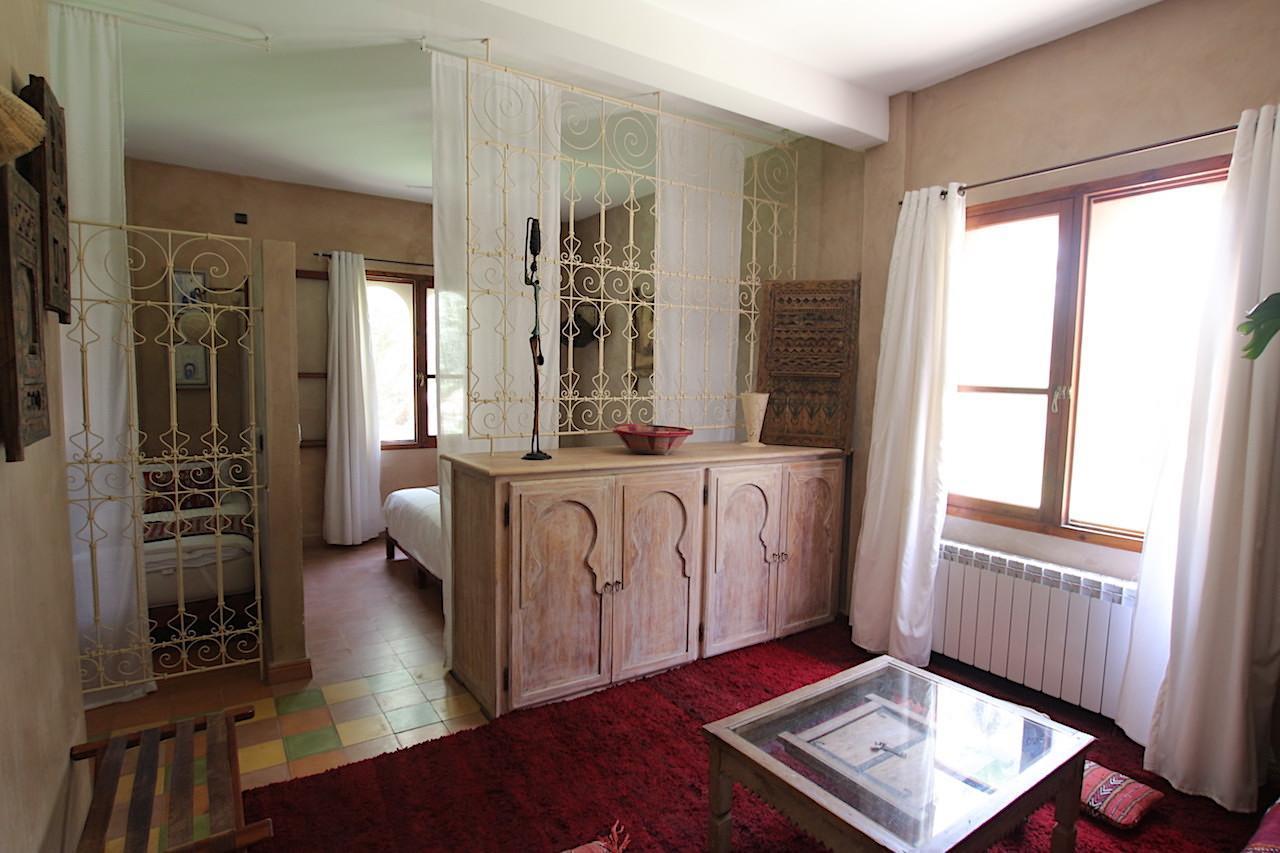 ST: I remember the first time I spent the night in the palm grove of Skoura and what surprised me the most was the variety of fruits and vegetables that grew: tomatoes, figs, oranges, dates, onions , pomegranates, watermelons. I couldn't believe it.
Vanessa: That's why some say the palm grove is a piece of paradise. But the root of it all is the water that comes from the mountain and is then distributed throughout the palm grove by an ingenious system that has lasted for centuries.
ST: What is your favorite place in Morocco, outside Skoura?
Vanessa: Chefchaouen – I love it. Amtoudi too. The White Beach. The dunes of Erg Chigaga.
ST: The dunes of Chigaga is a desert that one truly experiences. Unlike the one next to Merzouga where the dunes are just a stone throw away from the village.
Vanessa: Yes, indeed. It's not like Merzouga. You have to deserve it. In Chigaga, the track leading to the dunes gives you time to get used to the desert. To its different shapes, its inhabitants, its creatures. And then when the sun is about to set and you start getting a little anxious, the dunes appear. And it was all worth it.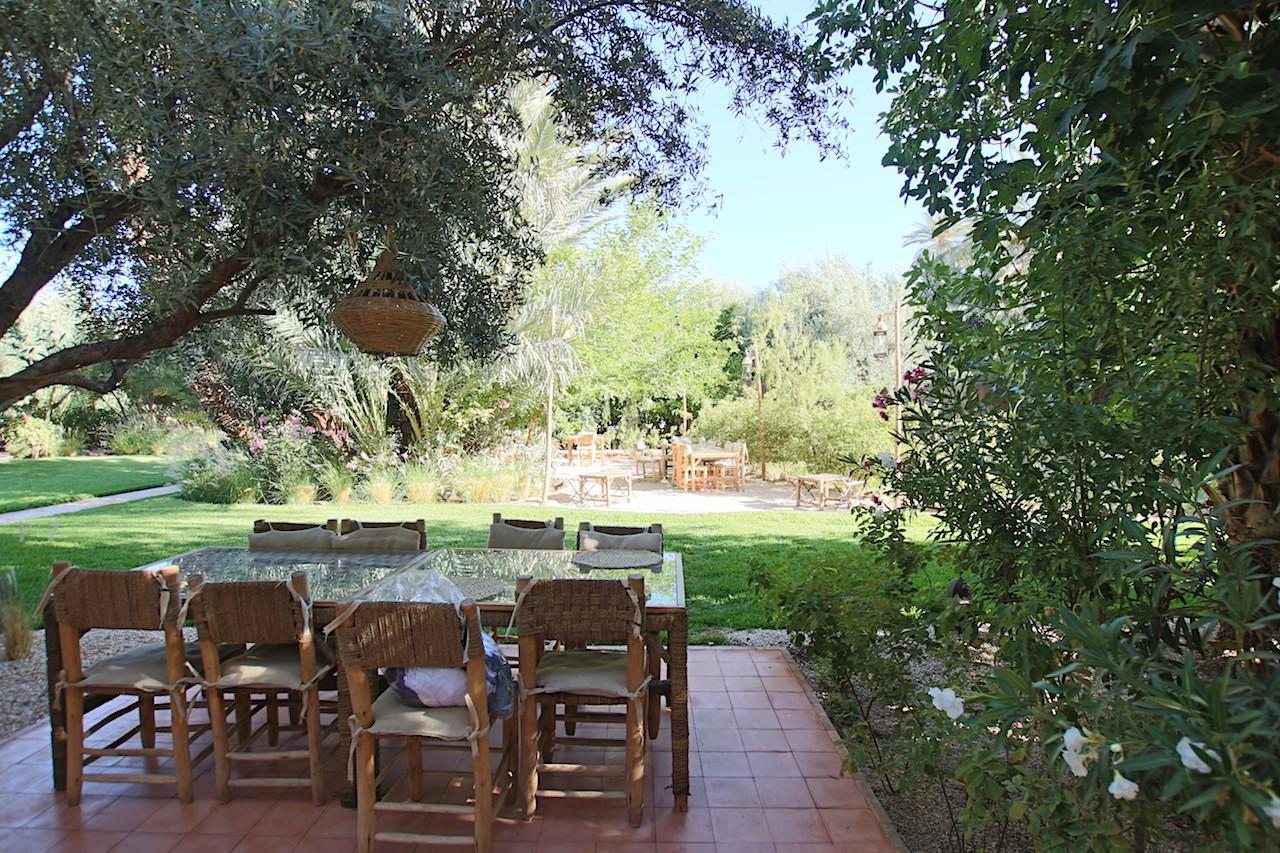 Accommodation at LMa Lodge is currently being offered on our tours with our Privilege range.
© Sun Trails 2018. All rights reserved. No part of this interview may be reproduced, distributed, or transmitted in any form, including photocopying, recording, or other electronic or mechanical methods, without the prior written permission of the publisher.