Right past the next boulder. And what about that one over there ? Could it be ?… Springing over clefts from rock to rock, I crave to uncover the most impressive rock engraving of the ridge. Moustapha and Majid are leading the charge ahead, with Leila somewhere abreast of us in the distance and even Boujeema, usually so composed, fallen victim to the enthusiasm of the group and is earnestly gushing water from a bottle on a stone, hoping to win this spontaneous yet imaginary competition. The engravings are etched on the surface of the rock – the dust and the slanting of the sun rays shroud them partially to a non- expert eye. If someone were to watch us, he'd probably think we're looking for gold. Now and then, I raise my head and squint around, weary of an army vehicle. We were warned by our 'source' that the ridge we are currently treading on lies right on the border with Algeria. On the top of the opposite ridge, past the sandy hollow, a rudimentary military vantage point scrutinizes the horizon. A few steps too many and we could be in trouble. From time to time, I hear afar Leila's voice signalling her sundry trophies, beckoning us to come and see for ourselves.
Someone's loud and persistent laughter pulls me back to the present. It's Majid and as usual, he's making fun of something. It's the beginning of November and we've gathered to, well, take stock of things, sitting around a table in a cafe in Marrakech. Although, to my discredit, my mastering of Moroccan derija is still quite limited, by now I can discern his habitual sense of humour which consists of a language game whereas he talks in ironies that do not seem ironic: of turning a question back on the questioner, mostly when the conversation is about a predicament or a disagreeable obligation. He's always been a bit of a joker. Just like the good old days, I almost hear myself thinking out loud. Leila, Majid, Daoud, Moustapha and Boujeema. More than the Sun Trails team, and the sum of its constituents, I look around me and what I see, ultimately, beyond personality, sense of humour, qualities and faults, is people I could always rely on. It fills me with hope.
The 10 months elapsed from our expedition back in January, now in retrospect seem years. Who could have foretold in those days the tsunami that was going to take over the world just in a few weeks ? Naturally, back then we already had heard of the few cases in China, but just like the ebola or malaria, something distant, something remote, a vagary that is not supposed to spill over a country's or a continent's border, a plight circumscribed to people less lucky than the average you and me. And yet. The first cancellations in February. The swell of them in March. Getting myself stranded in Spain for almost 6 months, when initially I was visiting a friend for a week, not being able to return to Morocco, away from my daughter, my friends, my colleagues, my home. Because yes, I wasn't born here, in Morocco, but I've lived for 14 years and so it's somewhat reasonable to call this home. Or is it ? Facing emotional seasons, from the shock of being imprisoned in your own house to resignation, to rage and finally to hope again, now that the much talked- about vaccines are on their way to being mass- distributed. Months and months of learning how to live with constant uncertainty: what next ? Is this it ? Are we bending the curve ? How am I going to make a living now ? When will the things be the way they were ? Get a 9 to 5 job ? Do I have to ? Do I want to ?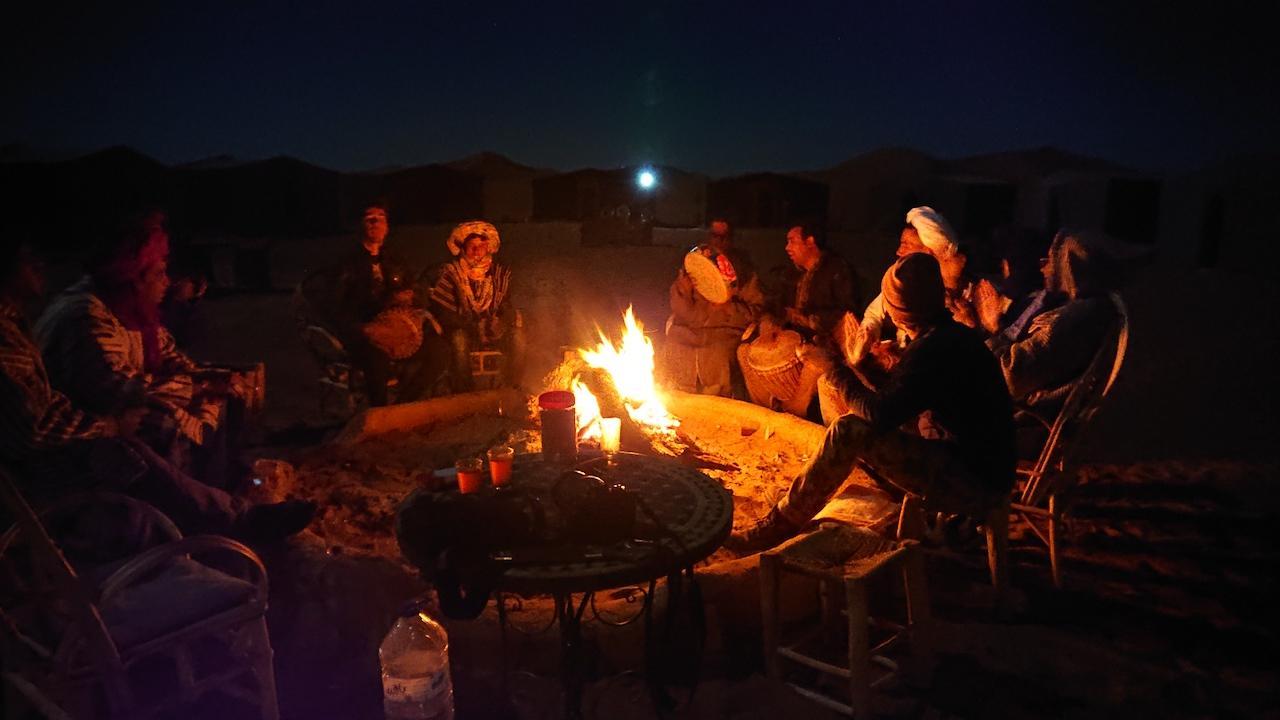 Reality is grim: in a country that depends considerably on tourism, most restaurants and hotels in Marrakech are closed. People on the street strike me as gloomy and tense- and who can blame them ? Many companies have shut down, lacking the resources to outlast the crisis. The government has offered some assistance to the employees but little, if any, to businesses. Sun Trails has also felt the toll of the pandemic: since March the only thing we've incurred is expenses. Back then, I had told my staff that whatever happens, there will be no layoffs until at least September and I kept true to my word. We're now in November and with what we've haemorrhaged so far, we could have added 2 brand new 4×4 vehicles to our fleet. Even with the vaccines around the corner, no one can guarantee that business will return and it's almost certain that if it does, it will take years to return to 2019 levels. Yet, did I loose someone dear to this pandemic ? Have I become one of the 100 million people that were pushed into extreme poverty ? And what to say about doctors, nurses and all other medical personnel that continue to put their lives at risk every day to save others' and some of them lost it in doing so ? So no, I do not see the glass half empty.
'So Majid, is it not better to have your own business ?' I ask, half jokingly. Majid has launched himself into the business of restoring houses and businesses with a team of a dozen workers. He looks tired. The extra kilos and random working hours are visibly starting to affect him. His countenance changes and with a sorrowful voice he retorts: 'If only I could go back to driving around Morocco…' He follows that statement with a tirade on how construction work in Marrakech is a whole different world from taking foreign visitors around Morocco, lavishing them with the most beguiling landscapes and local experiences. Alas, this is the same person that would take a detour from his route just so he can impress a couple of Australians with the desktop- saver view of a field of just- in- bloom poppies. Next to him, Boujeema, having gotten his state licence just a couple of years ago, had tried working as a local guide in the medina of Marrakech. In vain. The only tourists , and a scattered few, are Moroccan. Daoud is doing his own thing and wittingly asks Majid if he doesn't need someone to hold and push his ladder, when painting. Everyone's laughing. Moustapha wasn't reachable for a few weeks and when I finally managed to have him on the phone, he confessed he had been away for two months out in the desert with his people. He needed to disconnect. Or rather, reconnect. Leila had joined me for a while in southern Spain this summer and we indulged ourselves in some serious treks around Sierra Nevada, reminiscing about the High Atlas mountains of Morocco and how similar they are. Lately, with no hotel bookings or accounts to look after, she has been busy applying for a part time job, without any luck so far.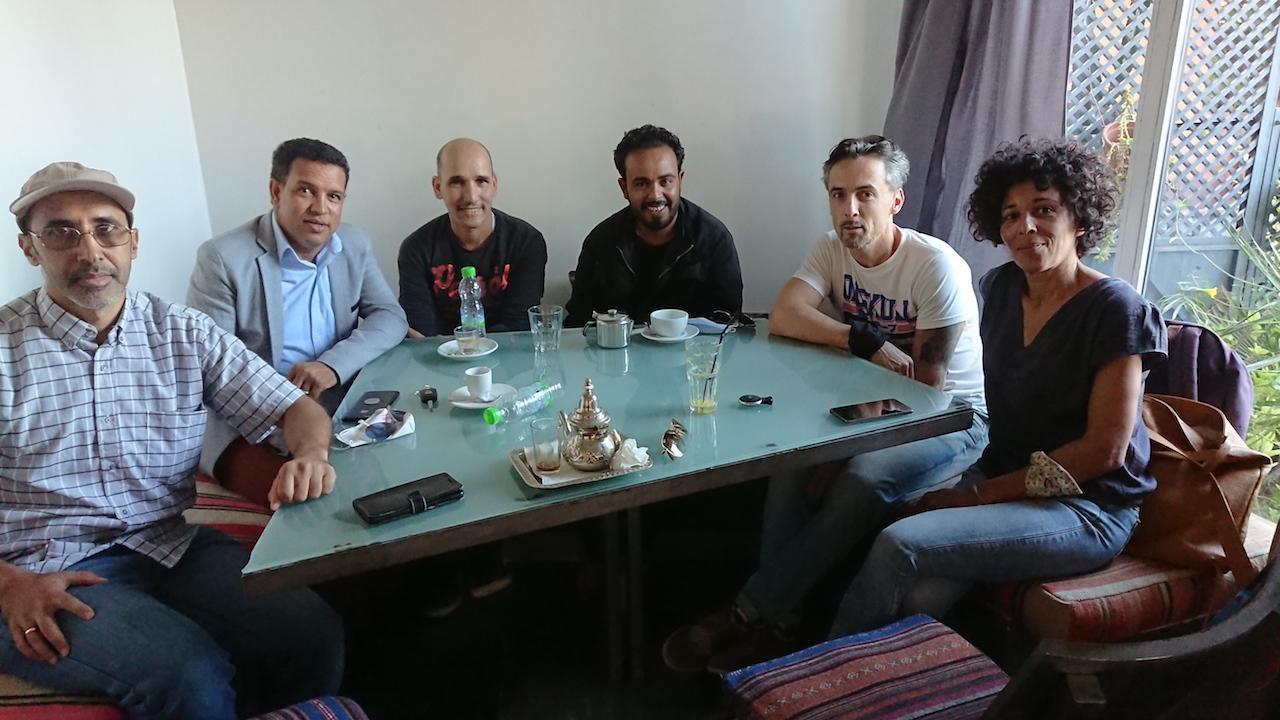 And myself ? With no work for the last 9 months, it has crossed my head to start applying for a job, of course. Yet, I can't get myself used to the idea of working as an online sales rep for Amazon, Google or the likes. I've only worked in travel and hospitality, since becoming a bartender in Portugal at 21. I'm now 42 and before Sun Trails, I managed a boutique hotel ( riad) in Marrakech for almost five years. Which should make me reasonably good at what I'm doing. Hence I'm not jumping ship. As a matter of fact, I've worked for the last three months on rolling out a new updated version of our website. I also hired a young and dedicated team from Casablanca to work on our search engine optimization. After New Years Eve, once the vaccination campaign in Morocco gets on its rails, I envision touring the south of Morocco, all the way from Tiznit on the Atlantic coast to Zagora, on the edge of the Sahara desert, checking on our partners.
Beyond purely financial concerns, our travel agency is exposed to the risk of more disruptive patterns. Since we focus on experiential travel around Morocco, most of our 'local' guides are mainly local residents proud of their area, culture and heritage. Most of these areas are blighted by rural exodus where local youth emigrate to big cities where they work in construction or grocery stores and send money home. The much talked about panacea of tourism making a difference in thwarting rural exodus has obviously lost plenty of steam in the actual context. I've never thought that local populations should rely 100 percent on tourism and abandon agriculture or crafts. And at Sun Trails we never endorsed that either. But I am aware that the more this crisis endures and no tourists visit the areas, the more likely is for these local guides to fend by traveling to a big city where the chances of faring well are much higher. Thus Moroccan countryside needs travellers even more than before the covid.
A couple of weeks ago, I received a WhatsApp call from Colombia. Dan and his wife are from Mexico but have lived in Colombia for a few years and were quite interested in booking a private tour of Morocco for next May. The half hour we spent talking on the phone ( mostly me) slipped by so naturally, and I surprised myself of how easily I could recall everything: routes, activities, cooking classes, treks, guest houses, Nelly from Wild Junket. I was going to get back to Dan with an email which would include a sketch of a suggested itinerary. And the moment I hung up, I also became aware of how swiftly I could glide back into the skin of my old life. There was a pang of adrenaline riding on top of that, since this would be the first booking in more than six months. Six months where every day you sit in front of a screen filled with all but spam emails, it was hard to stomach in the beginning but you eventually grow numb to it. Or almost.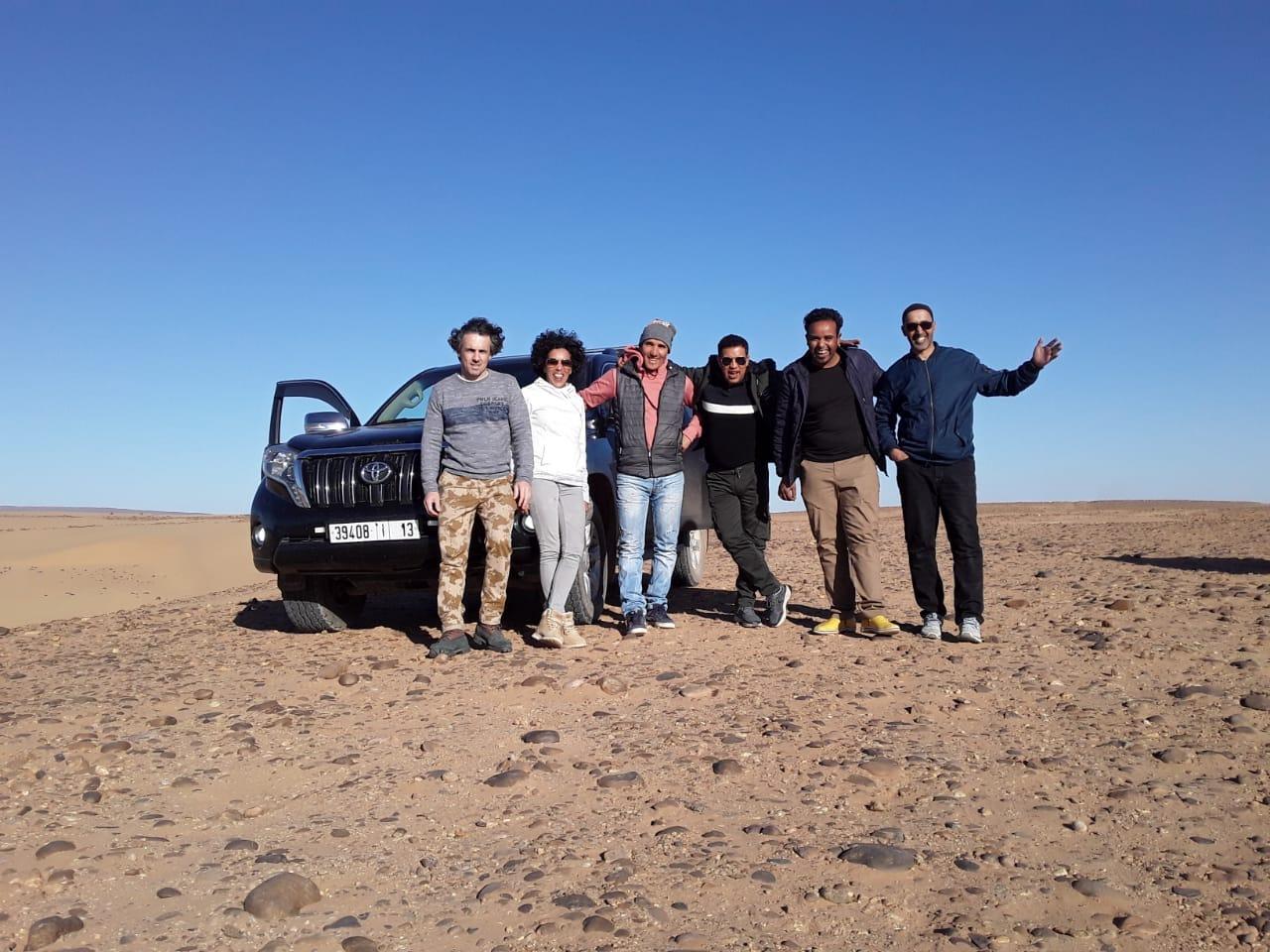 Reverting to our tour of Morocco in January, just the day before we had spent the night in the dunes of Erg Chigaga. Next morning, we drove through the desert, sped up on the dry lake Iriki, with Moustapha in the back of the car constantly abetting me to pick up speed and forget the breaks, as he would put it: 'brake pads are expensive, so better not wear them out'. I was looking forward to this team adventure and introducing Leila and Daoud to the rest of the crew. They only had been with us for a little more than 2 years and although it seems a long time, my drivers don't cross each other much, being most of the year on the road or else back with their families, a long way from Marrakech. Leila is a very good friend and I was glad to finally get her on board to help me with bookings and accounts. A hard worker, brisk and companionable, that made everybody laugh, she blended in from the first day. Daoud came in to replace Walid and had been strongly recommended by Majid. After a few tours he's proven himself more than worthy. Originally from Zagora, conscientious, discreet and loved by his guests, he fitted right into the team.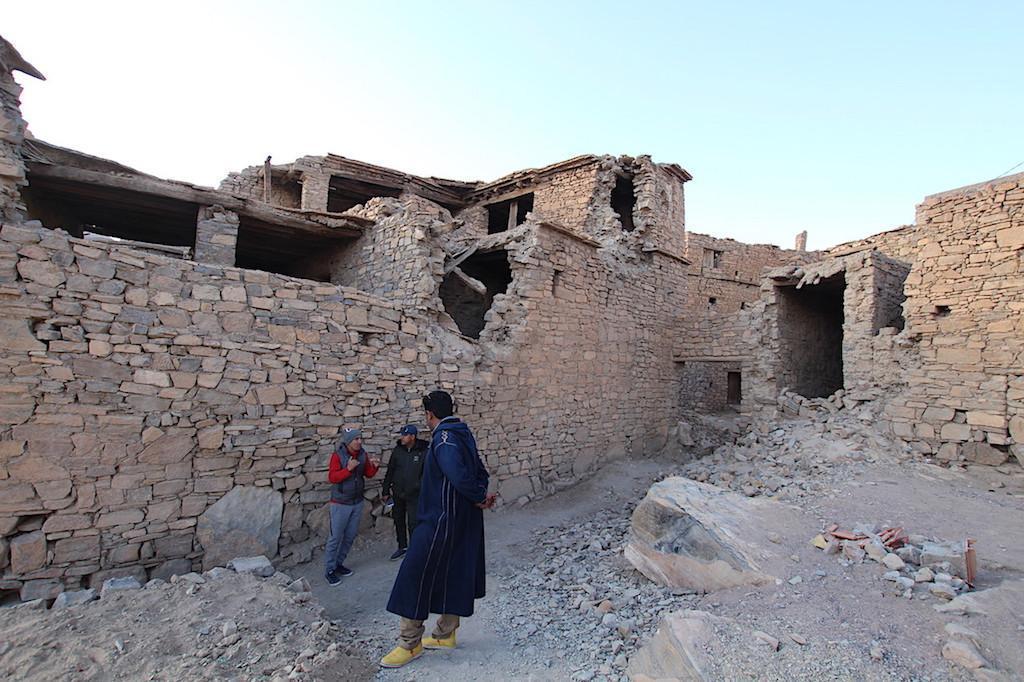 The fruition of 11 years of offering private tours in Morocco was coming to this trip. I felt that we had a stronger team than ever before and this was the trip to celebrate it. Each and every day we'd have one or several round tables to discuss what and how we should approach the area ahead of us, what's worth exploring, what we should leave out, how long will it take to get there, etc. We've lit bonfires in the dunes, found new trails to explore amongst lush palm groves and barren ridges, we raced our 4×4's on virgin beaches of Plage Blanche, we taunted and teased ourselves and downed dozens of glasses of atay, all the way besotted by the intangible beauty of a land that won't stop enchanting us. And it's those memories that help me keep the faith. And being reunited to them in this cafe around a cup of tea. And all those hundreds of people that weren't quite the same after having toured Morocco with us. And all those other ones here, in this country, making such a difference, conferring a meaning to the word: hospitality. I never grasped the meaning of that word until I arrived here. I will forever be in debt to them.
Presently, it's not easy to not give in to the deluge of gloomy news that we're being bombarded with every day, among rising curbs of new cases and economic downturns. Not easy to tell yourself that things will get better. We'll have to get used to being ourselves again. Normal. Forget the fear. The virtual concerts and museum visits and the instant prophecies of how the world will be so different. I don't know if we'll be better travellers once this is gone. What I'm sure of is that travel is intrinsically part of human nature. It's one of those last resorts that keep us sane. No pandemic will change that. 
P.S. In the meantime, Dan and Carla have booked their holidays with us and we're expecting them next May.
© Sun Trails 2020. All rights reserved. No part of this article may be reproduced, distributed, or transmitted in any form, including photocopying, recording, or other electronic or mechanical methods, without the prior written permission of the publisher.