This 5 day private Morocco tour leaves Marrakech over the Atlas Mountains and reaches Sahara
Returning via the Atlantic coast, packing in just 5 days more landscapes, activities and local traditions than any other similar length tour.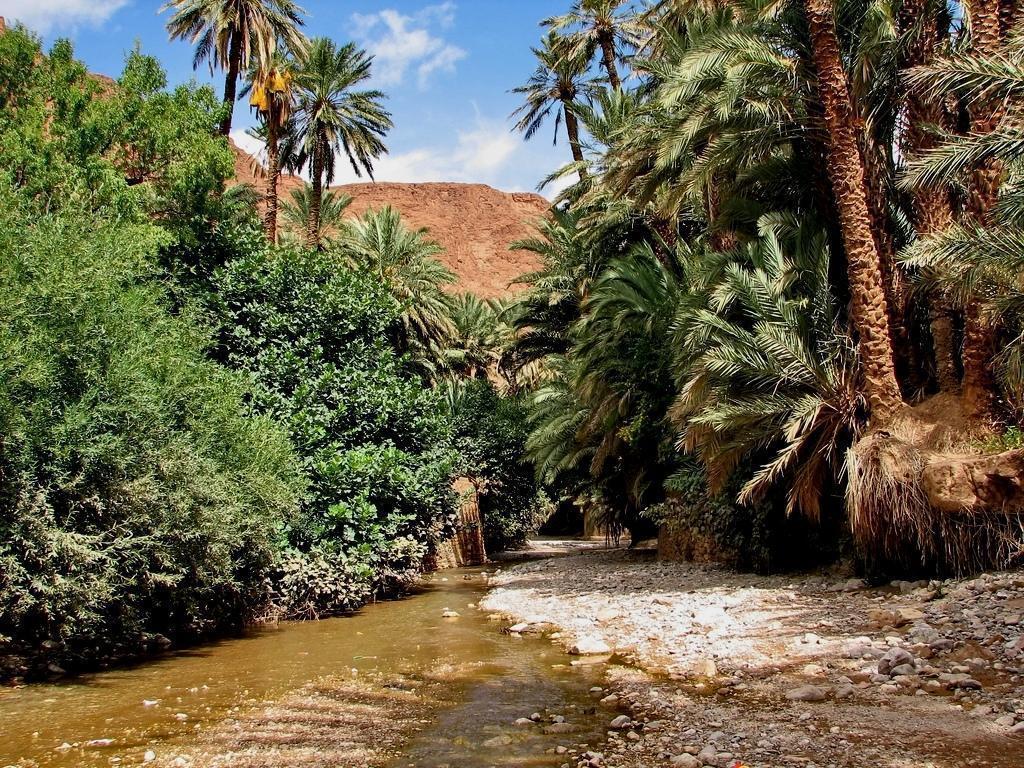 Caravans Dust ( 4 - 6 days)
The itinerary follows the old caravan route from Marrakech into the Sahara's dunes, returning via an off the beaten track route over the majestic Atlas Mountains or by the Atlantic coast via Agadir or Essaouira.
No other tour packs so much diversity in just 5 days as we take in breath taking wild nature and the local culture of the Berber, Jewish and Bedouin people.
Our route will take us past valleys, canyons, palm groves, lakes, rivers, woodlands and mountains. We will explore mysterious Ksours and kasbahs, Berber granaries and grottoes, have tea with the nomads in the Sahara, walk in the shade of palm leaves, cross the Sahara desert, uncover 12the century old Tinmel mosque and shed off the desert sand on the Atlantic coast.
Day 1 : Casablanca - Rabat ( 1 hour drive)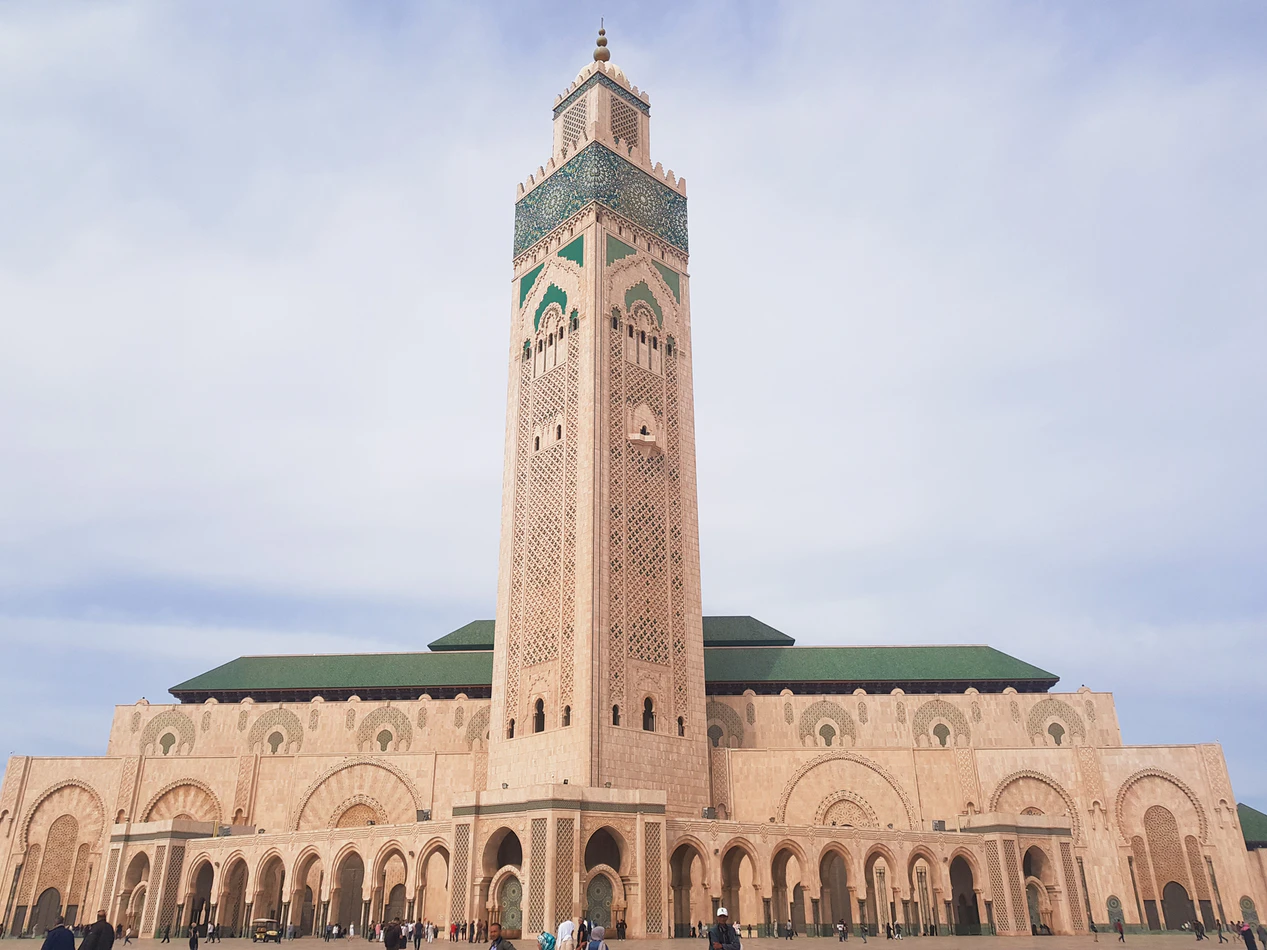 Notwithstanding the Art Deco heritage, Casablanca is nowadays, in spite of its myth, mainly a large metropolis devoid of any monuments. King Hassan 2 wanted to change that and decided to erect a landmark to match the city - the second largest mosque in the world . The last few years of its completion, 1400 craftsmen worked by day and 1000 by night. The marble, cedar wood and granite all come from Morocco while the glass chandeliers and white granite columns were brought from Murano, Italy.
Next, our custom Morocco tour takes us to the capital Rabat, recently declared UNESCO world site. With a rich history, Rabat lies suspended somewhere between Europe and the Arab world. The 12th century Kasbah des Oudayas and its Andalusian Gardens are a delight. We can dwell further into the past and visit the Merenid necropolis of Chellah, where Phoenician, Roman and Merinid traces blend. Mohamed 6 museum, opened in 2014 is also worth your attention. On display, the most representative modern Moroccan art along with regular guest exhibitions from Europe.
But perhaps better stories are to be told about Sale, the sister city to Rabat and, centuries ago, a fearsome pirate nest. Canals used to run through its gates and its pirates were famous for rapidly attacking European ships and taking illustrous nobility as prisoners. Once inside the city, the massive doors would close and the European powers had no other choice than to give in to the exorbitant sums asked for their ransom. The shortly lived 'Republic of Sale', a state within a state, refused to pay any tax to the sultan, who decided to build a new port where he could control piracy and its generous revenues: Essaouira was born.
Day 2: Rabat - Meknes - Volubilis - Fez ( 3 hour drive).
Day 3: Fez - guided tour of the city ( no drive).
Day 4: Fez - Ifrane - Azrou - Mildelt - Errachidia - Merzouga ( 7 hours drive).
Day 5: Merzouga - Erg Chebbi ( transfer by camel or 4x4).
Day 6: Erg Chebbi - Tinejdad - Todra Gorges - Tinerir - Skoura ( 5 hour drive).
Day 7: Skoura - Ouarzazate - Ait Benhaddou - Telouet - Marrakech ( 5 hour drive)
Day 8: Marrakech - visit of the city ( no drive).
Day 9: Marrakech - visit of the city/ relaxing day.
Day 10: Marrakech - Essaouira ( 2 hours and a half drive).
DAY 11: Essaouira - Oualidia - Casablanca ( 5 hour drive).
You may choose to follow the original tour itinerary as described on the website or have us create a customized Moroccan itinerary around you. Please note that all our tours of Morocco are private and that stops are accommodated along the way as often as you desire, for you to visit a site, take a stunning photo or stretch your legs.
We believe our guests deserve to be spoiled and stay only at the best properties while on a customized tour of Morocco. We spend a great deal of time and effort to anonymously test and hand- pick the best boutique and luxury hotels, Riads , eco lodges and Kasbahs across Morocco. These select properties are constantly monitored and updated. Each one of them is inspired by and reflecting the culture, architecture and cuisine of its location. They do not fit into a rigorous star rating system, so we have named them Dreamers, Privilege and Divine, to best resume their nature. To ensure availability, we recommend booking at least 3-4 months in advance. A day- to- day customized Moroccan itinerary with the names of the accommodations suggested at each overnight will be provided at the time of the enquiry.
Please find below the resumed itinerary ( driving times exclude stops ):
Day 1: Marrakech - Tizi n Tichka - Telouet - Ait Benhaddou (4 hour drive).
Day 2: Ait Benhaddou- Ouarzazate - Agdz - Zagora ( 3 hour drive).
Day 3: Zagora - Tamegroute - Mhamid - Erg Chigaga dunes ( 3 hour drive).
Day 4: Erg Chigaga - Lake Iriki - Foum Zguid - Tazenakht - Taroudant ( 7 hour drive).
Day 5: Taroudant - Agadir - Marrakech/ Essaouira ( 4 hour drive).
Feel free to let us know if you would like to include a site/ activity of your own in the itinerary. If you don't know where to start some ideas may be:
organic honey tasting experience at a 500 year old apiary;
visit the nomad grottos;
cooking a meal with a local family and shopping for ingredients in a local souk;
the architectural genius of century- old Anti Atlas granaries;
take a class in Moroccan pottery or make slippers;
trekking/ mountain biking in the High Atlas/ Anti Atlas;
bake bread in the village oven on almond corks.
Below you will find our rates based on two persons travelling together, with the relevant accommodation option:
Dreamers: 695 €/ 745 US $/ 600 £ per person (double room and basic tent);
Privilege: 1090 €/ 1170 US $ / 940 £ per person (double junior suite & luxury tent with en suite shower and toilet);
Divine: rates are available on request.
Pricing is tentative and can vary slightly at different times of the year. If you book your tour to take place in December, January ( outside end of the year holidays), February, July and August, you will be charged our low season rates. We can only quote an exact rate once we have agreed on the precise itinerary, accommodation option preferred, the extras you would like to include and the duration of the journey. Discounts apply when 3 or more persons share the vehicle(s). You can also choose to mix different accommodation ranges within the same circuit.
Our rates include:
- private use of the English fluent driver-guide and modern air-conditioned Toyota 4x4;
- boutique/ luxury hotel accommodation for 3 nights;
- Sahara camel trek & private basic/ luxury tent for 1 night;
- 4 three- course- meal dinners and 4 breakfasts for 2 persons;
- airport or hotel pick- up and drop off;
- caleche ride and/ or visit to the souks in Taroudant;
- refreshing drinks inside the vehicle all along the itinerary;
- admission fees to all local sites and attractions;
- 24 hours travel assistance ( with Privilege/ Divine option);
- gasoline and highway tolls;
- transport insurance, VAT and visitors tax.
Most of our guests prefer adding an extra day to either allow for some relaxing time by the beach in Essaouira or trekking in the Atlas Mountains. We can also break the distance in two on Day 4 if you think the drive is too long. If you prefer to spend more time in the Sahara dunes, we suggest reversing the order of the tour.